BOISE — Big income tax cuts and rebates for wealthy individuals and corporations are promised under new legislation that was swiftly introduced in the House Revenue & Taxation Committee Wednesday morning, along with a minimum $75 rebate for every 2019 Idaho income tax filer.
Gov. Brad Little outlined the proposal in his State of the State address to a joint session of the Legislature on Monday, and the House committee moved with unusual speed to get it introduced on just the third day of this year's legislative session. The bill was introduced on a voice vote in the committee, with just Rep. Lauren Necochea, D-Boise, dissenting.
It would provide one-time rebates, at either 12% of 2020 state income taxes paid or $75, whichever is higher, to all Idahoans who filed state income tax returns in 2019. It also would permanently reduce income tax rates for individuals and corporations in Idaho, adding $251 million a year in ongoing tax cuts for individuals and corporations into the future.
The approach is similar to, but larger than, the record income tax cuts and rebates Idaho lawmakers and Little approved in 2021. Last year's rebates set a minimum of $50, so this year's marks a 50% increase. However, according to Idaho State Tax Commission figures obtained by the Idaho Press, last year's rebates went to 706,294 Idaho tax filers, and more than half – 365,295 – received only the minimum amount. That meant a total of $38 million was handed out in rebates to lower income Idahoans, while higher earners received $166.7 million.
House and Senate Democrats decried the proposal as largely benefiting the wealthy.
"The proposed one-time tax rebate increases with income level, so the higher one's income is, the more money they will receive," the minority party said in a statement after the vote. "The ongoing revenue cuts also direct the largest benefits to the top of the income spectrum. Someone with $1,000,000 in annual taxable income will receive an ongoing yearly tax cut of $5,000 on top of a nearly $8,000 one-time rebate. Idahoans with the most modest incomes will receive a rebate of $75."
Rep. Steven Harris, R-Meridian, lead sponsor of the bill and the House tax chairman, said, "Someone pays an income tax, we're going to return the income tax." He called that "fair, even obvious."
Harris told the committee, "This is the 2022 tax relief bill. The bill does a few simple things, but will have dramatic fiscal impact, both for our taxpayers but also for the state government."
The measure would consolidate Idaho's current five income tax brackets to four and lower rates for all of them, with the top rate dropping from 6.5% to 6%; the corporate income tax rate also would drop from 6.5% to 6%.
The bill would partially offset the cost of the ongoing cuts to the state treasury by permanently tapping $94 million a year from the Tax Relief Fund, a state fund that now collects all sales taxes paid on online purchases, rather than sending those taxes through the same distribution formula to local governments and the state general fund as other sales taxes.
Necochea said, "This is just not the tax relief Idahoans want."
Rep. Tammy Nichols, R-Middleton, asked Harris, "Will this do anything for property tax relief? Or is it solely income tax?
"This is not a property tax bill, obviously," Harris responded. He then characterized the bill as "income and sales tax relief." His logic there was that low-income taxpayers who don't pay much or any state income tax could use their $75 rebate to offset sales taxes they pay. "It becomes a sales tax rebate," he said. "However, you can do that as a property tax, or a dinner, or a vacation, or however you want to do that piece of it."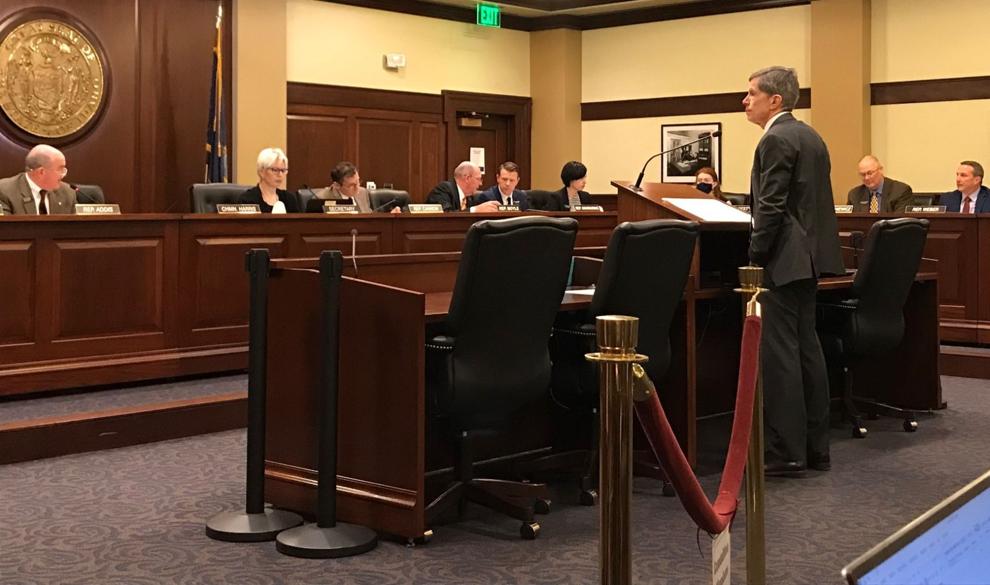 He also mentioned the governor's proposals for big investments next year into transportation and education, and noted that in 2020, Little tapped CARES Act federal coronavirus aid to offset and relieve local property taxes for first responder costs in many Idaho communities. And Harris mentioned that local governments will be getting direct payments from the federal American Rescue Plan Act aid bill, "with less stress than we saw in 2020. So there is plenty of property tax pressure being removed from a number of areas," he said. "This isn't that, obviously."
Nichols responded, "So it was a yes or no question, thank you for that answer. It was no."
After the vote, Harris said a date hasn't been set yet for the full hearing on the bill, but he said, "Obviously we've been working on this during the fall, the governor's office and the Senate and the House. We do intend to move it pretty quickly — it's ready to go."
The bill's lead sponsors are Harris; House Majority Leader Mike Moyle, R-Star; Senate Tax Chairman Jim Rice, R-Caldwell; and Sen. C. Scott Grow, R-Eagle.
The House Republican Caucus, in a statement immediately after the bill was introduced, called it "major tax relief," and Harris said, "This bill goes a long way towards using our record budget surplus in the most responsible way possible: by allowing working Idaho families to keep more of what they've earned."
House and Senate Democrats, in their statement on the new legislation, decried its "huge price tag."
"This costly legislation will take other opportunities off the table such as reducing property taxes or repealing the grocery tax," Necochea said. "Every major tax bill in Idaho for at least the last decade has prioritized profitable corporations and the wealthy. We have an opportunity this year to prioritize working Idahoans and bolster our middle class."
Later on Wednesday morning, the new bill was read across the desk in the House and was assigned the bill number HB 436.
To become law, the bill would need to clear the committee after a full hearing, pass the full House, go through a similar process in the Senate, and be signed into law by the governor. It has a retroactive effective date of Jan. 1, 2022.
Harris said, "So we're now 12 days into these new awesome rates."
This story has been updated to correct the dollar figure for total rebates under last year's bill to higher earners.