BOISE — Carol Bachelder traveled by train several times per year to Portland, Oregon, when she was attending art school there in the 1970s. A Boise resident, 77-year old Bachelder said she was "thrilled" to learn the same route could be restored after being discontinued in 1997.
"I always loved riding the train," said Bachelder, who would "take any excuse at all" to visit Portland if a passenger rail service returned. "I think everyone enjoys riding the train, even kids. It's kind of exciting. It's an adventure."
An effort is underway to restore Amtrak's Pioneer line, a passenger train route that once carried passengers from Salt Lake City through southern Idaho, with stops in Pocatello, Boise, Nampa and other Idaho cities, to Portland. The effort is not new, but it has recently gained momentum. Chagrined at an expansion proposal by Amtrak that left out large swaths of western states, public officials in the Northwest have come together to lobby for passenger railway investment in their region.
While the Pioneer line proposal has barely left the station in bureaucratic time, local leaders are excited by the idea. The Boise City Council on Tuesday approved a resolution urging Amtrak — a quasi-public organization funded by state and federal subsidies — to restore the Pioneer line, using a slice of tens of billions in funding for transportation infrastructure proposed by President Joe Biden's administration.
Nampa Mayor Debbie Kling told the Idaho Press on Tuesday she is "very supportive." Referring to an undated historic photo that shows the Nampa Train Depot bustling with passengers, Kling said, "That's what it should be today. I would love to see Nampa as a stop on the rail."
Boise's resolution asks Congress to authorize working groups and studies to probe the costs and benefits of restoring the Pioneer line, in addition to Montana's North Coast Hiawatha line, which connected Fargo, North Dakota, to Butte, Montana, until it was discontinued in 1979. A study from more than a decade ago supported both projects, but funding never materialized.
"I'm quite excited," said Boise City Council President Elaine Clegg. "There's a bit of momentum, finally, to begin working on the Pioneer route again and see if we can't get it restored."
Kling said restoring the Pioneer line is going to take a collaborative effort at the local, state and federal level.
"Why not get Amtrak to invest in the Northwest and not just the East Coast?" Kling said. "I think it's time to bring it back, with the growth that we have."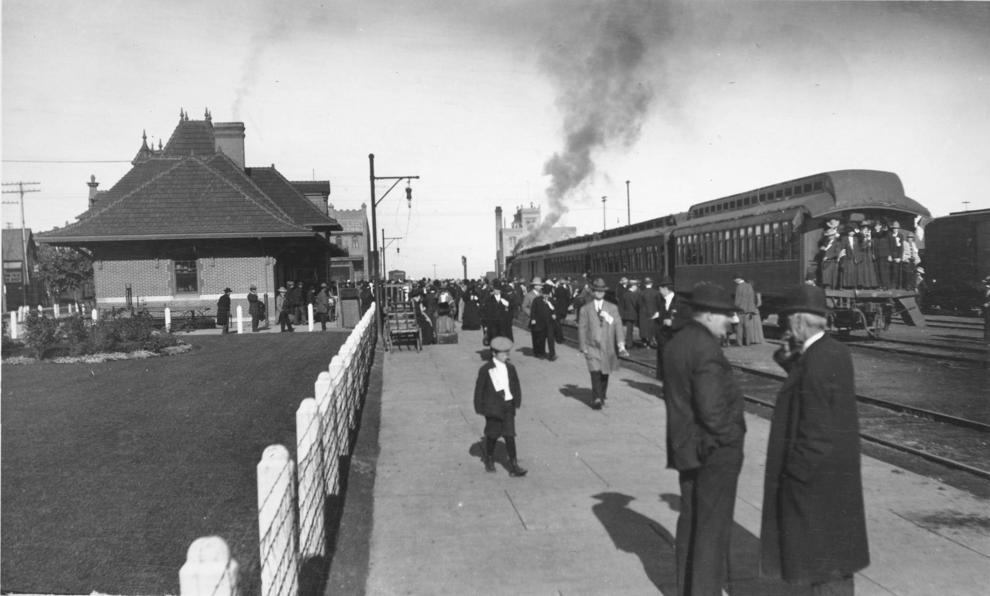 For David Klinger, a local advocate for expanding public transportation, the Pioneer line proposal is a welcome opportunity — in January, Klinger sent a letter to Boise city leaders suggesting the Pioneer line could be restored.
"While Boise's transportation inadequacies cannot all be solved at once, restoration of a rail link to the West Coast and Salt Lake would seem to be the lowest of the 'low-hanging fruit' on the transportation vine, in this city that professes to value sustainability and intelligent local and regional planning," Klinger wrote. While resumption of the service "would not be without significant costs, planning and effort," vital infrastructure, such as rail lines, easements and stations, is already in place, making the task "infinitely easier," Klinger wrote.
But significant questions remain. How much the restoration would cost — the now outdated previous study estimated $400 million — and whether that price tag would satisfy a significant demand will need to be fleshed out.
"We're hopeful that we can get some traction with the various delegations in the Northwest, to advocate and push for the (Biden) administration to study and then eventually, hopefully, if we can make the justification, bring back the service to the region," said Matt Stoll, executive director of the Community Planning Association of Southwest Idaho (COMPASS). "It's shocking, as far as the gaping hole in the Northwest, in the lack of proposed lines to be studied or brought back."
Mandar Khanal, Ph.D., a civil engineer and professor at Boise State University, doesn't share the same enthusiasm for the Pioneer line. Khanal doubts there will be significant demand for intercity rail travel between Boise, Salt Lake City and Portland — at least not enough to justify the uneconomical costs of public transportation, which almost always has to be subsidized.
"I don't know how much of a demand there is," Khanal said. "There is something called induced demand: If there is a line, then that's an option people have; you could generate more demand that may not be there right now. That needs to be explored, it needs to be studied."
Time might be better spent studying a commuter rail system within the rapidly growing Treasure Valley, Khanal said. "I know there's a demand for commuter rail here, I don't know about the demand for intercity," he said.
Stoll said that's a "moot point" because "we don't have a dedicated funding mechanism to operate and maintain a locally based public transportation system." The Pioneer line, connecting Boise to Nampa and Caldwell, would allow for local trips, although on just a single line, if the original Pioneer route is maintained. The federal government would have more influence than local agencies in maintaining that railway, but the federal government also has the money to do it, while Treasure Valley cities and counties don't, Stoll said.
"Until the state Legislature gives local units of government the ability to ask the citizens whether they want to fund a public transportation system, we're not going to be able to afford a commuter rail system," Stoll said. "This would give us an option and may be the example of how it could work."