NAMPA — This summer, onion farmers in eastern Oregon and western Idaho faced a double threat to their livelihood. Even though most farmers had access to plenty of irrigation water, a lack of spring rain and hotter-than-normal summer temperatures hampered production.
A dry spring resulted in fewer onions germinating, or sprouting, than usual, for a loss of about 15% to 20%, said Kay Riley, manager of Snake River Produce in Nyssa, Oregon. During the region's summer heatwave, the onions that did come up suffered further. Onions grow best in 50-to-90-degree weather, not 100-plus degrees, Riley said. Heat stress could mean about 20% to 25% fewer onions coming out of the ground this fall, he said.
"This will be the poorest crop we've had in a decade at least," he said.
Plentiful irrigation water is not guaranteed going forward, either. One reason growers in Riley's area had enough water this year is that many get their water from the Owyhee Reservoir, which holds up to a two-year supply, he said. Last winter, the reservoir was still half-full — it held water leftover from plentiful precipitation the winter prior. So it didn't matter that not much snow melted into the reservoir in spring 2021. But this winter, the reservoir will be effectively emptied, leaving no surplus water to put toward next year's crops.
"We're doing OK now, but we're terrified of the coming year if the drought persists through this winter," Riley said.
The impacts of drought are already here, and experts say Idaho is facing down a future with less water. Already, the effect of the drought and warm summer weather is being felt across the region's agricultural sector. Farmers are skilled at adapting to adverse conditions. But the adaptations they have to make are already costing them time and money, and those measures may need to be more drastic in the future to avoid potential food shortages.
Sheep producers, from those with just a handful of sheep up to those with thousands, are feeling the weather's effects, too, said Liz Wilder, executive director of the Idaho Wool Growers Association. Most sheep producers based in the Treasure Valley have grazing allotments in the mountains north of the valley. Some of the closest allotments are located in the Smith's Ferry area, about 50 miles north of Boise along the Payette River. Producers transport their flocks to allotments by leading them overland from the valley. Flocks spend the summer there before being led back down in October for lambing season, when the lambs are born in January and February.
But excessive heat over the summer has stressed flocks, which may decrease the quantity of wool the sheep produce, Wilder said. Lambs born this past winter are weighing in lighter due to less availability of forage to eat in the mountains, a result of low spring precipitation giving rise to fewer plants. And there may not be enough forage for flocks to eat or water for them to drink to sustain them on their overland journey back to the valley. Producers are considering trucking them back, which would be costly, Wilder said.
Sheep are not the only ones looking for food. Less forage also typically affects mule deer fawns, according to Idaho Fish and Game Public Information Supervisor Roger Phillips. Drought can also mean low reservoirs can't support fish, upland baby birds sometimes can't find insects and hungry bears go looking through human trash cans.
Less forage this year has also posed issues for local cattle ranchers. In a normal year, Brecca Hipwell, who co-owns Hipwell Ranch in Oreana, would send her cattle into the mountains to graze in April. This year, she and her husband kept the animals in the lowlands until late July because of a lack of upland water and forage. The couple grows a hay crop to tide the animals through the winter when there is often snow on the ground and little forage. This year, they let the animals eat through a larger portion of that crop and may need to purchase hay to get them through this winter, Hipwell said.
"It might hurt our pocketbooks a little more as far as needing to buy more feed," Hipwell said. "It's just kind of a guessing game … We'll get hay put up, just not the amount that we were hoping for."
A world with less water means hunger.
Idaho agriculture, much of which takes place in the Great Basin Desert, depends on irrigation because of a lack of precipitation in the summer. This year, Idaho farmers pulled water from reserves to irrigate earlier. The heat meant farmers needed to irrigate more, leaving reservoirs depleted for next year.
Farmers were forced to take water from the banks of dams, or the water that is saved up, said Boise State University Assistant Professor Moji Sadegh, who teaches in the civil engineering department.
"Much of that bank is now gone," Sadegh said. "They don't have any banked water for next year."
If it's warm again next year and there isn't enough precipitation to refill dams, a lot of crops will suffer, he said.
The banks are like saving accounts and climate change is adding onto the drain.
The Gem State received about the same amount of precipitation in the 2021 water year as it did in the 2001 water year, Sadegh said. But in 2001, zero percent of the state was in exceptional drought. This year, more than a fifth of the state is in exceptional drought, the highest level.
The big difference: this year was warmer, Sadegh said. This summer was the hottest on record in Boise, with an average temperature of 78 degrees and 18 days over 100 degrees. The population is also larger, which increases demand for water, even though municipal demand for water is minimal compared to agriculture.
In a world warming due to climate change, water is more likely to evaporate than to make it into a reservoir. Less precipitation falls in winter and snowpack is limited. Snow also melts earlier and faster, so peak discharge on the rivers occurs earlier than accustomed.
Conditions in the Southwestern U.S. offer a glimpse of the future for Idaho. Water curtailments are coming to parts of the Southwest downstream in the Colorado River watershed.
Idaho, except for the Snake River, is upstream. The mountains generate the water.
"The impacts that they're facing right now (in the Southwest) is our future," Sadegh said. "Because they are downstream, a lot of the upstream (water users) are taking the water so there's not enough water that is delivered."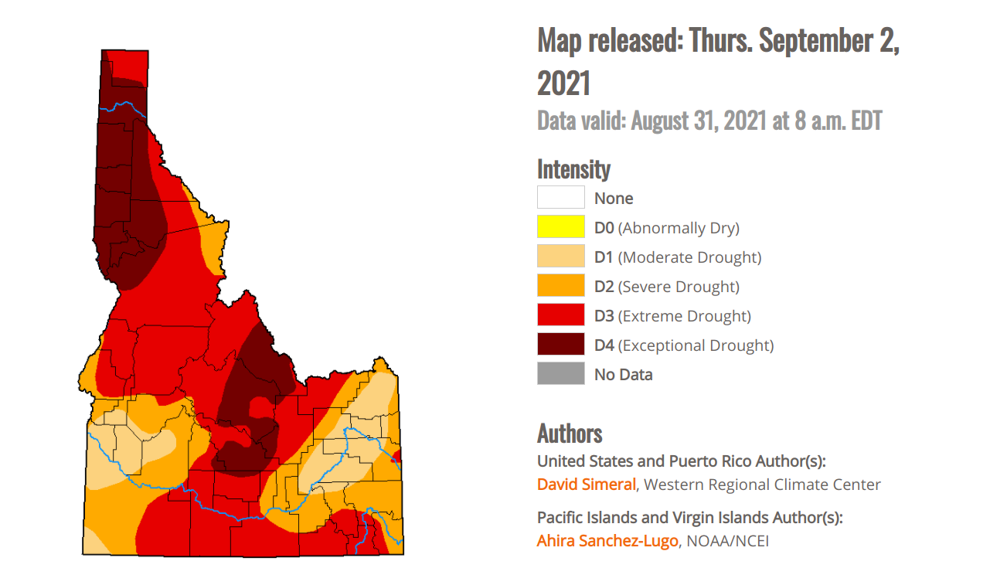 Drought and heat perpetuate each other in a cycle that could change the landscape of food in the state.
"The cost of food, as you can see this year has been higher than previous years because of the drought," Sadegh said. "If this continues, then we will be worried about food security."
Now, the state is in a position where all it can do is hope next year is wetter. There are some longer-term moves farmers can make, such as potentially changing the crops they grow. For example, corn and potatoes are water-intensive.
Brittany Brand, the director for the Boise State Hazard and Climate Resilience Institute and a Department of Geosciences associate professor, agreed. Living with less water may mean changes to agricultural practices such as growing crops that require less water or shifting growing seasons, she said.
"We need food and we need water," Brand said. "So with respect to agriculture, potentially changing agriculture practices to be more sustainable, (so we can) use less water and still turn a significant profit, and also produce significant food."
Most Idaho droughts are snow droughts when there isn't adequate snowpack and farmers can often prepare in advance, she said. But this year was unexpected. The snowpack should have been adequate, but the problem was an extremely dry spring followed by extreme heat.
Dry conditions and losing snowpack too fast means reservoirs can't stay full.
"The concern we have is that if we don't have really strong snowpack this winter, as in much greater than normal snowpack, than we might be in for a multiyear drought," Brand said. "If we have even an average snow year, it's not going to be sufficient to refill our reservoirs as much as we need them to be filled."
The Treasure Valley is in a moderate drought, which also brings with it an increased risk for fire. Fires spread easily in a moderate drought, according to the University of Nebraska — Lincoln drought monitor.
Wildfire smoke is a concern for Scotty Miller, a Nampa farmer. Miller grows a variety of crops, including seed crops such as beans and carrots, as well as sugar beets and spearmint. Miller says his bean crop struggles in smoky conditions.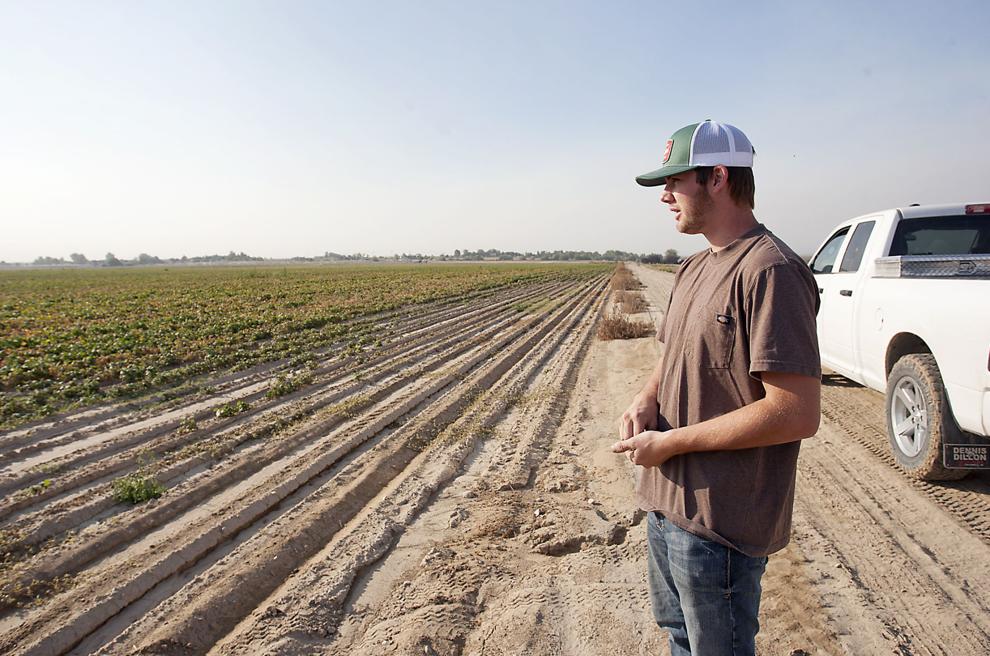 "We have a hard time getting them to dry out," Miller said, referencing the process of drying the beans after harvest, "and when the sun isn't shining, the plants don't get enough photosynthesis," he said, which affects the quantity of the beans each plant produces.
Other important Idaho crops can be affected by smoke and drought. Exposure to smoke can change the taste and sugar content of wine grapes. However, the smoke usually has to come from a fire that is close by, said Sean Ellis, publications editor for the Idaho Farm Bureau.
Most of the wineries in the Sunnyslope area of Canyon County use irrigation water, helping offset the drought's effects.
"We are lucky to have not experienced any drought issues in our vineyards at Ste. Chapelle and Sawtooth (vineyards)," said Brad Mayer, spokesperson for the wineries.
Potatoes, on the other hand, are a water-intensive crop that can be sensitive to heat and variation in precipitation. Most are grown in the eastern part of the state, but some are grown in the Treasure Valley. Potato farmers have done test digs ahead of the state's fall harvest to catch a preview of the crop, and it's not looking great — potatoes are smaller than they should be at this point in the summer, or there are fewer potatoes than expected, Ellis said. Though the crop has some time to bulk up before harvest, it isn't heartening, Ellis said.
Forty-two of Idaho's 44 counties grow wheat, and wheat farmers too have seen poor germination and expect to see poor yields this year due to drought, Ellis said.
So how are people in agriculture thinking about a drier future? Hipwell, the rancher, does not think of the changes she is witnessing in terms of climate change, per se.
"In what we do, weather is always a factor," she said, saying there are Earth cycles that they can recognize and respond to. "We don't put much thought into putting a name on it. We just try to prepare for what we're in and what might be coming. That's just the nature of our business."
For Wilder, of the Wool Growers Association, thinking about the environment she works in is a top priority.
"We rely on the land to do what we do," Wilder said, "and so we are the best stewards of the land because we care so much about it." In addition to thinking about what the weather will be like in the future, producers in her industry are also interested in maximizing the efficiency and sustainability of their practices.
"When we talk about climate change and this world we live in, agriculture has a place at the table, and we're constantly working toward creating a better future and working toward using the resources we're given in stewarding the land in the best way possible."