Correction: A previous version of this story incorrectly stated the state of Idaho's excise tax on beer with less than 5% alcohol. The correct rate is $4.65 per barrel.
Mark and Lisa Schmidt built a small craft brewery in Garden City from the ground up. They began working on it in 2014, in the midst of a craft brewing boom in Idaho.
Idaho is one of the top barley and hops producers in the U.S., but just a couple dozen craft breweries existed in the state a decade ago. That's no longer the case — the number of Idaho craft breweries has tripled since 2008.
Four years after Mark and Lisa Schmidt opened Powderhaus Brewing Company, a brewery, taproom and distributor, the business is on the verge of becoming profitable. 
Powderhaus is part of a growing craft brewery industry across Idaho, which local brewers say could grow more quickly if not for state and federal "sin" taxes on beer. A 2017 federal tax reform that provided some relief for breweries, allowing them to buy equipment and hire more staff, expires at the end of this year if Congress doesn't extend it. 
Powderhaus, a 12-employee operation, used the tax relief to hire a new full-time employee, a driver/cellar man. Mark Schmidt, standing in his half-utilized brewing facility on Thursday, said he hopes to double the size of Powderhaus.
Just outside the brewery stands a silo filled with Idaho barley, which is fed into one of several stainless steel tanks. Once mashed and heated, the barley is mixed with hops, also largely grown in Idaho.
"Some of the best hops in the world," are grown from Weiser to Marsing, Schmidt said.
The sugary substance will then ferment over the next few days or weeks, becoming alcohol. Before the beer is bottled, canned or put in a keg — before the beer can even be sold — Powderhaus owes money to the federal government and the state of Idaho.
"The government says, 'What you just put in there, we want the money, and we'll take it right now," Schmidt said.
The money is for excise taxes, commonly known as "sin" taxes — products or activities subject to excise taxes include alcohol, cigarettes, gasoline and gambling.
Schmidt, like most brewers, vintners and distillers, is not a fan of excise taxes. Excise taxes made up almost 5%, or $84 billion, of the government's gross domestic product in 2017, according to the Tax Policy Policy Center.
Schmidt says the government's collection of excise taxes is an "addiction."
"A morality tax or even an existence tax for free enterprise doesn't make sense," he said. "How can they come in and say, 'You just made something, I need some money?' It doesn't pass the smell test. But it's here, all 50 states have it. I know that, and we're complying."
Small craft breweries, like Powderhaus, were cut a break on federal excise taxes in 2017. Congress passed a temporary tax cut on craft beverages, which took effect in 2018, cutting the tax rate in half for the first 60,000 barrels of beer produced annually. 
Instead of $7 per barrel (31 gallons), beer was taxed at $3.50 per barrel on the first 60,000 barrels produced. Powderhaus, a mid-sized craft brewery by Idaho standards, produces fewer than 3,000 barrels annually. Idaho's largest craft brewery, Mother Earth, produces fewer than 20,000 barrels in a year at its Nampa brewery.
The tax cut was a small victory for craft breweries.
"It was very helpful to us, and we'd like to see it continue," Lisa Schmidt said.
The federal tax cut is part of the Craft Beverage Modernization and Tax Reform Act, or CBMTRA. If a new bill of the same name, introduced in February in both chambers of Congress, isn't passed by Dec. 31, the federal excise tax will return to its pre-2018 rate. 
On top of the federal excise tax, Idaho breweries will continue to pay the state's excise tax, which is four times the current federal rate for beer with more than 5% alcohol. Local brewery owners say there's no sign of the state's rate being decreased anytime soon. 
Federal bills to renew the tax relief have bipartisan support, and they're backed by the craft beer industry's top trade organization, the Boulder, Colorado-based Brewers Association.
U.S. Sen. Jim Risch, R-Idaho, is a cosponsor of the bill. A spokesman for Sen. Mike Crapo said the senator supports it, as well. The bill will likely be included in broader tax legislation, which will be subject to partisan negotiations in Washington, D.C., so its fate is uncertain.
"It is hard to pass tax legislation in Washington, D.C.," said Bob Pease, president and CEO of the Brewers Association. The 5,255-member trade association has worked for more than a decade to pass legislation like the CBMTRA. 
"We are in as good of a position as we possibly can be," Pease said. "If you ever talk to someone who says they know what's going to happen in D.C., run away from that person as fast as you can. Nobody knows."
Brewers point to the Civil War as the genesis of the excise tax onslaught. That's when the federal government first imposed an extra tax on alcohol, brewers say, to help pay for the war. The war ended, the Union won, and a century-and-a-half later, the tax remains.
"It goes to show there is no such thing as a temporary tax," Pease said.
Pease became active in politics in 2008, representing the American craft brewery industry, which was on the verge of a boom. According to Brewers Association data, there were about 1,500 breweries in the U.S. in 2008. A decade later there were nearly 7,500, the vast majority being microbreweries and brewpubs.
Jerry Fergusson, owner of Crescent Brewery in Nampa, said there were 18 craft breweries in Idaho when he opened Crescent in 2009. According to Brewers Association data, there were 63 Idaho breweries in 2018.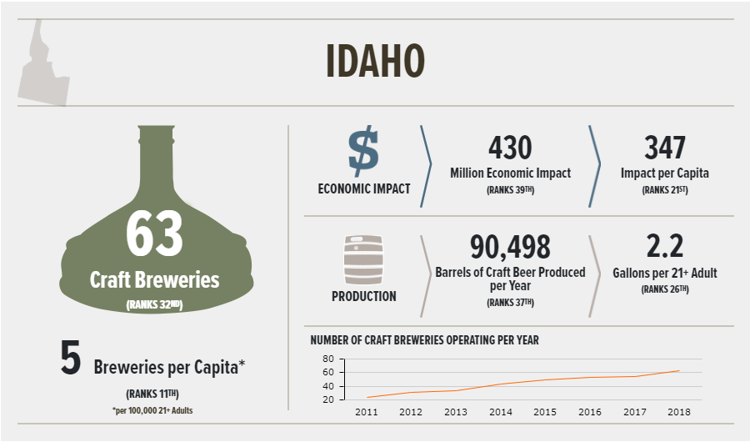 Those breweries produce more than 90,000 barrels of beer annually and have a $430 million economic impact. 
At the cusp of the boom in 2008, craft breweries lacked a political presence in Washington, D.C., Pease said. With the industry gaining momentum, the Brewers Association got to work on an excise tax break for small and independent breweries. A bill called the Small Brew Act was introduced in 2015, but the legislation was too narrow, providing excise tax cuts to small breweries but not large ones.
"Congress does not like to pick winners and losers, specifically within one industry segment," Pease said.
A second iteration of the bill was introduced in 2017. The Craft Beverage Modernization and Tax Reform Act, introduced by Sen. Ron Wyden, D-Oregon, included tax cuts for small and large breweries, and it brought distillers and vintners into the mix.
The tax reform was especially beneficial for craft breweries, which the Brewers Association defines as small (fewer than 6 million barrels produced per year) and independent (less than 25% of the brewery is owned or controlled by an outside beverage alcohol industry member).
For a brewery that produces 60,000 barrels per year, federal excise taxes would have totaled $420,000 prior to 2018. The CBMTRA tax cut would save that brewery $210,000.
Even the largest Idaho craft brewery has a fraction of that productivity. Mother Earth's Idaho brewery (the company has a second location in California) produced 10,000 barrels in 2018, the first year of the tax cut. This year, the brewery expects to produce 18,000 barrels, according to owner Daniel Love.
Mother Earth likely racked up $100,000 in federal taxes over two years, but it also saved another $100,000, thanks to the CBMTRA. If the extension isn't passed, those taxes will double next year. 
"I don't like it," Love said. "I'm really upset about what happens to the smaller guys."
The Brewers Association conducted a survey of its members last year, asking how they were investing the cash brought on by the CBMTRA. The majority said they were purchasing new equipment, upgrading their tasting rooms and/or breweries or moving into new buildings. Half said they were hiring new employees.
"We are a very small brewery," said Beth Becthtel, owner, founder and brewer at Bear Island Brewing Company, a 400-barrel-per-year brewery in Boise. "We take every cent we make and put it back into the company. The more money in your pocket, the more you can pay your employees and give back to the community."
Mother Earth hired two new employees and bought two Unitanks, stainless steel fermenters, with the tax savings.
Pease said he tries to convince politicians of craft breweries' positive impact on the communities in which they operate. Yes, they make alcohol, but they also create jobs, are leaders in urban renaissance and are philanthropic. The industry benefits the manufacturing trade in urban communities and agriculture in rural areas. 
"These are the types of messages we take to Capitol Hill and members of Congress," he said. 
Idaho brewers say they appreciate the work that the Brewers Association does in D.C. 
"I do appreciate those out there that are really pushing hard to make changes for the betterment of craft brewing in Idaho," Bechtal, of Bear Island Brewing Company, said. 
But their primary concern, as far as taxes go, is right here at home. 
While the Brewers Association fights for $3.50 per barrel at the capital, no matter the outcome of that bill, Idaho brewers are going to continue to pay a state excise tax. 
"The federal excise tax is probably the fairest we have to deal with," Fergusson, of Crescent Brewery, said. "The state absolutely rips us off."
In Idaho, beer containing more than 5.1% alcohol by volume is considered "strong beer" and is taxed as wine. Excise tax on wine is about $14 per barrel, or four times the current federal excise tax. At $14 per barrel, Idaho's tax on "strong beer" ranks the 12th highest beer excise tax in the country. 
At Powderhaus, four of the six year-round beers contain more than 5.1% alcohol. 
Dan Love, of Mother Earth, said Idaho's strong beer tax is the most "aggressive and costly" that he has dealt with. 
In addition to running Mother Earth, Love is the president of Idaho Brewers United, a statewide guild. He talks to state leaders about lowering the excise tax, which funds various government programs, including the Idaho Wine Commission.
Talks have been unsuccessful, at least for this year.  
"We've been told that the state is going to be in a budget shortfall," Love said. "We've basically been told, 'Not this year, don't ask.'"