NAMPA — Rolling H Cycles owner Adam Haynes had no idea how much public outrage he would stir up when he painted over a mural by local artists, to make way for new art.
Rolling H, a popular bike shop in downtown Nampa, posted to Facebook on Oct. 14 its plan for Northwest Nazarene University students to paint a new mural one of the shop's exterior walls. The original mural depicted a flying train to pay homage to Nampa's railroad roots.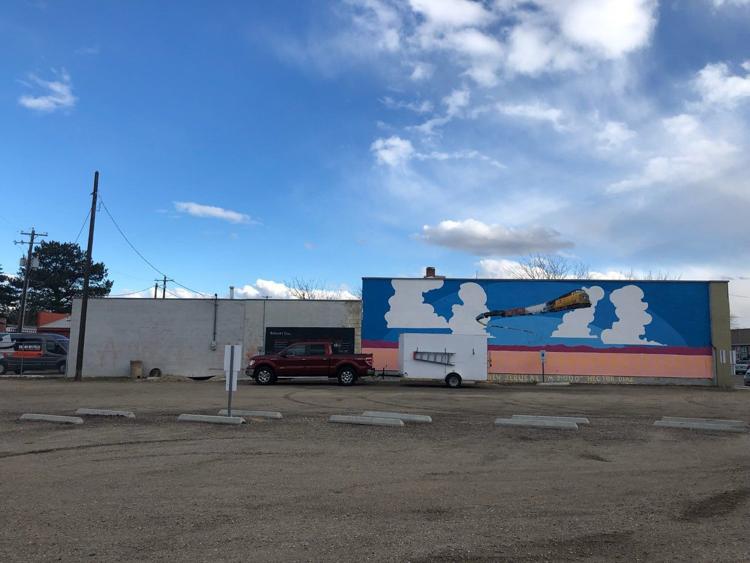 Since the post went out, it's racked up multiple negative comments, and Rolling H has received at least three negative reviews on Facebook and Google related to the decision to paint over the mural. As of Oct. 14, the Nampa Mayor's Office has received three calls from people complaining about the mural being painted over.
"I have had an absolute pit in my heart since Rolling H Cycles decided to look the other way on preserving something absolutely dear to the community and paint over this mural," Sarah Jean Raphael Pincock, an artist who's involved in the Death Rattle Writers Festival in downtown Nampa, said in one Facebook comment.
Haynes said he didn't feel the original train mural related enough to what he wanted to do with the building. He reached out to the artists who painted it, Hector Diaz and Dig Reeder, to set up a meeting in January to talk about their plans for the mural.
In a March article in the Idaho Press, Haynes said he was looking to add a mural on the other half of the building that was "relevant but complementary" to the existing mural. Haynes maintains that his vision from the start was to fill the entire building with art. He said he wanted to do so as a way to connect with the rest of the Nampa community, even those who don't ride bikes.
The January meeting was not the first time that Diaz and Reeder learned that their mural might be covered up. Diaz said he was contacted by an independent contractor who has done some art installations for Rolling H.
At the meeting, Reeder said he mentioned several times that he would like the mural to stay, but from his perspective, it seemed like Haynes already had his mind made up. Haynes said although the artists expressed their desire to preserve their mural, they were understanding about his position as the owner of the building, and how that gave him the power to decide what to do with it. Diaz confirmed that to the Idaho Press.
"I would do the same thing if I was him," Diaz said.
Haynes said he invited Diaz and Reeder to submit alternate ideas for a new mural to cover their existing art. Neither Diaz nor Reeder remembered receiving such an invitation, but both confirmed that neither submitted any ideas when Haynes sent out a call for artists later this year.
Diaz said the process of painting the original mural was "painful enough" that neither wanted to repeat the experience. He said while painting the mural back in 2015, residents would come up and criticize their painting before they were finished.
Reeder said they spent over eight weeks and put in hundreds of hours of work into the piece, and that when they did it, they intended for the mural to stay up for a long time. Adjusting or replacing their painting with a new one seemed counterproductive to their original goals, Reeder said.
Haynes said he didn't get a lot of responses to his call for submissions, but NNU did reach out. That led to the idea of involving art students in the creation of the new mural. About a dozen students are involved, and Haynes expects the mural to be finished by the end of next week.
Rolling H is providing the materials, and the students are volunteering their time. Though Diaz said he loves the idea of involving student artists, but it's important to pay them because not doing so sets a bad precedent that it's acceptable for them to work for free later on.
"They're grown men and women," Diaz said. "They've got bills to pay."
Moving forward, Haynes said he intends to fill the rest the building's exterior walls with art, and continue to cycle out new murals in years to come. He described the concept as a "revolving door" of local art, where community artists and students will regularly have the opportunity to showcase their work. When he told the NNU students about this plan, including that the mural they're painting would be covered with new art in a few years, he said they were all supportive.
Idaho has other spaces that feature regularly changing public art, like Freak Alley Gallery in downtown Boise. The difference between Freak Alley and the Rolling H building is that artists painting in Freak Alley knew their work would eventually be covered up, while Diaz and Reeder did not, said Diana Forgione, co-founder of Death Rattle Writers Fest. Forgione, on Rolling H's post, expressed support for preserving the original mural.
Reeder said if he and Diaz knew that their mural would be painted over four years after they completed it, they wouldn't have put so much effort into it. He, Diaz and Forgione were all skeptical of Haynes' idea of covering the building with rotating art. Reeder even called it "completely unnecessary," given the lack of public art in downtown Nampa already. Forgione said Haynes could have implemented the rotating art idea on the rest of the empty walls outside of the building without covering up the existing art.
"Why do we need to take art down to have more art?" Reeder said.
Haynes' philosophy on public art is different. He argued that public art is meant to be temporary, and appreciated in the moment, because from the second it's set up, it's already started to deteriorate.
"I've never looked at a public mural and thought, 'That's going to be here in 50 years,'" Haynes said.
Reeder and Forgione argued the value of public art increases the longer it remains, and it only continues to add to the culture of an area. They both said Haynes has never painted a large mural before, so he doesn't understand the amount of work required.
Since the mural was painted over last week, Reeder said he's been surprised and touched by the public support he's received from the community who appreciated his artwork and were sad to see it go.
"That moved me a lot," Reeder said.
The new mural will display the word "Nampa" in large letters that are filled with different aspects that represent the city, including an Idaho license plate, the local train depot and farmland. Haynes said the intent behind the project is to connect with the community and give local artists an opportunity for their voices to be heard.
"We want people to know that we are 100% proud of Nampa," Haynes said.