NAMPA — Anti-smoking signs provided by Project Filter are on their way to downtown Nampa after receiving approval from the city's urban renewal agency.
The Nampa Development Corporation approved the designs for the signs on June 18, according to Nampa Mayor Debbie Kling. Once the signs are delivered, Nampa Public Library Director Claire Connley will decide where they'll go.
The metal orange signs will read, "Tobacco Free Zone. Thank you for not smoking, vaping or chewing," along with the city of Nampa logo and information about Project Filter. Councilman Rick Hogaboam said there will be about five signs, and Kling said Project Filter will provide them for free.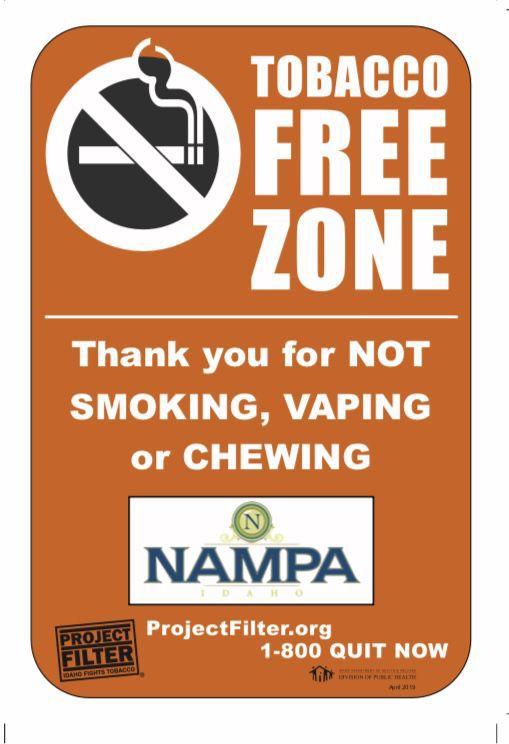 Want more news like this in your email inbox every morning?
The anti-smoking signs were part of a controversial discussion among Nampa City Council members earlier this year. Hogaboam proposed the city consider an anti-smoking ordinance around Library Square, considering the secondhand smoke a public health and property rights issue.
"It's OK for you to smoke, but it's not OK for me to inhale your secondhand smoke," said Councilman Victor Rodriguez, who supported the ban.
Other council members were concerned the city was needlessly adding laws that police could not enforce. In March, the council voted 4-2 to deny an anti-smoking ordinance, but several council members suggested the city pursue anti-smoking signs instead, arguing that they would have the same effect while not requiring added governmental regulation. Because Library Square sits in an urban renewal district, the signs needed NDC approval to move forward.