NAMPA — Southwest Nampa has been in need of a fire station for eight years, according to the fire chief, and the mayor says it could be 2024 or later before funding is available.
The city of over 100,000 people has five fire stations and, given the call volume, needs three more, Fire Chief Kirk Carpenter said. Population has grown by 25% since the last station was built in 2007.
Carpenter said a sixth station should have been built in 2011, along with a seventh between 2014 and 2015 and an eighth last year, to keep up with growth.
Though funding the new station is a top priority, Carpenter said, it's absent from next year's $12.2 million budget request. Department officials didn't think city council would support it, he said. Instead, the department is asking for three new firefighters and some new equipment.
Carpenter said it's difficult for the fire department to get the funding it needs because it has to compete with police, public works and other departments that also need more money. The police department has requested 11 more staff — and in July Nampa City Council rearranged funds in the proposed budget to make that happen.
Councilmen Randy Haverfield and Darl Bruner each said building a sixth fire station is a high priority for the city. The challenge lies in how to fund it.
Nampa's fire department isn't the only one in the Treasure Valley struggling to keep up with growth. Residents in northwest Boise are opposing a new subdivision, saying the area needs a fire station first. The station is in the works for Gary Lane, and there's no timeline yet for construction.
Meridian officials in 2017 were going to push back building the city's sixth station for a year when the Meridian Rural Fire District stepped in, offering to fund the station's first year of operations. The city and the district reached an agreement, planning to open the station in fall 2018. The project still got delayed in the design process and isn't set to open until 2020.
Fire departments and districts are looking for funding solutions so they can keep up with growth, such as property tax levies — which failed in Kuna this year — impact fee hikes and, as with Nampa Fire, a possible merge with the rural fire district.
In 2007, when Nampa's fifth fire station was built, the department received an average of 6,700 calls a year, Carpenter said, which amounted to about 1,100 calls per engine. In 2018, he said the department saw 9,400 calls, amounting to between 1,700 and 1,800 calls per engine.
With the engines covering more calls every year, it increases the strain on staff and equipment, and raises the likelihood that an engine will be called to respond to an emergency when it's already out on another call, Carpenter said.
"It's a longer response time to get there, to that second call," Nampa Deputy Chief Richard Davies said.
The Nampa Fire Department tries to respond to every call within six minutes, Carpenter said. He said the national average is about four minutes, but when fire crews respond in under six minutes, it significantly increases the chance of a positive outcome for those involved.
In the southwestern region of Nampa near Lake Lowell — where a sixth fire station would be — the fire department logs slower response times. Fire stations 2 and 4 cover calls to this area. Of the 553 emergency calls crews responded to in that area in 2018, the average response time was six minutes and 43 seconds — slower than any other region with an existing fire station.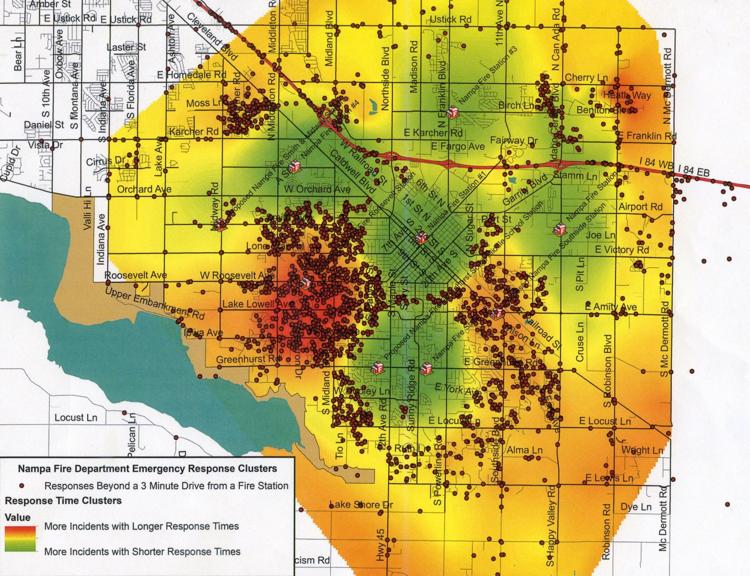 After Nampa's fifth fire station opened, Carpenter said the department's average response time dropped by about 90 seconds in the surrounding area.
Not having that sixth station is a public safety concern, he said. In the last year, Davies said one home within the station 6 region was completely lost in a fire. In May, Nampa Councilman Rick Hogaboam and several other residents helped evacuate about 20 seniors from an assisted living facility located in the same region that had caught on fire, and he said firefighters didn't arrive until shortly after they evacuated the final resident.
Fire department officials estimate it would cost about $5.2 million to build a sixth station. In contrast, Carpenter said the department's fifth fire station cost about $2 million to build in 2007. That steep increase is mostly due to rising construction costs, he said.
Impact fees could cover the costs of the structure. Nampa City Council recently approved major increases to its impact fees, which developers pay when building a new project. These fees help cover the cost of infrastructure for streets, police, parks and fire to account for the growth of an incoming project.
Nampa's increased fees took effect in July. Davies said city officials have previously held the mindset that the department should pay for the new station up front with impact fees, and the department doesn't have enough saved yet to do so.
The department has about $2 million saved in impact fees, Davies said, and plans to spend some of that on other necessary infrastructure. Even with Nampa increasing impact fees for fire from $185 to $560 per residential unit, Davies estimated it would take about five years to save enough to pay for the station all at once.
The fire department has a plan for how to pay for a sixth fire station with impact fees now, however. Davies said the department could go through the city, or even a private party, to secure funding for construction, and then pay that entity back with impact fees over several years. Carpenter said research has confirmed that going through the city's existing fund balance is a viable option to pay for a new station, and officials have not confirmed it is a viable option to go through a third party.
Haverfield said he would be reluctant to support this plan because it would diminish the city's fund balance, which should be available to handle future emergencies.
Beyond just paying for construction of a sixth station, a bigger obstacle is the ongoing expense of new employees, according to Carpenter and Mayor Debbie Kling. Carpenter said a sixth fire station would require 12 additional staff, an annual cost starting at $1.4 million. Three new stations would require 33 more employees.
Impact fees can go toward construction and equipment, but not toward ongoing operation or personnel costs. Funding for new hires would come from the city's budget, largely supported by property taxes.
State law says local governments can't raise property taxes by more than 3% a year. In Nampa's proposed budget, that 3% tax increase would amount to $1.1 million, according to the Idaho State Tax Commission.
Several Nampa council members have voiced their opposition to taking the full 3% increase. In the FY20 proposed budget, Nampa is calling for a 2% property tax boost, and city officials have said half of that increase would be allocated for streets. Because of this, Carpenter and Kling thought it unlikely that the necessary staff for a sixth fire station could be funded in the near future.
"The one thing we are committed to is making the most of what we have," Kling said.
Davies said the city could also increase the budget through new construction revenue, but that is dependent on the level of development and out of city officials' hands.
With the way Nampa allocates funding in its annual budget, Kling said it may not be until 2024 or later when the city has funding for a sixth station. In 2024, Nampa officials expect to pay off a general obligation bond that paid for the construction of the Garrity Boulevard expansion and the Amity Avenue overpass several years ago.
Payments for the bonds take up millions of dollars in Nampa's budget each year. In FY19, the city allocated about $2.9 million for the debt payments, and in the proposed FY20 budget, the city would spend about $2.6 million, about 4% of the general fund.
Once this debt is paid off, Kling said it will free up revenue that Nampa could send to the fire department.
Carpenter said Kling has asked for fire officials to make a presentation on funding options for a sixth station, which the department plans to give in September or October.
In that same presentation this fall, Nampa Fire officials plan to also explore the option of merging with the Nampa Fire Protection District as a way to bring in more revenue for the department.
The rural fire district, run by its own commission, was formed in the 1940s and starting contracting with the city in the '70s. Under the contract, the city's fire department provides service to rural areas outside of city limits, and the district pays the department out of its own property tax collection, Carpenter said. In 2018, Davies said about 11% of the calls the fire department responded to were in the district.
The district will contribute about $2.3 million in FY20, Davies said, which would bring the fire department's overall budget to around $14.5 million.
The fire department has considered merging with the district several times over the years. If this happened, the fire department would operate on a separate budget from the city, and would instead be managed by the Nampa Fire Protection District Commission, Carpenter said.
The new Nampa Fire Protection District's tax base would include the current rural fire district and everything in Nampa city limits. Davies said this would not impact what taxpayers pay, just what entity collects the taxes.
The fire department would also collect impact fees from the city and fire district, Carpenter said. He said the Canyon County commissioners are now considering increasing county impact fees up to the level Nampa recently chose to charge, a portion of which would go to the fire district.
Because the district already gives a portion of its revenue to the fire department, Carpenter said he is not sure how much additional revenue merging with the district would generate, or if it would support a new fire station. The benefit of merging with the district would be that the department would have more control over their funds, and would not have to compete with other departments for funding.
"No one is taking the funds from us," Carpenter said.
The last time the fire department considered merging with the district was in 2016 and 2017. An ad hoc committee considered the merits and drawbacks of the department merging with the district, and Carpenter said the members found it to be a viable financial option. He said the committee determined the department would gain about $1 million in revenue if it merged with the district.
However, in April 2017, the Nampa City Council voted 5-1 to reject plans for the fire district to annex the city. The annexation had the support of the fire district commissioners, the city finance director and at least two fire chiefs, but it hit a roadblock when presented to other city leaders.
Haverfield, who was a member of the ad hoc committee, said he was reluctant to give up city control of the fire department, though he never took an official position on the matter in 2017. Since then, Haverfield said he is still in opposition of merging with the fire district.
"I haven't been convinced otherwise," Haverfield said.
Carpenter said there was a lack of education on what merging with the fire district would mean when it was being considered. Davies said some of Nampa's elected officials did not trust that the fire district's commissioners would make decisions that were in the best interest of Nampa residents.
Haverfield said annexing the city with the fire district would allow the commission to have an equal voice in decisions regarding the fire department, even though the district makes up a minority of the department's annual budget.
"I've been elected by the citizens of Nampa, not the county," Haverfield said.
Haverfield said he is more in favor of pursuing a bond as a way to pay for a sixth fire station.
Four current Nampa City Council members were serving on the council when the previous decision was made: Haverfield, Bruner, Sandi Levi and Bruce Skaug. All of them voted against the proposed annexation.
Though Bruner voted against annexation, he said he is open to discussing it again. Circumstances are always changing, he said, and he plans to have an open mind when the council considers merging with the fire district again.
Editor's Note: This story has been updated as of Aug. 5, 2019.