CALDWELL — Weekday traffic volumes have been down across Ada County this year because of the pandemic, while some Canyon County roads have seen a traffic increase.
That's according to the Community Planning Organization of Southwest Idaho, the agency that oversees long-term transportation planning in the region.
COMPASS reported that the average weekday traffic volume was lower in October this year in parts of Ada County than it was in October 2019. The data shows the average weekday traffic volume increased in parts of Canyon County in October when compared with the year prior.
To collect its findings, COMPASS took the traffic count using Idaho Transportation Department counters this year and compared it to the data it had for last year on Interstate 84 and I-184, state highways and arterial roads.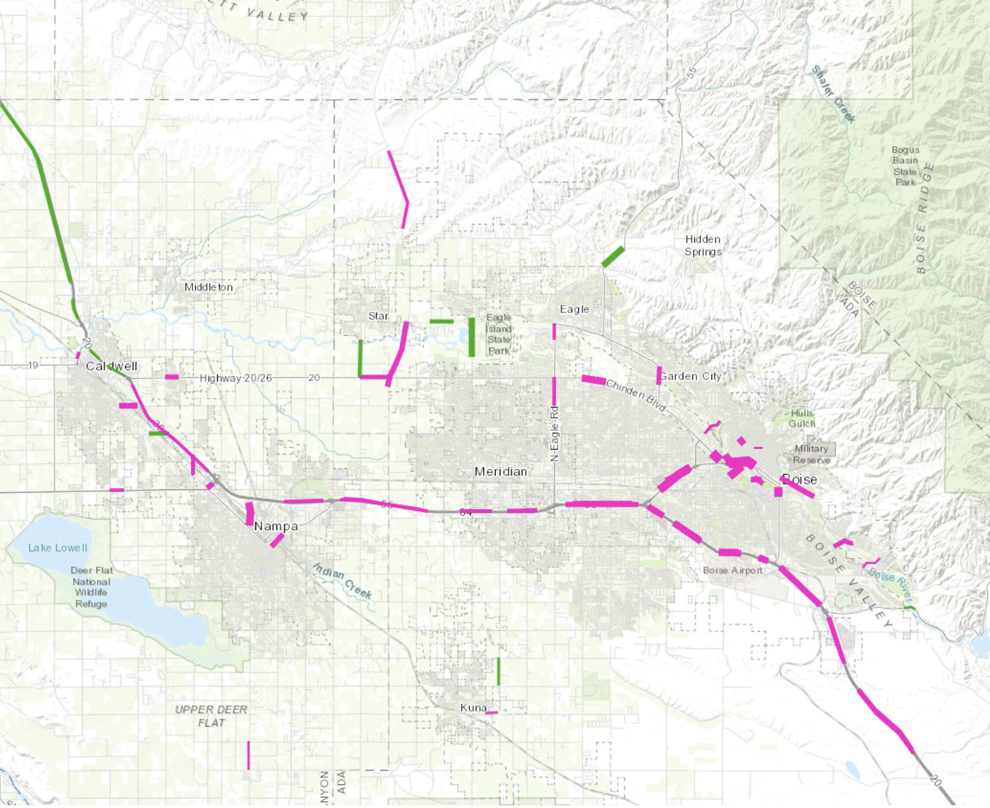 Mary Ann Waldinger, principal planner with COMPASS, said the organization can accurately say the decrease in traffic flow in Ada County is due to the pandemic and the stay-at-home order issued by Gov. Brad Little in March.
"With growth and so many people moving to the area, seeing a drop in traffic counts doesn't compute," Waldinger said. "After the first stay-in-place order, you see massive drops in traffic count, drops we have never seen before."
COMPASS was seeing increases in traffic counts compared to last year in January and February, but after the pandemic hit, counts have steadily dropped, Waldinger said.
Parts of Canyon County, mainly Caldwell, saw an increase in traffic flow. Waldinger said that can be attributed to new construction on roads and overpasses in Caldwell and to the fact that parts of Canyon County have remained open during the COVID-19 pandemic.
According to the map, Ustick Road in Canyon County saw an increase of about 30%, or more than 2,700 average weekday vehicles on the road. Waldinger said that increase is because of the construction on other main roads and overpasses, leading to higher volume on Ustick.
Major corridors in downtown Boise saw a 50% decrease in traffic flow in April 2020 compared to April 2019, according to COMPASS.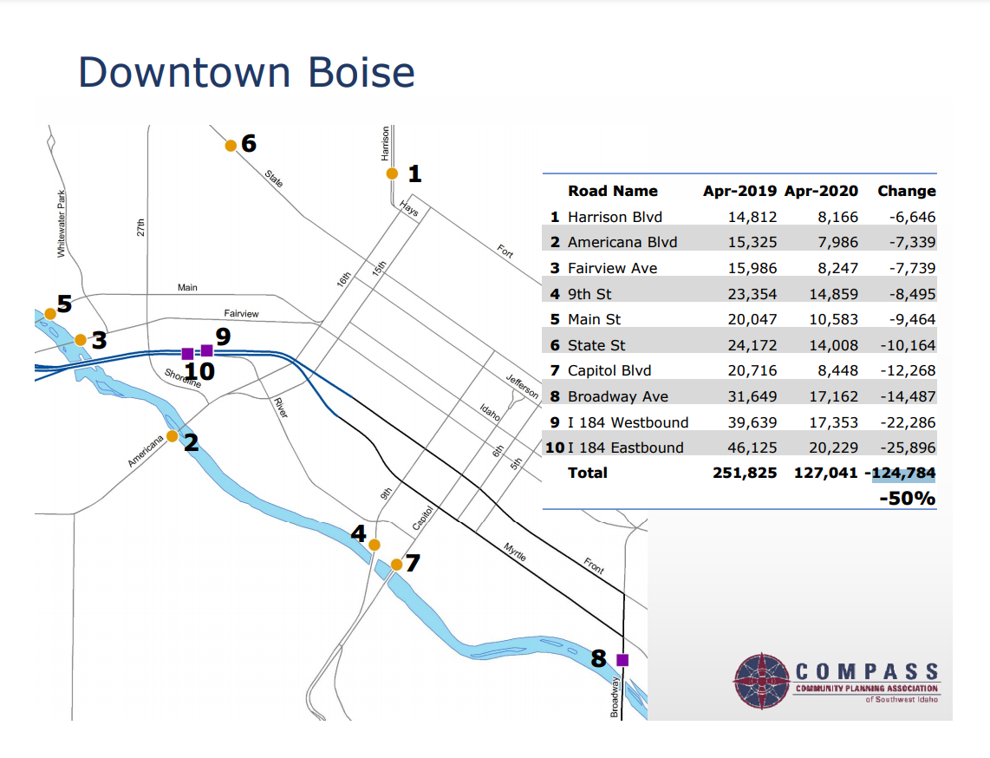 Downtown Boise has about 10% of the valley's jobs, Waldinger said, so when the stay-at-home order was issued for many workers, the traffic volume naturally decreased. She also said many of the buildings and offices downtown are for government workers and government buildings have been closed for months in many cases.
"When you think about that stay-at-home order, its impact is on the nature of what makes up a downtown," Waldinger said. "Restaurants having different hours, or less hours and maybe people are just adjusting to this world we live in."