Fewer Meridian residents think the city is headed in the right direction than they did in 2017, according to a recent public opinion survey conducted by ETC Institute for the city.
The share of residents who think the city is headed in the right direction, 54%, still outpaces national and regional averages, though, as does the percentage of people pleased with the quality of life in Meridian. But the number of residents who think Meridian is moving in the right direction has dropped 10%.
Roads and traffic concerns topped the list of respondents' priorities, followed by education and growth issues.
Those policy areas aren't newly important to Meridian residents. Councilmembers Liz Strader, Brad Hoaglun and Jessica Perreault felt pressure to make changes to infrastructure and education alongside Mayor Robert Simison on the campaign trail in 2019.
"The three of us that were knocking doors about a year ago, we've heard this — roads, schools, growth," Simison said at Meridian City Council's Sep. 8 meeting.
Dave Miles, Simison's chief of staff, thinks those top concerns have driven the downswing in people's views of the city's path forward.
"To some degree, I believe that those three things play directly into people's opinions of whether or not the city is headed in the right direction," he said. "I think there's definitely a nexus there."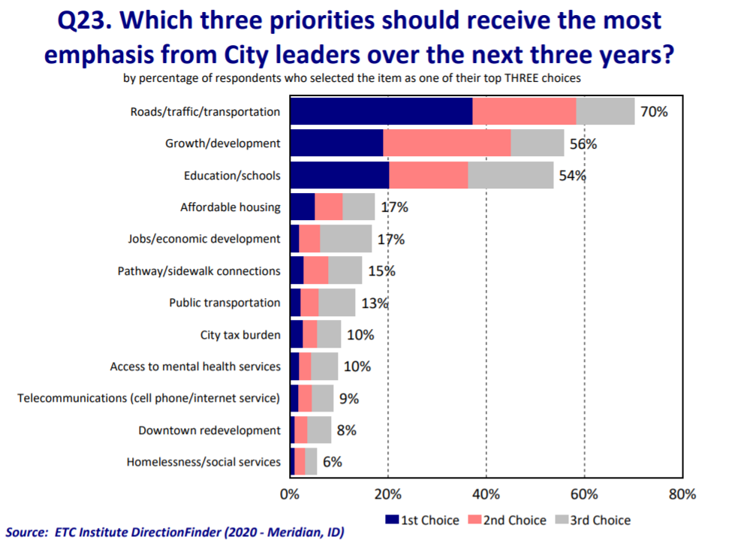 Notably, a majority of respondents have lived in the city for 10 years or less, spotlighting how many people have moved to Meridian, and possibly, that some of those new residents are dissatisfied with how the city has handled growth since they arrived.
Of those surveyed, a minority, 42%, were satisfied with how the city has handled growth, dipping from 57% three years ago. Residents' satisfaction with the quality and variety of housing types in the area, along with the city's sense of community, have also declined over that period.
Planning and zoning services took the brunt of respondents' ire, drawing the least support of all city services.
"Of those who have used planning services and building services directly, I think you might get a different reaction, whereas some people might be keying in on the fact that growth is a driver of their decrease in satisfaction," Miles said in presenting the survey results to city council on Sep. 8.
POSITIVE FEEDBACK
Residents were more positive on a number of issues, including law enforcement. Support for policing is up 4% from 2017. Councilman Luke Cavener praised the community's support, saying he expected that number to decrease.
"The biggest takeaway for me was the increase of our public's view on law enforcement, especially taking into account when this survey was conducted in the midst of a lot of civil unrest," he said.
However, the wording of one question about support for police didn't clearly measure those who might be critical of law enforcement right now. It asked, "Do you feel the level of police presence in your neighborhood is sufficient, ensuring that Meridian communities remain a safe place for citizens?" Of respondents, 63% said "yes," 22% said "no" and 15% were "not sure."
Still, majority support for law enforcement was evident in other questions. Of respondents, 94% said they were satisfied with the quality of local police protection.
The city saw public opinion climb on a number of other issues, improving on 47 of the 84 opinion questions it asked in 2017. Respondents were happier with the number and quality of walking paths, public communication from the city and staff's customer service.
"The results of this survey make me proud of our team and the services they deliver every day to our community. Our employees take pride in not just the work they do, but how they do it, which is reflected in the customer service ratings. I am continually grateful for their efforts in serving Meridian," Simison said in a news release.
MOVING FORWARD
That leaves, again, roads, schools and growth as future focuses for council and for Simison's office, though a couple of councilmembers pointed out that managing growth is more nuanced than a pro- versus anti-growth paradigm.
Hoaglun recalled how potential voters told him they enjoyed new stores and features coming to Meridian, but that the speed of development spurred concerns.
As the survey highlights complaints about a lack of public transportation, traffic lights and widened roads, Perreault said it's key to separate concerns about safety from desires for convenience. She acknowledged people's desire to quickly drive through the city, but said increased rush hour congestion can motivate people to be more efficient with their errands as it has for her, reducing the stress on roadways.
Whatever steps the city takes, strides forward won't be made without the Idaho Transportation Department, the Ada County Highway District or the West Ada School District, councilmembers acknowledged. Those organizations will play a part in responding to Meridian's rapid growth, which has seen its population bounce from 100,539 to 114,161 between 2017 and 2019, per Census estimates.
"Advancement will require strong collaboration with our local partners in both transportation and education," Simison said in the release. "The City is committed to working with the agencies that oversee these priority areas as well as stakeholders, to find and implement innovative and proactive solutions."