This story is part of our Cavalcade special edition on local businesses. Read the rest of the stories here. 
Downtown Meridian's Deja Brew (I recently learned its full name — Deja Brew Laugh a Latte) invites customers to "Espresso Yourself!" on its website. 
Sondra Boehm, one of the shop's regulars who decades ago had to choose nursing over art, took Deja Brew's playfully phrased directive seriously. 
When Boehm was a single mother in Portland, Oregon, pursuing a career in visual arts was financially "not an option." So, although she recently retired and has an artist's faculties, the bulk of her education in painting came in high school. She'd also never had one of her pieces publicly displayed, until she asked Deja Brew owner Cecyle Brock if she could hang and sell her pieces among the collage of local artists' works that line the coffee shop's walls. After Brock saw some of Boehm's pieces, she said yes. 
I visited Deja Brew after a drive-thru Sunday brunch at the Soup Kettle Grille, where I enjoyed a croissant sandwich (sandwiches are always better with butter); three quarters of a Thai chicken curry soup (I spilled the other quarter as I hounded it down in the parking lot); and a Reuben (though I'm a sandwich snob, the Kettle's Reuben bested all but mine, which uses dark rye rather than light and a minorly tweaked Swiss-to-sauerkraut ratio). 
When I arrived at the coffee shop, too food-filled and dehydrated for the shop's full meal menu and fuller bar, I picked up two paintings, one an abstract that looks like a bottlenosed dolphin from one angle and a volcano from another. The other is called "Influx." It portrays a densely built skyline of structures that stretch high enough to almost obstruct the view of a landmark Boehm will later observe came "from another time." It's the Meridian water tower, but the view of the tower is mostly eclipsed by skyscrapers.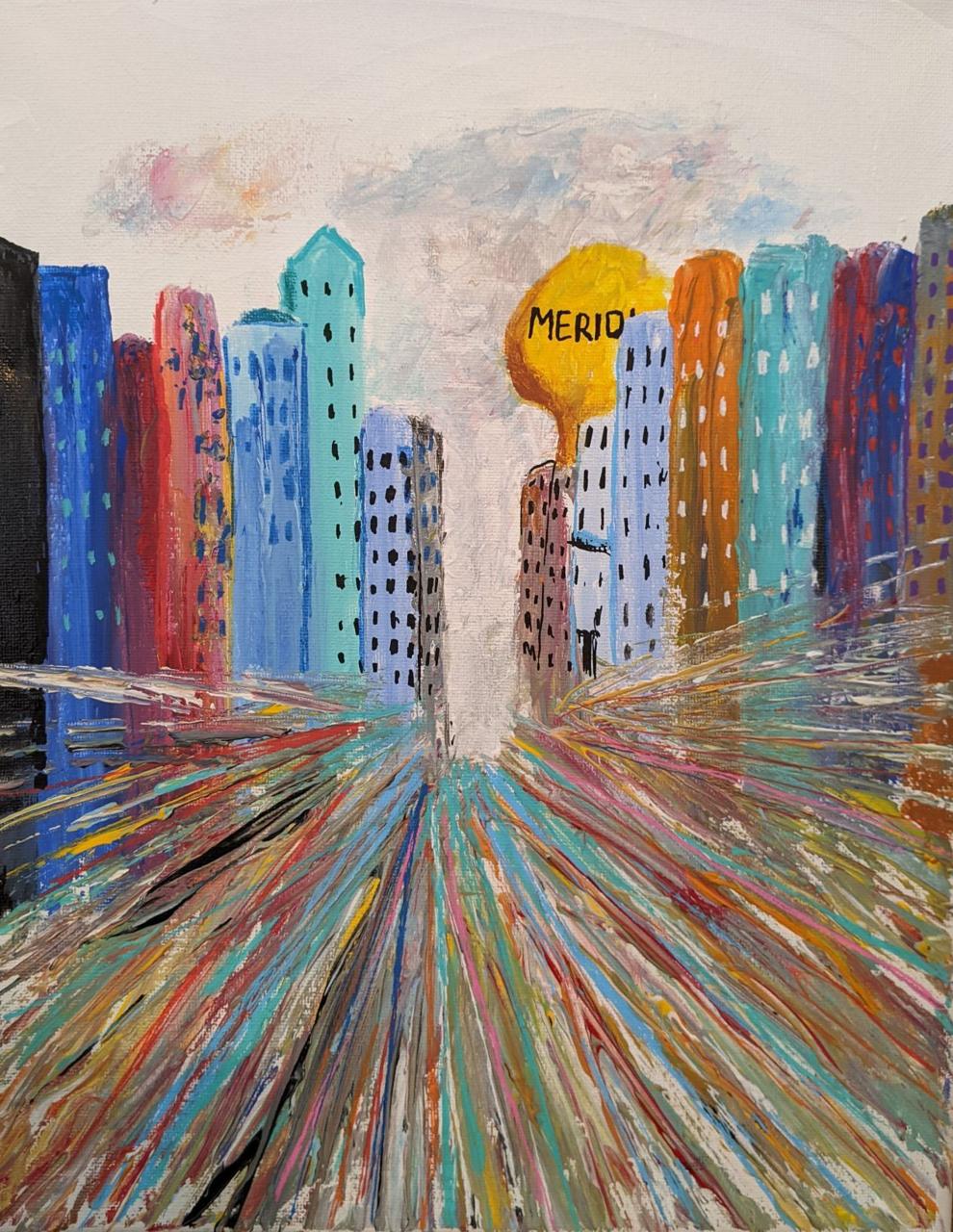 "We're getting a whole new downtown. It's kind of a remake of everything," Boehm, a 16-year Meridian resident says, but "I still love that water tower."
Streaking, colored lines run through the middle of the piece, possibly toward the city. It's hard to ignore the painting's title and the real-world growth it seems to mirror. 
Boehm confirmed my suspicions when I asked what inspired the painting. 
"It's been kind of interesting watching the influx of people from all over," she said. 
She's been watching that influx from one of her favorite coffee shops, which gives 80% of art sale proceeds to piece's creators. 
"Deja Brew is a fun little coffee shop," she said. "Everybody should go there."