For the first time since 2012, District 20A Republican Rep. Joe Palmer faces a Democratic challenger as he runs his sixth consecutive reelection campaign for the seat he's held since 2009.
Stepping into the ring for Democrats is Pat Soulliere, a self-labeled "Millennial" candidate and Micron executive who champions LGBTQ protections, marijuana legalization and bolstered education funding, but details more conservative views on slashing property taxes and reconfiguring existing tax exemptions to fund his proposals.
Incumbent and Cherry's Consignment co-owner Joe Palmer says he's "very conservative on every issue," aligning himself with state Republicans who don't think local health districts should be able to mandate mask wearing and those pushing an amendment to Idaho's constitution to allow the legislature to call itself into session. That idea gained steam as more conservative GOP members criticized Gov. Brad Little's unilateral spending of federal relief money and issuing of a stay-at-home order during the coronavirus pandemic.
A 2019 Meridian mayoral candidate and chairman of the House Transportation and Defense Committee, Palmer joins Soulliere in making transportation his top priority, though the two differ on how to address increasingly congested roadways in the state. Palmer has coasted to victory in the past, taking around 80% of ballots each of the last three election cycles, statistically dominating the same Constitutionalist all those years — Daniel Weston.
Weston is again running for Palmer's statehouse seat. The Constitutionalist's campaign, one of three in a newly crowded field, has been publicly silent on political newcomer Soullierre's entrance.
The campaign has continued to criticize Palmer for levying taxes and fees while promising to evade bipartisan gridlock.
The candidates split on transportation.
Palmer says "transportation is sorely underfunded," and more money must be diverted to local transportation districts to upgrade roads, though he thinks mass transit, with the exception of select, frequently-used buses, isn't "even in the cards" because it requires too much up-front investment to be justified given the Treasure Valley's population size.
Soulliere contends that "widening roads is not a complete strategy. It's one piece … What mass transit offers is the ability to get less cars on the road." He wants to start with busses and spark long-term discussions on using light rail in the valley.
"That is a more complex discussion, and I wish I had an existing framework to go off of, but the chair of the Transportation Committee, my opponent, is so against it, we've never really developed a plan with the exact cost and everything," Soulliere said.
Palmer said he has multiple drafts of bills to increase transportation funding, but was unwilling to share the details of them.
Property tax relief is also high on both candidates' lists of priorities. While Soulliere condemns Idaho Republicans for their failure to pass related legislation during this year's legislative session, Palmer points to bills that passed the House but were shot down by his colleagues in the Senate.
Both candidates said they'd be "open" to using impact fees, which are collected from new construction projects, to fund schools. Still, both were hesitant to commit to raising taxes in interviews this month.
"I'll never say never," Palmer said.
Soulliere added that increased state education funding is one of the top three focuses of his campaign, alongside tax relief and transportation upgrades. Investing in education is key to attracting businesses, and allows employers like Micron, where he's a marketing director, to find qualified employees in-state, he said.
"When they see 51st in education, that tells them they're going to have to hire an out-of-state workforce," he said of Idaho's national rank in per-pupil education funding, a metric conservatives have criticized.
Though his campaign communications don't explicitly address a number of issues, Weston knocks Palmer's spending and the legislature's taxing writ large, arguing he offers a fiscally hyper-conservative alternative to his Republican opponent.
Policy differences between District 20A candidates may be difficult for voters to sift through.
"The Zoom thing is terrible. I chose on the Chamber to just not do it … The only reason I'm not doing it is it's just so clumsy," he said in an interview before the forum.
He also said he prefers face-to-face interactions and dislikes the buffering and disconnects involved in video calls.
Soulliere, one of only three attendees of a combined forum for Districts 20 and 21, took a shot at Palmer, saying the forum was an example of Palmer's "absent leadership."
The race drew heightened attention when Palmer's opponent in last spring's Republican primary, Dawn Maglish, endorsed Soulliere's candidacy in a since-removed post on her campaign Facebook.
"Dear friends in District 20, when I ran in the Idaho primary I ran against a 12 incumbent Republican Joe Palmer. I believe in term limits," she wrote. "I personally don't know Danile S Weston. I do know Patrick Francis Soulliere II. He and I had similar platform and hopes for the seat. The difference is the letter of partisanship. I am voting for Pat Souliere."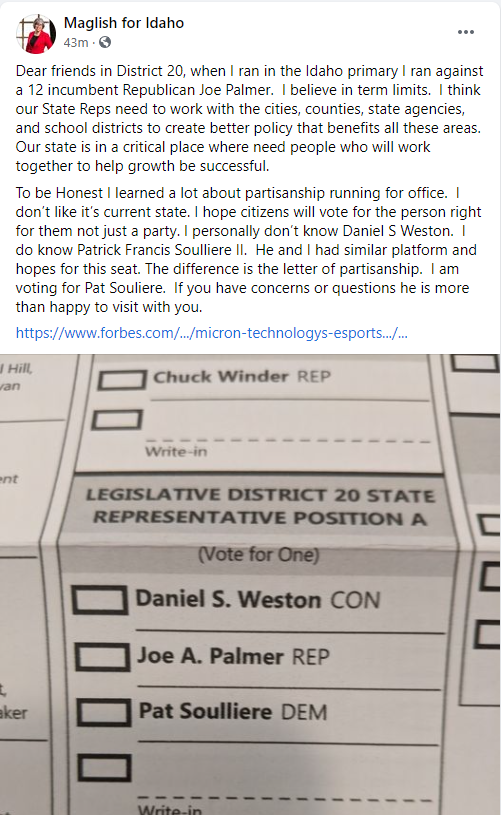 "She is obviously changing parties, so apparently she wasn't a Republican to begin with. I don't know, but it sounds like that," Palmer said of the endorsement. "The difference was she got 25% of the vote and I got 75% of the vote and maybe that offended her."
"I think that shows that I'm the only bipartisan candidate in this district," Soulliere said of the "rare" Republican endorsement in deep-red Idaho.
Palmer added that Maglish never told him why she ran against him.
Citing leftward sliding political demographics in Ada County, Soulliere hopes to capitalize on an untapped bloc of potential blue voters in District 20, one of four legislative districts whose borders converge in Meridian.
Last time a Democrat vied for Palmer's seat in 2012, candidate Caitlyn Lister netted 33.5% of the vote to Palmer's 66.5%. Four years later, the last time a Democrat ran in the district, his lack of success didn't signal any purpling. Incumbent Republican Sen. Chuck Winder beat out Democrat Bill Rutherford, pulling 67.9% of the vote.
Palmer still thinks Meridian is dominated by Republicans, but that District 20's political geography is shifting.
"I think it's fairly similar, but we are getting to have a big downtown. Whenever you have that, you start bringing in more people that will be more liberal-leaning," he said. "I have a feeling (Democrats) are going to have a jump this time. I don't think it's going to be huge."
All of downtown Meridian is contained in District 20.
Soulliere continues to project confidence, claiming a survey conducted by his campaign shows that district residents are split around 50/50 in self-labeling as "conservative" or "liberal" but that a majority of potential voters still flag themselves as Republicans, illuminating a gap between party and ideology. He was unwilling to share survey results with the Idaho Press until after the election.
"When you look at Meridian and West Boise, it's a changing demographic. It's not all hard-core conservatives," Soulliere said. "It's a broad spectrum."
With Weston dinging the incumbent for not being a "true conservative," and Soulliere likely to pull Meridian's progressive vote, Palmer acknowledges his progressive opponent could swing the needle a bit.
"It's a challenge that I have two instead of one. If there was one person, just a Democrat, then the numbers just don't line up. There's far more Republicans in Meridian. The Constitutionalist, he's going to take some away. That's just my guess," he said.
Maglish's endorsement of the race Democrat complicates the equation, Palmer said.
"That starts getting the numbers up there so that between (Maglish and Weston), they could make the Democrat win. I'm getting pulled from both sides," he said.