It's been more than 16 years since an office building was constructed in downtown Meridian.
Earlier this year downtown officials broke ground on a project, the Old Town Lofts, that will change that — bringing apartments, restaurants, shops and office space to downtown Meridian when it is complete.
Now, another office building is in the pipeline on the other side of the railroad tracks.
Owners of Keller Associates, known as MKA, are in conversations with the city of Meridian about building a three-story, 18,000-square-foot office building in downtown, on the northeast corner of Main and East Bower streets.
The building, MKA Office Building at Trackside, would serve as a new headquarters for engineering firm Keller Associates that has outgrown its office on Southwest Fifth Avenue off Franklin Road and is leasing space across the street. The company's Meridian office has grown by 28 employees in the last three years, now totaling 67 employees.
"We're bursting at the seams," said Brandon Keller, part owner and project manager for Keller Associates.
When the building is complete, Keller Associates will occupy about 14,000 square feet of the new building and rent out the other 4,000 square feet to not-yet-determined tenants. Keller said he hopes to break ground in late fall and finish construction by late 2020.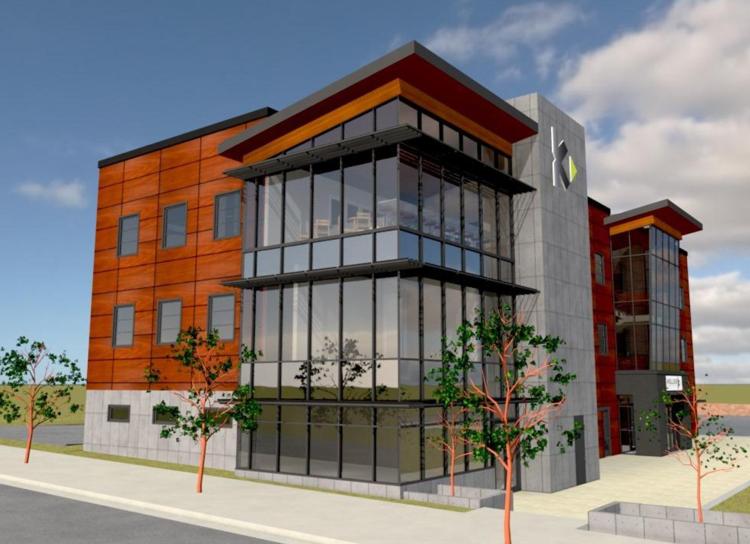 The MKA Office Building at Trackside is phase one of three phases planned for the site. The other two buildings most likely won't be designed until after the MKA building is completed, said Eric Davis, founder and president of Retail West Properties. The three buildings will lease space from the Union Pacific Railroad company for parking.
Neither the MKA building or the other two buildings have been approved by the city of Meridian. A formal application has not been submitted for the project and a public hearing has not yet been scheduled, according to Chris Johnson, Meridian city clerk.
Keller Associates moved to its Meridian office 20 years ago, after being founded in Boise five years prior. The local company has expanded, with seven offices in the Northwest. Keller said its employees working in the Meridian office live all across the Treasure Valley. That makes downtown Meridian a great location for the company to continue to grow, he said.
The three planned buildings all fall within the city of Meridian's opportunity zone, an incentive program included in the Tax Cuts and Jobs Act of 2017, aimed at encouraging business owners and individuals to invest their capital gains in low-income areas. Meridian's opportunity zone covers part of its downtown in northeast Meridian, from Interstate 84 to East Fairview Avenue and South Cloverdale Road to Meridian Road.
Keller said MKA won't be using the opportunity zone because the project's schedule and timeline don't match its regulations. Davis, on the other hand, plans to take advantage of the zone for the other two buildings.
In the past, local officials have commented on the lack of office space in downtown Meridian. The last office buildings completed in downtown Meridian were the Generations Plaza buildings — currently housing Flatbread Neapolitan Pizzeria and Deja Brew Laugh a Latte, among other tenants. They were completed in 2001 and 2002, the Meridian Press previously reported.
Davis said the city has been putting a lot of effort into promoting downtown, including efforts to get the Old Towne Lofts and MKA Office Building at Trackside off the ground. He said there "really isn't any deterrent" to building in downtown Meridian.
"I think everyone wants to see this project go forward," Keller said.