EAGLE — Pedestrians and bicyclists hoping to cross State Highway 44 toward downtown Eagle have two busy intersections to choose from to get across the four-lane corridor.
That could change in the future, though. The city of Eagle is looking to build an under- or overpass across Highway 44 (State Street), between Eagle Road and South Palmetto Drive.
Eagle City Council on Tuesday accepted a study completed by The Land Group with four possible designs for the project, and asked city staff to begin the public participation process.
"People are choosing to drive into downtown and use Eagle Road because there is no safe option," said Nichoel Baird Spencer, Eagle city planner. "People are feeling uncomfortable walking down Highway 44 or State Highway 55 and crossing that intersection, where we do have a significant number of accidents."
Eagle's schools, downtown and library branch are north of Highway 44, so the corridor can be a barrier for south Eagle residents who are on foot or a bike, Baird Spencer said.
Eagle officials identified the need for a crossing over Highway 44 in 2011, but it wasn't until the last two years that the project "rose to the top," she said.
The city and Community Planning Association of Southwest Idaho commissioned and paid for a $49,000 study by The Land Group in the spring.
The four conceptual designs in the study range from $7.6 million to $13 million. Baird Spencer said city officials don't know which concept they'll choose or how they will fund it — though they'll likely seek private or public grants. Those decisions, she said, will come after the city hears from residents.
"That's our next step," she said, "is to say, 'OK, this project has come up, this is why it's important. … But how important is it to you?'"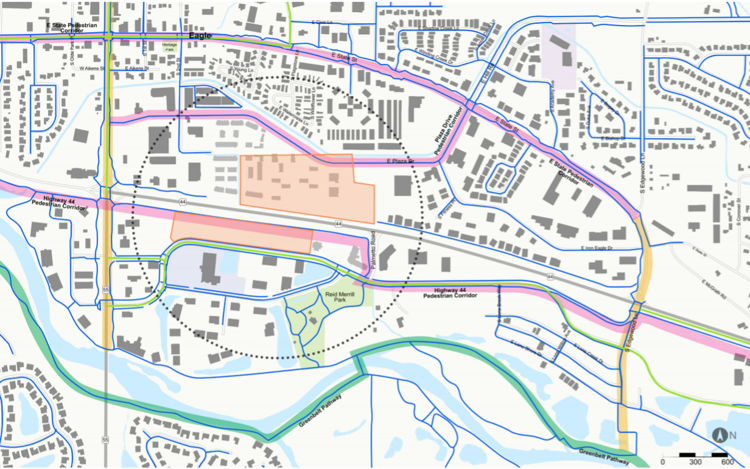 SAFETY
From 2008 to 2017, there were more than 150 collisions at the intersection of Eagle Road and Highway 44, and more than 50 at the intersection of Highway 44 and Edgewood Lane.
"Intersections have the highest rate of vehicle accidents, making them the most hazardous place for both drivers and pedestrians," The Land Group's study states.
Residents' safety concerns have made the under- or overpass one of the city's mostly frequently commented-on projects.
"People saying, 'Gosh … I'd really like my kid to be able to cross 44 without using the highway,'" Baird Spencer said.
Want more news like this in your email inbox every morning?
Patrick Orr, spokesman for the Ada County Sheriff's Office, said over email there haven't been "many reports of either pedestrians or cyclists having problems crossing at the Idaho 44/Eagle Road intersection."
"There are clearly marked crosswalks, with crossing lights, at all four corners. So we really wouldn't characterize that intersection as a specific safety concern," he said. "However, because of the volume of traffic through that intersection on a daily basis, there is a general safety concern.
"Just by virtue of getting bikes and feet across Idaho 44 without having to cross one of the busiest traffic corridors in the state, a pedestrian bridge would increase safety in the area," he said. "We just don't really see a downside to the proposal."
City staff have been working with landowners on both sides of the crossing to ensure it would connect to existing pathways on the south side of the project, including the Boise Greenbelt and build pathways on the north side, said Kathy Parker, resource development and principal planner for COMPASS.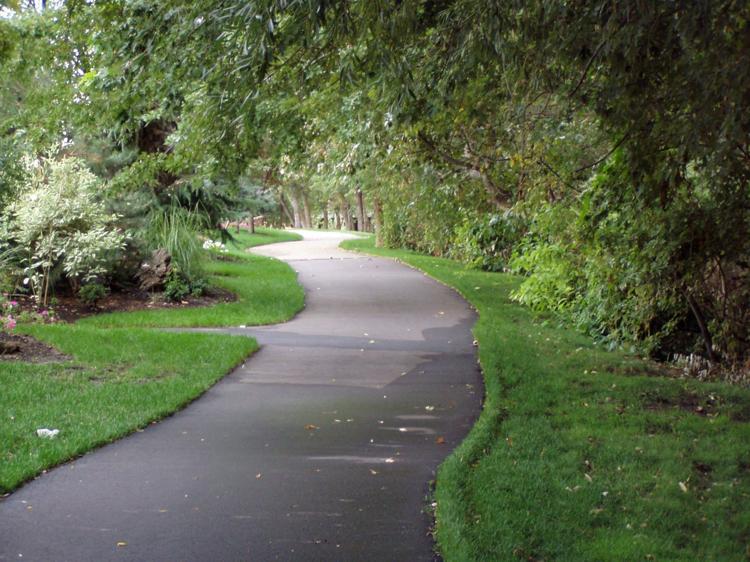 THE CONCEPTS
Of the four concepts presented in the study, Concept C, an overpass with an elevator and stairs on both sides, was recommended by Elaine Zabriskie, landscape architect with The Land Group.
The "space-efficient design eliminates the need for ramps and is highly effective when considering the high clearance required for the crossing," the study states. The overpass will need to be at least 17 feet above the ground.
Elevators do require maintenance, though, and protection from the elements, Zabriskie said.

Other overpass concepts included stairs and curving ramps on both sides, and a diagonal overpass with stairs and a ramp.
Zabriskie on Tuesday discouraged council from choosing Concept D, an underpass with stairs and a ramp. She noted the "sheer number of utilities" surrounding and under the highway would pose construction challenges and require additional costs for the city.
Councilwoman Jill Mitchell was concerned about Concept C, the design with an elevator and stairs, noting she didn't want to have to carry her bike up the stairs if the elevator was out. Zabriskie said the city could install bike ramps on the side of the stairs.
Mayor Stan Ridgeway favored the concepts, and Council President Miranda Gold said it would be valuable to get public input.