Meridian, the first city in the Treasure Valley to pass a hand-held cellphone ban for drivers, has ticketed 140 drivers and warned 92 others so far this year for using their device behind the wheel.
The city, the second largest in Idaho, enacted its ban in October 2019 — months before the legislature approved a statewide ban — but in an effort to educate drivers on the new rule, police have issued more warnings than tickets overall. A first offense comes with a $75 fine.
There were "no surprises" about the volume of texters and phone users on the roads once rules went into place, because the police department knew the issue was prevalent beforehand, Meridian public safety spokeswoman Stephany Galbreaith said.
Since the city ban took effect, Meridian police have warned 741 motorists and ticketed another 394 as of March 21, according to data from the police department. For nearly half of that time, though, police were only issuing warnings rather than tickets. Police waited until January 2020 to start ticketing for the new city ban. Then when the state law took effect in July, police followed state guidance and issued only warnings for six months. Officers racked up 304 warnings — about 1.69 a day — between July 2020 and January 2021.
During months citations were issued, 59% of violators have been cited, while 41% have received warnings. That's a result of standard individual officer discretion, not a conscious balance struck by the department from the top-down, Galbreaith said.
In February, Meridian police cited 32 drivers and warned 32 others.
Since ticketing began, Galbreaith said Meridian traffic officers saw a decrease in handheld devices in drivers hands and an increase in use of dash mounts and docking stations.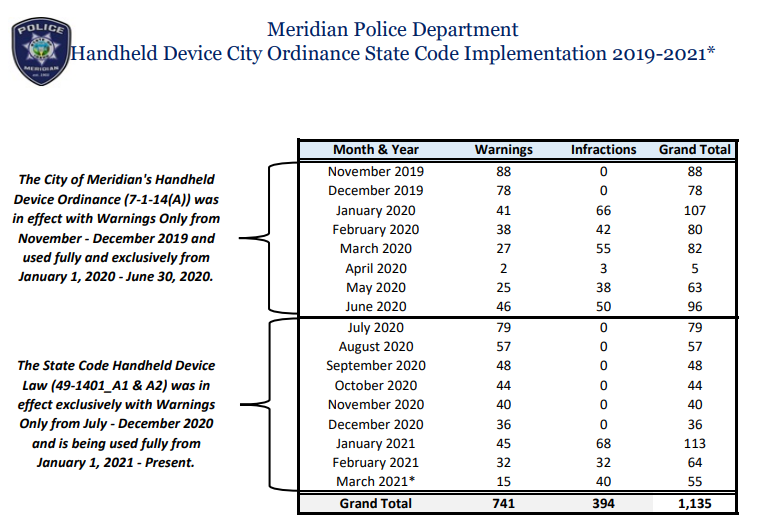 The city and the state rules are similar, banning texting, app use and hand-held phone use, with a exceptions for 911 calls, first responders, and hands-free GPS use and calls.
At the start of the pandemic in April 2020, citations plummeted, as did traffic volumes. Meridian officers only issued two warnings and three citations that month related to the cellphone ban. Police "used their discretion and consciously reduced contact with the public that was not necessary," Galbreaith said in a statement.
The city on Wednesday declined a request to interview a Meridian police officer on hands-free rule enforcement.
The city's ordinance, now inactive, will now go off the books after Meridian City Council repealed it Tuesday night.
Striking the redundant ordinance was "just a code cleanup," city attorney Bill Nary told the Meridian Press.
Though the ordinance hasn't had teeth for nearly nine months, the last violations of the city ordinance weren't processed through courts until around three weeks ago, clearing the way for council to nix the rule, Nary said.
The defunct ordinance carried a $90 fine and court fees of about $72, Meridian Press previously reported. The state fine is $75 on first offense, $150 on the second and $300 on the third and subsequent offences, all on top of court fees and possible license suspension.