More than 370,000 Idahoans, or about 42% of registered voters, have requested ballots to vote in the primary election, which, if returned by the June 2 deadline, would result in record turnout in a primary election.
This year's primary is being conducted by absentee voting only, and election experts expected a low turnout. The opposite appears to be happening.
The 371,765 statewide ballot requests, as of Monday, top 2018's May primary — the current record-holder for primary turnout — by about 100,000 ballots.
Ada County, which represents about one-third of the state's voters, received 116,475 ballot requests, representing 44% of registered voters. In 2018, 78,796 registered voters, or 34%, cast ballots in the May primary.
Canyon County has received 42,698 ballot requests, as of Tuesday, also 44% of registered voters. If every Canyon County ballot is returned, it would represent a 13% increase from the 2018 May primary.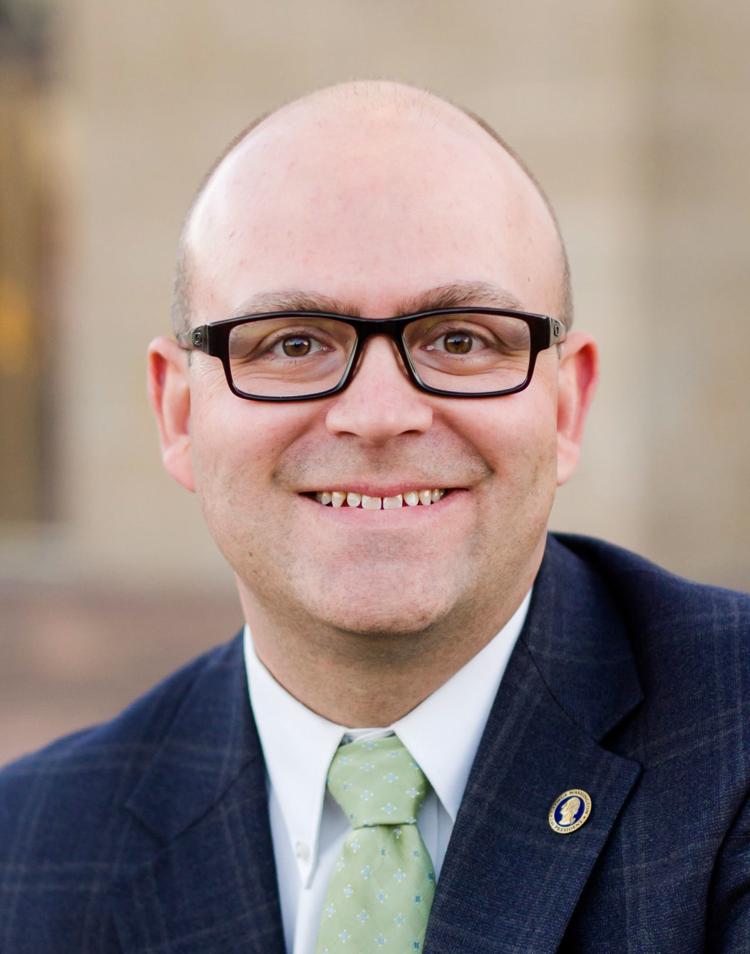 Ada County Clerk Phil McGrane said this election is shaping up to be "surprisingly historic."
"In terms of ballots requested, we're seeing record numbers by leaps and bounds," McGrane said. "It's definitely been different than I would have expected."
Granted, voters still need to return their ballots within the next two weeks for them to be counted.
Tuesday was the deadline to request a ballot. With the flood of ballot requests, Ada and Canyon County elections offices have hired more people and have shifts going around the clock to meet demand.
WHY SO MANY REQUESTS?
The high number of ballots requested for Idaho's first statewide absentee-only election in recent memory has experts scratching their heads.
"That's one question that I don't have a strong answer for," said Jaclyn Kettler, assistant professor of political science at Boise State University. "I would've initially thought that turnout would be lower because of the changes in the process, and it's kind of a quiet primary election."
Kettler suggested more attention, from local officials and media, may have piqued voters' interest. It could also be that more political organizations have been encouraging voters to request ballots, she said. Maybe people are stuck at home with little to do and thought, "OK, I'll request a ballot," she said.
McGrane offered similar hypotheses for the high ballot request numbers and added that the Idaho Secretary of State has spent hundreds of thousands of dollars on mailers, explaining the voting process would be different and encouraging voters to request a ballot. When the state sends out official information, "it brings so much more attention," he said.
McGrane also suggested politics surrounding the coronavirus may be sparking high interest in the primary.
"There's so much attention related to COVID-19 on government and how our leaders are making decisions," he said. "I think there's kind of pent-up energy for people wanting to express their opinions about government, and the ballot box is one of the places to do that. Even though they might want to express their thoughts about the president or the governor … and none of those people may be on the ballot, that doesn't mean they're not requesting a ballot in hopes to, say, send a message."
Officials' responses to COVID-19 have created divides among political parties. Gov. Brad Little's decision to enact a business shutdown drew criticism from his own cabinet, down to local politicians. Lt. Gov. Janice McGeachin has publicly disagreed with the governor's coronavirus response and most recently opposed his reopening plans because she believes the economy should be fully open.
Whether those party divides will affect primary results remains to be seen. Kettler said name recognition and incumbency often drive primary results more so than political ideology, considering primaries are between candidates from the same party. But, if voters draw connections between their local candidates and ideological differences on how the government should handle the coronavirus, it may play a role in election results.
"Things like name recognition, incumbency, more campaigning, those are things that can matter, but ideology can also really matter," Kettler said. "Ideology and the governor's COVID-19 response, those sort of overlap."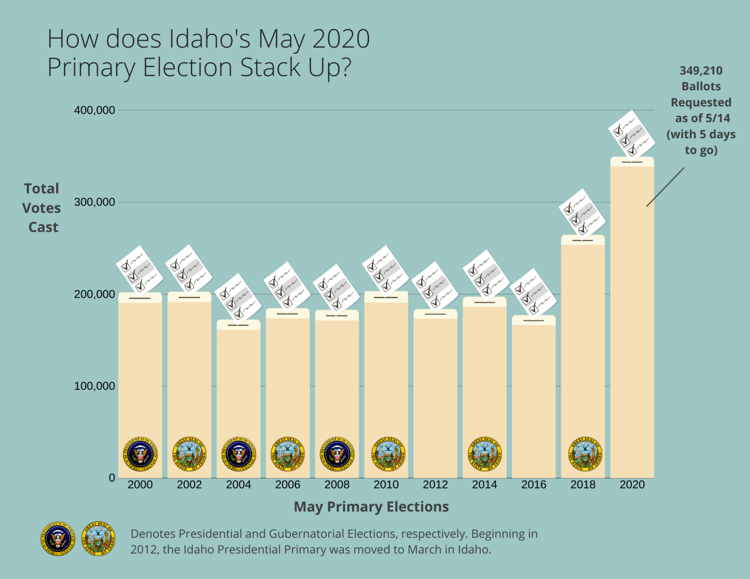 WILL VOTERS RETURN THEIR BALLOTS?
The May 2020 primary won't set any records if voters don't return their ballots to county election offices by June 2. A remaining question mark is what the rate of return will be, McGrane said. Typically primary absentee ballots have high return rates, around 80%, he said.
In this election, the rates may vary depending on the area and what's on the ballot there. For example, Ada County sent out about 15,000 nonpartisan ballots that included just three judicial races, all of which were uncontested. "Do you still feel compelled to return it when that's what you got?" McGrane said.
Research suggests that official reminders from government are effective ways to increase rates of return, Kettler said.
"Getting that ballot mailed to you doesn't mean that you're going to automatically remember to fill it out and return it by the deadline," she said. "So reminders become really important. Receiving things like a voter guide or postcard reminders from elections officials can help people remember to complete it and return it."
Elections officials currently are reminding voters that even if they didn't get their ballots in the mail by the May 19 Election Day, there is still time to return the ballot and have it counted.
Questions about election integrity also may deter voters. Last month, Ada County had to reissue 5,000 ballots to voters who received the wrong ballot.
"When one's already received the incorrect ballot that can make someone really concerned that their vote will be accurately counted, that they will get the right ballot and that it will be counted correctly," Kettler said. "This is a new process, a new way of voting for many people, so it may raise some more questions on how to ensure that their ballots are actually counted."
In an absentee-only election, voters may be concerned about someone else having access to their ballot at a previous address or votes being counted multiple times, Kettler said.
McGrane said elections officials have "done a lot in terms of quality control."
Elections officials verify signatures on every absentee ballot with signatures on voter registration cards. Those officials were trained by law enforcement on signature evaluation, McGrane said. As for the 5,000 ballots that had to be reissued, McGrane said Ada County has a system in place to ensure duplicate votes won't be counted in the event those voters submit both the old and new ballots.