The Kuna Market Village hopes to attract an array of local retailers and produce vendors to take up shop in repurposed sheds in downtown Kuna. Now, the project has a site, a new partner and a planned grand opening next spring.
The "pop-up" village will turn sheds into storefronts and open in the 4th Street Gym Courtyard on land owned by the Kuna School District, the city's partner in the project. The village as planned will consist of several 120-square-foot mini retail shops, produce stands and plaza areas where the community can congregate, shop, feature local art, enjoy food trucks and host concerts and special events.
Here are more details about the initial plans:
Proposed annual season, beginning in 2021: April through October
Proposed business hours: 6-9 p.m., Thursdays & Fridays, 12-9 p.m., Saturdays, 2-7 p.m. Sundays (optional)
Proposed rent (prices will be set in response to community input): $250-$350 per month per retailer; the City is taking feedback to understand what pricing would be reasonable for vendors and anticipates notes that pricing may be less for some produce sellers; renting would also give retailers free access to training programs, like Kuna's "boot camps" for entrepreneurs
Number of shops (as of March): 8-10, which would cost the city $6,000 each to build, a price the city's budget can already absorb
Multilevel marketing companies such as Scentsy and LuLaRoe won't be taken on as renters; businesses selling locally sourced products will be given priority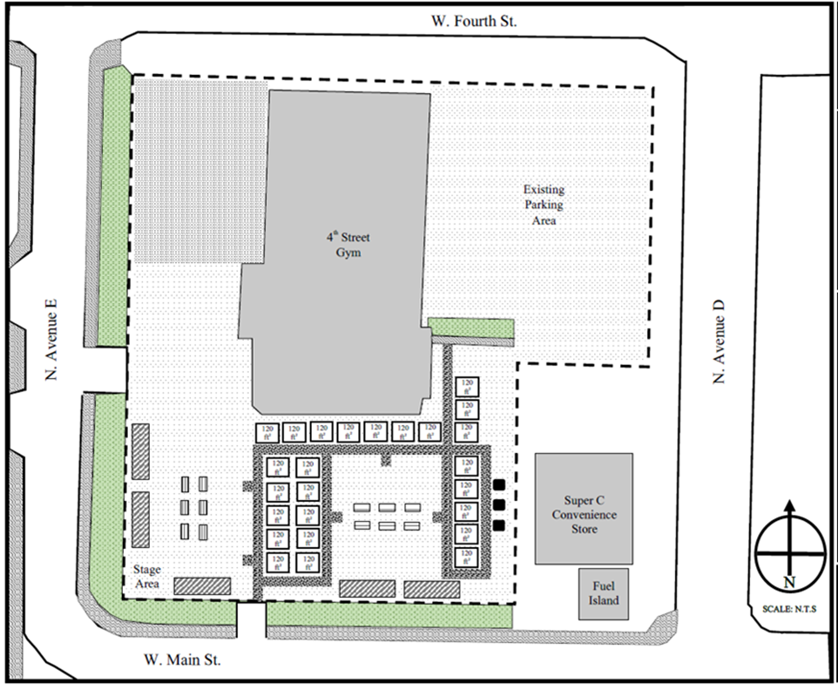 City staff are holding two online meetings to show a few mock-ups of what the village could look like and get feedback on vendor pricing, resources, season length, design and layout. Those interested can contact Kuna Economic Development Director Lisa Holland ahead of time by email at lholland@kunaid.gov or by phone at 208-559-5926 to participate in one of two Zoom meetings to be held at 2 p.m. and 6 p.m. on July 22.
Holland first floated the idea back in early March after delivering a report to Kuna City Council that revealed how proportionally big Kuna's small business community is; at the time, 91 Kuna businesses were operated out of residents' homes, a number that has since crept up over 100, according to Holland.
"With over 100 home occupation businesses that produce a good or service for the community, many of these businesses have expressed the challenges and risks of expanding their businesses and production," she told the Kuna Melba News over email on June 13. "Based on the feedback and research on various concepts, we've determined a small business marketplace offers the opportunity to help strengthen some of these businesses and bridge the gap to open a storefront."

Further, 61.8% of Kuna businesses have between one and four employees, which makes building brick-and-mortar locations unaffordable and unfeasible for many local sellers. Renting also remains out of the question for most, since the city's rapid population growth has made existing commercial space increasingly scarce.
That scant retail space may play a part in how many Kuna dollars are spent in neighboring communities as commuters bounce between Nampa, Boise and Meridian. As Kuna residents cross city lines and take their wallets with them, around $175 million leaks out of the city. That's about 57% of Kuna's retail spending, according to 2018 data from the Gem State Prospector, Idaho Commerce's economic discovery website.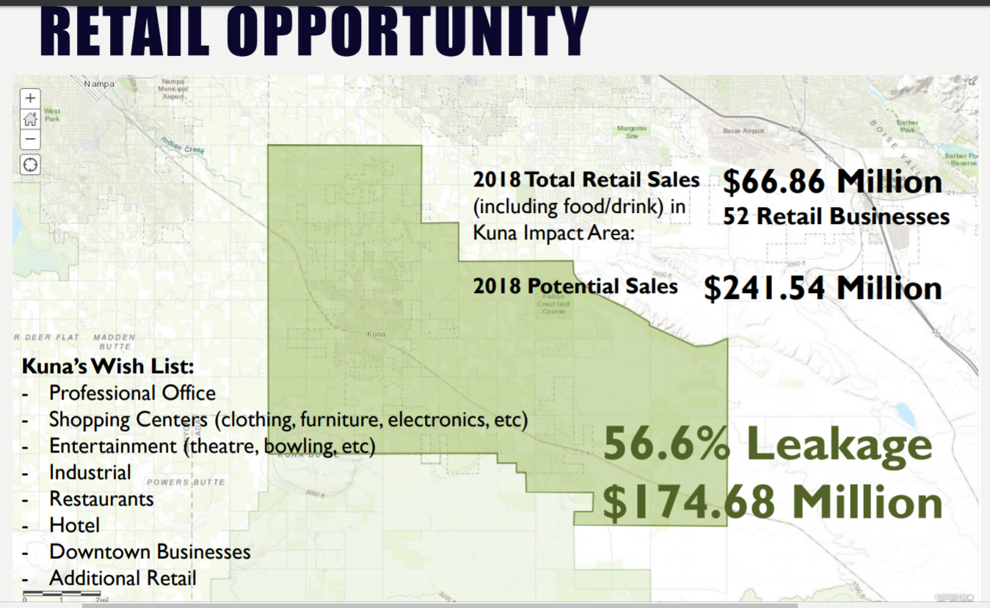 The village's storefronts would serve as "economic incubators" and give folks an affordable option to sell their products in a public space, hopefully keeping more money in Kuna, said Holland.
"We see great potential in the ability to help our home-based businesses, create a community gathering space, and bring additional vibrancy to downtown Kuna," Holland wrote in the March report.
This story was updated to include new information on shop rental prices, which are proposed to be between $250 and $350 monthly rather than $250, as was reported in March.