MELBA — The Melba Senior Center takes pride in its food. It's always homemade and many of the seniors here say they've never had a bad meal.
That's because the center's master cook, Doris VanSchoiack, has been making meals for as long as many of the seniors have been members.
After 23 years, VanSchoiack is retiring. Thursday's lunch will be her last meal, or her "Last Supper," as one of her assistants teases.
VanSchoiack, 77, a longtime Melba resident, hopes to spend more time with her family, which includes seven children, 42 grandchildren and at least as many great-grandchildren. And she hopes to rest her feet; prepping and cooking two meals a week for several dozen people is hard work.
But she'll continue to cook — that's what she's always done.
When she first applied for the job in 1994 VanSchoiack was asked about her credentials. "I love to cook, I love to eat," she replied.
"I was born and raised that you just help and you work until you're done," VanSchoiack said last week. "I think the people here at Melba appreciate somebody like that."
VanSchoiack grew up with seven siblings on a Treasure Valley farm, raised by a mother who loved to cook. Her parents lived through the Great Depression, an experience that forced them to be thrifty but also bred an appreciation of little blessings, especially on the dinner table.
Growing up, gravy was a special blessing, and it's still one of VanSchoiack's favorite treats.
"I love gravy," she said. "That's part of the good life."
VanSchoiack said she's never taken a culinary class, although she has the necessary credentials to cook for seniors. She is required to include certain vitamins and other nutrients that provide a wholesome meal.
Once the requirements are met, the food becomes her own.
"My mother taught me if it don't taste quite right, you add a pinch more of something," she said.
Stuffing is another favorite. She makes stuffing from leftover garlic bread. Recycling leftovers, as well as sourcing locally grown food, helps VanSchoiack maintain the homemade quality of the seniors' food while working on a budget. (Those who eat at the Melba Senior Center are not required to pay, but a $4 donation is requested.)
"A penny saved is a penny earned — you don't throw the whole thing away if part of it is still good," VanSchoiack said. "To use that here at the senior center helps it keep going. Any time you can save money it helps."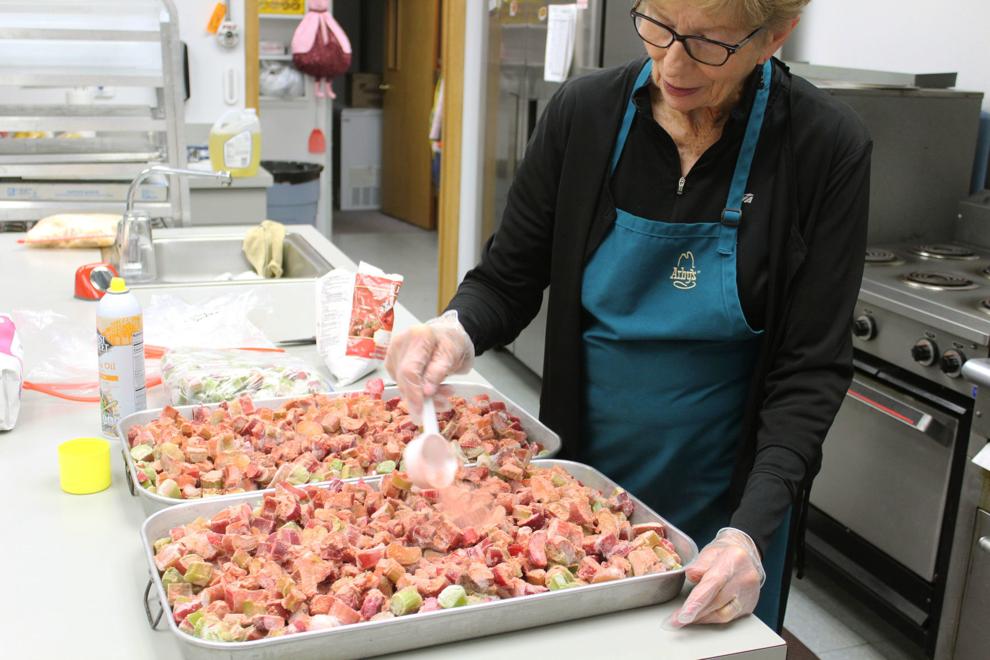 By the time she started at the senior center VanSchoiack was used to cooking for a large crowd. She'd been practicing on her seven kids and at large family gatherings.
"She never wants to run out," said Laura Shelley, a longtime aid to VanSchoiack in the kitchen. "She just wants to have plenty to eat."
The food is a reason to bring Melba seniors together. For two meals per week, breakfast on Tuesdays and lunch on Thursdays, seniors meet at the center to eat, but VanSchoiack says they're really here because they need the sense of community that comes with sharing a meal.
"It is wonderful to see people meeting here and visiting," she said. "It fulfills a need for them. They need to come and visit with others instead of sitting at home."
"The food is a bonus, I guess," she added.
Last week, for her third-to-last meal, VanSchoiack — and about half a dozen kitchen aids and volunteers — prepared oven-baked fried chicken, mashed spuds and gravy, fresh corn, garlic toast and rhubarb crisp for dessert. The appetizers were salad, coleslaw and taco soup.
Nearly every seat in the senior center was taken. Even a group of Kuna Senior Center members came to enjoy one of VanSchoiack's final meals.
Al Hunsperger, 91, and Shirley Hunsperger, 88, drove 30 miles each way from Middleton for the Thursday lunch. They used to live in Melba, and while many of their friends have died, they still come to visit with the friends who remain.
And they come for the food.
"She's our best cook we've ever had here," Shirley Hunsperger said.
When asked which of VanSchoiack's dishes is his favorite, Al Hunsperger said it doesn't make any difference.
"I haven't failed to eat anything yet," he said.
On Wednesday, the day before the fried chicken lunch, the kitchen was quiet. For several hours, VanSchoiack was alone, preparing the rhubarb crisp, a dessert made from bright red and green rhubarb stocks (these were grown in VanSchoiack's garden), combined natural sweeteners and topped with a buttery crumble and a dash of whipped cream.
On Thursday, the kitchen was an organized chaos. Cooks and volunteers were putting the finishing touches on the meal, which they had been working on since early that morning, as hungry seniors filed into the center. Not only were they cooking for those seniors present, but they were preparing deliveries for those seniors who couldn't make it, as well.
"It gets crazy, but we're crazy people," Shelley said. "We can handle it."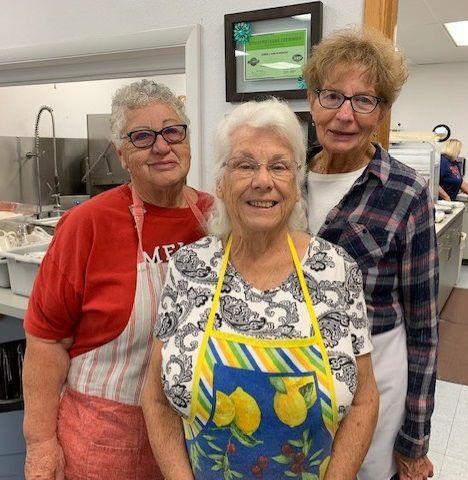 VanSchoiack credits the help of Shelley and Sandy Riley, Doris' head assistant, with much of the kitchen's success over the years.
"Laura and Sandy will do anything that is asked," VanSchoiack said in a news release announcing her retirement. "They have great ideas and are generous with their time and efforts. I couldn't have been successful without them. We have a good feeling in our kitchen. I will miss them greatly."
After about 10 hours of prepping and cooking over two days, the meal was ready. And the seniors feasted — on fried chicken that fell off the bone, fresh corn grown and shucked by a local farmer, and homegrown rhubarb. It was thrifty and delicious.
While VanSchoiack won't be cooking for the Melba seniors, she's not really going anywhere. She has lived in Melba since 1979, and she says she'll stay and continue to serve the community she loves.
"Once you have friends, you have them forever out here," she said. "The next move I make will be to the cemetery."
VanSchoiack and her husband, Dale, serve on the Melba Cemetery Board, which VanSchoiack will continue to do after retiring from the senior center. And she has already said she'll be back in the kitchen volunteering when the senior center needs help.
In her new spare time, she's going to be with her family, possibly picking huckleberries at her son's cabin to the north and cooking gravy, stuffing and rhubarb crisps at Thanksgiving. She's going to work on her photo albums and garden, and she might practice her crocheting skills.
"It's sad for change in your life," she said. "You think, 'I've got to close this chapter and open up a new one.' But my seven children are saying, 'C'mon, Mom, it's going to be all right.'"