The darkness of a winter evening is a sudden switch from the bright, cold light of day. But while driving at night on rural highways in the middle of the big pine forests, an even more sudden appearance can wander slowly out of the treeline, and this one has the kind of weight behind it that can total a car.
But since 2017, a problem-solving measure has been in the works to cut the amount of damage and animal mortality rate on the road.
Animal overpasses are a relatively new solution to Idaho to the problem of cars hitting animals in high-migration rate areas. According to a Boise State Public Radio story from 2017, both the Idaho Transportation Department and Idaho Fish and Game heard from Terry McGuire, a Canadian engineer and former project director for the Parks Canada Agency, who pioneered efforts to create the highway overpasses.
Overpasses are essentially land bridges over highways for animals. If you've driven through western Montana on the way to the Mission Mountains or through Nevada on I-80, you've probably seen a game bridge. Covered with grass, rock, soil and trees they appear to be more like "real" land. The bridges are placed in choke points, made from long distances of fencing placed up and down the highway corridor and centered on the bridge, following traditional migration routes that now intersect with busy highways.
On Highway 21 near Lucky Peak Reservoir, the Idaho Transportation Department is proposing a wildlife overpass that would be 150-feet long and 54- to 66-feet wide, with an 18-foot clearance over the highway. 
Some 2 1/2 miles of fencing would funnel animals to the bridge where infrared big game cameras would be installed to take images of the animals for future study.
Though the overpass is still in a preliminary planning stage, it's estimated to cost somewhere around $2.5 million, with $200,000 of that amount being paid by local governmental agencies and the rest provided by the federal government.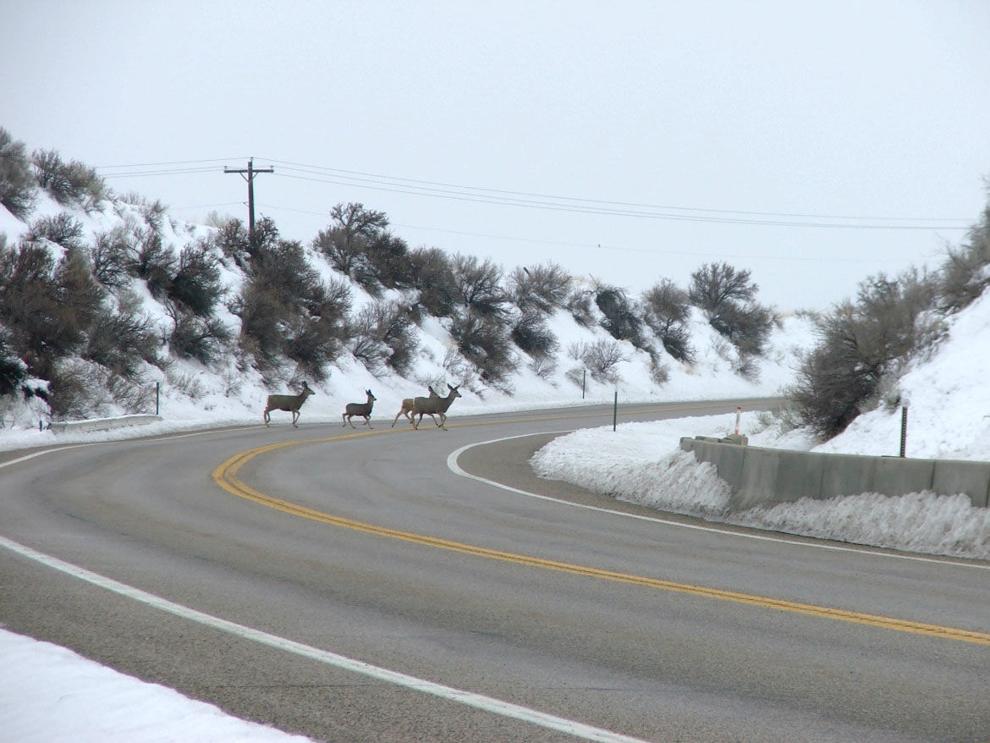 Highway 21's high mortality rate has made it a good potential spot for a game bridge, and recent changes at the federal level have made bridges a higher priority than in years past. A Department of the Interior secretarial order in 2018, called "Improving Habitat Quality in Western Big-Game Winter Range and Migration Corridors," prioritized action to reduce mortality in big game numbers during migration periods.
Frank Edelmann, a wildlife habitat program coordinator with Idaho Fish and Game, said the order gave western states a way to build new projects like the overpass on Highway 21. 
"Migration routes often intersect with highways, and the order allowed us to leverage federal resources including funding" to build new animal-centric transportation projects, Edelmann said.
The Highway 21 project is in the Smoky-Boise Complex, one of the four priority areas laid out in Idaho's action plan and the site of Idaho's largest wintering mule deer population. Those 40,000 animals, an expanding pronghorn population and migratory and resident elk make the area a high-conflict zone.
Highway 21 already has an underpass just over a mile away from the proposed overpass frequented by those big game animals, with mule deer, elk and mountain lions making their way under the road.
Idaho Transportation Department spokesman Jake Melder said the underpass, built in 2010, has improved safety for both humans and animals.
"We've looked at some of the crash numbers since 2010 — and now let's keep in mind, it's only a one-mile stretch where the existing fencing and underpass are — but it does show the effectiveness," Melder said.
ITD calculated that in a five-year period on that one-mile section of road there should be one to two animal vs. vehicle crashes per year. But in that same five-year period, from 2010 to 2014, zero crashes occurred. 
"That does show the effectiveness," Melder said. 
Part of the reason a Highway 21 wildlife overpass is being contemplated is because of growth in the Treasure Valley, according to the Idaho State Action Plan released in October 2019. 
Keeping the wild wild is part of why the transportation and fish and game departments and local groups are working together to get this done, Melder, with ITD, said.
"This project is going to improve public lands and access to public lands, reducing crashes on Highway 21 and upping the economic opportunity of the entire area," he said. "By partnering with Fish and Game, we can keep the historical migration paths of these animals and better connect these migratory paths to see the beauty of nature."