STEM jobs in Idaho – those in science, technology, engineering or math – pay an average of $32.52 an hour, STEM Action Center Director Angela Hemingway told lawmakers this morning, compared to $15.30 for non-STEM jobs. And in 2019, 7,633 STEM jobs went unfilled in Idaho, for lack of qualified applicants.
"That represents over half a billion dollars in lost personal income to Idahoans," Hemingway told the Joint Finance-Appropriations Committee as she presented her agency's budget. "7,633 represents over $27 million in lost state tax revenue in 2019 alone. 7,633 represents hundreds of Idaho businesses struggling to find a STEM-skilled workforce."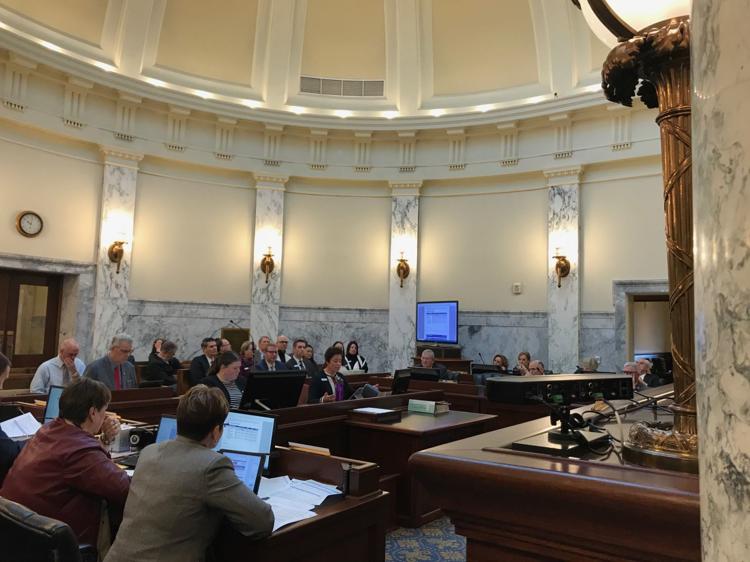 The STEM Action Center's mission is to address that through promoting more student engagement in STEM activities, working collaboratively with partners including educators, schools, colleges and universities, state agencies and private industry. It also is overseeing the state's computer science initiative.
"We are already seeing a return on investment," Hemingway told lawmakers. "Over the past two years, because of your support for computer science, we have seen an 11% increase in the number of secondary teachers teaching computer science. … That translated into an 18% increase in the number of students taking computer science courses. These are real numbers that are directly impacting our educators and our students."
JFAC members noted, however, that the funding for the state's computer science initiative has gone down, and hand in hand with that, the number of teachers and students involved in the STEM Action Center's programs has dropped. Last year, Idaho put $2 million in state general funds into the initiative; this year, it was $1 million. For next year, Gov. Brad Little is recommending $500,000.
The center also has reported successful fundraising, raising nearly $1 million so far this year from grants and private industry; last week, lawmakers agreed to give the center spending authority for up to $2 million a year in donations, up from the previous $1 million. But Hemingway said many of the grants and industry donations are for specific purposes, often tied to specific industries and to the state's most urban areas. It's the state funding, she said, that allows the center to focus on rural Idaho.
Rep. Melissa Wintrow, D-Boise, noted the governor's prioritizing of education, and asked his budget analysts, "Why then the decrease – why are we going half to half to half?"
Gideon Tolman, an analyst with the governor's Division of Financial Management, noted that the previous year's funding was all one-time. "The difference is the governor is recommending $500,000 ongoing," he said. "The one-time funding doesn't provide a lot of stability from year to year." The governor's hope is that the ongoing funding will allow the center to better leverage all its resources, he said. And given that all agencies, including the STEM Action Center, were asked to reduce their budgets by 1% this year and 2% next year, "He thought $500,000 was reasonable." Tolman said the hope is that more resources can be added in the future.
"Many agencies have had a decrease," Tolman said. The governor's recommendation for the STEM Action Center for next year represents nearly an 18% increase in state general funds, he said. "It's not a million dollars, but it's an incremental increase."
Hemingway said, "We turn away about one-third of the applicants that come to us for funding and training. That keeps me up at night. … But the reality is … we anticipate we will now turn away about half of the applicants that come to us for funding," she said, "which leaves our educators wanting in training opportunities, but us unable to provide those because of that budget reduction."
Last year, STEM jobs in Idaho grew 4.4%, Hemingway reported, compared to a 2.8% increase in non-STEM jobs. And she said Idaho's approach to advancing STEM education, which ranges from the computer science initiative and training for educators to STEM-related competitions, science fairs, camps and student programs, among other efforts, has been drawing national attention.
"However, there is more work to be done," she said. "By 2026, the Idaho Department of Labor predicts there may be an additional 19,000 new STEM jobs in Idaho. In just six years, 19,000 new STEM jobs – and this is due to growth, not replacements. By 2026 … STEM jobs could represent nearly $7 billion in personal income for Idahoans and over $350 million in state tax revenue if we have a workforce poised to fill them."
Hemingway also invited lawmakers to the center's annual "STEM Matters" celebration on Wednesday, which will run from 10 a.m. to 2 p.m. in the Capitol and is open to the public. "We've got drones, robots, coding, virtual reality," she said, which will allow attendees to "see what the International Space Station looks like, drive the Mars Rover on Mars." The event also will include birds of prey and a noon meet-and-great featuring Gov. Brad Little, lawmakers and businesses.
"Businesses and state agencies desperately need a STEM workforce," Hemingway told lawmakers. "We simply cannot afford to wait and act later. … We are not building the future for our children, we are empowering individuals to build their own future."