The Boise School District announced today that it's working on a plan to replace Boise High School's "Boise Braves" Native American-themed mascot with "Boise Brave." The move, first reported Saturday in the Idaho Statesman, comes after the district consulted with Boise High staff, parent and student leaders, the Shoshone-Bannock Tribes, alumni, patrons and the school's parent support board, according to a BSD press release.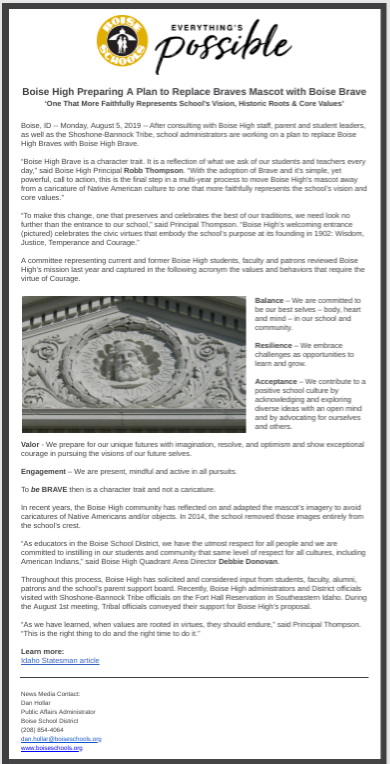 "Boise High Brave is a character trait. It is a reflection of what we ask of our students and teachers every day," school Principal Robb Thompson said in the release. "With the adoption of Brave and its simple, yet powerful, call to action, this is the final step in a multi-year process to move Boise High's mascot away from a caricature of Native American culture to one that more faithfully represents the school's vision and core values."
He added, "This is the right thing to do and the right time to do it."
The move comes just weeks after the Teton County School Board agreed to retire the 90-year-old Redskins mascot name at Teton High School, also at the urging of the Shoshone-Bannock Tribes.
Boise schools reported in their release that they met with tribal officials, and on Aug. 1, the tribes supported the district's proposal.
"In recent years, the Boise High community has reflected on and adapted the mascot's imagery to avoid caricatures of Native Americans and/or objects," the press release said. "In 2014, the school removed those images entirely from the school's crest."