Idaho Gov. Brad Little defeated seven challengers — including current Lt. Gov. Janice McGeachin — in the state's GOP primary on Tuesday but still will face multiple rivals in the November election.
Final, unofficial statewide results showed Little well ahead with 53% of the vote to McGeachin's 32%.
On the Democratic side, results showed Stephen Heidt of Marsing in the lead, with 80% of the vote, turning back write-in bids by Shelby Rognstad, the current mayor of Sandpoint, and another write-in, David Reilly of Post Falls. Those the write-in votes still hadn't been fully tallied; the winner of that race will face Little in November.
Also on the November ballot will be anti-government activist Ammon Bundy who is running as an independent; and the nominees of the Constitution and Libertarian parties. Both those were contested primaries, the Libertarians between John Dionne Jr. and Paul Sand; and the Constitution Party between Chantyrose Davison, who was on the ballot, and write-in Dr. Ryan Cole. Sand and Davison won; Cole's write-in bid also appeared to fall short.
The biggest fireworks, by far, came in the Republican primary, which saw a sitting governor challenged by his lieutenant governor of the same party for the first time since 1938.
"The fundamentals of the Republican Party — I was raised in the Republican Party — about the lightest hand of government, about less regulation, about more opportunities, my record reflects all of those," Little said in a recent interview. "I'm excited about what we completed the last four years."
Addressing supporters shortly after his race was called Tuesday night, Little said, "I felt the honor of serving the great state of Idaho in good times and in tough times, and once again I'm humbled by the awesome opportunity to serve and work for the great people of Idaho."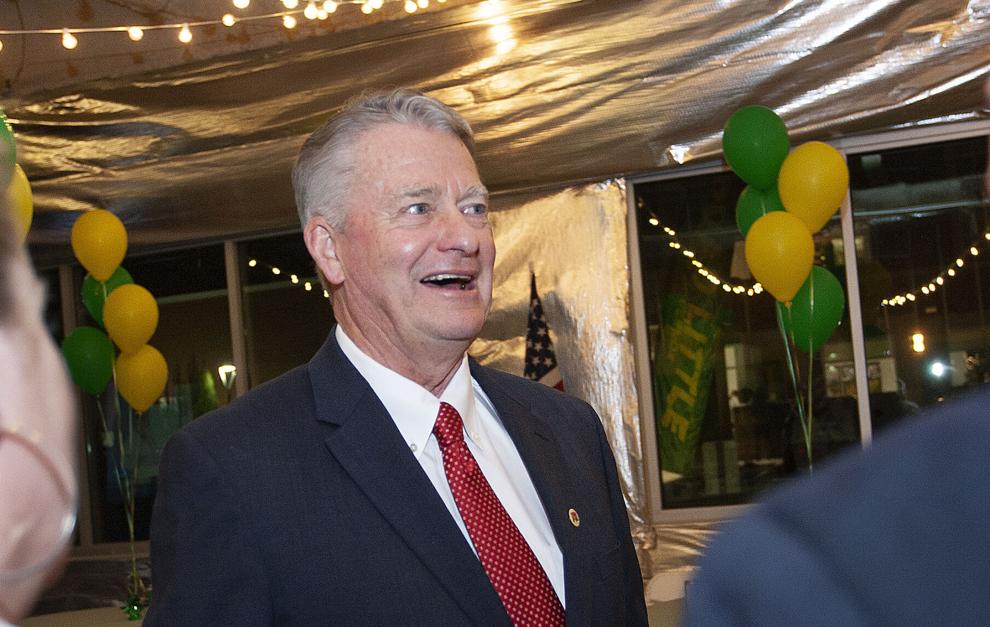 "No other state has performed like Idaho," he said. "We've led the nation in job recovery and income growth." 
McGeachin promised to "restore the principles that have made Idaho great — individual liberty, state sovereignty, and traditional conservative values." She emphasized the word "restore," telling reporters as she awaited the results on Tuesday night, "It's all about returning the government back to the people in Idaho."
McGeachin, who has clashed repeatedly with Little over his response to the coronavirus pandemic and twice unsuccessfully tried to overturn his policies when he briefly left the state, ran a flashy but chaotic campaign that emphasized her endorsement by former President Donald Trump.
Little largely focused on his record of economic success, including school funding increases and tax cuts.
Little, 68, an Emmett native, is a third-generation rancher from a prominent Idaho ranching family who holds a bachelor's degree in agribusiness from the University of Idaho. He served four terms in the state Senate, rising to majority caucus chairman, and was appointed lieutenant governor in 2009, then twice re-elected before winning the governorship in 2018.
McGeachin, 59, served in the Idaho Legislature for 10 years, including chairing the House Health and Welfare Committee and serving on the budget-writing Joint Finance-Appropriations Committee, before running for lieutenant governor in 2018, where she's now served four years. She and her husband own an Irish pub in Idaho Falls and several automotive businesses.
Other active GOP challengers include Eagle businessman Ed Humphreys, who's been campaigning full-time for a year; and Bonner County Commissioner Steve Bradshaw.
In final, unofficial results, Humphreys had just under 11%; Bradshaw was just under 2%; Ashley Jackson had just over 1%; and none of the other GOP hopefuls topped 1%.