Kuna Days kicks off at Bernie Fisher Park
Tracie and Peter McBroom walked toward the rows of vendor tents lining up and down Bernie Fisher Park on Friday hoping to get to know the town. The couple had just moved to the area five weeks ago and were looking forward to feeling a "small town atmosphere" and a sense of community at the annual event they heard about via Facebook.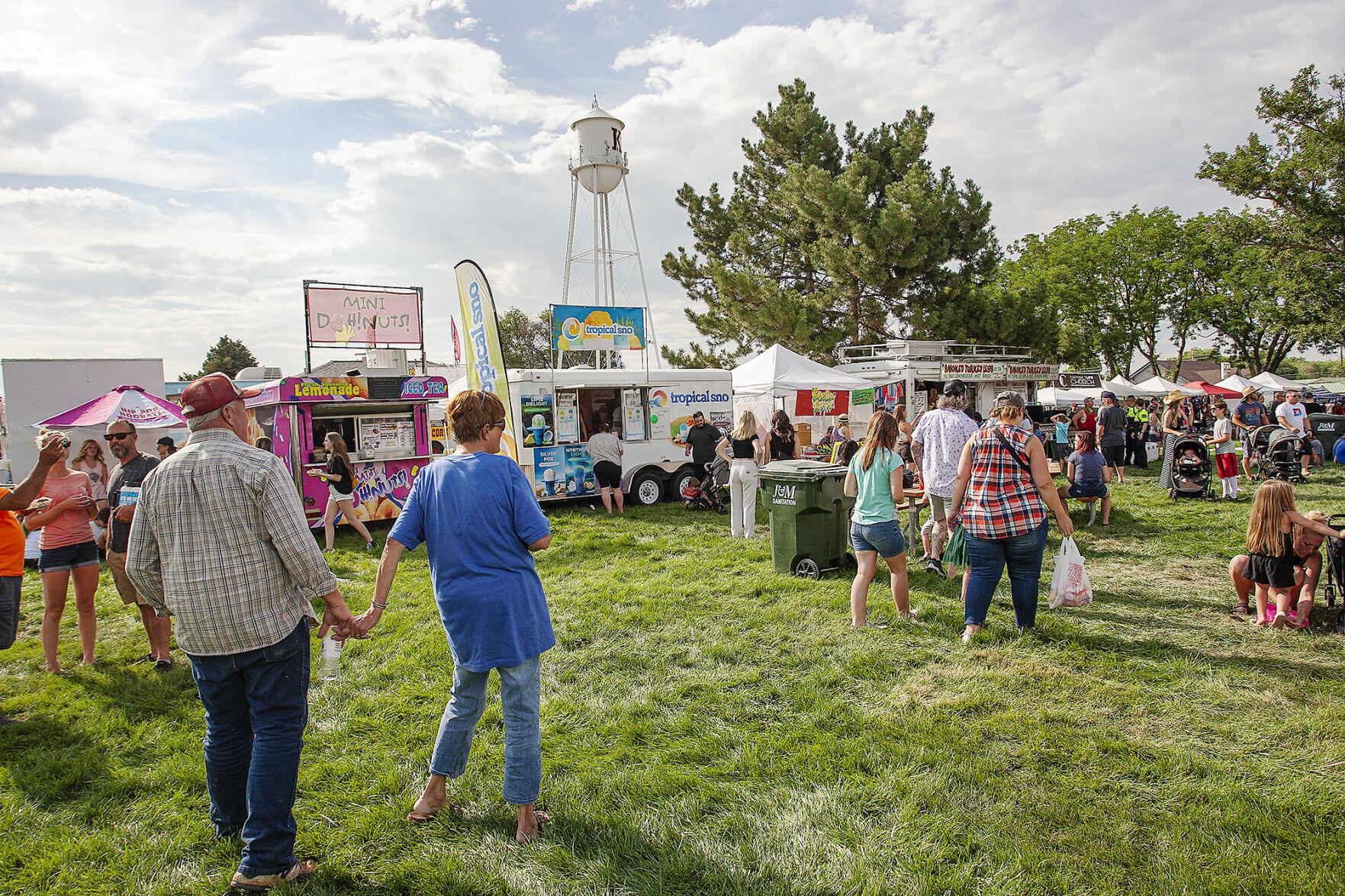 Kuna Days kicked off at the park on Friday with vendors, pony rides, a reptile show and a movie on the baseball field. The festivities will continue through Saturday with a fireworks show to finish off the two-day celebration.
"On Saturday, everybody just comes out of the woodwork," Raymond Taff said. Taff is a member of the Kuna Chamber of Commerce, which puts on Kuna Days each year.
Taff said the large Saturday numbers can be attributed to crowd favorites like the Kuna Days parade, the mud run obstacle course and the fireworks display.
"The kids love the mud run," Taff said. "And there's a lot of adults who like the mud run, you know, it's just so fun to do. You get crazy."
Another event that has caused a real buzz at Kuna Days was last year's "mullet catwalk" where people in the community compete to see who reigns king of the distinctive hairstyle. The event was so popular that it is returning again for its second year.
"It was just so funny because you got moms and dads buzzing their kid's hairs into mullets," Taff said. "People get decked out, redneck as could be, you know last year I saw guys running around with pretty much short-short coveralls, red, white, and blue … a couple of them had their hair, their mullet even dyed red, white and blue. So it was just — it's fun."
At the end of the parade on Saturday, the Kuna Rural Fire District hooks up its hose and sprays the kids down Main Street, a spectacle that has become the favorite of many in attendance, including members of the fire district.
"My favorite part is spraying the kids with water," said Kuna Rural Fire District Captain Matt Coffelt. "Just to see the joy on the kids face when we shoot our big deck gun down Main Street and all the kids run out there and play. It just — that's what it's about."
Last year, according to Taff, the Kuna Days parade had around 30 groups participating, this year the number is over 50.
And the growth doesn't stop there. Last year there were around 80 vendors and food trucks; this year Taff said the chamber has brought in 109.
For some of the vendors, coming to Kuna Days is about supporting the community.
"It's a lot of hometown people here, a lot of local vendors," said Jacob Durrant, owner of the Pony Express Ranch.
Durrant's booth at Bernie Fisher Park offers pony rides and up-close-and-personal encounters with the animals at his petting zoo like a yak, young longhorn bull, alpaca and a donkey. For a lot of kids that visit Pony Express Ranch, it's their first time near animals like this, and Durrant said that often, by the end of their pony rides they don't want to leave, which is fun for him to see.
But the real reason he comes out to Kuna Days is to show love for his hometown.
"I was born and raised here in Kuna, went to Kuna High School. So it's just home," Durrant said. "I like to help support it. Make it grow. It's getting to be pretty big. So anything we can do to help."
For other vendors, Kuna Days provides the boost in revenue and exposure they need to keep going.
Taff recognizes this, which is why he always tries to help new "mom and pop" companies get involved.
"My first year somebody bought me my booth," Taff said. "So now every year I buy a booth or two on each side of me … I hear tons of people, 'We want to stay local.' So Kuna Days is perfect for all the local little businesses."
JK's Naughty Salt is one of the businesses that really took off thanks to Kuna Days. The owner, Jeremey Kornoely, started selling his salts, which he makes by mixing peppers he grows in his backyard with Australian sea salt, last summer. His most popular one is green habanero. Coming to Kuna Days for the first time last year gave him enough exposure and people coming through to warrant his return this year.
"That's the best part about it, being out here and being able to let people see what I have and it's just, it's way better in the flea markets," Kornoely said.
Those wanting to experience Kuna Days can head to Bernie Fisher Park in Kuna on Saturday. The events start at 7 a.m. with a pancake breakfast that runs until 10 a.m. The festivities will continue throughout the day and finish with a firework show at 10 p.m.