Comprehensive Plans Coming Together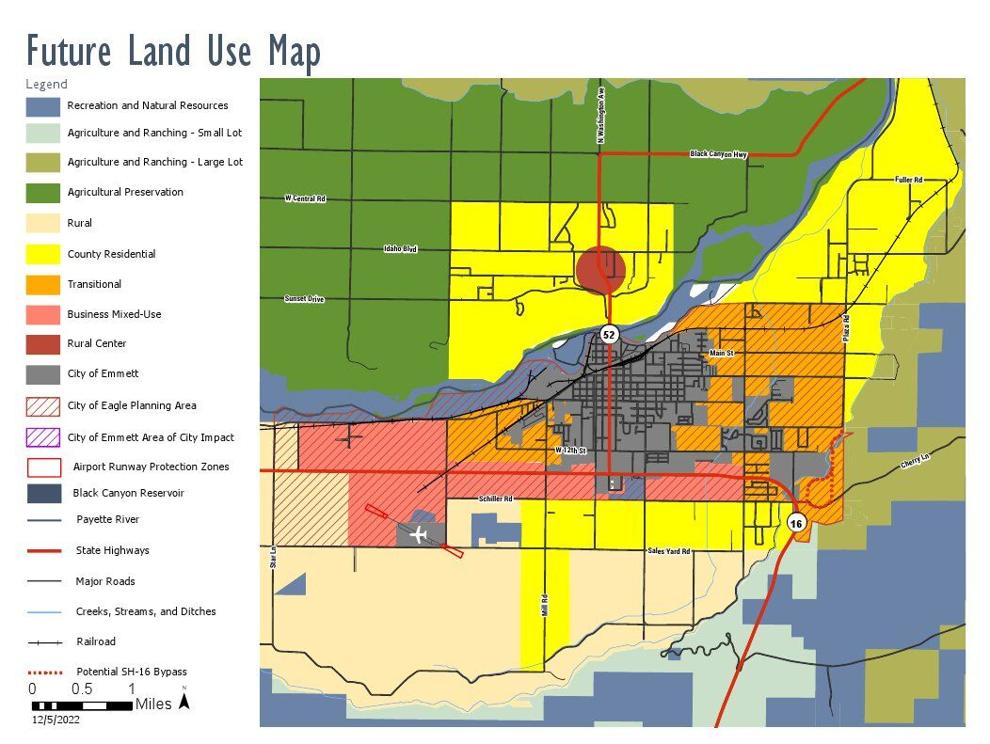 It has been a long process but Gem County and the City of Emmett are ready to present a final draft of their new separate comprehensive planning documents for public scrutiny and comment. Nearly two years in the making, the drafts will help define and direct development, planning and zoning, and capital project decisions for the next decade or more.
Public hearings were originally anticipated to be held in October 2022 but a series of fine tunings and discussions between city and county officials to settle on a shared land use map with a more defined Area of City Impact pushed the final stages into 2023.
The Gem County Comprehensive Plan entitled "A Plan for Our Future, Rooted in Our Past" will be the first to face an expected final public hearing. The meeting will be held at 6 p.m., Tuesday, Jan. 10 in the Commissioner's Chambers in the Gem County Courthouse basement. It will also be available virtually via Zoom.
Once the Gem County Plan hearing is completed and final approvals obtained from the Gem County Board of Commissioners, the City of Emmett will move forward with its hearings.
According to Emmett City Planning Director Brian Sullivan "we wanted to make sure that the shared content — particularly the future land use maps — received full county approval before we finalized our process. That way we don't create a series of amendments after the fact."
One of the primary differences between the current joint county-city plan that has been in place for more than two decades and the new separate plans, is a shifting of the Area of City Impact from unincorporated areas to the east of Emmett toward a corridor along Highway 52 west of the city. That movement is attributed to an effort by planning participants to meet desires expressed in a series of public meetings over the past year to preserve agriculture and rural residential aspects while encouraging new business growth and job creation.
An Area of Impact does not extend city taxing authority to unincorporated areas of the county but provides residents of those areas the advance knowledge that future growth could be directed toward those properties. That is important in city planning, particularly for future services, to provide manageable growth corridors.
The County Plan under public hearing on Jan. 10 explains that it is to become the "primary policy document which guides land use and development choices within all unincorporated areas of Gem County over the next 10-20 years."
That essentially applies to all land parcels in Gem County that are not within the official incorporated city limits of Emmett.
The plan document further states that "this plan is sensitive to the changing needs of the community and recognizes a commitment to preserve the lifestyle values identified by residents."
Some critics to early drafts of the plan pointed to a lack of specifics in some areas. That is by design, to some extent, according to the plan document.
"The Comprehensive Plan is intended for use by a broad range of persons, including County decision-makers and staff, developers, and community members, to serve the following purposes:
• To meet the requirements of Local Land Use Planning Act, Idaho Code, Title 67, Chapter 65
• To establish a community supported and developed, long-range aspirational vision for Gem County
• To identify desired land use patterns and goals and policies to work toward the vision
• To respect the rights and encourage responsibilities of property owners
• To enable the Board of County Commissioners and the Planning and Zoning Commission to establish a decision-marking framework through the application of long-range land use, transportation, services, conservation and growth goals and policies.
The plan provides a flexible basis for specific development decision-making over an extended time frame. Because of the general nature of the plan, amendments and reviews must be conducted on a regular basis in an attempt to retain the value of the plan in the face of changing conditions or needs."
The proposed Gem County Comprehensive Plan document runs 66 pages and addresses 12 specific planning topics:
Population and Growth
Housing
Economic Development
Land Use and Property Rights
Agriculture
Historic and Cultural Resources
Community Design
Recreation and Open Spaces
Education
Public Services and Utilities
Transportation and Airport Facilities
Natural Resources and Hazardous Areas
With a series of Appendices including maps, the total document runs 158 pages. It is available for review by contacting the Development Services Department via email (jvanderbilt@co.gem.id.us) or phone 208-365-5144 and can also be downloaded from the county website at www.gemcounty.org
While this is a "comprehensive plan" it is not codification. One of the elements of the plan is a very distinct segment on page 65 that points out that "the Comprehensive Plan's vision and goals can be fortified and realized through the creation of additional plans, studies and programs."
Examples of additional work that needs to be done to make the comprehensive plan effective once it is active are:
Development of a Water Supply and Quality Study
Develop and regularly update a Master Street Map
Develop a Local Road Safety Plan
Develop a Public Lands Etiquette Plan
Develop a Gem County Trails and Pathways Master Plan
Create a Greenbelt Program
The addition of new goals and policies will need to be formalized, perhaps some through ordinances and regulations. Many of those identified in the plan focused on coordinated efforts regarding infrastructure with an emphasis on roadway maintenance and traffic flow.
So while the Gem County Comprehensive Plan now has a hearing date, and the City of Emmett's Elevate Emmett Plan will have one soon, the work will not be complete when the two plans are officially adopted.
That will actually only be the starting point for both city and county officials to draft policies and procedures to implement and bring to fruition the visions embodied in the comprehensive plans.
The Elevate Emmett comprehensive plan will be featured in future issues of the Messenger Index in more detail when its public hearing has been formally scheduled in the coming weeks.