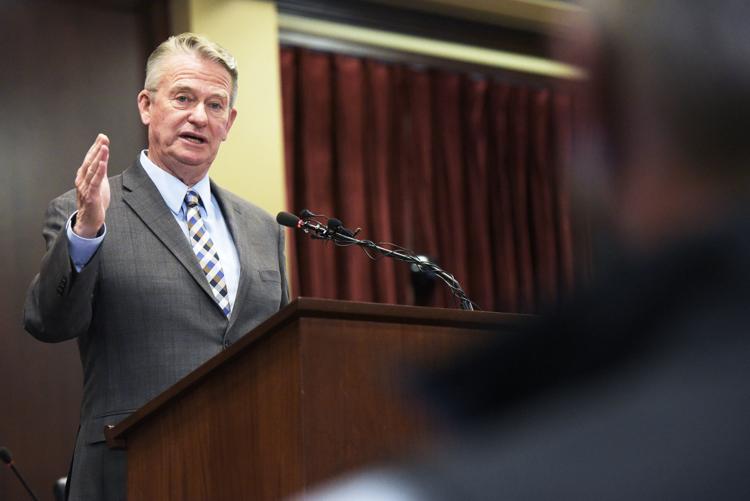 Governor Brad Little moved the entire state back into a Stage 3 classification for his Idaho Rebound reentry program last week, citing reports of increased daily incident rates across the state. A primary motivator for the move also appears to be reports from numerous hospital facilities that they are reaching a critical capacity level.
"Hospitals throughout the state are quickly filling up or are already full with COVID-19 patients and other patients, and way too many healthcare workers are out sick with COVID-19," Governor Little said.
The pressure on hospital capacity has been particularly evident in the Magic Valley and in Boise area hospitals.
The direct pressure on Emmett's Valor Health is not so severe, as yet.
"Our current demand is not for inpatient care but its in urgent care," Brad Turpen, Chief Executive Office for Valor Health reported to the Messenger Index. "We have resumed talking with area hospitals as they fill up about the option to send general medicine patients here."
According to figures released by Valor Health last week, in the previous seven days 77 patients had been seen in the emergency department. Fifteen were tested for COVID with one testing positive. 149 patients were seen in the Urgent Care facility during that same time with approximately 80 percent COVID related.
Turpen says that Personal Protective Equipment (PPE) supplies remain adequate. "We are taking precautionary steps to preserve them in anticipation of challenges ahead," he said. "We are concerned about testing kits and supplies and have recently made a change to limit our testing options, including referring patients for travel testing to other locations and minimizing our asymptomatic testing."
Turpen is also concerned that the extended nature of the coronavirus pandemic is taxing the personnel Valor Health relies upon.
"Our staffing levels are thin and we are vulnerable to shortages," Turpen said. "As an example, we are closing urgent care on Sundays. As are others in health care, we're concerned about the combination of people ignoring/defying recommendations, flu season, and activities moving indoors."
Idaho on Oct. 29 hit a new high for a 7-day moving average incident rate of 50.8. It had eased off a bit by Sunday to 43.3 but is still significantly higher than the July spike peak of 31.2. Gem County is currently at a 24.5 rate. That is up from a low of 3.2 on October 8.
Gem County, as of Sunday, has recorded 452 positive tested or presumed positive cases. 107 of those came in the month of October, 64 in the last two weeks. Six deaths in Gem County have been attributed to COVID-19 since record keeping began in March – four of those since Sept. 29
Governor Little said the new order does not mean the economy is on lockdown. Idaho's economy will remain open. It does not mean in-person church services will end. It does not mean travel is restricted in and out of the state.
Governor Little also said the new order does not mean schools should go to full remote learning.
"We put millions of dollars and substantial effort toward the safe operation of schools to ensure they are safe places to learn and work. The state rolled out a Back to School Framework in the summer, providing local school leaders a blueprint for safe opening. Our students fall too far behind when they're away from their teachers and classmates. We must continue to prioritize safe in-person learning for students across Idaho," Governor Little said.
Governor Little said the eventual shift to a localized approach was the right thing to do but it has not worked as well as it should because the virus is relentless and in some parts of the state there simply have been insufficient efforts by local health boards, mayors, and county commissioners to protect lives.
"I sincerely hope that some people have finally passed the point of thinking the pandemic is not real or not a big deal, or that their personal actions don't really affect anything. We have seen the direct impact between rising case numbers in our communities and the overwhelming impacts on our healthcare system – something that affects all of us, whether we have COVID or not," Governor Little said.
Little did not make a mandatory mask order for the state. The change from Stage 4 to Stage 3 primarily effects group gathering restrictions.
As a result of the change, last Friday night's Emmett football game at Huskies Stadium imposed a 25% capacity general limitation. The same is expected for the home playoff football game this Friday.
In a release late last week, Southwest District Healthy noted that daily incidence rates continue to edge up across the majority of the district. Yet, based on data available for October 11, 2020 – October 24, 2020, Adams County was moved from the gray to the yellow alert level but no other changes were made to the health alert levels.
According to SWDH, Gem County will remain in the yellow health alert level at least until the next assessment scheduled for Wednesday, due to an increasing incidence rate and relatively low positivity rate. Gem County currently has a daily incidence rate of 2.13 daily cases per 10,000 people, which is increasing. One congregate care facilities in Gem County is facing a sustained COVID-19 outbreak. 70.59% of new cases that were contacted knew where they were exposed to COVID-19, which is trending down and points to some community transmission. Multiple sporadic, imported cases of COVID-19 were identified in Gem County schools, with no evidence of transmission within the schools.
The six-county health district agency increased the alert level of Adams county to yellow based primarily on the number of new cases of COVID-19 reported in the county.
Unchanged levels included Payette County remaining in the red alert level. Canyon County and Washington County remain in the orange alert level. Owyhee County remains in the yellow alert level.
Under the new Stage 3:
• Indoor gatherings are limited to 50 people or less.
• Outdoor gatherings are limited to 25-percent capacity.
• Physical distancing requirements are in place for gatherings of all types.
• Long-term care facilities will not be allowed to operate without requiring masks on their premises.
• There will be seating only at bars, restaurants, and nightclubs. Nightclubs can only operate as bars.
• Employers should continue to protect at-risk employees by allowing telework or by making special accommodations for these individuals in the workplace.
• All individuals and businesses should follow recommended protocols for minimizing transmission of the virus available at Rebound.Idaho.Gov.