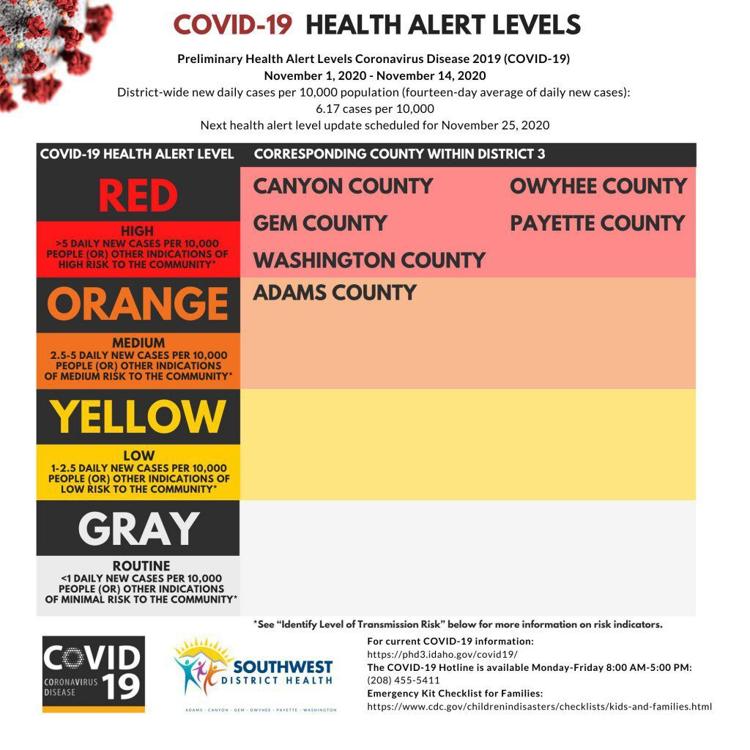 Positive test cases for the novel coronavirus have been escalating across Idaho for the past several weeks, prompting Governor Little to move the entire State back into a modified version of his Stage 2 Rebound Program. Until last week, Gem County had been trailing most counties in its seven-day rolling average of positive tests. Through Wednesday evening, however, 136 were registered in Gem County in the last seven day period – including 110 since Saturday. That is just over 20 percent of the total 668 confirmed or probable cases in the county since March.
In its Wednesday report this week, the Southwest District Health Department (SWDH) has moved Gem County to the Red health alert status - just one week after moving to the Orange health alert status. Gem County had remained the only county in SWDH's six-county jurisdiction in the yellow health alert category up until last week. Canyon County and Washington County were downgraded to the Red health alert category last week only to be joined by Gem, Owyhee and Payette Counties on Nov. 18. 
In making that move to Orange last week, SWDH cited "an increasing incidence rate and increasing positivity rate. Gem County has a daily incidence rate of 3.63 daily cases per 10,000 people and a test positivity rate of 11.82%. One congregate care facilities in Gem County is facing a sustained COVID-19 outbreak. 64.2% of new cases that were contacted knew where they were exposed to COVID-19, which is trending up and points to community transmission. Additionally, local healthcare providers are concerned with staffing shortages and hospital capacity. One school in Gem County is experiencing a cluster outbreak among students and staff."
SWDH policy had been not to change a county's alert level status in consecutive weeks to possibly keep an anomaly or isolated outbreak from skewing the designation. The severity of the surge in new cases, however, prompted the move to Red after only seven days in Orange. 
The surging test numbers has prompted numerous entities to adjust their procedures, while others indicate that their current policies appear to be working with their employees and customer interfaces.
Churches have been making adjustments since the initial state mandates were issued in March. Some have never resumed services since that time. Others have found a variety of ways to continue to meet, either on-line, in person or with a combination of both.
Calvary Christian has continued to alter it's worship services to meet the needs of its congregation.
"We have three different services so we are able to physical distance as much as possible," Calvary Christian pastor Michael Hughes said. "We have suspended live services from time to time. Most of our worshippers continue to watch online but we do have a strong desire to have in-person worship."
Hughes points out that while the weather was warm his congregation was able to use the outdoors and auxiliary space but with the colder weather many have moved back inside. To meet the increased demand for space inside, Calvary has resorted to taking family reservations for services so adequate physical distancing can be maintained.
"We have a strong desire to worship together but just as strong a desire to keep everyone as healthy as possible", Hughes said.
The affiliated Calvary Christian Academy has moved to entirely on-line learning options at this point due to a cluster of cases within its staff and student body.
Valor Health is probably the most exposed organization in the county. As the primary location for COVID-19 testing in the county, Valor's experience changes daily and tends to mirror testing trends.
Last week an emergency Incident Command meeting was called at Valor due to staffing concerns over multiple employees testing positive recently. According to data provided the Messenger Index by Valor, as of Friday 19 employees were self-monitoring, and five positive tests were reported during the week.
"Those are certainly major concerns for Valor," said Brad Turpen, Chief Executive Officer. "We are struggling to get all shifts covered. With the community spread it's not just about infected or exposed employees but the exposure within their families from outside sources that we have to account for."
Currently Valor is not opening its Urgent Care facilities on Sundays. That means those patients are being rerouted to the Emergency Room.
"We had 30 patients in ER the first Sunday we closed the Urgent Care facility," Turpen said. "That's probably double what ER is staffed to normally handle."
As hospitals across the state continue to report at or near capacity limits for inpatient care, Valor remains poised to provide some relief with care for non-COVID patients and maybe more.
"We are being told by the St. Al's and St. Lukes that we need to prepare to handle our own COVID patients here," Turpen said. "That means taking more of our resources and available space to dedicate to that treatment if needed."
To date Valor has transferred five COVID patients out of Gem County to the metro hospitals – one of them life flighted.
Turpen says Valor continues to work with the major hospitals in the Treasure Valley to possibly swap non-coronavirus patients from there for COVID-19 infect patients from here as a more efficient arrangement.
The weight put upon the health care system by the coronavirus pandemic is seen in the subtle but significant transfer of resources and curtailment of less serious illness treatment.
"We had to reschedule some primary care patients on Friday because we just didn't have enough help available," Turpen said. "Many of our staff have taken on extra hours but we try to limit that as much as possible to keep them healthy. We have accessed some traveling nurses at times to fill the gaps."
The Gem County Commissioners had a COVID update line item in their agenda Monday morning but requests for input from the Board had not been responded as of Wednesday evening.
The City of Emmett reports that the precautions they have put in place appear to be working as no noticeable spike in employee cases has been reported. The City Council met Tuesday evening for its second meeting of the month – a week early due to Thanksgiving next week and not to address the latest COVID developments in the State.
Emmett Independent School District is closely monitoring its own numbers and patterns of cases. While determined to continue full classroom instruction, school administrators are prepared to alter that course if so directed by the ESD Board of Trustees. Trustees met with Superintendent Craig Woods Monday evening and after lengthy debate determined to continue full class room instruction but will now require masks to be worn in the classroom from Nov. 30 until December 18 if adequate physical distancing can not be maintained.
How fan attendance will be handled at Middleton High School on Saturday for the Emmett – Skyline 4A State Football Championship game has been determined by the IHSAA. Each team in the 4A championship game will be allotted 275 tickets for its fans. Governor Little's Stage 2 directive indicates no groups of more than ten but outdoor events have received some leeway  to those numbers when physical distance can be maintained.