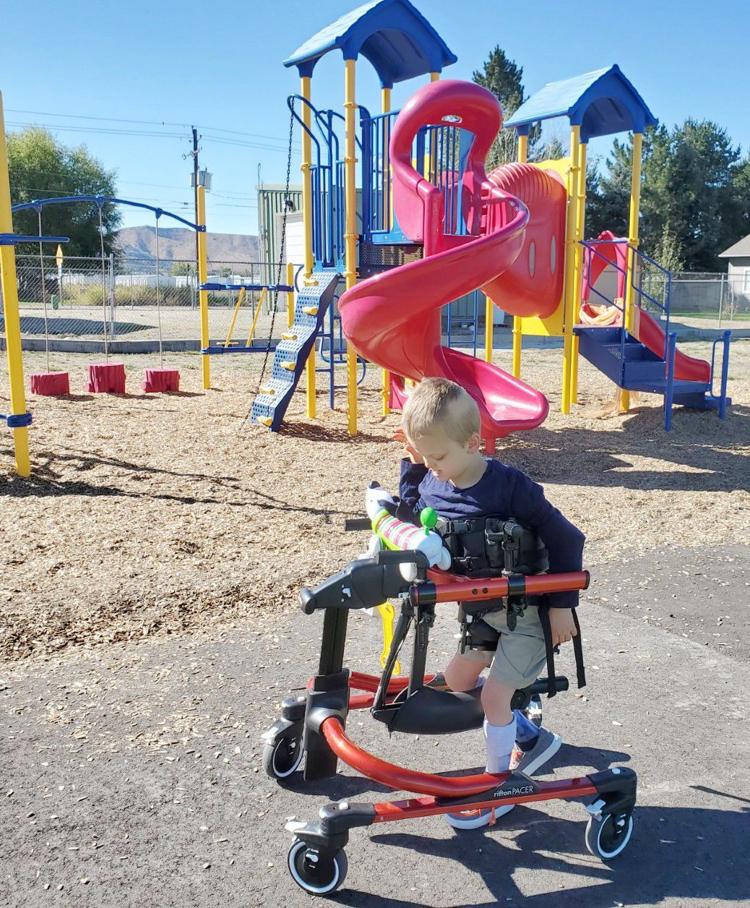 On July 24, 2013, Pete and Dane Goers were born into this world. What came with this delivery would not only change the lives of the Goers family, but little did anyone know it would also inspire the community of Emmett.
Pete Goers was born with Rhombencephalitis (RES), a rare fused cerebellum that didn't develop properly. At 23-hours-old, Pete had his first brain surgery. Along with RES, Pete was also diagnosed with a global developmental delay of autism and Hydrocephalus, a common build up of fluid on the brain.
Although Pete's diagnoses may seem bleak, his mother, Lara, said he has by far surpassed all expectations. Pete is nonverbal but that doesn't mean that he can't communicate. With actions similar to a child's, Pete can show you what he likes. When he doesn't like something he can show you, by throwing it across the room.
Pete began attending Carberry Elementary last year and is in first grade now. While Pete goes to school, his siblings, Brig: 12, Livia: 9, and Dane: 7, are being homeschooled by Lara Goer.
Lara said, "Brig would be in the middle school normally if it wasn't for weird COVID. Livia and Dane would be at Shadow Butte."
Pete's already compromised health, naturally puts him at a greater risk. So the family needed a plan to keep him safe and give him what he needs most, the services he receives at school.
"We decided that with COVID and the crazy world that we live in right now, that we're going to keep the other kids home from school."
While some may think it is counterintuitive to send Pete to school, and keep the others home, Lara said Pete needs the physical movement, changes in scenery, therapies, and interactions that the school has to offer him.
"We were very comfortable sending him because he's in a tier three plus classroom with Ivy Snow and his aide is Donna Hauser. They are so careful with wiping everything down and keeping everything sanitary."
And then there's Pete. Though he doesn't do it on purpose, the 7-year-old by nature, socially distances himself from others.
"He doesn't like touch or when people are in his bubble too much," Lara said, explaining that Pete, unlike other students, wouldn't think his day would be ruined because "he can't eat lunch with his best buddies."
Normally, Lara would not be homeschooling the other children.
"But we are trying to be intelligent and balancing our risks with our rewards. We are choosing our exposures … When you have an immune compromised kid you have to be extra careful. It's not like we're living in fear, we are just not being reckless with someone else's health and if we have the option to err on the side of safety, we do that."
Students who need movement work really well when they can use the swings on the playground. However, because Pete is in a wheelchair, easy access to the swings has been difficult. His education team would get Pete to use a walker which made it slightly easier, but getting through the gravel and wet grass was still a problem.
This is why the Carberry walking path was so important.
Principal Greg Alexander noticed Pete's problem and expedited a plan that was already in the works.
Pete could have his life just like a normal boy. Lara and her husband, Bill, are grateful for this.
Lara constantly advocates for Pete. For once, she didn't have to. The community and school saw the need and helped her son. The path has provided a way for Pete to interact with other students and socialize with his friends at school.
Earlier this month, the request to name the Carberry walking path "Pete's Path," was brought before the Emmett School Board.
Getting a path was no small task for Carberry to take on. It came with a lot of work from staff and the community. Emmett Mayor Gordon Petrie and previous school administration raised funds through Jump Rope for Heart, and the Mayor's Walking Challenge. The Challenge is a statewide program that gives Idaho mayors the opportunity to get active and earn funds for their community — all while setting a great example of being physically active.
Mayor Petrie is a champion of walking and has earned prize money for the path.
In Alexander's first year as principal he was made aware of the community's desire to have a walking path. He was prepared to accept the challenge but knew it wouldn't happen overnight. After all, this was a project that cost $32,300 just to pave.
While staff helped with fundraising, the PTO led by Miranda Wright, raised several thousand dollars; there were so many others that also came to Carberry's aid.
● Blue Cross of Idaho Foundation donated over $17,000 and when funds were still short, Blue Cross stepped up again.
● Gem County Foundation purchased the decorative rock naming the path.
● Parker Meyers and Meyers Lawn Service and Landscape repaired all the sprinklers.
● An anonymous donor purchased a "buddy" bench for those in need of a friend.
The path was marked in April, and by August Pete and a few others were able to make their first laps around the ¼ mile path. Pete was the inspiration for the path's completion. It is for that reason that the school board approved naming it "Pete's Path" with the caption "Inspiring Potential."
- Autumn Hutchison is a public information officer intern working with the Emmett School District. She is a senior graduating in December At BYU-Idaho.