CALDWELL — Southwest District Health on Thursday adopted a series of recommendations aimed at mitigating the spread of COVID-19, and the Board of Health chairman said he does not foresee a mask mandate coming in the future.
The Board of Health instead will use a risk-assessment tool, ranging from low to high risk of exposure to the virus, to issue recommendations on mask use.
In previous agendas for the two canceled meetings, medical professionals were scheduled to talk to the board, but they weren't given the opportunity to speak Thursday. Instead, they submitted statements to the board to be read alongside the public comments.
"Today, St. Luke's still has capabilities within the system to support needs arising in Canyon County, but if we do not reverse the trend, we are headed for a crisis; we do not see anything that is reversing the trend as of yet," a statement from a St. Luke's representative read. "Our projections suggest COVID-19 related admissions will double approximately every two weeks. We expect no change in the exponential increase in positive cases and hospitalizations unless there is a change in behaviors in the community."
Dr. Laura McGeorge, the assistant medical director for St. Luke's Primary and Specialty Care, told reporters via video chat they are already seeing a surge in COVID-19 hospitalizations, particularly in Canyon County. At the time of the call, which occurred a few hours after the meeting, she said the Nampa hospital only had one ICU bed left.
On Monday, St. Luke's experienced an all-time high of 100 COVID-19 hospitalizations, which caused ICUs in Nampa and Meridian to be completely full, McGeorge said. In past weeks, patients have even had to be diverted to other hospital locations because of the sheer volume of people needing care. She added they are close to being in that situation again.
McGeorge said it was very disappointing to see the Board of Health pass only recommendations rather than actual mandates, which have been approved in counties and cities across Idaho.
"We are not doing OK in Ada County and Canyon County, and frankly, Canyon County is worse off than Ada County," McGeorge said. "I anticipate it to continue to be a problem. … I think everybody agrees that we want to have the economy open and have businesses open. I think everyone agrees we want to get our schools open and get our kids back to school, and yet, some simple things that we can and should be doing is all it would take for this community to rally together and do that."
The district, which oversees Gem, Canyon, Washington, Owyhee, Payette and Adams counties, will use a risk assessment tool to determine the proposed guidance that the board approved 6-1.
The tool was recently developed with input from the board, health care professionals and county emergency managers after people and businesses asked the district for help. Each stage is colored coded, and the specific phases range from routine risk of exposure (gray) to low risk (yellow), medium risk (orange) and high risk (red).
A yellow risk factor, for example, indicates there are sporadic imported cases, an uptick in close-contact transmission, or a cluster outbreak, according to literature on the health ditrict's website. A red risk factor indicates there is sustained disease transmission, widespread outbreaks, and limited hospital capacity and supplies.
The passed recommendations included:
Wear a face covering when the SWDH COVID-19 Health Alert Level is at or above yellow (low) in public areas where physical distancing of at least 6 feet between non-household members is not possible. 
Limit the density of persons at events to a minimum of one person per 64 square feet of space when the SWDH COVID-19 Health Alert Level is at or above yellow (low).
Temporarily suspend visitation to older adult living and correctional facilities when new cases of COVID-19 are detected within the facility or when the SWDH COVID-19 Health Alert Level is red (high).
The passage of the recommendations elicited boos from many of audience members, who had gathered in the Canyon County courtroom for the meeting. Roughly 100 people were packed tightly together in the gallery area, with nearly all of them maskless. Some carried signs and offered whispered comments; others used their phones to film the discussion before them. One man was almost escorted out of the room by Canyon County sheriff's deputies for interrupting several times.
Deputies and Caldwell police officers in the courtroom weren't wearing masks. When a man in the room asked Sheriff Kieran Donahue why, the sheriff said face coverings weren't required there unlike at the health district's various locations.
"You're in Canyon County right now, you're not in Boise," he added, drawing praise and claps from several individuals. A mask mandate is in place in Ada County, per a Central District Health order.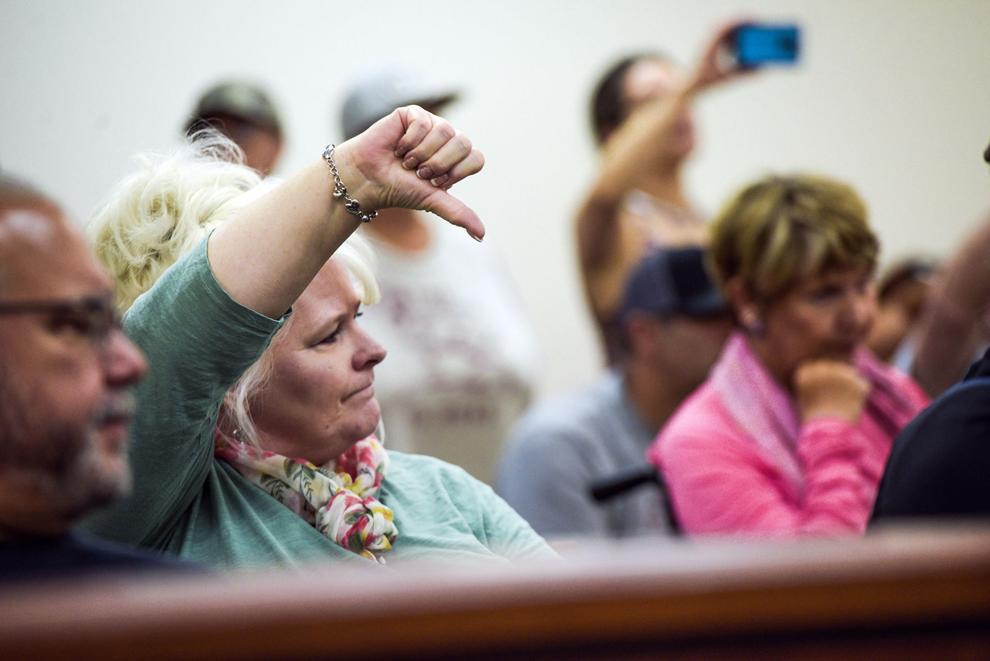 Most of the audience's applause was in response to comments made by board member Viki Purdy, an Adams County commissioner. Purdy, who has publicly criticized face coverings and mask mandates, was the only dissenting vote. The six other members, two of whom were attending via Zoom, voted in favor.
Purdy spent much of the nearly 50-minute meeting sparring with Bryan Elliott, Board of Health chairman and Gem County commissioner. Elliott reminded her the guidelines weren't mandates. 
"It's not a restriction, but a recommendation, Viki," he said. 
Prior to the vote, SWDH Director Nikki Zogg gave the board an overview of submitted public comments. She said the district received about 1,300 statements — 58% of which were in opposition to a mask mandate, with the remaining 42% in favor.
Elliott told the Idaho Press he wasn't sure if an actual mask mandate would ever come before the board in future meetings. But if one does, he's doesn't think he would vote in favor of it — at least at this point.
"Without some better science, with numbers that are provable, I probably, myself, would not vote for that," he said.
This also is partly due to enforcement issues, Elliott added — a similar sentiment shared by the Canyon County Board of Commissioners.
The Centers for Disease Control and Prevention this month "affirmed that cloth face coverings are a critical tool in the fight against COVID-19 that could reduce the spread of the disease, particularly when used universally within communities," according to its website. "There is increasing evidence that cloth face coverings help prevent people who have COVID-19 from spreading the virus to others."
Following Thursday's meeting, Canyon County Commissioners released a statement praising the Board of Health for its decision not to "create an unenforceable, general public mandate that might compromise law enforcement relations with the public."
County Commissioner Tom Dale also serves on the SWDH Board of Health.
"The Canyon County Board of Commissioners recognizes the seriousness of the COVID-19 pandemic, and urges all people to take this illness seriously. … Our American way of life depends on beating this virus and to do that we have to fight together, instead of against each other," the statement reads. "Our economy, our schools, our way of life depend on limiting the transmission of the virus, and we are individually committed to doing our part. Working together, we will get through this."