BOISE — Gov. Brad Little on Wednesday issued a statewide stay-home order for all Idahoans for the next 21 days.
The order, effective immediately, requires all residents "to self-isolate at home if you can, not just if you are sick," according to the governor's office. Health care workers, public safety and other essential personnel are allowed to provide services while the order is in effect.
"We are all in this together, and we all must do our part," Little said during a Wednesday afternoon press conference at Gowen Field.
Idaho as of Wednesday afternoon had seen 123 confirmed cases of COVID-19, according to the state's coronavirus website, coronavirus.idaho.gov. That included 37 cases in Ada County and eight in Canyon County. Health districts had confirmed community spread in both Blaine and Ada counties, meaning the person infected did not have any known prior contact with a person who was sick, nor had they traveled anywhere experiencing a large outbreak.
The order will drastically change life for many Idahoans. While people will still be able to go outside and exercise, shop for groceries and go to the pharmacy or hospital, businesses that don't offer services deemed essential by the state must close their physical locations. Little urged employers to let their staff work from home when possible.
Little said the state would rely on peer pressure first and foremost to get people to socially distance themselves, and he joked that people would not be arrested if they stood within 5.5 feet of each other on a walk.
Bars, nightclubs, gyms, recreational facilities, entertainment venues, hair and nail salons and other businesses will not be considered "essential." Restaurants can still offer take-out and delivery. People will still be able to leave home for groceries and other essential services. Idaho's liquor stores are also allowed to stay open, though some may have closed because of employees' lack of child care, concerns for elderly family members at home, or illness, according to the State Liquor Division, which emphasized that no stores have seen a case of COVID-19.
At the press conference, Little said officials are still refining the order and deciding which businesses are considered essential. He said he expects that list to be available Wednesday evening.
Little also signed an extreme emergency declaration, which allows the state to increase health care capacity more effectively and to make more rapid and decisive steps in the state's reaction to the virus. The Idaho Office of Emergency Management is working with the Idaho National Guard to be prepared to help residents and entire communities, Little said, and could bring up to 1,000 troops into action to help with tasks such as commodity transport.
If a local agency needs help, it will submit a request to the Idaho Office of Emergency Management, explained Maj. Gen. Michael Garshak, the commanding general of the Idaho National Guard. Because the office is working with the Idaho National Guard, it will decide how guardsman can best assist.
"I will exercise these powers carefully and honestly," Little said.
He emphasized that the needed infrastructure in Idaho had already been in place — the last time officials prepared for something on a large scale was in preparation for an influx of visitors to the state for the 2017 solar eclipse.
"This is not like, 'Today we flip the switch,'" he said. "We do emergency planning."
Still, officials were also grave when speaking about the possibility of running low on key medical equipment, such as ventilators. He said the state is working with federal authorities, such as the Federal Emergency Management Agency in part to address those needs. Earlier this week, Idaho officials said they'd already received their second shipment of medical supplies from the federal government.
Asked if Idaho's government was actively looking for more medical supplies, he replied, "Actively would be a mild understatement," and noted the worldwide shortage of necessary gear.
Little said there are businesses in Idaho that may be able to make the necessary gear.
"This will continue to be a big emphasis — it has been — of (the state coronavirus work group)," Little said.
As of Wednesday, 2,188 people in Idaho had been tested for the illness.
Little was candid about the way the COVID-19 crisis has hurt Idaho's small business owners and people living paycheck to paycheck.
"I worry about the social well-being, the fabric of our society if … A, the employees and B, the businesses, go under, and I'm afraid some of that's going to happen," Little said. "And we're just trying to minimize it all we can."
When asked about unemployment, Little mentioned the spike in unemployment filings Idaho has seen within the past week. He referenced difficulties people might face in receiving aid — such as a waiting period or work requirements.
"Some of those I can waive, some of those we're going to have to work with the federal government," he said. "That is of paramount importance to us."
He said he'd been on a phone call with the governors of other states discussing how resources from the federal government would be delivered.
Asked if he would issue a moratorium on evictions due to the outbreak, he replied: "We've had multiple conversations about what we do for the judicial side and then the conversations we have with landlords, commercial landlords and residential landlords both."
He mentioned there may be money available for landlords who do show forgiveness to tenants in paying rent, but said, "Those details will be coming forward later."
When asked about the effect the order would have on Idahoans experiencing homelessness, he first noted he didn't want more people to become homeless.
"The best thing I can do is have a safety net," he said.
Local leaders said they would continue to act in the best interests of their constituents as the COVID-19 crisis continues to radically reshape life in Idaho.
"With community spread of COVID-19 now affecting our densely populated area of the state, the Board will continue working collaboratively across jurisdictions to make sure we do all we can to keep our communities safe," said Ada County Commissioner Diana Lachiondo. "We are in this for the long haul and we commend the efforts of our 2000 employees, and our sister cities for all they are doing."
The statewide order is similar to the one already in effect in Blaine County, which was the first county to see community spread and has more cases than any other county at 52. Idaho has not reported any coronavirus-related deaths.
At previous press conferences Little has repeatedly stated that what works as a solution for one part of the state might not work in other parts of the state in terms of strategies for fighting the virus. He said Monday he wasn't considering a stay-home order for Ada County, but the following day, community spread in that county was reported.
Asked what specifically caused Little to issue the statewide order Wednesday, he replied, "We're sticking with where we've been all along, which is the (Centers for Disease Control and Prevention) guidance, which is that when you have community spread — and initially we just had it in Blaine County … then you have to go to the next level, and that's what we're doing."
Asked if the "national rhetoric" about the coronavirus and the government's response to it influenced hi decision to issue the order, Little replied, "No."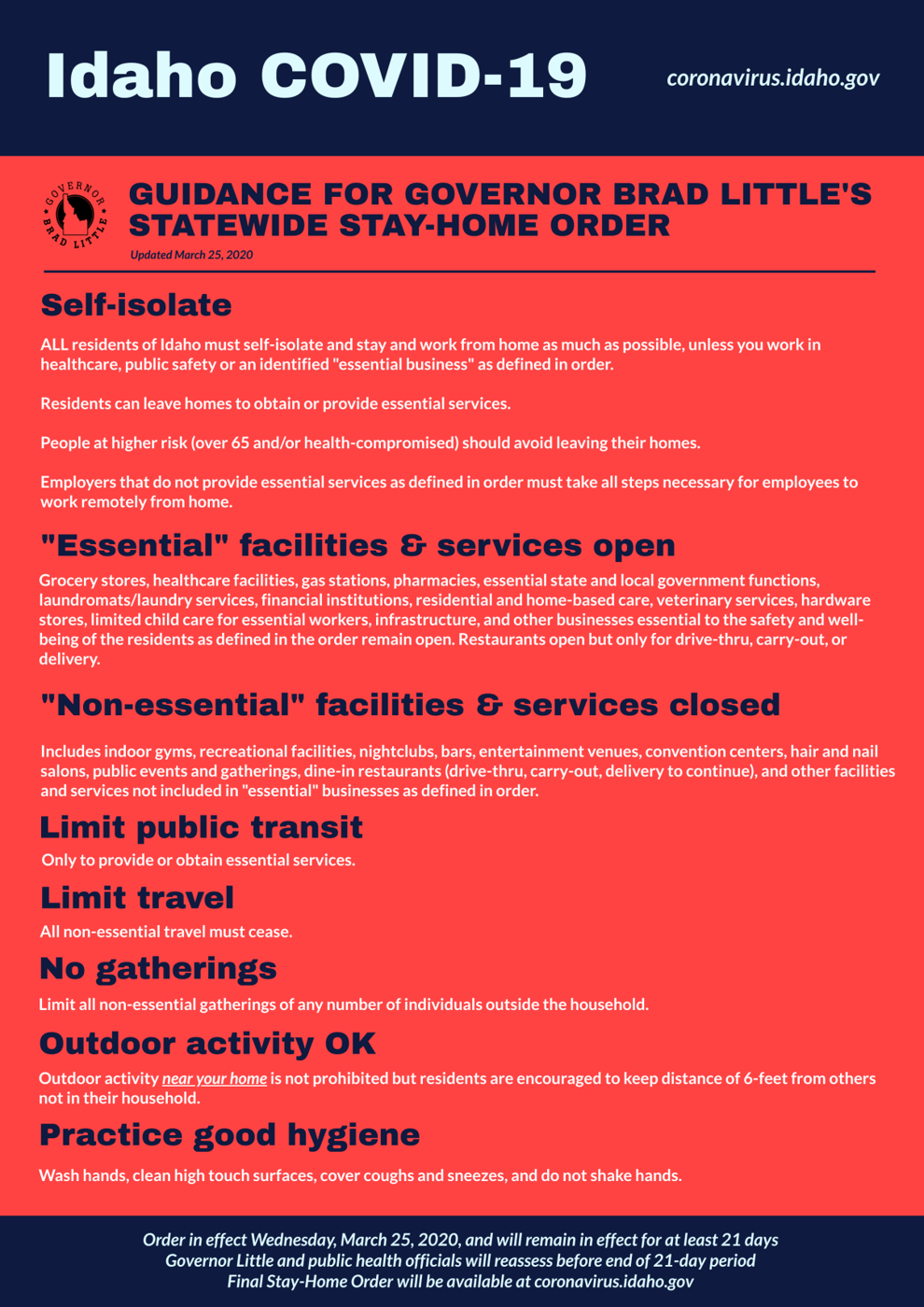 The Ada County Board of Commissioners today expressed support for Idaho Governor Brad Little's immediate statewide Stay at Home order to slow the spread of COVID 19 in the Gem State.

— Ada County (@Ada_County) March 25, 2020
Moratorium on evictions?

Little said multiple conversations have been had about what's happening on the judicial side and economic side. Said more details will be coming forward later.

— Thomas Plank (@ThomasPlankIP) March 25, 2020