While Idaho still remains in the "red zone" for several key, troubling COVID-19 metrics, this week's White House Coronavirus Task Force report says the Gem State is making headway on key virus indicators
The report, released Dec. 27, cautions: "Data are currently unstable, outside of hospital admissions, due to inconsistent" infection reports over the holidays. Yet, "throughout most of the Upper Midwest, Northern Plains, and Rocky Mountain states, we continue to see improvements, although virus levels are still high and any post-holiday surge will be evident."
New COVID-19 hospitalizations in Idaho dropped 30% the week of Christmas, according to the report, which the Post Register obtained from the Idaho Department of Health and Welfare. However, hospitalizations remain much higher than they were before October, when the recent statewide surge took hold.
Still, the weekly COVID-19 report says people must adhere to strict precautions during a precarious time.
"While case rates and test positivity are no longer increasing, most states are at a high plateau for cases and test positivity, and the risk for reigniting local epidemics remains high," the report said.
For instance, people under 40 years old "need to assume you became infected if you gathered beyond your immediate household. Most likely, you will not have symptoms; however, you are dangerous to others." For people over 65 years old "or with significant medical conditions" who gathered with others recently, "you are at significant risk for serious COVID infection" and "if you develop any symptoms, you must get tested immediately as the majority of therapeutics work best early in infection."
Idaho has continued to add new coronavirus cases faster than the national average. The state reported 399 new cases per capita last week, compared to the national rate of 391 per capita.
Both Idaho's new coronavirus cases and test positivity rate have improved some over the past week, with 16% fewer cases (7,133) and a 3.2% decline in test positivity rate. Idaho remains in the "red zone" for both metrics — the state now has the 18th highest rate of new cases in the U.S. (399 per 100,000), and the 7th highest percent of coronavirus tests that return positive (16.3%). Experts say a positivity rate of 5% or less signals the virus is being adequately monitored.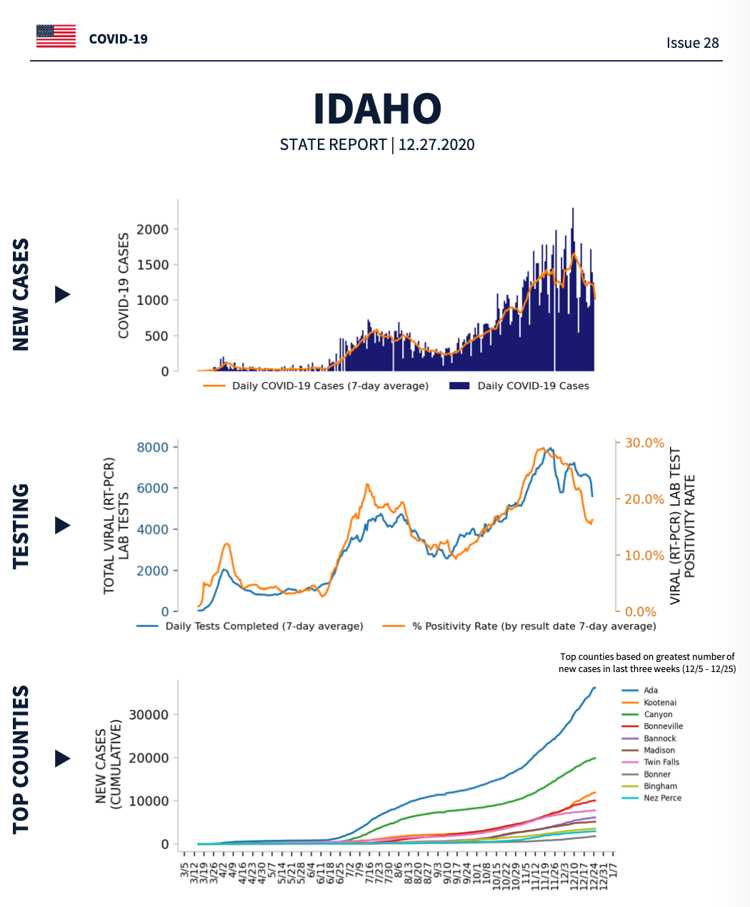 Idaho's death rate has also improved notably, with 39% less deaths being reported this week, according to the task force report.
Twelve metropolitan areas in Idaho, including Boise, Coeur d'Alene, Pocatello, Twin Falls and Rexburg, are in the red zone, along with 29 counties. Idaho Falls is the only metropolitan area listed in the orange zone, along with three counties — Bonneville, Gooding and Oneida. Hailey and Jackson, Wyoming, are listed in the yellow zone.
The report also called on public health officials to encourage people at high-risk for COVID-19 complications to be extremely cautious about any public interaction.
"All public health officials must make it clear that if you are over 65 or with significant health conditions, you should not enter any indoor public spaces where anyone is unmasked due to the immediate risk to your health; you should have groceries and medications delivered," the report said.
Ahead of New Year's Eve, the task force also says wearing masks are a crucial way to gather safely with people who don't live together.
"No unmasked public gatherings are safe and no indoor private gatherings are safe without all members fully masked, unless all members are actively taking the same precautions and regularly test negative," the report said.