BOISE — Three hundred million in grants for small businesses impacted by the pandemic. Two hundred million for property tax relief. One hundred million for return-to-work bonuses. Aid to impacted local governments and state agencies. Fifty million to expand broadband in Idaho. Sixteen million to improve technology and safety at Idaho prisons. Fifteen million for rental assistance.
All are major funding priorities Idaho's set for its $1.25 billion in federal coronavirus aid under the CARES Act. So far, the state has allocated more than $776 million, and has another $473 million still to go.
Not all the allocated money has been spent yet, and some already has been reallocated after expenses proved lower than expected. For example, the $100 million for return-to-work bonuses of up to $1,500 for Idaho workers coming off unemployment is coming out of the same pool as the $300 million in small-business grants.
"It's clear that there's going to be money left over in that small-business budget," said Alex Adams, Gov. Brad Little's budget chief and the chair of Little's Coronavirus Financial Advisory Committee, which recommends allocations of the CARES Act funds to the governor. "It's another way to slice that $300 million that we'd already set aside for small businesses."
The committee, known as CFAC, approved that plan at its meeting last week, with only Lt. Gov. Janice McGeachin dissenting; she didn't say why she opposed the move, though.
Similarly, the $200 million for property tax relief is coming from the same pool already allocated to cities and counties for their coronavirus-related expenses, which so far have come in well below initial estimates.
"So we've now allocated a little bit more than $700 million, but what's been spent so far is $100 million," Adams said.
Idaho must follow U.S. Treasury guidelines on how it spends the federal aid; the purposes must be coronavirus-related, and not for items already funded before the pandemic. Also, all the money has to be spent by Dec. 30.
The latest item to win CFAC approval was the return-to-work bonuses, which would be $1,500 for full-time workers and $750 for part-timers. Employers will apply for the funds for their workers starting July 13.
"This would be for people who have returned to work from May 1 to July 1," Adams said. Employers would have to prove that the workers were back on the job at least 20 hours a week for four consecutive weeks to qualify for the $750 bonuses, or 30 hours a week for four consecutive weeks to qualify for the $1,500 payments. They wouldn't have to be the same workers who were laid off or furloughed; the bonuses could also serve as "recruitment" bonuses for newly hired workers.
The thinking is that the extra $600 per week in federal pandemic unemployment benefits that laid-off or furloughed workers are receiving through the end of July could be a disincentive to workers returning to work. Some laid-off workers accumulated debt while they were off work, due to high costs associated with stay-home orders, and can't afford to give up the higher unemployment pay to go back to work without some kind of offset to cover the debt, according to CFAC members.
Here's a look at some of the other priorities the state is targeting with its CARES Act funds:
RENTAL ASSISTANCE: Idaho renters with difficulty paying their rent or utilities due to the coronavirus outbreak could benefit from $15 million set aside for assistance through the Idaho Housing & Finance Association. Rep. Melissa Wintrow, D-Boise, who chaired the CFAC subcommittee that developed the proposal, said it aims to "offer much-needed relief to renters and landlords, which will help people get back on their feet as they return to work." The initial funding was set at $5 million, with two renewals for the same amount if needed.
To be eligible, renters must have a current household income of 80% of the area median income or less; for a single individual in Ada or Canyon counties, that's $41,900 a year; for a four-person household in the same counties, $59,850. Each applicant household would be eligible for up to three months of assistance; payments would go directly to landlords or utilities. Applicants must be Idaho residents with at least one member of the household legally residing in the United States, and must not already be receiving a federal housing subsidy. Additional information is online at www.idahohousing.com/covid-19 (click on "Help for Idaho renters), or by calling 855-452-0801. Applications in Spanish are also posted to that page.
Names of landlords and utilities who receive payments, and the amounts, will be disclosed publicly on the state controller's Transparent Idaho website.
The assistance program had already been created by the Idaho Housing & Finance Association with a $250,000 investment; the CARES Act money sharply expands the program to up to $15.25 million total. Brady Ellis, the association's vice president of housing support programs, said, "It is in everyone's best interest to keep Idahoans in their home."
BROADBAND GRANTS: Idaho needs more broadband capacity, particularly in its vast rural areas, to accommodate newly expanded distance education, remote work and telehealth that have come into play as a result of the pandemic, according to the CFAC broadband subcommittee, which is chaired by state Commerce Director Tom Kealey. So the state has set aside $50 million of its CARES Act money for grants to projects that will expand broadband service across the state, with smaller and more rural communities given priority. All projects must be completed by Dec. 30 to meet CARES Act deadlines, so more "shovel-ready" proposals have an edge.
Private sector companies would provide the service, but both private and public entities and nonprofits are eligible to apply for the grants.
Grants will be publicly announced and posted on the state controller's Transparent Idaho website. Applications will go through the Idaho Department of Commerce; more information is at commerce.idaho.gov/broadband.
STATE, LOCAL, TRIBAL GOVERNMENT FUNDING: Local and state government agencies were allocated a share of CARES Act funds for their COVID-19-related expenses. Counties were allocated $44 million; cities, $42 million; tribes, $633,900; special-purpose taxing districts, $7.2 million; and state agencies, $57.7 million. Because the local governments have spent little of their share thus far, $12 million from their share is being shifted to the $200 million property tax relief program, detailed below; along with another $188 million that had been set aside for as-yet unallocated local government COVID-19 expenses; that adds up to the full $200 million.
In addition, $42.6 million has been allocated to repaying prior state appropriations for COVID-19, including for direct expenses such as testing, contact tracing and personal protective equipment. And just under $2 million has been allocated for a firewall upgrade for state agencies in the face of expanded use of technology for remote work and other related moves.
SMALL BUSINESS GRANTS: $300 million of CARES Act funds, the largest single piece, was set aside for grants to small businesses in Idaho impacted by the pandemic, at $10,000 for businesses with 1-50 employees and $7,500 for sole proprietorships. All grants are publicly posted on the state's Transparent Idaho website. Because only $44.4 million has been spent thus far, as of last week, $100 million of these funds have now been reallocated to the return-to-work bonuses detailed above. Businesses can apply for the grants through the state Tax Commission; there's more information online at rebound.idaho.gov.
PROPERTY TAX RELIEF: As detailed above, the $200 million for this program comes out of the local government share of CARES Act funds. Cities or counties would have the option to participate; if they did, the federal money would reimburse their public safety personnel costs for a 10-month period related to COVID-19, on the condition that the savings go to local property taxpayers through a credit on their 2021 tax bill.
Cities and counties also would have to agree not to take the 3% increase in their property tax budgets next year that's allowed by law, and not to use any "forgone" balance from past years in which the full 3% increase wasn't taken. They'd still, however, be allowed to collect more property taxes from new construction or annexation. All types of property taxpayers, including both residential and commercial, would benefit from the tax relief; if all cities and counties chose to participate, it would reduce city and county property tax bills statewide by about 20% on a one-time basis. Details of the program, including deadlines for cities and counties to apply, still are being finalized.
PRISON COSTS: Idaho's prison system is one of just three nationwide that hasn't yet seen a COVID-19 outbreak among inmates (the other two are Wyoming and Hawaii, according to the Marshall Project's tracking as of June 9), but officials say with more than 9,000 people in custody, it's a looming and "unique threat." The state has set aside $16.2 million for related prison costs, including $5.1 million to for critical technology infrastructure; $1.6 million for "diversion, decarceration and timely response;" and $9.5 million for public safety enhancements.
The tech improvements will include adding capability to hold video court hearings from each state prison facility, and to deliver required programming to inmates while preserving social distancing. Idaho doesn't plan early releases of prisoners, but the $1.6 million will improve the timeliness of release through the state's existing parole process. The public safety enhancements include $4.5 million to expand a newly funded program to provide treatment and preventive services to high-risk, newly released parolees statewide; $4.5 million for transitional housing assistance to newly released offenders during the public health crisis; and $500,000 to contract for increased substance-abuse testing.
There's more detail about the plan online at coronavirus.idaho.gov/coronavirus-financial-advisory-committee. Click on the May 4, 2020, document under "Other Documents" at the bottom of the page; in the 10-page document, scroll to page 4.
MARKETING PLAN: The state has allocated $6 million for the Idaho Rebounds Marketing Plan, with a goal of rebuilding consumer and employee confidence as the state reopens its economy. That includes $500,000 for the "Recreate Responsibly Idaho" campaign; $3 million for an Idaho tourism campaign; and $2.5 million for the "One Idaho Campaign," which is aimed at instilling customer confidence that Idaho businesses are reopening safely — following recommended preventive measures such as hand hygiene, sanitizing, social distancing and mask-wearing. Ads already are running for the various campaigns, which are being spearheaded by the Idaho Department of Commerce, in collaboration with the governor's Idaho Rebounds Economic Advisory Committee.
The One Idaho Campaign has a website on the Department of Commerce's site, at one.idaho.gov.
LABOR CALL CENTER: The Idaho Department of Labor, which already had received roughly $10 million from the state agency share of CARES Act funds, requested another $3 million to double the staffing from 50 to 100 at an outside call center that's helping cope with a huge claims backlog. CFAC approved the request with just Lt. Gov. McGeachin dissenting; the extra workers started work at the call center last week. To reach the new call center, call 833-410-1009.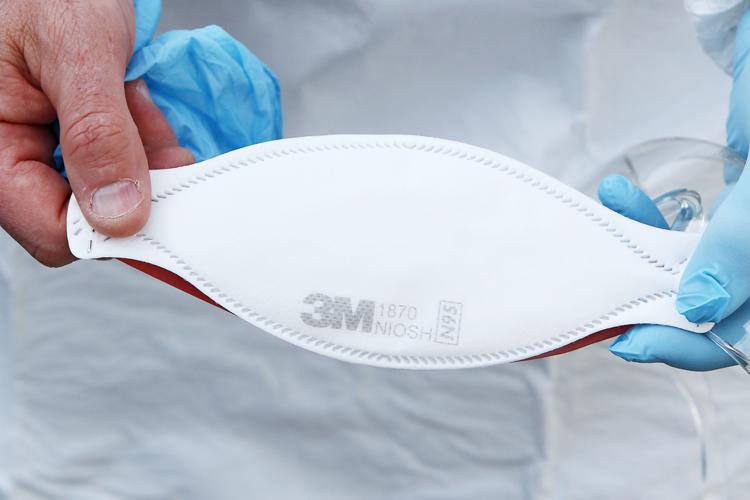 SMALL BUSINESS PPE: Idaho set aside $2 million in CARES Act funds for bulk purchase of PPE for small businesses or agencies in Idaho that otherwise struggled to buy the much-sought items. Originally, the state Department of Administration was looking into that bulk purchase for use by state agencies and local governments, but the proposal was expanded to also open that up to small businesses or nonprofits in Idaho that lack the bulk purchasing power to compete for PPP, including masks, gloves, and hand sanitizer, on their own.
The state is charging its cost, which is substantial — for example, $25 for a gallon of hand sanitizer — but it's also offering financial aid to provide the supplies at no cost for entities that can't afford them. For more information, go to supplies.idaho.gov.