In early December, staff at Eastern Idaho Regional Medical Center in Idaho Falls asked questions about the nation's largest vaccine campaign to two local doctors leading the fight against COVID-19.
Staff could send questions about a variety of topics, ranging from the science behind the new mRNA vaccine technology, the mild side effects that come with them, or whether it was safe with someone's specific medical conditions. "Every single one of them were answered directly," hospital spokeswoman Coleen Niemann said.
"Because we wanted employees to go to the … right sources to get information, and not take unofficial sources like social media to make their decision about getting the vaccine," Niemann said.
As the state of Idaho inched toward broader vaccine access earlier this month by offering shots to teachers, first responders and jail staff, some organizations and agencies that had employees first in line to receive COVID-19 shots turned to their in-house medical expertise to educate staff. Reliance on local medical experts, who staff might know and trust more, is a strategy that some say can help alleviate public distrust in government and other institutions about the shot that many hope will help contain a disease that's drawn heaps of misinformation.
"One lesson that we can say that we've got a pretty good understanding of is" that generic messaging "might have some" effect, said University of Idaho professor Bert Baumgaertner, who leads a yearslong project studying why people do or don't get vaccinated. But, "It depends on who the source of the message is."
About a month after a Rexburg doctor became the first Idahoan to be vaccinated against COVID-19, acceptance rates are trickling out. In two large organizations in Idaho Falls, representatives say the progress is good but stress that the process is ongoing.
"We're pretty pleased with, so far in the hospital settings, it seems the uptake is pretty good," state epidemiologist Dr. Christine Hahn told reporters on Tuesday. "We don't have final numbers yet but we are hearing that" in hospitals generally, "most of their staff are interested in receiving the vaccine.
At EIRMC, the region's largest local hospital, hospital COO David Hoffenberg said he expects about 70% of employees to accept shots when "it's all said and done."
According to the Centers for Disease Control and Prevention, "(e)xperts do not yet know what percentage of people would need to get vaccinated to achieve herd immunity to COVID-19." However, estimates range between 70% and 94%.
That vaccination rate is "about what we were expecting early on," Hoffenberg told regional health officials last week. "So, very positive, but we still would've liked to be higher."
In a few weeks, Hoffenberg said he hopes to have final numbers together for total employee vaccinations. Some doctors, for instance, may have received their vaccine elsewhere, so Hoffenberg said EIRMC will need to incorporate that into its tracking. Still, "for a number of reasons," some people declined to take the vaccine, he said.
Most of the around 120 staff at the Idaho Falls Fire Department, which runs Emergency Medical Services for much of the region, were eligible to receive the vaccine in phase 1 with front-line health care workers and long-term care facility residents; that phase is still ongoing, state officials say, with the four phases of Idaho's vaccine plan expected to overlap.
As of Jan. 14, 61 of the 115 employees eligible for the shot in phase 1 had received the first dose of the vaccine, said fire department spokeswoman Kerry Hammon. She said some personnel who recently contracted COVID-19 are waiting to get shots.
"We continue our efforts to provide accurate information, education and training to our personnel so that they can make informed decisions about whether or not to receive the vaccine," Hammon said. "The staff at Eastern Idaho Public Health and our Medical Director, Dr. Jerry Smedley, have been a tremendous help throughout this process."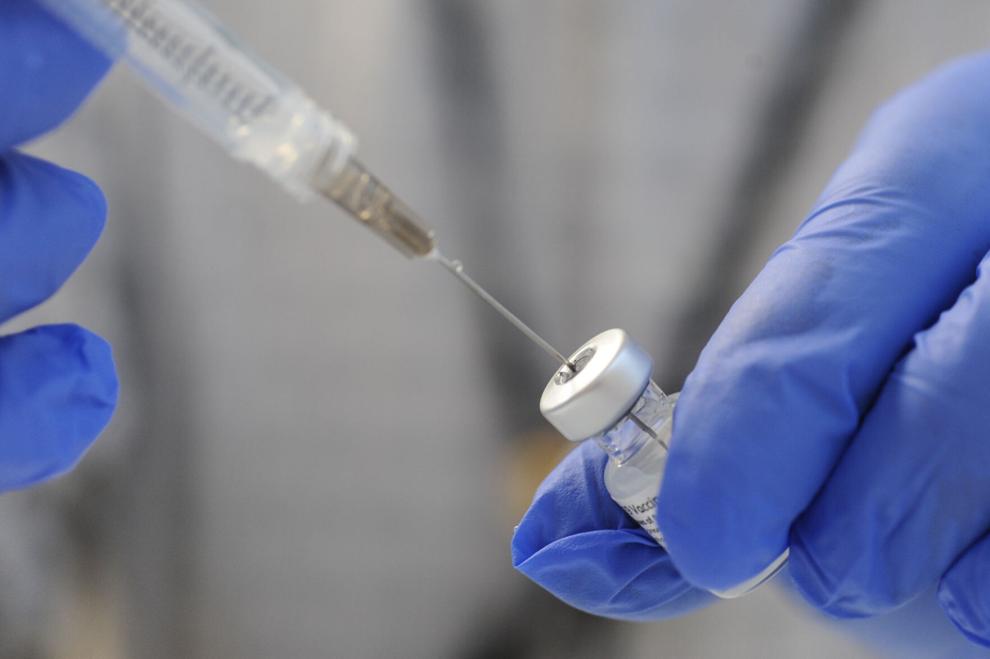 Idaho has one of the nation's lowest flu vaccination rates each year, according to the CDC, and allows parents to claim nonmedical exemptions to school-required vaccines for children. Health care workers are more exposed to medical science in their day-to-day jobs than other folks, Niemann said. However, she said it's important to hear from someone they know.
"I think where we were successful, the physicians that did this seminar," Chief Medical Officer Dr. Tim Ballard and infectious disease specialist Dr. Todd Bagwell, "are very trusted amongst EIRMC staff. They are physicians who have proven themselves to be forthright, transparent and clear."
When it comes to broader vaccine access, family doctors and others that people trust might be where people turn to for questions and examples, said Baumgaertner, who researchers vaccine attitudes.
Some groups are hesitant to get vaccinated, such as people who identify as very conservative and those who aren't close to big outbreaks, Baumgaertner's research team has found. Getting info from familiar faces can help bridge some underlying mistrust and, in turn, some vaccine hesitancy.
"If the messaging comes from someone who is perceived as not having some type of partisan views," such as a family doctor, he said, "it's more likely that information will be received in a bipartisan way because it's coming from what they perceive as a trustworthy source."