BOISE — Hundreds protesters outside of Central District Health's headquarters and at least three board members' homes caused Tuesday's health board meeting to be adjourned early due to safety concerns.
Less than 15 minutes into the meeting, Boise Mayor Lauren McLean and Police Chief Ryan Lee called CDH Director Russell Duke and asked him to stop the meeting as 400 to 500 people protested outside of the Boise district office.
"It's a matter of safety for everyone at this time," Duke told the board.
Ada County Commissioner Diana Lachiondo left the meeting early after she learned protesters were outside her house, where her 12-year-old son was home alone. Lachiondo was in tears as she told the board she needed to leave the meeting to check on her son. The commissioner said she would call the police to respond to the situation. (Lachiondo clarified on Twitter Wednesday that her mother was home with her two sons but had left to take the dog on a walk.)
Board member Dr. Ted Epperly said protesters were at his home as well, and that the situation there was "not under control."
One person inside the district office was put under citizen's arrest by a health district representative; the person was cited for misdemeanor trespassing and taken to the Ada County Jail, according to a tweet from the Boise Police Department.
Boise Police are securing warrants for the arrest of a number of people involved in the protests at the board members' homes on charges of disturbing the peace, according to a department press release.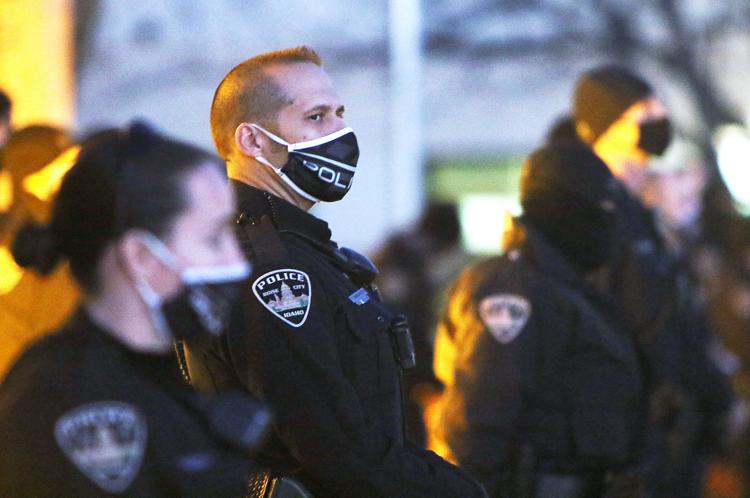 The health board was scheduled to discuss a revised public health order for all four of its counties. The request to adjourn the meeting was "in the interest of public safety," according to the police department.
"Our first priority is to maintain safety and public order. Officers are currently monitoring the crowd and responding to reports of additional incidents in the city," the department said in a tweet.
BPD requested the @CDHidaho meeting adjourn in the interest of public safety. Our first priority is to maintain safety and public order. Officers are currently monitoring the crowd and responding to reports of additional incidents in the city.

— Boise PD (@BoisePD) December 9, 2020
McLean offered a strong rebuke for the "mob" of people whose purpose was to "intimidate" health board members and their families.
"This has gone too far," McLean said during Tuesday's city council meeting. "What we saw … was a mob of people that showed up in an attempt to disrupt the very actions that must be taken to protect us. I am deeply deeply disturbed by what I saw. At the end of the day, I made a decision to protect the children home alone that were facing protesters banging on their mother's door; to protect the agency and staff that were in the room with hundreds of people outside; to protect our officers who will do the work they need to do to follow up to make the arrests and decisions they must related to violence and the threat of violence that they saw tonight."
She added, "This is not who we are, Boise, and I want us all to remember that."
Diego Rodriguez, an activist who was involved in a Stop the Steal rally and is associated with People's Rights, an Ammon Bundy-led group of conservative activists, was the emcee of the protest.
The board on Tuesday did not reschedule a time to vote on the revised order. That will be determined by Duke and Chairwoman Betty Ann Nettleton of Elmore County.
"Our community is being severely impacted by this virus and our team members and board are working tirelessly to protect our community's health," Duke said in a statement after the meeting adjourned. "We simply ask that those who may disagree with these difficult discussion points and decisions do so in a way that is respectful and does not endanger our staff, board of health members, and our law enforcement, all who are critical in this response."
Lachiondo later Tuesday night tweeted, "Update: We are fine. Thanks all for your concern and especially (Boise Police) for your help."
Before the meeting was adjourned, Primary Health CEO Dr. David Peterman was giving the board a presentation on the struggles his company's health care providers were running into as COVID-19 cases strained the system.
"If your child has an earache, or is having trouble with a medication, I can't guarantee we can respond to a phone call," Peterman said, warning that if this continued, basic care would be more difficult to come by.
On Tuesday, Idaho broke its daily record of COVID-19 cases with 2,012 reported on the state's coronavirus.idaho.gov dashboard. Last week, Idaho had the highest test positivity rate in the nation. There have been 113,905 cases of COVID-19 reported in the state since the beginning of the pandemic, and 1,074 people have died from the disease.
Gov. Brad Little released a statement Tuesday night, saying: "The actions of protesters at the private residences of public officials is reprehensible. It is nothing more than a bullying tactic that seeks to silence. Our right to free speech should not be used to intimidate and scare others. There is no place for this behavior in Idaho. I urge calm among Idahoans so we can get through the pandemic together, stronger."
Earlier in the day Tuesday, hundreds of health district residents organized a "remote rally" to show support for the public health order. They placed almost 400 homemade yard signs outside district headquarters to urge the board to adopt basic health measures in all four counties, according to organizer Nathaniel Hoffman.
"We chose to exercise our First Amendment rights in a safe, peaceful, and socially distant manner, in the spirit of this proposed health order," Hoffman said in a statement.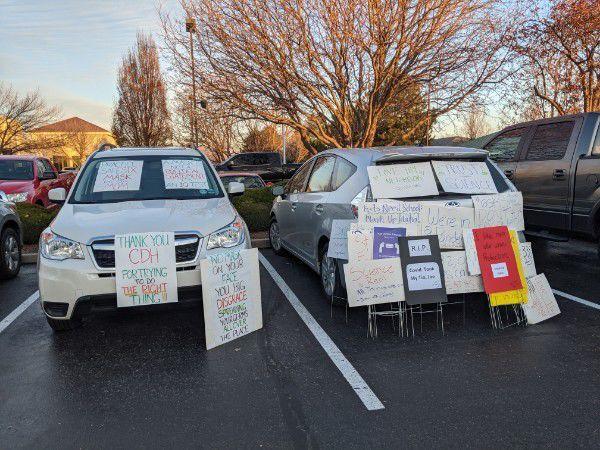 Lt. Gov. Janice McGeachin and 17 of Idaho's Republican legislators weighed in against the original and revised order in two letters to the Central District Health board. They opposed mask mandates, requirements for businesses to enforce COVID-19 regulations, and the potential misdemeanor punishment for violations.
Though the order would not limit attendance at worship gatherings, the lawmakers expressed concern about possible attendance limits for religious activities not deemed worship services.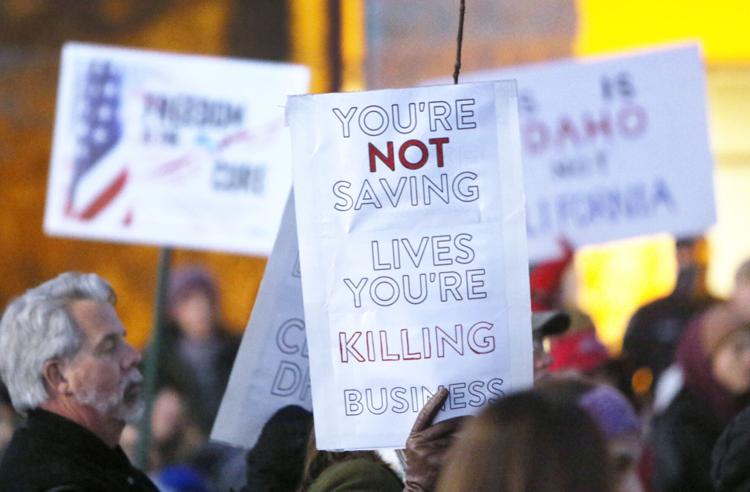 "The revised draft order ... proposes to place a number of significant burdens and restrictions on Idaho businesses and to impose severe mandates on individuals," the letter signed Dec. 7 reads.
McGeachin and lawmakers expressed concern with capping public and private gatherings at 10 people, which is already part of the statewide Stage 2 public health order.
"This is a gross violation both of individual liberty and of property rights," the letter states. "It is also entirely inconsistent to impose such a prohibition on individuals while allowing schools, businesses, and other facilities to continue their operations."
THE ORDER
The revised order, released Saturday, would allow sports and visits to long-term care facilities to continue in all four of the health district's counties: Ada, Boise, Elmore and Valley. Attendance at sporting events would be capped to 10 people, and masks and social distancing would be required.
As with the original draft, violations of the order would be punishable by a misdemeanor, which includes a fine, imprisonment or both; and visits to jails and prisons would be prohibited.
The order would enact a mask mandate in all four counties; currently only two of the district's counties, Ada and Valley, are under a mask mandate.
The draft order would also impact businesses in all four counties:
Gyms, fitness and group exercises would be required to limit capacity to 50% and require 6 feet of social distancing
Dance floors and bar tops would be closed
When possible, businesses would need to implement delivery or curbside services
Restaurants would only be allowed to fill up to 20-30% capacity, depending on their size