Idaho is a big state, the 11th largest in the U.S. in terms of square miles. And it boasts a diverse environment from the fertile Snake River Basin to the high deserts in the southwest and eastern parts of the state to the lush forests of the panhandle.
It's 660 miles from the town of Preston on the state's border with Utah to Porthill on the border with Canada. For most people driving between southern Idaho to north Idaho the fastest routes take you through Montana or Oregon. 
In the nearly two weeks since Gov. Brad Little issued a statewide stay-home order many Idahoans, especially those adhering to the directive, have begun to feel cut off from the outside world.
In an effort to provide a glimpse into the lives of Idahoans from throughout the state, journalists from nine newspapers visited 12 different cities and towns over a 24-hour period between 10 a.m. April 2 and 10 a.m. April 3.
The journalists witnessed acts of kindness and images of hope as well as once-bustling scenes now eerily quiet. They also saw glimpses of normalcy — farmworkers repairing irrigation equipment and rural residents spending time in the sun despite snow on the ground.
Here is what they saw: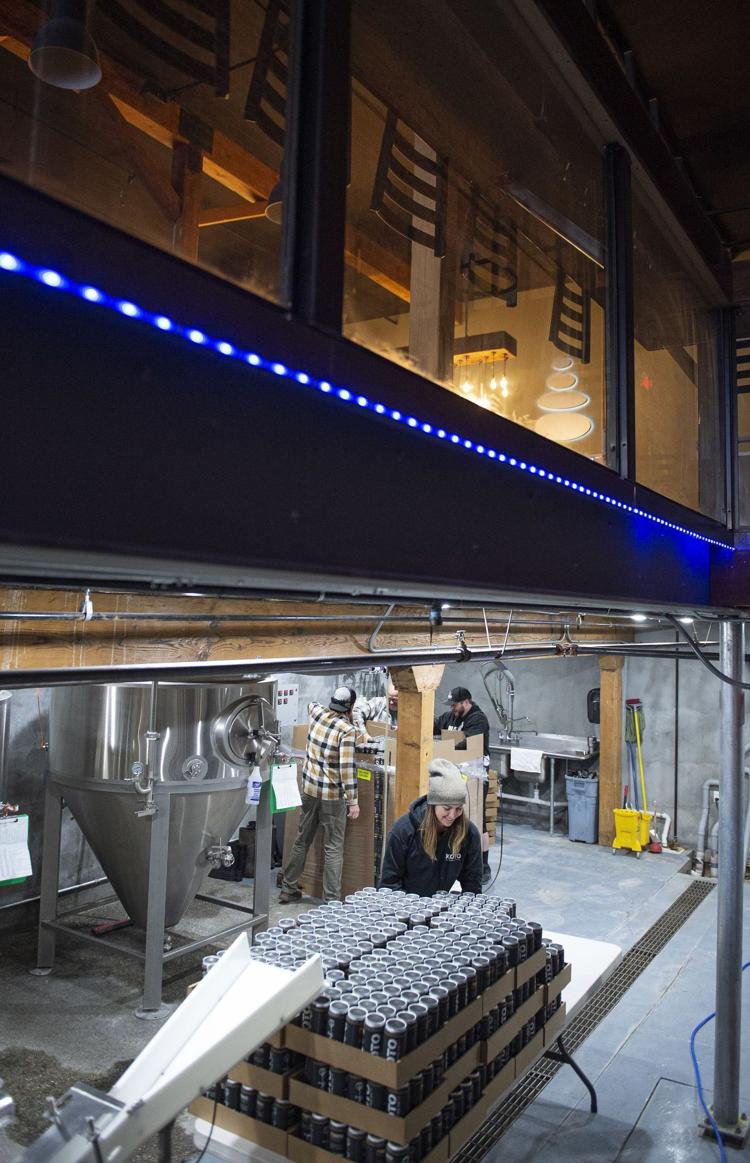 TWIN FALLS, 9:02 a.m., April 2 — Katelyn Jorgensen, manager, front, helps set up a beer canning operation along with Pierre Tusow, head brewer, Shane Cook, owner, and Paul Claasen, kitchen manager, Thursday morning, April 2, 2020, at Koto Brewing Co. in downtown Twin Falls. Koto closed its kitchen but worked to keep beer shelves full. Nearly 33,000 Idaho residents filed for unemployment benefits last week as the Idaho economy continues shedding jobs at a record rate due to the coronavirus, state officials said Thursday.
— Drew Nash, Twin Falls Times-News
MAGIC VALLEY, 9:44 a.m., April 2 — Men change a tire on a pivot in a farmer's field east of Twin Falls.
— Drew Nash, Twin Falls Times-News
PRESTON, 10 a.m. April 2 — Chloe and Allie have been struggling through the online math programs their third- and fourth-grade teachers have asked them to use for two hours, and it's time for a break. Their mother, Ashley Seamons has gathered them and their older siblings, Taran and Caitlyn, around the table to plant seeds in preparation for the garden they will plant as soon as the soil warms.
"It was probably the most fun activity we've had all week," Seamons said.
Nearby, Julie Johnson's six children are at the stations she created for each of them in one of the rooms of their home. With headphones, computers and iPads, they work through the assignments their teachers have sent to them via Canvas.
Across the valley, at West Side School District, LeGrand Leavitt, biology, anatomy and botany teacher is recording lessons to post on Canvas for his students to access. While he does so, he wrestles with a request from the father of one of his students. The man is taking his children to work with him during the day and wants them to be able to do their school work in the evenings, so Leavitt's 3 p.m. deadline for homework assignments isn't working for them.
— Necia P. Seamons, Preston Citizen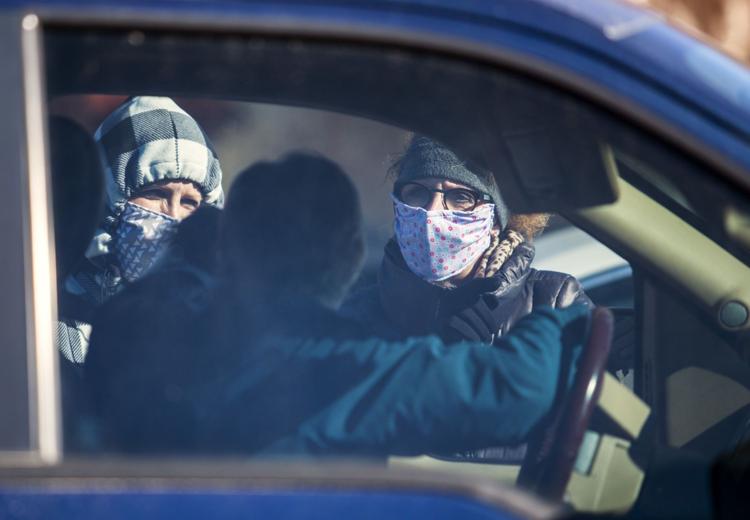 RUPERT, 10:14 a.m., April 2 — Magic Valley Area Humanitarian Center President Becky Schow, right, and Vice President Kathy Duncan, center, hand out face mask kits for volunteers to sew. Center officials hope to find 1,000 people willing to make face masks to donate to businesses. Pickup times for face mask kits are Thursdays from 10 a.m. to noon. Schow says each mask takes 15 minutes to sew. "Before you share with anybody, wash and dry the mask on high heat," she said. 
— Pat Sutphin, Twin Falls Times-News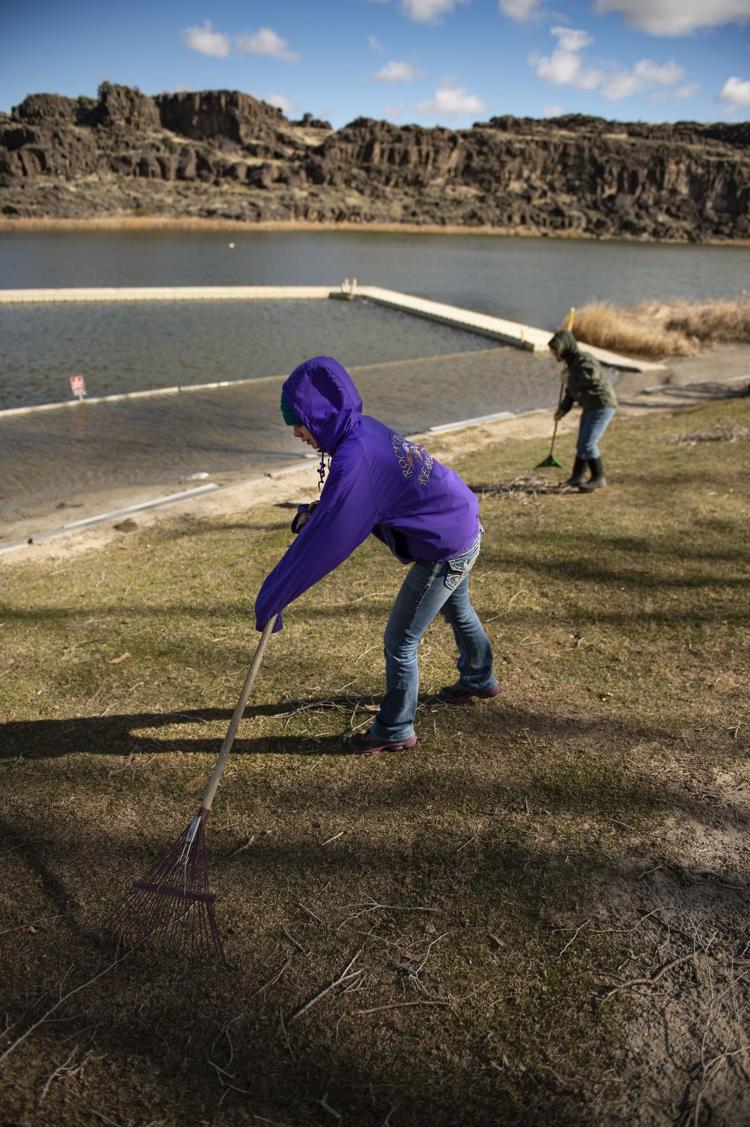 TWIN FALLS, 10:42 a.m., April 2 — From front, Parks and Recreation employees Jacqueline Golay and Amethyst Griggs rake fallen branches at Dierkes Lake in Twin Falls. The two girls usually work at the city pool, but when it closed due to COVID-19 they were reassigned.
— Drew Nash, Twin Falls Times-News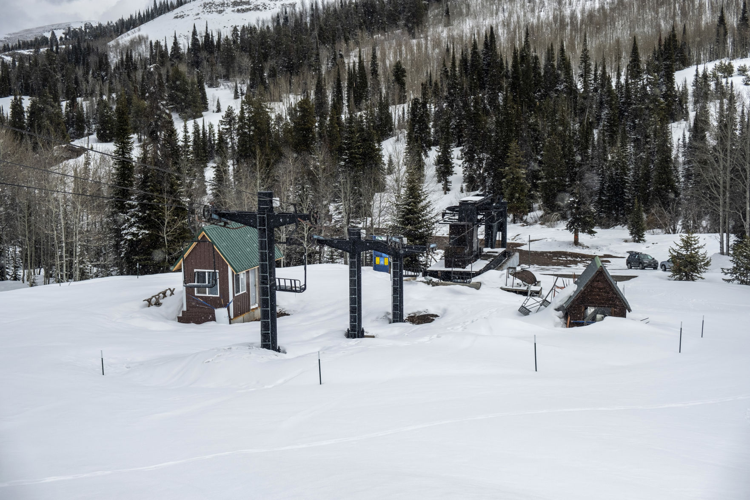 HANSEN, 11:30 a.m., April 2 — Magic Mountain Resort south of Kimberly in the South Hills closed early for the 2019-20 ski and riding season due in part to the outdoor industry following Gov. Brad Little's statewide stay-home order. Suzette Miller, wife to owner Gary Miller, said the resort lost out on three weekends' worth of skiing and riding as well as revenue due to the virus outbreak even though the slopes were covered in snow.
— Jonathan Ingraham, Twin Falls Times-News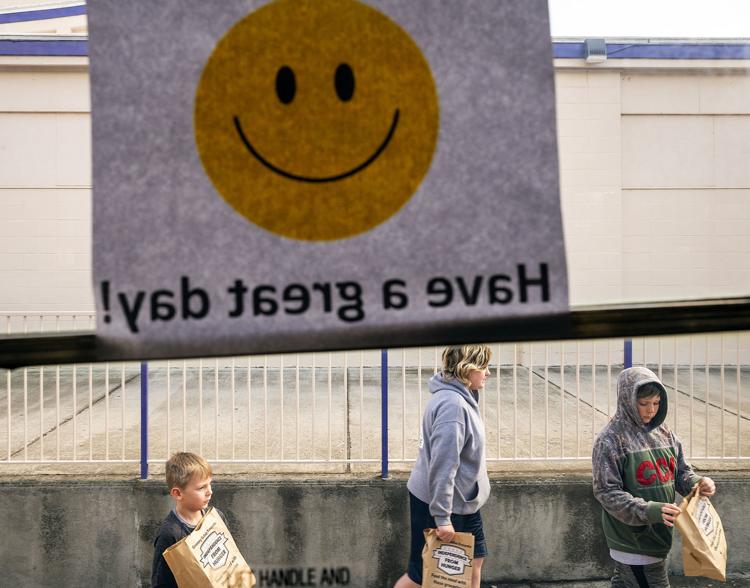 LEWISTON, 11:41 a.m., April 2 — Signs of encouragement were posted on the windows of a Lewiston school bus while children walk by with their sack meals at a stop near Booth Hall at Lewiston High School. On Thursday, the Lewiston School District distributed 276 meals with the five buses that made 60 stops around town. It's the first time the district has used buses to deliver meals to its students. The service supplements three grab-and-go meal sites that served 651 meals Thursday. The new service will continue through the statewide "soft closure" of schools scheduled to last through at least April 20. Teachers and district staff help deliver the meals. "Everyone wants someone to care for you and that's part of the reason we wanted to be on this route, so we can see our kids and be able to connect with them," said Andrew Cole, a special education instructor at Whitman Elementary School.
— Justyna Tomtas, Lewiston Tribune
OAKLEY, 11:54 a.m., April 2 — From left to right, Harlo Clark, Rob Campbell and Jaxsen Dillon unload a shipment of food and other goods Thursday, April 2, 2020, at Clark's grocery store in Oakley. Clark says the store has seen a shortage of toilet paper, soap, pasta and bread, much like many of the other stores in the area.
— Pat Sutphin, Twin Falls Times-News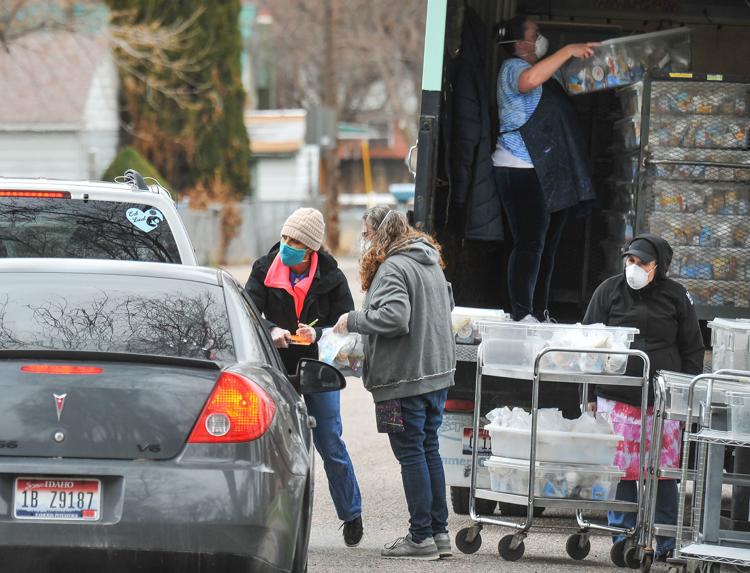 POCATELLO, noon, April 2 — Masked workers with Pocatello-Chubbuck School District 25 were busy distributing free sack lunches and breakfasts to patrons in Alameda Park.
In a typical shift, they may give away more than 2,800 meals at the Pocatello park to children who are out of school.
The school district started distributing the grab-and-go meals from area parks March 30 to ensure children who get most of their nutrition from school meals aren't hungry during the coronavirus emergency. The meals are available to anyone age 18 and younger.
Due to the need for social distancing, recipients are asked to leave the park to eat their meals.
Meals are available from 11:30 a.m. to 1 p.m. Monday through Friday.
— Idaho State Journal staff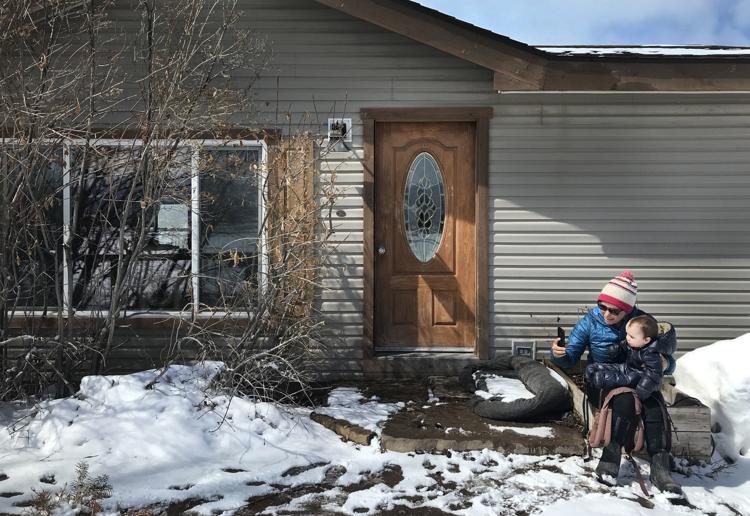 VICTOR, 12:30 p.m. April 2 — Aska Langman dials her mother via FaceTime on Thursday afternoon after having finished a walk with her 8-month-old son, Leo, on a rare, warm April day in the Tetons. Like many transplants in Teton Valley, maintaining connections to family and friends can only be done via electronics in light of the global pandemic.
Langman's father, 71, was rushed to the ICU earlier that week with COVID-19 in New York City, a city under siege with the virus. While she coordinates with doctors and medical staff in New York over the phone and only when necessary, she's sent the ICU nurses pizzas and snacks while weighing the need to place her father on a ventilator. Langman has been calling her mother, 74, who is also sick with the virus, every four hours to talk to her face to face. With the support of New York City friends, Langman's mother is trying to recover in her apartment alone.
Langman, an only child, said if it was not for the threat the virus poses she would have been on the first flight to New York City. She added that when this pandemic is all over, "I could have one parent, two parents or no parents."
On Sunday, her mom was admitted to the ICU in New York City.
— Jeannette Boner, Teton Valley News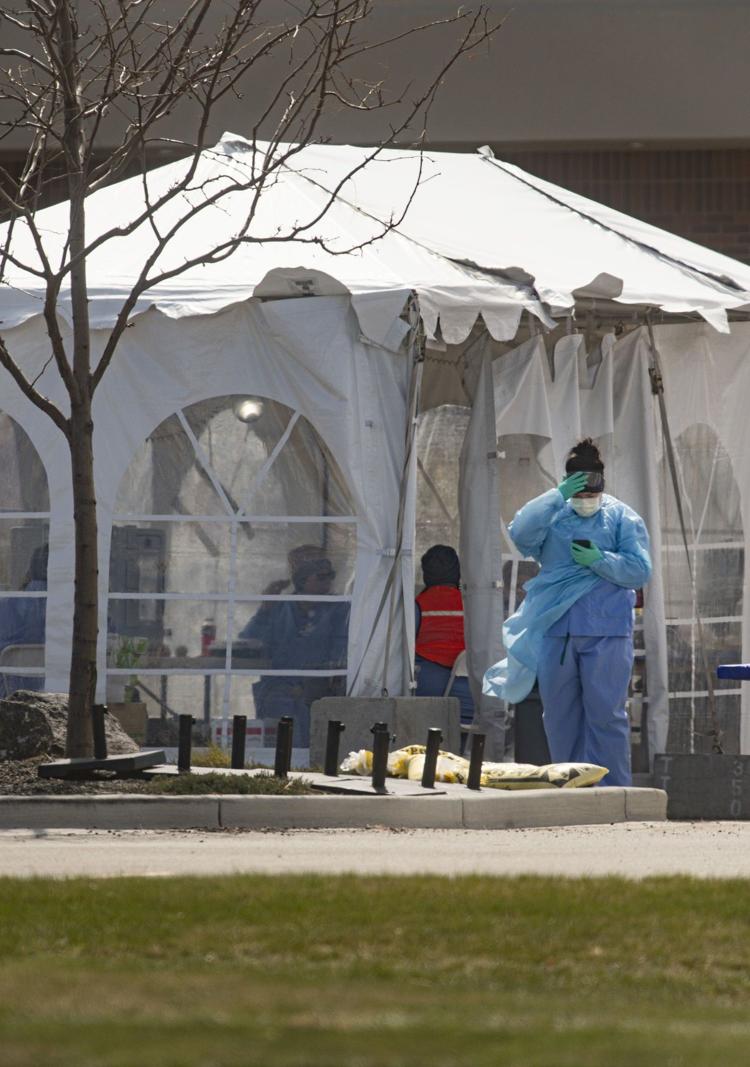 TWIN FALLS, 12:47 p.m., April 2 — A medical worker looks at her phone while braving the wind outside of St. Luke's Magic Valley in Twin Falls. St. Luke's Magic Valley Medical Center opened a drive-up COVID-19 testing site, allowing patients to stay in their cars for screening, registration, and, if necessary, testing.
— Drew Nash, Twin Falls Times-News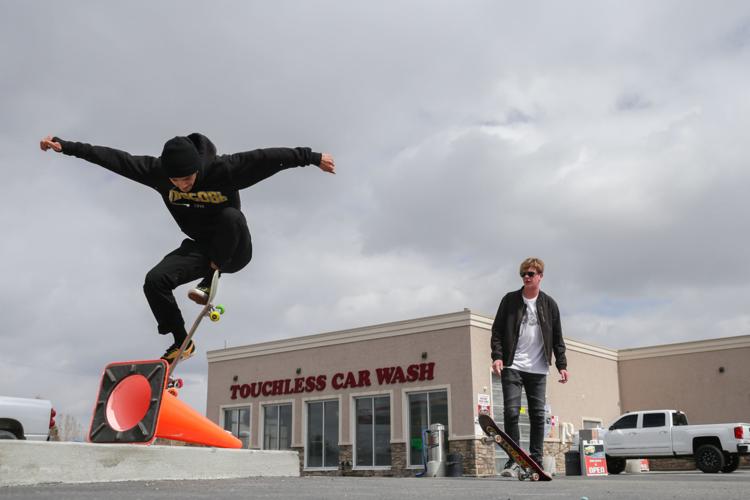 IDAHO FALLS, At 1:24 p.m., April 2 — On a normal Thursday in early April passersby wouldn't expect to see two teens skateboarding behind a gas station in the middle of the afternoon. But these aren't normal times and Nick Nichols and Sawyer Dineen weren't ditching class — both attend Compass Academy. School still hasn't restarted for them following spring break.
Idaho Falls School District 91 didn't start remote instruction until April 6, which was the same day Idaho State Board of Education voted unanimously to extend school closures through the end of the academic year, or until social distancing requirements are lifted. Students also won't be receiving traditional grades but instead pass/incomplete based on an "end-of-course assessment or ECA, which will gauge whether a student has learned the key content."
But on this spring day, Nichols and Sawyer said they were happy to be able to spend their time outside. "It's all pretty surreal," Dineen said. "It (the spread of COVID-19) happened so fast, it's just crazy, but we can go outside and have fun." 
— John Roark, Idaho Falls Post Register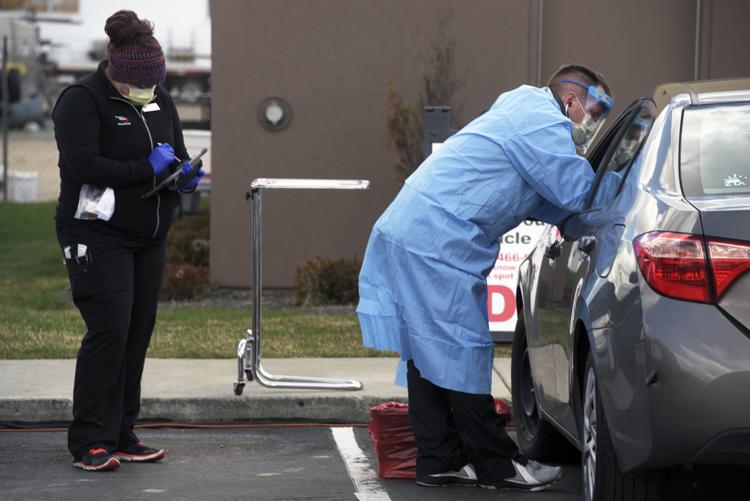 NAMPA, 1:45 p.m. April 2 — Drive-thru testing has become the new normal for detection of COVID-19 across the country, and Nampa is no exception. 
Patients with scheduled appointments are greeted at Primary Health Medical Group by a masked attendant and guided toward a designated testing lane. 
Without exiting their cars, patients' symptoms are checked. If symptoms align with those of the coronavirus disease, medical personnel administer a test, reaching a swab deep into the patient's nose. 
While testing materials are packaged for delivery to the labs, and medical equipment is sanitized, patients are told results could take as long as 10 to 12 days.
—Jake King, Idaho Press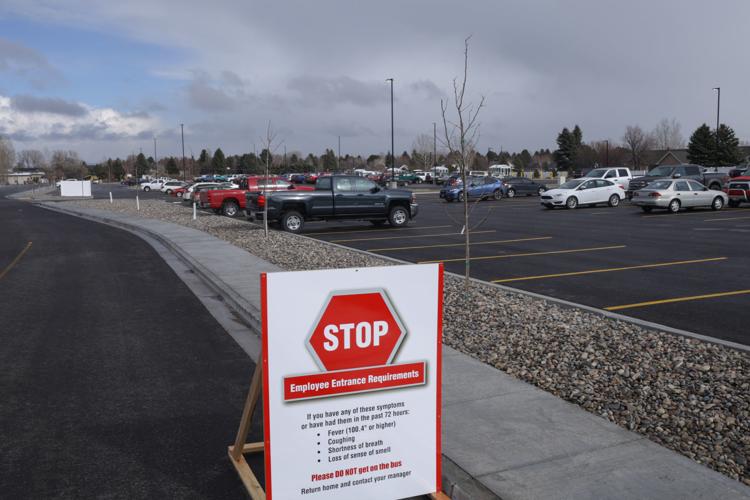 IDAHO FALLS, 4:52 p.m., April 2 — A normally full park-and-ride lot for Idaho National Laboratory employees sits largely empty. 
Lab officials recommended its employees work from home, beginning March 17, depending on the nature of their jobs. As of March 26 about 1,000 employees were continuing to report to work at INL facilities while about 3,900 were working remotely.
A sign at the park-and-ride lot warns employees about COVID-19 symptoms and directs any who have experienced any of the symptoms in the previous 72 hours to not board buses to site and instead to return home and call their manager.
During normal operations, INL's fleet of roughly 80 buses transports more than 2,000 INL employees a day safely to their work locations at the site 50 miles west of Idaho Falls and back to the park and ride lots.
In a news release, INL Laboratory Director Mark Peters said the measures are meant to ensure the health and well-being of the lab's workers. Employees whose work requires them to access facilities will maintain their normal work routines for the time being, the release said. By decreasing the numbers of people at work, the lab will create extra "social distancing" that will help reduce the possibility of infecting others. Other social distancing measures include limiting in-person meetings and encouraging video teleconferencing.
The lab also has implemented an increased cleaning schedule of areas frequently contacted by staff, such as doorknobs, handrails, food preparation and service areas. Buses are also being disinfected after each route.
— John Roark, Idaho Falls Post Register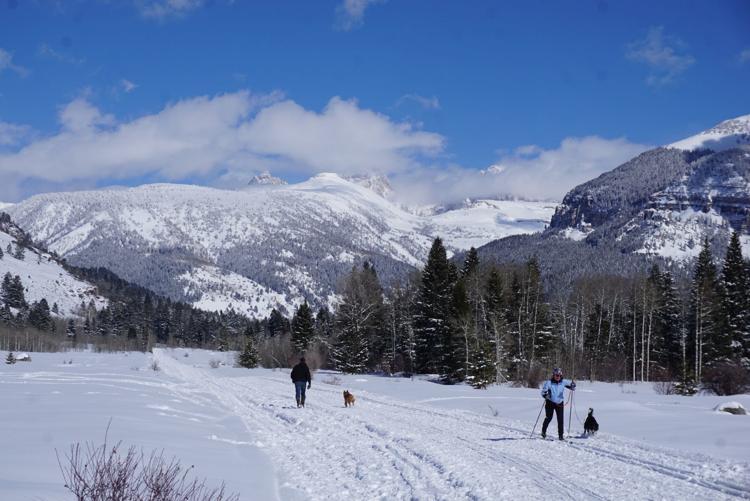 ALTA, WYOMING, 5:01 p.m., April 2 — Teton Valley residents, ravenous as always for outdoor recreation, escaped their homes on Thursday afternoon to enjoy the first sunshine in what felt like months. Just over the border in Wyoming is Teton Canyon, a haven for cross-country skiers, snowmachiners, and dog walkers. A local trail nonprofit had given the road a fresh groom after the prior night's snowfall and the parking lot was full of (socially distanced) people soaking up some much-needed Vitamin D.
— Julia Tellman, Teton Valley News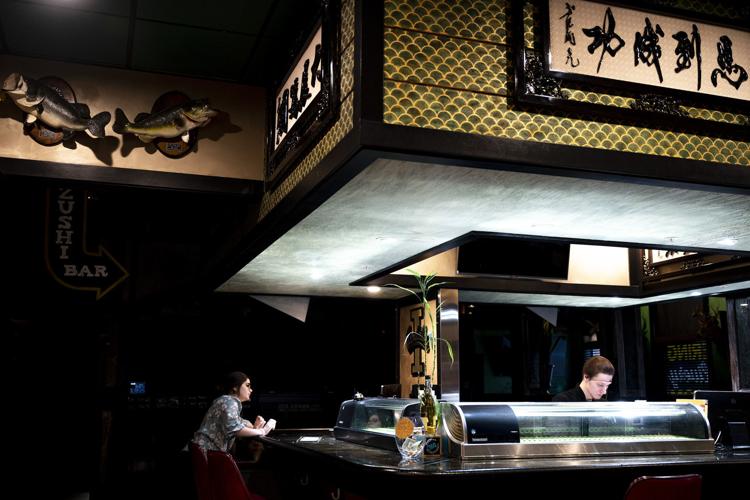 LEWISTON, 5:19 p.m., April 2 — The lights are off and all is quiet inside the sports and sushi bar at Zany Graze as General Manager Morgan Segebartt (left) waits for an order of sushi to be finished by Issac Crow. Although chairs are on top of tables and the lights are off in the eating areas, the kitchen is humming with takeout and delivery orders and the lobby is filled with drivers from a variety of food delivery companies. Despite COVID-19 forcing many hospitality workers to lose their jobs, a number of restaurants have done their best to find different ways for their employees to still find hours.
— Pete Caster, Lewiston Tribune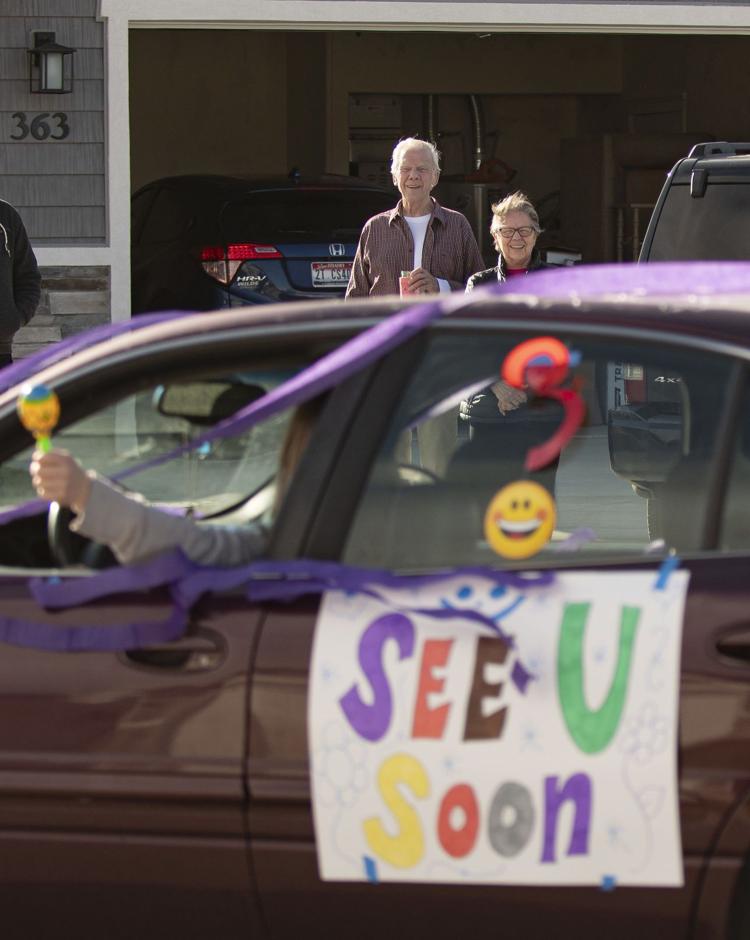 TWIN FALLS, 5:54 p.m., April 2 — Trudy March, 78, and her husband Bob March, 79, watch as their family drives by for Trudy's birthday party. Since the family couldn't come together they decided to decorate their cars and drive by the house.
— Drew Nash, Twin Falls Times-News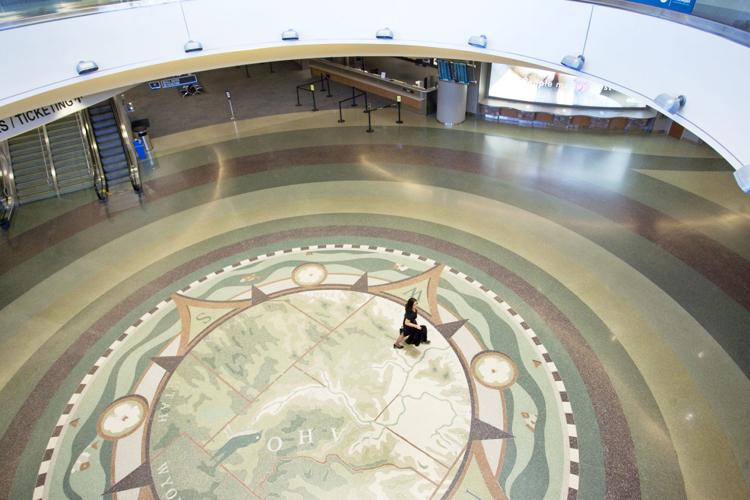 BOISE, 6 p.m., April 2 — A single passenger heads to baggage claim after arriving at the Boise Airport. In an effort to reduce the spread of COVID-19, travel restrictions and "stay at home" orders across the country have transformed normally busy airports into quiet, empty spaces where few people gather.
The Transportation Security Administration tracks checkpoint travel numbers nationwide on a daily basis and compares them to the same dates from the year prior. On April 2, 124,021 passengers processed through airport checkpoints nationwide. A year earlier on the same weekday the total was 2,411,500 passengers.
Sean Briggs, marketing and air service development manager for the Boise Airport, said he expects Boise's passenger numbers to mirror national trends which are showing about a 90% decline. The airport gets passenger stats from the airlines, but March's numbers won't be in until April 15-20, and April's numbers won't be in until mid-May.
Briggs noted that the number of commercial flights are down about 50% and that the flights coming in are "much less than 50% full."
In 2019, the Boise Airport set a record for passenger traffic in 2019 with more than 4.1 million passengers.
— Brian Myrick, Idaho Press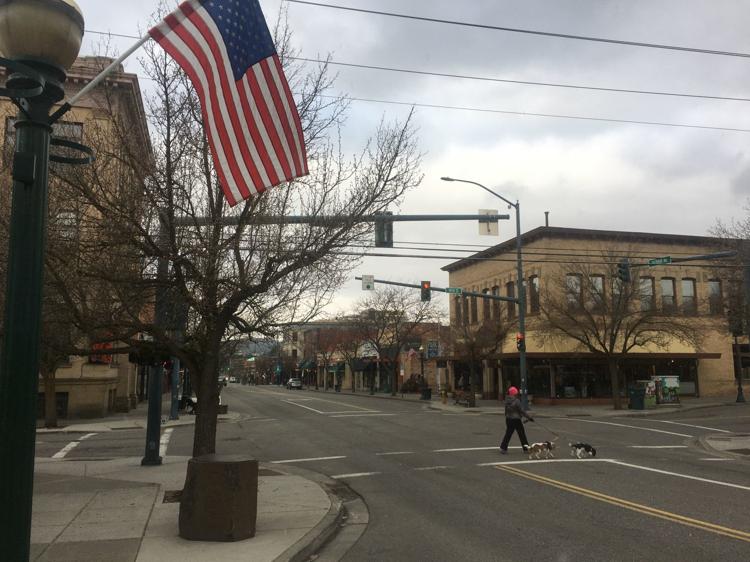 COEUR d'ALENE, 8:30 a.m., April 3 — In downtown it is about 30 degrees, cloudy, and an icy wind pushes leaves and snowflakes around the empty street.
Even with this wicked weather in early April, Sherman Avenue would usually be busy with shop owners preparing to open, people young and old filling coffee shops, and others walking dogs. Runners and bikers and skateboarders would pass through.
This is generally one of this city's most popular destinations.
But not on this morning.
Today, there's one woman, bundled up against the cold, walking two dogs, waiting for the light to change. There's a homeless person buried in blankets on a green bench. Meanwhile, Old Glory still stands proud as it flutters from flagpoles up and down Sherman Avenue. There is pride within this clean downtown strip.
Door after door after door of the businesses here say they are closed, temporarily, due to the coronavirus.
But a few signs, in bold letters, announce that a business is open and is offering curbside meals and service, in hopes of enticing people in the doors. It works. One woman hops out of her car and quickly dashes across the sidewalk and inside a door.
The homeless person turns out to be two people.
As they sit on that metal bench, a car stops and someone steps out, crosses the street and hands a young man a bag of food and drives away.
People still helping people, even on a cold, morning like this.
— Bill Buley, Coeur d'Alene Press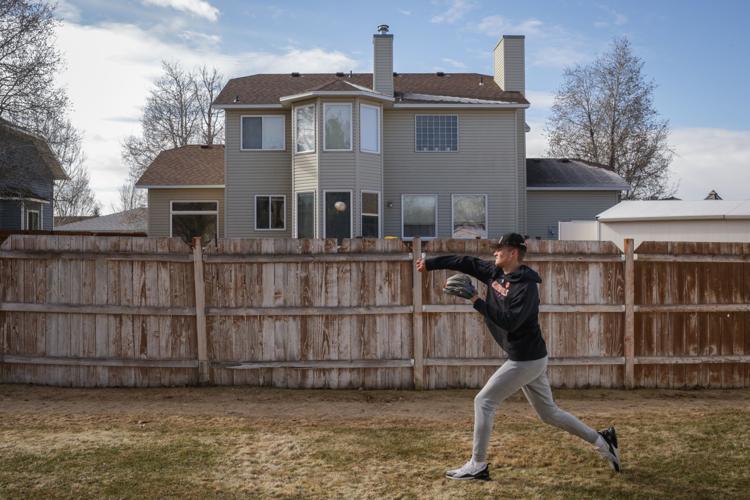 IDAHO FALLS, 10 a.m., April 3 — Jaxon Sorenson began the spring with such high expectations.
The Idaho Falls High School junior came off a highlight-reel season a year ago, helping lead the Tiger baseball team to the 4A state championship game and then was a key part of the Idaho Falls Bandits' run to the American Legion World Series title.
Sorenson even committed before this season to play baseball at Gonzaga University following his high school career.
It was going to be a challenge to top last season, but Sorenson said he was ready.
That optimism took a hit when the Idaho High School Activities Association suspended the spring sports seasons through April 20 due to the spread of COVID-19. Sorenson, like his teammates, is in waiting mode. High school teams can't practice, they can't use school facilities and they can't meet with coaches or in groups.
So every day, Sorenson finds some way to keep in shape while also trying to remain motivated for a season in limbo. He plays catch with his younger brother Tegan in the family's front yard or at the nearby park. They hit into a net. He also lifts weights.
"We're trying to do whatever we can," he said. "… It's tough. There's a lot of uncertainty."
— Allan Steele, Idaho Falls Post Register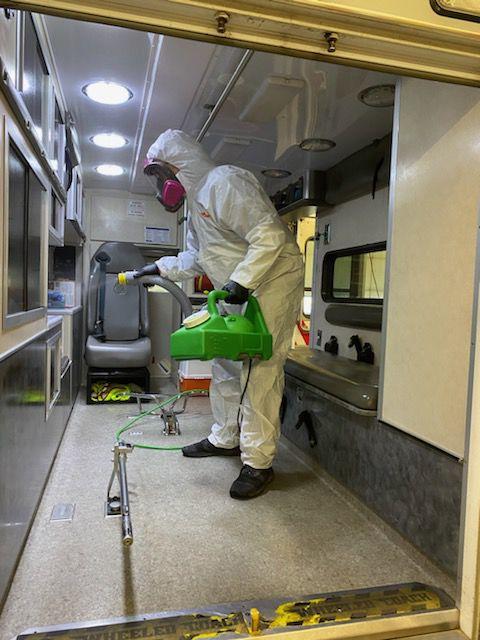 BLACKFOOT, At 10 a.m. April 3 — Workers with a Chubbuck cleaning and restoration business donated their time washing and sanitizing ambulances for the Blackfoot Fire Department.
Heather Richards, marketing manager with Servpro, 5028 Rainbow Lane, said her company intends to send volunteers on a weekly basis throughout the coronavirus crisis to sanitize emergency-response vehicles used in the region.
Officials with the company hope to protect both first-responders and the public they serve from COVID-19 by ridding emergency vehicles of harmful pathogens, including the novel coronavirus.
Servpro staff, dressed in full hazardous materials protective gear, cleaned and disinfected ambulances for the Blackfoot Fire Department on Friday morning. Later that afternoon, the company treated fire trucks and ambulances for the Chubbuck Fire Department. Servpro also volunteered to sterilize patrol cars for Pocatello and Chubbuck police departments.
"The safer we keep our community and our first responders, the slower this thing will keep spreading," Richards said. "We've got to give back where we can. They are our first responders; they are the people putting their lives in danger to make sure everyone is safe."
— John O'Connell, Idaho State Journal