I wish I could remember the exact moment that Community Editor Jeanne Huff and I dreamed up the crazy scheme that would become Taco Trials. Looking back, it's a little unbelievable we were able to convince our lovely bosses this would work. Who wants to hear us talk about tacos?
(I'm joking, tacos are the best. We knew it would be a brilliant success.)
For the last year, the Idaho Press newsroom has made it our mission to become the ultimate authority on Treasure Valley tacos. We tried tacos cooked in strip malls, bars, lonely back road taco trucks and even a taco bus. We've diligently explored new, delicious tacos in Boise, Garden City, Middleton, Wilder and on almost every corner of Nampa and Caldwell. Once, we even swapped tacos for tamales, as a special Christmas surprise. We even mapped every taco locations, so readers could plan their own taco road trip through the Treasure Valley, and beyond.
I've enjoyed every second of this wild ride. However, I'm sad to report that I'm leaving the Idaho Press, so this Taco Trials will be my last. To mark the occasion, we loosened the rules and simply chose our favorite types of tacos to bring back to our coworkers for a giant taco feast.
We'll get to the mushy stuff later. For now, onto the tacos!
Jeanne Huff's pick: Meshico, 5805 W. Franklin Road, in Boise.
Tacos: $1.50 ($1 on Taco Tuesdays)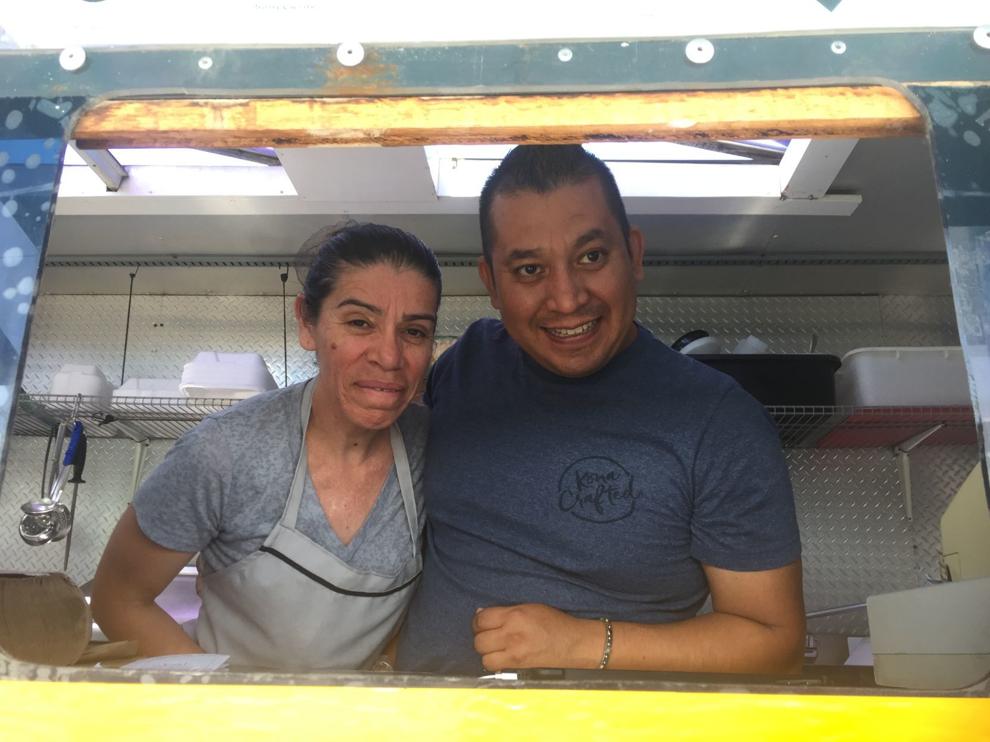 11 a.m. — 7 p.m. Monday, Tuesday, Wednesday, Thursday and Saturday; 11 a.m. — 3 p.m. Friday
Meshico owners Armando and Aurora Morales have been at their spot on the southwest corner of Curtis and Franklin for "one year and two months," said Armando. He said the recipes come from both of them. "She's from Guadalajara and I'm from Mexicao City — it's sort of a combination between me and her."
Besides Taco Tuesday-discounted tacos for "all the regular meats — steak, chicken, pork," other specials include $6.50 supreme burritos on Thursdays (regular $8).
For our newsroom taco eaters, I bought a dozen, half carnitas and half al pastor (marinated pork). You can also find these tacos on Grubhub, UberEats and DoorDash.
Nicole's pick: Los Buenos Diaz, 447 Caldwell Blvd. in Nampa.
Regular tacos $1.50 each. Specialty tacos with nopales, lengua, fish, etc. vary in price.
11:30 a.m. — 11 p.m. Monday through Wednesday, 11:30 a.m. — 3 p.m. on Thursday, 11:30 a.m. — 11:30 p.m. Friday and Saturday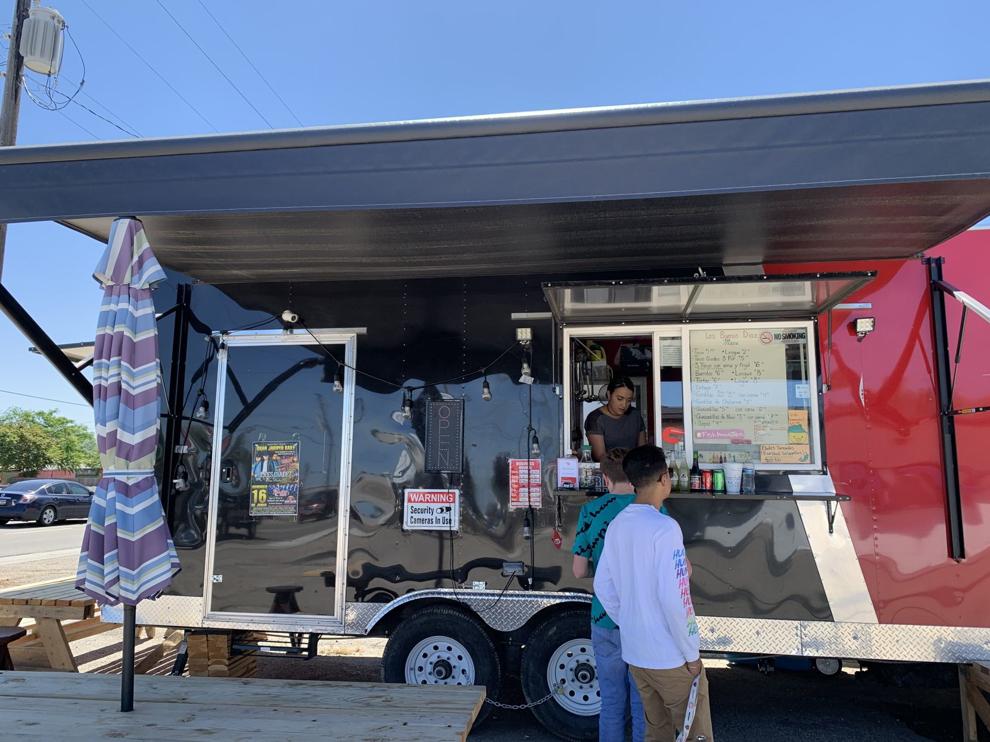 The setup: The brilliantly-named Los Buenos Diaz taco truck rocked the newsroom a few weeks ago (what can we say, we love a good pun) when I discovered the truck on Caldwell Blvd a few weeks ago. Elvia and Javier Diaz (the Diaz family behind the name) said they just opened a few months ago. They have one of the widest varieties of taco selections I've seen so far, so I brought as many as possible for my coworkers. We sampled birria (goat) tacos, carne asada, chicken, adobada, carnitas and lengua.
Very important note about Los Buenos Diaz: pick up one of their taco punch cards! You get a punch for each visit, and 10 visits gets you $5 off your next meal.
Jeanne Huff: This taco trial was more like a taco fiesta for me. Nicole brought tacos with a variety of fillings including birria (goat), carnitas, chicken and fish. I tried the carnitas and goat, which I had never seen nor tasted before. I also ate one of each of my own choices, so am pretty much in a taco stupor wishing I could take a nap right about now. Alas, "the paragraph factory" is calling my name so no rest for the satiated taco eating community editor today (yes, I did just refer to myself in the third person, been watching too many "Office" reruns, sorry).
I just liked each and every taco I ate today. I don't know if it's because my Taco Trials cohort is leaving us and this is our last Taco Trial together or if it's because I was starving or because we all got to eat together in the conference room like we were a newsroom family (usually we take our fare back and desk eat) — but I think it is really because I could find no fault in any of the tacos I took a bite of. They were all what tacos are meant to be: soft warm, buttery tortilla pillows cradling shards of meat — marinated, spiced to perfection, shredded or in chewy, bite size nuggets — topped with a confetti of cilantro and diced onions, drizzled with lush green or spicy hot red sauce, accompanied by slices of crisp radish, marinated onions and peppers and wedges of lime for squeezing.
Nicole Foy: Honestly, this was a great last Taco Trials, because every single taco I tried was delicious. Really. Every taco we listed here tasted wonderful. I couldn't pick a favorite between Los Buenos Diaz or Meshico. I will say that Los Buenos Diaz has an impressive menu, with many specialty meats and fillings that you can't find in the average taco truck. Overall, my favorite taco was probably the birria, or goat, from Los Buenos Diaz.
I did make a horrible mistake, though, when I mentioned Los Buenos Diaz had tacos de rajas (cheese and roasted peppers) and tacos de nopal (cactus), and then did not immediately produce those tacos for our newsroom of adventurous taco tasters. Gotta keep them wanting more, I guess? Luckily, it's close to our newsroom, so my lovely, angry coworkers will have ample opportunity to see if they like cactus tacos.
Emily Lowe, Canyon County public safety reporter: I don't know if it was the sentimental value of it being Nicole Foy's last Taco Trial, but this round's tacos were my favorite.
I sampled four delicious tacos including adobada, carnitas, carne asada and birria.
The birria, or goat, was a clear winner — fitting because most of the reporters were fighting over who got to try it. The meat was so flavorful though the toppings were lacking, probably because we all shared this one.
I loved the carne asada. This, again, had awesome flavor and had the perfect amount of cilantro and onions on top. The green hot sauce from Nicole's place went perfectly with this taco.
From Jeanne's pick I sampled adobada and carnitas. The carnitas was a tad dry for me, but the extra onion and peppers added to the flavor. The adobada was very flavorful, but a tad too sweet for me.
Savannah Cardon, City of Caldwell reporter: Being pescatarian is fun, change my mind.
I had the opportunity to eat just one type of taco for this round considering I'm a pescaterian, so my review may not be fair, but wow Nicole's fish tacos were amazing. The fish was cooked just right, and the toppings were perfectly portioned, giving off a wonderful burst of flavors. 10/10 would recommend.
Jake King, photographer: This was my first venture into Idaho Press tacos, and my shift didn't start until an hour after the trial. Alas, my taco was cold. But even so, these tacos really packed a punch. Seasonings, sear and all, the carnitas on these tacos brought a rich, meaty flavor that wasn't too overpowering. The fresh tang of the pico de gallo, lime juice and salsa cut through the savory flavor of the meat, balancing the flavors of the taco. Above all, I always appreciate a fresh jalapeno that still has the seeds. The heat was welcome, but didn't make me want to rip my tongue out.
Erin Bamer, City of Nampa reporter: I'm in a veritable taco haze, so I'm going to try to write this review with a clear head and a very full stomach.
Our newsroom loves tacos, that's pretty obvious at this point. For our final taco trials, Jeanne and Nicole gave us a wide variety of tacos to try. If I'm being honest, I completely lost track of what I sampled by my second taco. I just know that my taste buds are singing right now.
The goat tacos from Nicole's place were a clear favorite among our newsroom. Who knew goats were so delicious? The marinated pork tacos from Jeanne's place and carnitas tacos from Nicole's place also stood out to me.
As far as sauces go, I give my recommendation to the green sauce from Nicole's place. It was delightfully creamy with a decent kick of heat.
My biggest takeaway? I need to find out what place Nicole went to so I can go back and try some of the cactus tacos that she neglected to buy for us. How dare she.
Holly Beech, assistant editor: I'm having trouble coming up with the right words because I'm too full to think. The biggest takeaway from today's Taco Trial was that goat tacos are amazing (thank you to Nicole's place). They were a favorite for me of this whole series. Secondly, carnitas (pulled pork) can get a bit dry, so use a lot of lime and salsa on those. Thirdly, if you are hungry all morning and then gorge yourself on tacos, it will be hard to go back to work without desperately wanting to slip out to your car and take a nap. (Don't worry, Scott, I didn't.)
I appreciated the extra toppings each place offered — Jeanne's with grilled onions and peppers (yum!) and Nicole's with cucumbers (a very nice touch and a good thing to have on hand in case you get too much spicy salsa in one bite). And, as always, the radishes were perfection.
I'm trying not to get all mushy thinking that this is Nicole's last Taco Trials with us. It's been such a fun tradition that has expanded our palates and brought our newsroom together with laughter and good food. Thank you, Nicole and Jeanne!
Nicole Foy: With that, dear readers, I'm hanging up my official taco trials hat. It's been a blast, but I'm leaving you in Jeanne Huff's very capable and creative hands. I think she has some exciting things up her sleeve, so pay attention to what she plans next!
There are endless reasons I enjoyed working on the Taco Trials series with Jeanne over the last year. I'll never forget how fun it was to try new flavors with happy coworkers and their hilarious surprise at learning some of the salsa was, well, spicy! Or when I neglected to alert editors Scott McIntosh and Holly Beech that the tasty tacos they were eating were, in fact, the feared tongue tacos — at least until it was too late. Newsrooms can be serious, stressful places on the days when there only seems to be bad news, but Taco Trials was always a bright spot and a chance to bond over good food and laughter.
However, what I really enjoyed was the chance to introduce my coworkers and readers to the Treasure Valley's taco trucks, taquerías and the hardworking people behind the delicious tacos we consumed. These businesses are almost always small, family affairs, often immigrants or the children of immigrants. Just because they're parked on the side of the road doesn't mean they aren't an essential part of the Valley's food culture and valued members of our community.
I hope I'm leaving this newsroom and our readers with a renewed appreciation for the breadth of good food we're lucky to have in the Treasure Valley. I also hope they're a little more encouraged to venture off the beaten path, stop at the taco truck on the side of the road and just be adventurous.
Remember, it's not about the destination — or even the journey — but the tacos we shared along the way.