It's a well-known fact in my family that I am the indisputable queen of chicken-fried steak land. I inherited the crown — from my mom, who reigned as queen before me.
It is a crown I don't wear lightly or with any kind of sass. Where I come from, chicken-fried steak is serious business. Heated debates dating from way before I was born rage to this day over some of the recipe's scant ingredients: flour or bread crumbs? Egg wash or milk dip? Crisco shortening, oil or butter? Cubed steak, round or sirloin?
My mom, Julie Huff, handed down the recipe, not written in any form, but taught through example and practice. She guided me, her apprentice, as I learned and perfected the cooking skill.
Why, you may ask, am I sharing this family secret, that is rumored to have paved the way to my dad's marriage proposal to my mom after she cooked up the dish and served it to him for the first time?
It was after I ran across the Ikea Swedish Meatball recipe. I was looking for something special to nosh on for New Year's Eve and found it. Apparently, the company had OK'd giving out the copycat recipe in April because the pandemic and shared it through The Today Show, as a gesture of helping folks out who were cooped up and running out of delicious things to make. And don't worry — I can see your eyebrows popping up ala Levy-style (take your pick, Eugene and his son, Daniel, who both star in "Schitt's Creek," have the best caterpillar eyebrows ever). I've got you covered. With this article you will also get the Ikea meatball recipe. And, before you keel over, please note the company said it is not the "real" recipe because they have to keep that a secret. But, it is "an almost as delicious alternative" that can be made from home.
So anyway, noting the Ikea company's generous gesture, and on the heels of my son texting me on Monday asking for my chicken-fried steak recipe, I thought: I'm going to be like Ikea and give my prized recipe to the masses, just like they did.
I mean, why not? In my own way, this is a step in reaching out and hopefully beginning on a path of harmonious dialogue that will bring us all back together. How better to do that than at the dinner table?
So here you go. Not one, but two recipes to try. Your mouth will be happy you did, and who knows? Maybe someone out there will get a marriage proposal after serving your recipe made with the best ingredient of all: love.
P.S. If you've got a secret recipe you'd like to share, send it my way and I'll be happy to keep this love going.
Jeanne Huff's Famous Chicken-fried Steak
2 pounds of cube steaks (try to pick out the ones with least amount of gristle or fat)
1-2 sleeves of saltine crackers
2-3 eggs, beaten
Dash of milk
Salt, pepper
1/3 cup Crisco shortening or Canola oil (not olive oil or butter)
Heat the oven to warm or low (225-250 degrees). This will serve as a holding station for your individually fried steaks.
Roll the crackers on waxed paper with a rolling pin to make semi-fine crumbs, leaving some larger pieces in for extra crunch.
Beat eggs with the milk in a flat bowl to make an egg wash. Season with salt and pepper as desired.
In a heavy, cast-iron skillet, heat the shortening or oil on medium-high heat.
Dip steak in the egg wash, flipping several times to soak it in. Then, press the steak onto the crushed saltines, also flipping several times to get the crumbs over all. This may (probably will) enlarge the steak to about plate size.
Fry the steaks one at a time until golden on one side, then carefully flip to other side.
Transfer fried steaks into oven until all are cooked.
If desired, you can make a milk gravy from the cracklings in the skillet: Drain all but 2 tablespoons. Add 1/4 cup of flour and salt and pepper to taste. Cook for two minutes over medium heat. Slowly stir in 1 cup of milk (may need to add more as gravy thickens). Cook for several minutes. You can pour the gravy over the chicken-fried steaks or mashed potatoes or both.
And let me know if this spurs on any marriage proposals!
My son's meatless version with tofu steaks:
Press the tofu to get rid of excess liquid
Dust tofu in a mix of: 1 — 1 ½ cups flour, 1 tablespoon onion powder, 1 teaspoon garlic powder and ½ teaspoon cayenne pepper
Dip in the egg wash then crushed crackers and fry in oil, as above.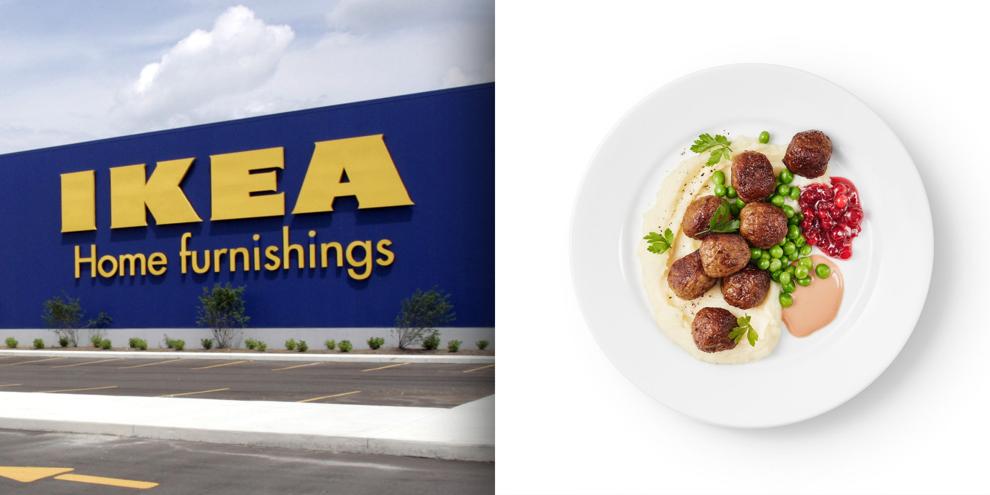 Ikea Swedish Meatballs (almost)
— from The Today Show website: today.com
Ingredients for meatballs
500 grams beef mince (about 1 pound ground beef)
250 grams pork mince (1/2 pound ground pork)
1 onion finely chopped
1 clove of garlic (crushed or minced)
100 grams breadcrumbs
1 egg
5 tablespoons whole milk
Generous salt and pepper
Ingredients for cream sauce
Dash of oil
40 grams butter (2 ½ tablespoons butter)
40 grams plain flour (1/3 cup flour)
150 milliliters vegetable stock (2/3 cup vegetable stock)
150 milliliters beef stock (2/3 cup beef stock)
150 milliliters thick double cream (2/3 cup double cream or whipping cream)
2 teaspoons soy sauce
1 teaspoon Dijon mustard
Preparation
Meatballs: Combine beef and pork mince and mix with your fingers to break up any lumps. Add finely chopped onion, garlic, breadcrumbs, egg and mix. Add milk and season well with salt and pepper.
Shape mixture into small, round balls. Place on a clean plate, cover and store in the fridge for two hours (this will help them hold their shape while cooking).
In a frying pan, heat oil on medium heat. When hot, gently add meatballs and brown on all sides.
When browned, add to an ovenproof dish and cover. Place in a hot oven (180 degrees Celsius conventional — about 356 degrees Fahrenheit — or 160 degrees Celsius fan, or 320 degrees Fahrenheit) and cook for an additional 30 minutes.
Iconic Swedish cream sauce: Melt 40 grams of butter in a pan. Whisk in 40 grams of plain flour and stir for two minutes. Add 150 milliliters of vegetable stock and 150 milliliters of beef stock and continue to stir. Add 150 milliliters double cream, 2 teaspoons of soy sauce and 1 teaspoon of Dijon mustard. Bring it to a simmer and allow the sauce to thicken.
When ready to eat, serve with your favorite potatoes — either creamy mash or mini new boiled potatoes. Enjoy!