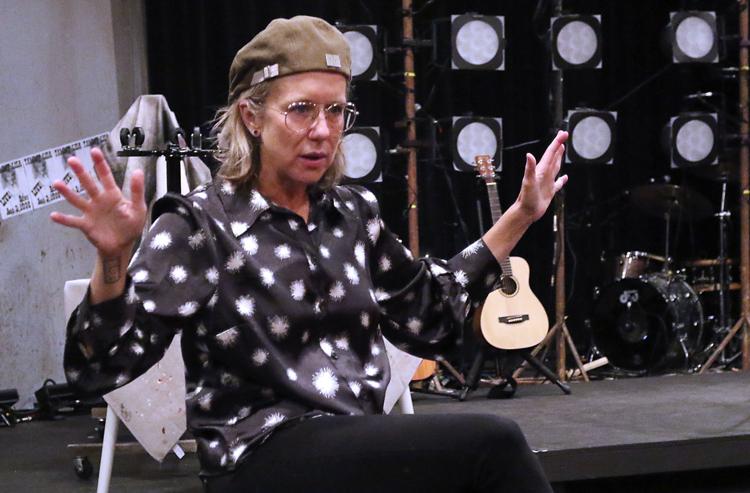 It is 11 a.m. on a Thursday morning and Lauren Weedman takes the stage at Boise contemporary theater. No, this isn't a late-morning performance, although she will be in front of an audience this evening. Weedman, along with director Erica Beeney, has agreed to meet me this morning to talk about Weedman's newest venture — her latest in a string of solo shows, "Tammy/Lisa Misery to Meaning." Weedman is the playwright and star of the one-person show — although there is also a band; more on that later.
The show could be called "experimental" or "avante-gard." Basically, it is a run-on-sentence-style of a performance that explores, among other topics, divorce, single motherhood and self discovery. It is a tight and rawly honest portrayal of someone "going through some things," but still clawing onto that muse that sparks the passion. It is emotional — and funny.
Weedman and Beeney have known each other and worked together for about the last decade. They have such good rapport that they often finish each other's sentences.
The following is from our conversation, which is to say, it's a conversation about life, love — and everything in between. Both Weedman and Beeney speak in rapid-fire shorthand and sometimes phrases and half sentences. Grab a cup of coffee and get cozy.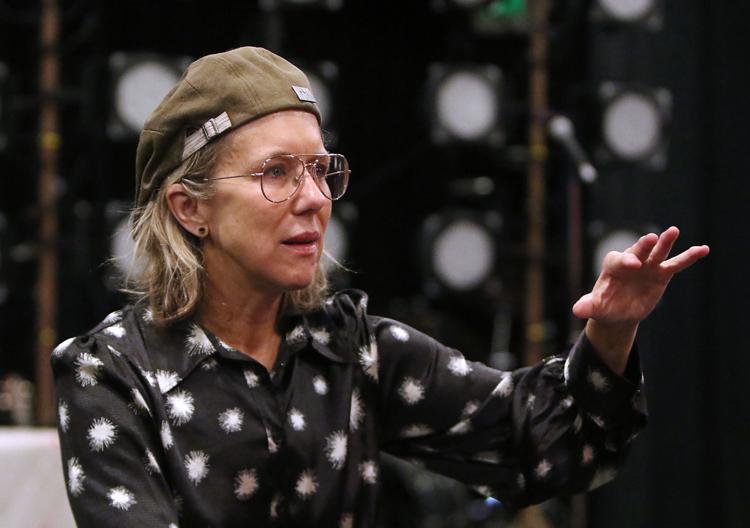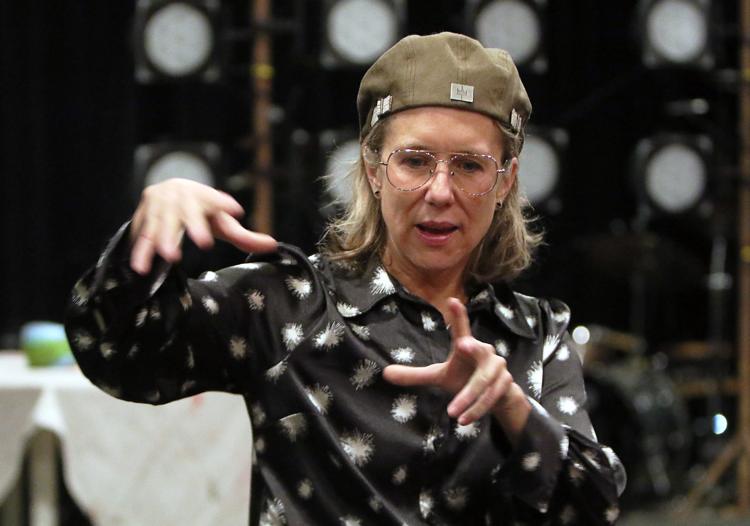 Jeanne Huff: Let's dive right in — what is this show about? How did you come up with the idea behind it?
Lauren Weedman: I write about my life. Period. This is not my first solo show — my career started in Seattle doing this. ...Having a child (Weedman has a son, 9) — I started to back away from doing this kind of work ... and it was hard to write about my life. So all of that actually became the topic of my show: How am I going to continue? What do I do as a single mother? Last summer, I was doing a show in Seattle — the first time it was just me and my kid. The first time I made no money. (Laughs.) All my money went to child care!
I put all my stuff in the show — I've always done that.
JH: What about the name of the show — what's that all about?
LW: I'm adopted. I've known since I was 19 who my birth parents were — that was what my first solo show was about. .... When my birth mother and my birth father were 15, 16, they were allowed to each say a name (for me). She called me and said, "I chose Tammy; he chose Lisa." Oh, God — I would've been Tammy/Lisa! They just keep giving me this material.
JH: You've been to Boise and have performed here a number of times before. 
LW: Yeah, I used to joke it was so low-key here I could drive around with my door open and no seat belt. Not anymore!
JH: Erica, how did you get into the picture?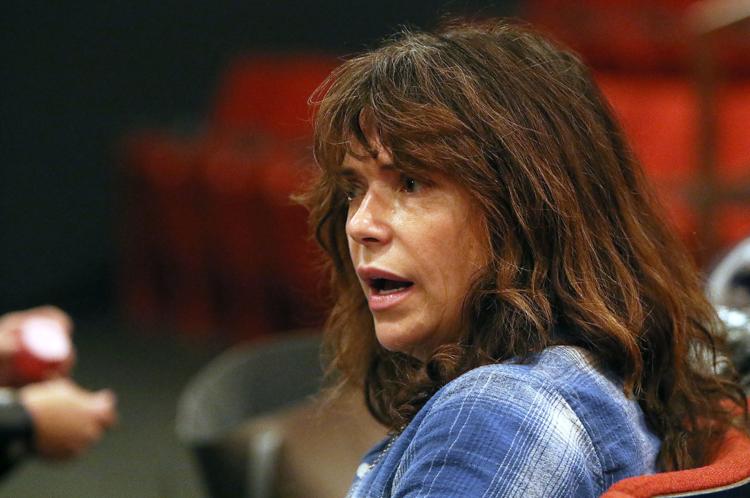 Erica Beeney: Lauren asked me to direct an iteration of this show. She'd performed like a workshop version at REDCAT in L.A., an experimental theater. And we had a lot of fun. It was confusing and frustrating ... and could change your life.
LW: (Laughs.) We wanted to do confusing and frustrating.
EB: ... because Lauren uses so much of her life in her storytelling ... and I know so much of her life. When she says, "What about that terrible date?" — I know about all the terrible dates. (Laughs.) It's the shared knowledge ... .
LW: ... and I'm a writer and a storyteller.
EB: It's narrative storytelling; it's visual storytelling.
LW: It's me finding all these different meanings and finding out what the story is ...
EB: Particularly creative women — it's always such a struggle to follow your muse AND be the anchor of your family.
JH: Lauren, where do you live?
LW: Santa Monica. For some, it's a pretty annoying neighborhood in L.A.
JH: How did you two meet?
LW: I was aggressively looking for somebody to talk to, anybody I could talk to — and drink wine.
EB: We were set up by mutual friends. We went to the same toddler groups. We both have boys, two months apart. Leo and Theo.
LW: Isn't that dorky? (Laughs.) And — it's really sweet. Leo and Theo, they're like family. They're 9, almost 10.
JH: Can you talk some more about the show?
LW: It's a very physical show ... for a woman my age.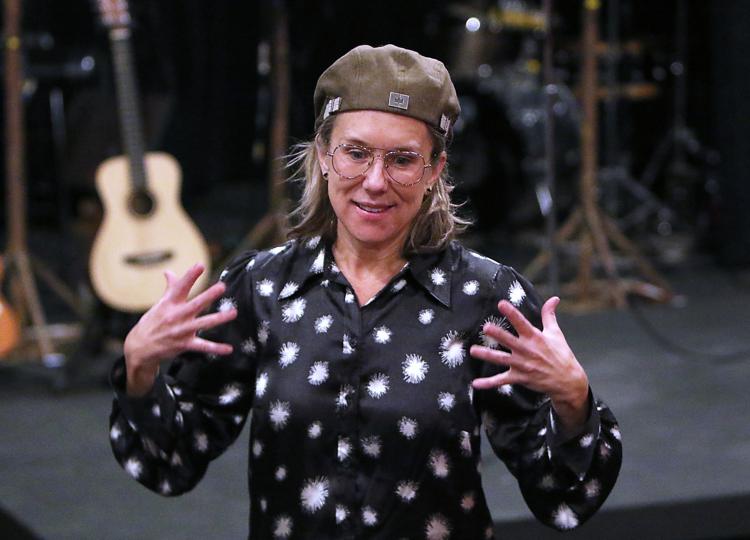 JH: I see a ukulele onstage behind you — do you play it in the show?
LW: I play the ukulele a little bit ... but it's more ... I have a band. Thomas Paul plays the guitar, the pill bottle (she shakes a pill bottle to demonstrate) and the synthesizer. He's also the musical director of the show. Blake Durst plays the drums.
JH: How long is the show?
LW: One hour, 10. About 70 to 78 minutes.
JH: That's a long time to be "on" — have you ever lost your place or blanked when doing one of these solo shows?
LW: I can't think of a time I've completely blanked. It's your show. It's my dance in a way. Plus — I can improv. I can revive.
JH: So, have you always wanted to be an actor?
LW: Yes — since I was in third grade. My adoptive parents were very supportive. My mom was a dancer and my dad was in stage management.
JH: Do you remember what your first acting role was?
LW: Snoopy in "You're a Good Man, Charlie Brown." In fifth grade, I wrote a play. I was in a gifted and talented school. I always knew the misfit toys in the room are my people.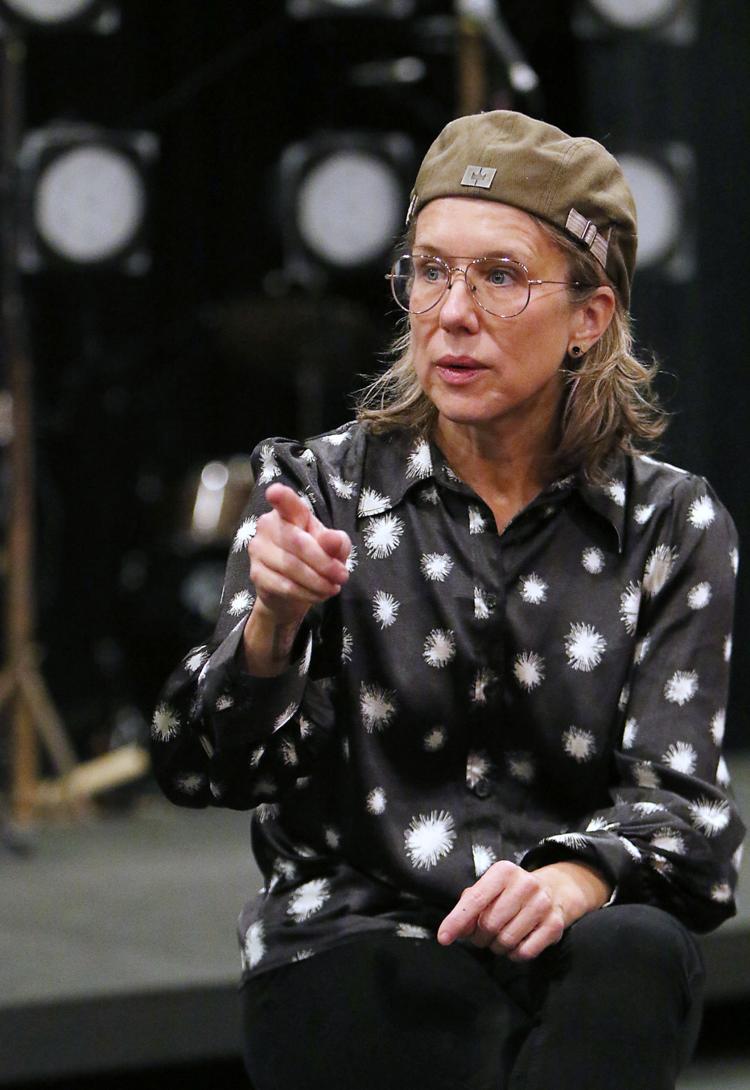 JH: You've done a wide range of acting gigs — you were a correspondent on "The Daily Show with Jon Stewart," you were on "Curb Your Enthusiasm," "Arrested Development," and "Will & Grace." And you starred in "Looking," a series on HBO and also a movie.
LW: When people say it back to me, I say "Oh, that does sound good." ... Those things ... thanks to those, I can do theater — that's what I love to do. When I got "The Daily Show" (rolls eyes) and I'm sitting, waiting in an office for hours for three lines or something. It's really frustrating. Every part I get is "everyday woman." That and being cast as "the real one." (Uses air quotes.)
EB: Being an actress is super hard.
LW: Great, I get called in again for "the wife" or "the secretary." Setting yourself up for the judgment.
EB: That comes with the casting calls.
JH: Even now, after the #metoo movement?
LW and EB: (Both nod vigorously.)
JH: So what do you do in Boise — for fun?
LW: I visit my friends and their kids. I've made a lot of friends here over the years. ... I drive out to the mountains a bit. What is that place that's kind of close, up in the mountains?
LW: Yes, that's it. I've been there. I go there.
EB: We went to an amazing bar the other night that has all these machines that give you wine. ... 
JH: Oh, that was probably Bodovino.
LW: I used to go to the thrift stores. And there was one coffee shop — the Flying M.
EB: And I love the path along the river.
LW: Mostly, I like to do shows here. To share an experience together with the audience. The other night one guy stood up after the show and said to his friend: "You always bring us to the weirdest stuff." (Smiles.) I like that. ... In the past, some of the best audiences I've ever had were here.