This story is part of our Cavalcade special edition on local businesses. Read the rest of the stories here. 
BOISE — The COVID-19 pandemic has wrought changes in virtually every industry. But for two — one that caters to beginnings and the other that honors our endings — changes may linger, or even become permanent fixtures, post pandemic.
'I do?' … No, you don't
When the pandemic brought a sudden shutdown of all but essential businesses, wedding bells suddenly stopped ringing. Weddings that had been in the works for months, sometimes years, were canceled or postponed, creating panic and chaos from the bride and groom to the wedding planner to the photographer, caterer, cake baker, DJ, band, venue — and on and on. Deposits were lost — or bitterly argued over. Relationships, which had flourished under the glow of a fairy tale come to life, fell apart as that fairy tale was shattered.
From the wedding planners' perspective, it has been a grim reckoning, plummeting from a wealth to a dearth of weddings, and facing cancellations and changed dates that just kept on changing.
It left Teresa Sandros, owner of Bliss Events, thunderstruck, she said. She had always thought she was in a bulletproof industry. "Weddings and funerals — and even corporate events — no matter what, they always will happen," she said. But then the pandemic shut everything down. "It was very … astonishing. It was very abrupt. Every event in the first three months (of the pandemic) just canceled."
Sandros said even when weddings began rescheduling, they often had to cancel and get rescheduled again and again. "We just started kicking the ball down the field," she said.
She didn't blame the brides, who wanted to have the wedding they had been planning for all their lives. But vendors, venues and contractors were left in a lurch over and over. She would spend hours on the phone talking through new wedding plans with brides-to-be only to have to repeat the process in a week or sometimes in days. And deposits became more than sticking points. Wedding parties wanted their money back; vendors wanted to keep it.
Sandros felt she was often put on the spot and was stuck in the middle of what came to be heated arguments at times. "I mean, we want to service you, but … now it's all ass-backwards. Everyone's mad at everyone. And everyone knows it's nobody's fault," she said. "But everyone wants somebody to blame. … It's a really, really uncomfortable situation."
Sandros said in some instances, brides had to cancel because of health concerns for family members, or they want to move the date anticipating travel opening up. Whatever the reasons, "they all are heartfelt," Sandros said, "they're all the truth. But they book and cancel and we're always the bad guy." It's exhausting and exasperating, she said. "We have employees and staff to consider."
And while some are getting married with smaller ceremonies than they'd originally planned, Sandros said most of her clients are opting to move their dates out until 2022 so they can have the weddings of their dreams.
"They don't trust 2021," she said. "They'd rather not have anything if they can't have what they want. … We've all been brides; we have compassion for that. Everyone else got one; you just happened to fall in love in the year of the pandemic."
Wedding costs unveiled
Sandros said as a result of the events clampdown, her company has been hard hit. "We had 38 people on staff. We had to let go 30. We closed our building downtown. Sold 25% of our inventory, moved the rest into storage units. For our company sales, we were down 85% and 90% in different quarters."
The day-to-day work itself has changed, too. "People work from home now, and we launched a virtual option to view items." Some of her past employees have gone on to other jobs. Some have decided to stay home and collect unemployment.
But, she said, "there's been a ton of blessings come out of this, too. … I love working from home and helping my kids with their school work. And I don't have to wear this uncomfortable wardrobe — everybody's wearing yoga pants, right? And we've all had a chance to regroup and reorganize."
Working in "an industry based on warm Saturdays," Sandros is now looking at the upcoming wedding season with a bit of trepidation. "We are concerned now we won't be able to get enough staff together. I tell clients 'I'm being tentative because I don't know if I will be able to have the staff to fulfill your event.'"
But, anticipating a wedding comeback summer, Sandros said she is gearing up for a shower of save-the-dates.
"We are actually in the hiring process for six positions — three full-time and three part-time staff," she said.
Reflecting on the past year, she said "It's been crazy, that's for sure. … We're on the other side now."
Diane Pugmire Events owner, planner and designer Diane Pugmire said she's rebooked in 2021 all but one of the weddings that postponed in 2020. "Brides are just being creative in bringing quality of life to their fairy-tale weddings," she said. For instance, when the mandatory head counts were 10, "they used drones, livestreaming and beautiful music to draw in those guests, so they felt like they were actually there."
Looking ahead, Pugmire said she already has three weddings slated for 2022 and is confident she and her brides will find a way and a venue — no matter what. "We in Idaho are so lucky to have such amazing locations available for our clients, be it indoors in an old barn or outside with mountains as your back drop to downtown with its beautiful elegance."
Another wedding planner sees the industry coming back, albeit with some changes.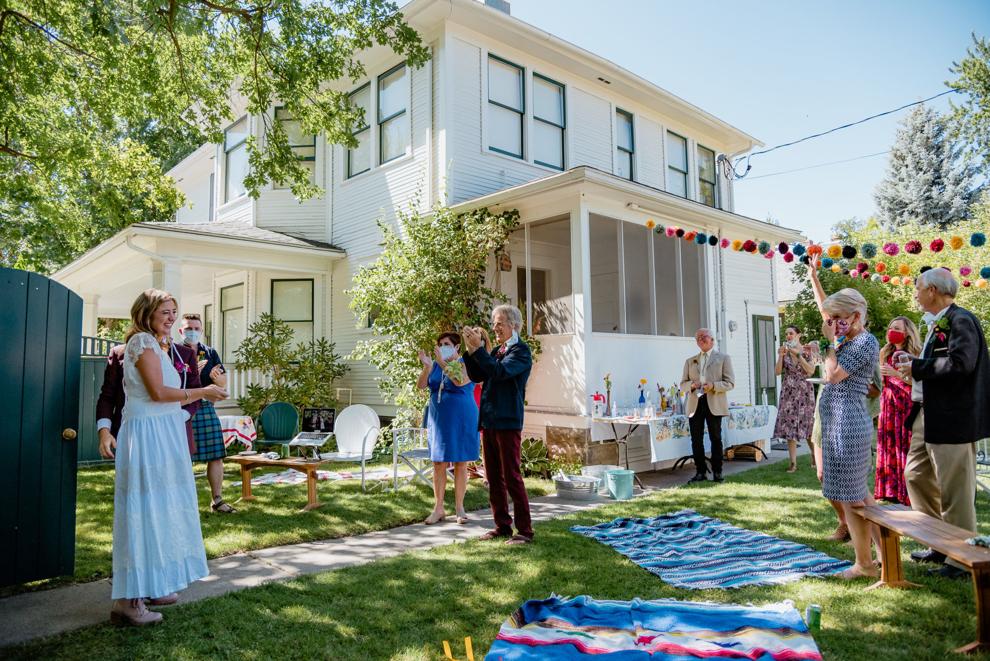 "We are having weddings now," but "they may be looking a little different than (the bride and groom) thought they'd be," said Amy Werhane, owner of Finishing Touches. She said because of the pandemic, "we've had to make some changes with how we do things — and adjust our contracts. We can not move mountains — but we can sure try."
Werhane said as people get vaccinated and capacity limits for gathering fall to the wayside, she is expecting a surge of weddings that have been waiting in the wings. But for now, she strives to be adaptable. "We have a Plan A and a Plan B for upcoming weddings. I have one wedding planned for April that we're waiting for the governor to say we're moving to Stage 4." But if that doesn't happen in time? "(The bride's) OK with it, either way," Werhane said.
Werhane, who operates her Kuna business with a handful of contracted workers who are mostly friends and family members, said she's cautiously optimistic about what lies ahead.
"I don't know if or when things will be back to normal for weddings," she said. "We're gonna always have people who are frightened and concerned (about the pandemic), and we're always gonna have people who just don't care. … We lived through a pandemic. We've got a little bit broader shoulders because of it. We're taking it one day at a time — with a lot of hope."
Pandemic brides chime in
"Getting married during the pandemic was a sort of a double-sided experience," said Alex Kraal in an email interview. Kraal and Devin McComas got married July 25 in a micro-ceremony held in the backyard of a friend's North End home.
"In one sense it was completely bizarre, and it was tough to have had to change our plans so drastically," Kraal said. "On the other side, however, we wound up having a wedding that was super low-key, relaxed, small and really more our style as a couple."
She said they thought about just pushing off the wedding until after the pandemic and having a long engagement, "but once we stopped planning the big wedding we realized we didn't really want that. … What we wanted for our ceremony and personal commitment was best with a small, close group. So in that way the pandemic allowed us to really filter our experience and make it something truly personal. Plus, celebrating something, anything, during that time was really needed. It's been a tough year, and we feel so very fortunate that we were able to do anything, that our loved ones were healthy and able to be with us at all."
Kraal said the original plan involved a weekend getaway to a camp in the woods out of town. "We invited quite a lot of people — 200," she said. "We had our save-the-dates out and the venue booked when the pandemic really hit, and then we decided the rational and responsible thing to do was to call it off. The wedding we wound up having was super small: less than 20 people, all outside in a friend's backyard. Just our family and a few close friends."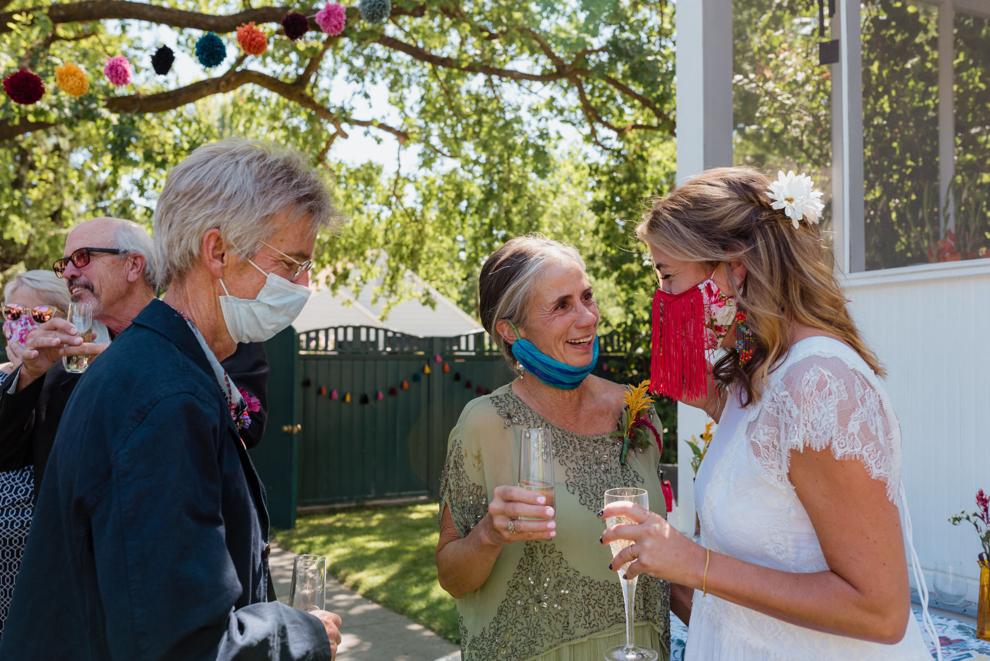 Even though the wedding was small and they took all the recommended precautions, "we definitely had worries," she said. "Honestly, it was the only thing we really were stressed about since we were doing such a toned-down event. We did everything we could think of to keep it safe, though: we required masks the entire time, the whole event was outside, food was modular and prepacked, seating was properly spaced, hand sanitizer everywhere — and we asked folks not to attend if they were feeling ill or if they had possibly been exposed."
Kraal said they still hope to be able to "throw a big party to celebrate, maybe at an anniversary. … The thing we really did miss was having that opportunity to see and enjoy our extended families and all those friends that live out of town, far away."
As the COVID-19 numbers were climbing, Kelly Katona and Darius Houle decided to have a backyard micro-wedding on Oct. 3. Their tiny ceremony was due to family who were at high risk, so they took all the precautions they could.
"It was really hard," Katona said. "We'd been planning a 60-person wedding — that was big for us."
They had originally set the date for May 2020. "Then we had to cancel it and tell everybody." They set another date for a few months later, "and had to cancel another time," she said. The couple was determined to find a way. "We've been together eight years — and we were ready to do this," Katona said. Finally, they settled on having a ceremony with only about 15 people, including close family, best man and maid of honor and the officiant.
"I still had a really great time," she said. "I was happy to wear my wedding dress in front of people — I'd had it a year."
They're hoping to have a bigger get together in October 2021. "While the wedding is for us, it's just as important to celebrate with the people we love." But Katona is expecting a deluge of weddings to be scheduled — all of the other ones that couldn't happen during the pandemic — so she said they may have to wait another year for the bigger party. "When it happens, it'll just happen," she said.
When they had to cancel — twice — Katona said they did lose some of their deposits. She said her wedding planner, Werhane with Finishing Touches, "was absolutely incredible," helping them through the process of canceling then securing dates, putting down deposits for vendors and then losing some of that money when vendors held onto it. But they knew that the vendors were also going through tough times and relying on that money. "We were happy to be able to help," she said.
And while they took strict precautions and "everybody was fine, nobody got sick," getting married during a time when the pandemic numbers were going up was constantly on their minds. "We were always concerned about it," she said. "I couldn't invite my grandparents … and it hurt them. It was a really difficult decision. But I thought what if they come and get sick and have to be hospitalized or worse? I just couldn't live with that," she said.
When she looks at photos of the wedding, she's sure they did the right thing. "It was beautiful. There's nothing but happiness there."
Funeral innovations
Albert Johnston, funeral director at Relyea Funeral Chapel, said one of the many innovations made in the funeral industry during the pandemic is likely here to stay.
"We're having services livestreamed," he said. "Livestreaming seems to be a new thing that's really taken hold."
Johnston said the benefits of a livestreamed funeral go beyond the needs of a pandemic-stricken public desperate to be able to "be there" for the end-of-life rituals honoring their loved ones.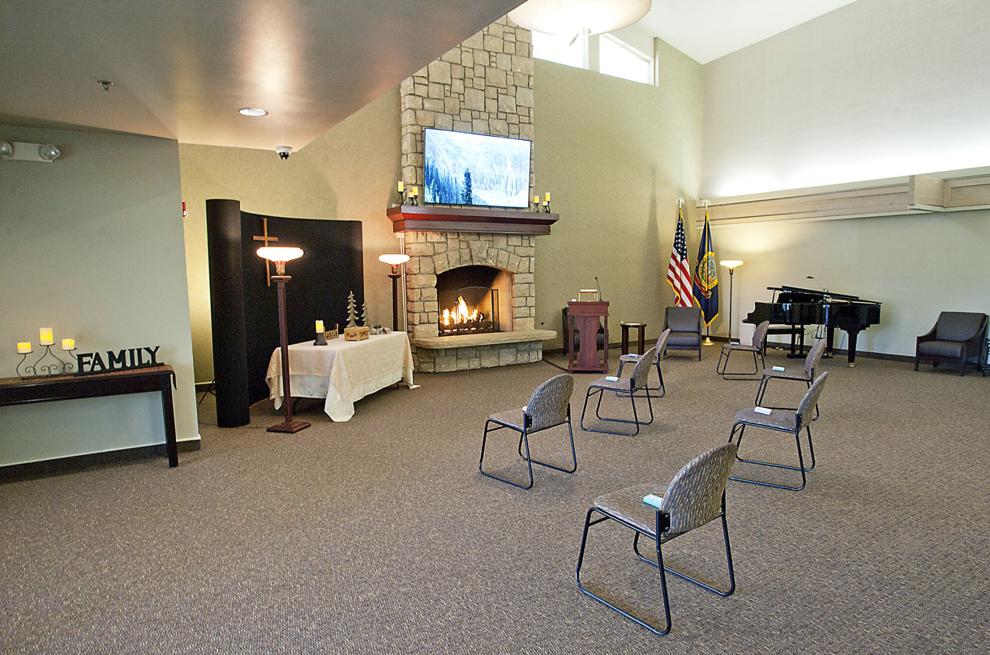 And even though people can now gather — up to 50 at a funeral home, or more, if the services are at a church — Johnston said there are other factors to consider.
For most families, even in pre-pandemic times, it can be a scramble just to make it to a loved one's funeral. "Everybody's spread out these days," Johnston said. Making last-minute travel accommodations can be expensive. Some people can't afford to take the time off. Then, of course, there are lodging reservations to make, cars to rent, dining out expenses.
"That's where the livestreaming has been a real help — they can watch no matter where they're at," Johnston said. "You want to be there to support the family." With livestreaming, you can be there without missing work, without travel expense.
For the bereaved family, said Johnston, livestreaming is built in to the cost of the funeral. "It's just an add on that doesn't cost any more."
For those attending a livestreamed funeral, the process is as simple as clicking a link on the funeral home's website. There are even options to record tributes, he said.
"It's very user friendly, really. All you do is just click one button."
He remembers when the state shut down last March. "I had just sat down with a grieving family and the governor was giving his address right then. I had one family who waited almost two months (to have a funeral). They started opening back up and could have up to 10 — and then we just had to get creative," he said, "letting in one or two at a time for visitation."
And now? "I don't know if it ever will be quite the way it was before."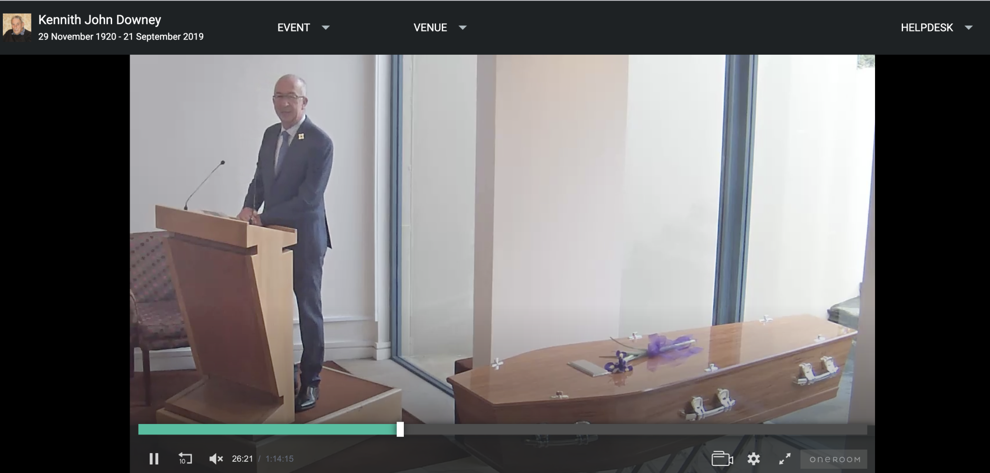 Besides the convenience of livestreaming, it also quells a lot of fears, Johnston said. "People are now more cautious about going places, getting sick. Obviously, the numbers are out there. … We've brought the technology in."
Heather Welborn, funeral director at Cloverdale Funeral Home, agrees that change in the industry is here to stay.
"We livestream every single funeral now," she said. "Ones we can't, we'll record and put on (the website) so the family can watch."
Welborn said livestreaming used to be a rarely used option, adding that in an industry that embraces tradition, it just didn't get much traction before it became a necessity due to the pandemic. "Getting any change in the industry is difficult. Cremation is still kind of a thing that people are very against. But in the past year," she said, "change in the entire industry has been more than ever before. Everybody had to revamp everything. It's forced us to be very, very creative."
With the initial lockdown, many funerals were attended only by immediate family members or in some cases, postponed to see if the restrictions would ease to allow more to attend. In April, when only 10 could gather, Cloverdale's manager, Jake Garn, partnered with a media company to provide a drive-up funeral experience, similar to a drive-in movie, so more family and friends could attend by car with the funeral up on a screen in the parking lot.
But even now, many either don't feel safe in a large gathering or simply can't travel. With livestreaming all can attend with no worries or hassles. "That's here to say," said Welborn. "So many funeral homes have been forced into it. They're realizing it's not that bad."
When the numbers went up
In November and December, Welborn said the number of deaths — and ensuing funerals — was on overload at the funeral home. "It was insane how busy we were — but I was also concerned about how these families are grieving. Who is checking on them, making sure these people can grieve these deaths. Just doing the funeral is one thing, but if they keep putting it off, memorializing them … it's hard to process grief if there's not outward grieving," she said. "I call it grief brain. But if you're doing it alone, it just compounds it."
Welborn, who also serves as the head of Cloverdale's grief support group, said the group had to be put on hold until recently. "We just started it up again."
Welborn said she has also seen the pandemic "politicizing" and said it has polarized families at funeral planning meetings, funerals themselves and at the graveside.
"It's been very hard to tell people only two can come into the arrangement room," she said. "And the mask and no mask, or COVID is something or it's not a thing — that's torn families apart. Grief can tear a happy family apart, anyway."
She said she's had a funeral for someone who died of COVID-19 — where family members either refused to wear masks or took them off and hugged one another — and two weeks later, the family was back for another family member's funeral who also died from contracting the virus. When that has happened, Welborn said for those family members who inadvertently passed the highly contagious COVID-19 on to their vulnerable — and now deceased family member — the outcome is nearly unbearable.
"It creates enormous guilt," Welborn said, "enormous, enormous guilt. It just snowballs. … It's hard to keep seeing the same families — but it's not our job to police them, either. I've said to them: 'Wear your mask. I don't want to see you again.'"
The funeral industry's overarching purpose, she said, is to "celebrate a life and help them go through their grief journey. The pandemic makes it very hard. We still are trying to honor traditions and rituals — in an updated way."