It is Wednesday, March 13. In one week, Treefort attendees will begin arriving in downtown Boise. All 22 venues will be decked out in Treefort flags and bunting. There will be signage and wayfinding signs. The parking lot at 13th and Grove streets will be transformed into the Treefort Main Stage area, complete with a store where you can purchase Treefort t-shirts, water bottles and an assortment of other paraphernalia. All of the other nine forts — Storyfort, Alefort, Foodfort, Hackfort, Skatefort, Kidfort, Comedyfort, Filmfort and Yogafort — will similarly sport the proper "Treefort treatment," said Sean Aucutt.
But that won't happen all by itself. It might not take a village, but in this case it will take about 20 volunteers. And they have been working on it since last year.
Aucutt is the head of visual production for Decorfort, the behind-the-scenes design, construction and decorating crew that meticulously hand-builds all of the accouterments that give Treefort "that campy, woodsy look," Aucutt said. Armed with roughly $20,000, it's his job to create what he estimates are about 350 separate structures and signage. The troupe doesn't start on such a monumental task just a few weeks prior to the event — there is a timeline.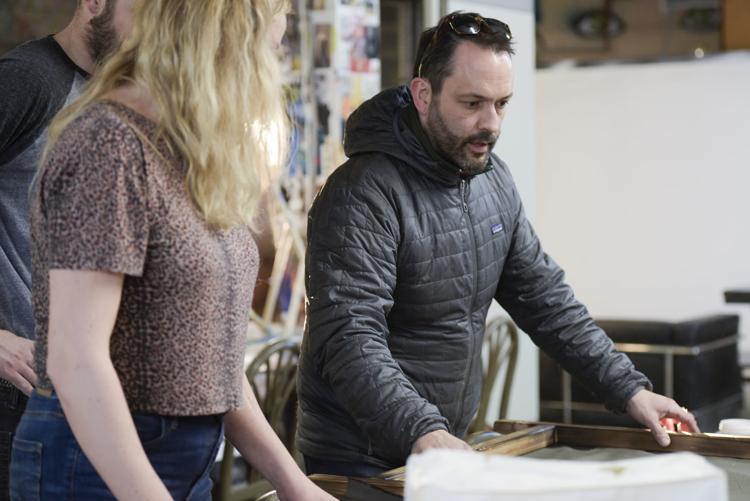 "We made about 3,000 feet of bunting in January," Aucutt said. That bunting will be hung prior to Treefort's opening bell — the Main Stage opens at 4:20 p.m. on Thursday. Tonight, Decorfort is constructing new stalls for Alefort. "Instead of each brewery having a setup, we're grouping them all by flavor," Aucutt said. "Hop flavor, barrel-aged, stout, cider or whatever." Each flavor group will get its own stall. "This will take three nights," he said. The crew is set up in the parking lot that will be transformed into the Main Stage in a week. Some are drilling, others cutting wood with jig saws and still others are burning the wood with a gas-powered torch after it is framed — part of that Treefort treatment, said Aucutt.
"This is my first year volunteering," said John Sabala, who has been working on the beer stalls. "It's nice to be here, and then when I go to Treefort to be able to say 'I did that,'" he said.
"This is the best volunteer job at Treefort, hands down," said Spencer West, who is in his fourth year at Decorfort. Martin Sarasqueta, who used to do custom furniture design, said he is in his element, once again working with custom designing wood. "That's what these guys do, and I love it," he said.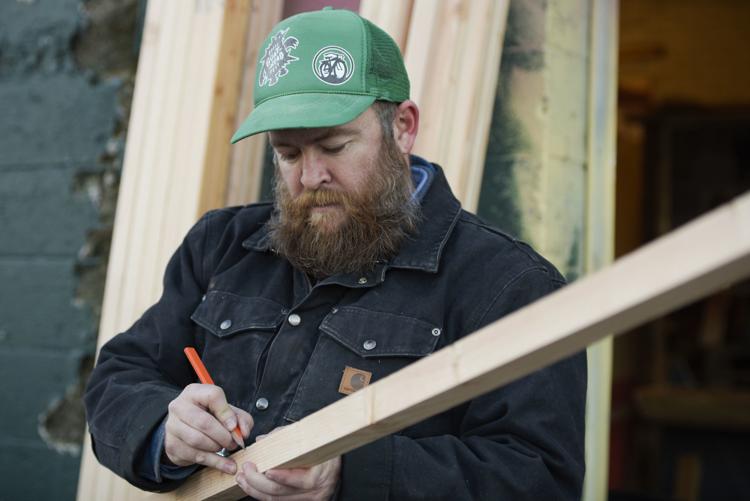 Aucutt walks from the parking lot to inside The Boise Creative Center where people are sewing and cutting fabric. Thick brown woven fabric is being measured and cut for panels for the brewery stalls. Tina Gosselin is running a sewing machine, stitching up some colorful triangular flags that will be strung together for Yogafort. "They're a play on the peace flags," she said, "I only have to do the stragglers," she added, explaining that they had already finished the bulk of it. "My best guess is we made 400 feet worth. Hanging out with these guys, it's a lot of fun," she said. This is also Gosselin's first year at Decorfort.
Helena Kruczynska and her husband, Jason Large, are measuring and cutting the fabric panels. "We've always done something (at Treefort) since the beginning," Kruczynska said. "We did T-shirts at first — screen printing. "I'm not shy with a sewing machine — screen printing, design and fashion is my background," she said, adding that her day job is as a graphic designer at the Treasure Valley Family YMCA.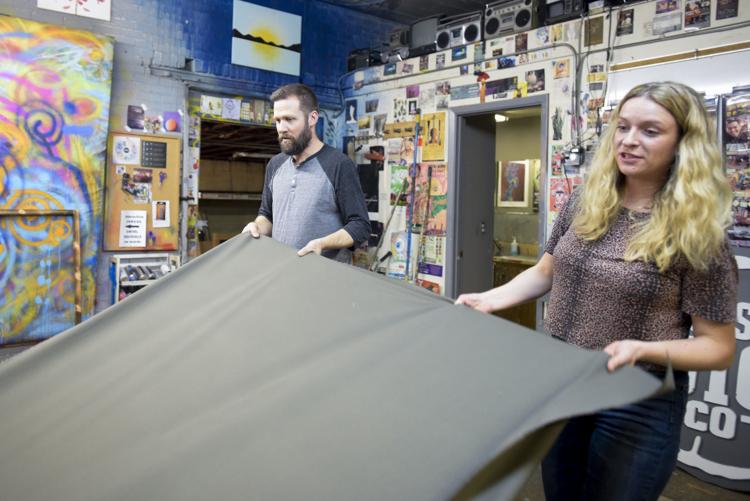 Large manages a screen printing shop, PalmerCash. "I've been screen printing T-shirts for Treefort for the past couple of weeks," he said. He enjoys the work and the people, Large said.
"And we take pride in seeing what we've done," Kruczynska said. They talk about the days ahead when they probably won't be getting a lot of sleep — especially after the show when it's their job to take it all down. "We drag ourselves out of bed," Kruczynska said, smiling. "The numbers (of us) dwindle when we're doing breakdown. Everyone feels tired. But we don't want to leave each other hanging so there's not just one person wandering around dragging logs around," she said, laughing, and referring to some of the fence posts they create, which do, indeed, look like birch branches and logs.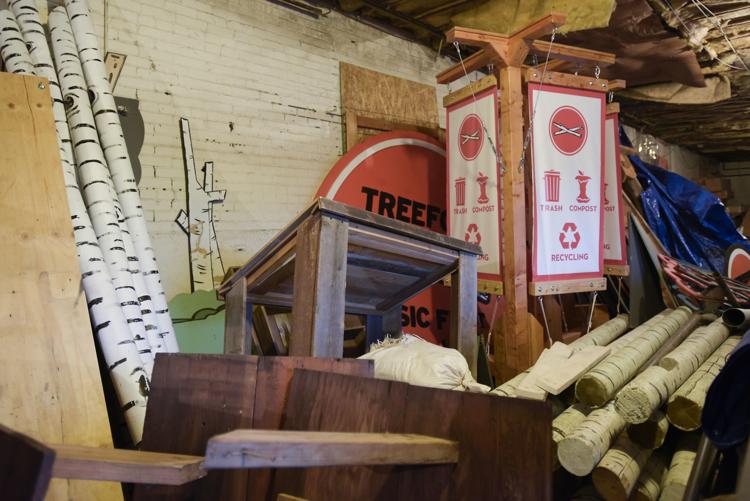 Aucutt came to the job after someone before him had planned everything out — for which he is very grateful. "She was super great," Aucutt said. "I try to start in January with planning and making the bunting. Then, the week before, we start in working constantly. That excitement (of the impending festival) really keeps people going," Aucutt said. "there are over 700 volunteers at Treefort total."
If a problem arises, either before or during the festival, "somebody will magically step out of the woodwork and solve it," he said. "They're super dedicated. I consider them all my friends, and if I run into them at Treefort I want to hang out with them."
He gets most materials locally. "We get the wood from local lumber stores, Overland Lumber, Capital Lumber. We use a lot of reclaimed stuff to get that campy, woodsy look," he said. "Also, Second Chance is a partner of ours. They'll say, 'What do you need this year?'"
The Treefort treatment begins in earnest at the first of the week. "All venues get decorated Monday to Wednesday," said Aucutt. "On Wednesday we focus on JUMP, where Hackfort and Yogafort are. Then we concentrate on the Main Stage Thursday."
After Treefort opens, Aucutt will be in a problem-solving mode, he said. "On-the-fly problem solving, it keeps you going. It's super fun. I love the tension of being able to solve the problem," he said, smiling.
And he loves working with the Decorfort crew. "You get to envision fun stuff, and they are your helpers in creating it," Aucutt said. "They usually make it better."
Current team member Ander Sundell, who was on the original Decorfort crew, said he remembers that first year. "It was like building an airplane while it was flying," he said.