Laurie Zuckerman is a true American hero — some might even call her a superhero.
Zuckerman is living with one of the scourges of modern-day medicine: multiple sclerosis, or as it is more commonly called, MS. And she is not going to let it dictate what she can — or can't — do.
MS can be a debilitating disease. In fact, at her lowest point, which was just a few years ago, Zuckerman experienced incredible lethargy and had to walk using a cane or a walker. For a while, she worried she might have to get around in a wheelchair or by riding a scooter.
It started in 2014 when "I noticed I had problems walking. I was numb from the waist down. Weak. Mentally confused. I couldn't make my mind follow a logical story," she said. "And, I was having problems at work. It was like ... I wasn't there, mentally."
She said she knew something was really wrong when her work faltered. "I have two masters; I pride myself on my cognitive ability and I failed at my evaluations. I'd never failed. It felt like my brain exploded.
"After that it got worse."
Zuckerman went to a chiropractor, a physical therapist, and finally, after being so unsteady on her feet and never knowing when she was going to fall, she went to see a neurologist. After a battery of tests that included an MRI, Zuckerman was diagnosed with MS.
"I had 17 lesions in my brain," she said.
Her husband, Stan Zuckerman, not only provided support, he became her cheerleader and spent hours researching how to combat the disease.
"I would come home exhausted and he would read to me about all the things we needed to do," Zuckerman said. "Spouses have a hard job because we MS patients can be dealing with stuff we're not aware of — like mental confusion because of the sheer exhaustion. That's why Stan took a lot of time off of work to make sure he was at my doctor's appointments. ... I didn't even know that I wasn't able to advocate for myself."
Zuckerman said she has learned that MS is "kind of like cancer," in that it can affect people in wildly different ways.
"It affects everyone very differently, and its progression varies greatly. What seems to have made a big difference in our lives, Stan's and mine, may not help others."
Zuckerman said she sees her doctor regularly, "am truthful about symptoms (especially if Stan is there), and follow her directions," which Zuckerman makes sure she writes down. She spent a number of months with an occupational therapist "and still go back to see her for tune-ups. Among the many things she taught me to do to be successful at my job, is I take 15 minutes twice a day during work for a brain-break to rest my brain. It's kind of like meditation. She also came to my work twice to help me set up my office and talk with my supervisors and HR."
In addition to her neurologist, Zuckerman also sees her general practitioner, physical therapists and counselors.
"My chiropractor was a sports therapist. He hooked me with resources that taught me how to run properly. I see him every other week to stay healthy so I can run — which helps me deal with all the stresses of a full-time job plus 20 or more hours a week of volunteer work."
Also, "thanks to Stan," the Zuckermans changed their diet. "We now eat a plant-rich diet with lots of foods and supplements that support brain function and general health. We feel so much better and are able to do much more."
It's what works for now, Zuckerman said. "Who knows how the disease will progress. I'm thankful for the last few years and hope to find joy in whatever the future throws at us."
Zuckerman said she is not only grateful to Stan, she's also thankful that she had good medical insurance that has allowed her to get the care she needs.
"I wonder how many hundreds of thousands in the U.S. are either dead or disabled because they don't have the supports like I have had," she said.
The road to Robie Creek — and beyond
From mid 2015 to 2017, Zuckerman could walk only by using a cane — sometimes she needed to use a walker. She wore a cooling vest to combat the heat — and the pseudo exacerbations that came along with it. Zuckerman slowly regained her stamina, and her thinking became clearer. She decided she wanted to do something big to prove to herself and others that she could do it and that she was not going to let this disease win.
"I decided I wanted to do the Camino," she said.
The Camino de Santiago is a 500-mile pilgrimage in Spain and France. Many embark on it for spiritual or religious reasons. A number of people who make the pilgrimage go for several days or a week or two, logging 50 or 100 miles.
Zuckerman wanted to make the entire journey.
In an act to prove to herself and her family she could do it, "I went to the mall and walked 17 miles," Zuckerman said. "Don't tell me I can't do something."
Her son, Curt Bowen, accompanied her on the journey. "The Camino wouldn't have happened if my son hadn't come with me," she said. "We did the French route, over 500 miles in about 28 days. We biked for two of the days," Zuckerman said.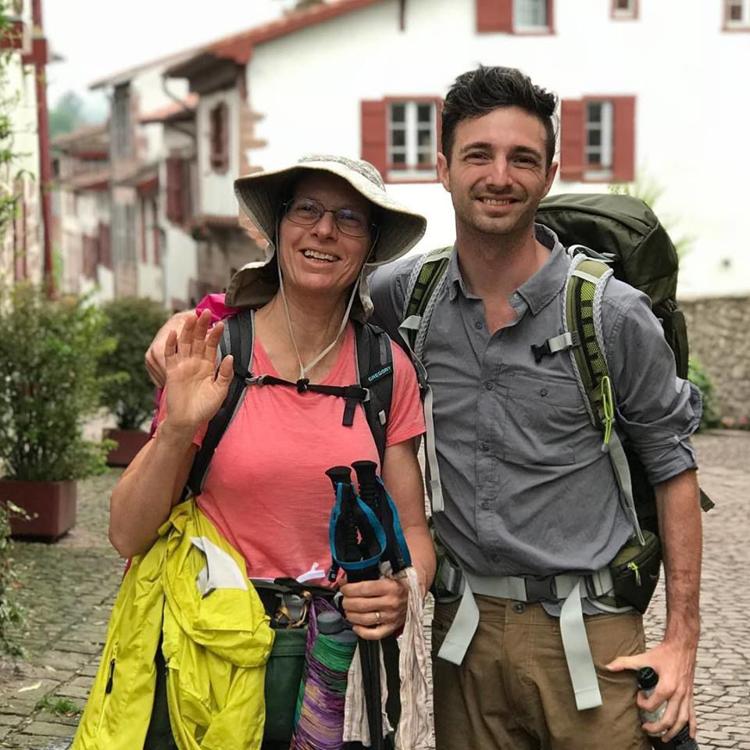 Since then, she has turned her sights to running and not just down to the corner and back. Zuckerman runs 13.1-mile half-marathons. "Robie Creek, that was my first one," she said.
She has a goal of running six before she turns 60, which is on Nov. 29.
So far, she's finished five and No. 6 is set for October.
"I hope so. ... Don't tell me I can't do something."