BOISE — Gordy Presnell has kept quiet about the personal reasons that contributed to his three losing seasons in 32 years as a head coach.
"That's just kind of who he is," said close friend and Oregon women's basketball coach Kelly Graves. "He's a very private person."
Presnell has had arguably more success the last five years than any coach at Boise State, and this may be his best team yet. The Broncos are heavy favorites to win the Mountain West and get back to the NCAA Tournament for the fifth time in the past six years.
But there was a time not too long ago when things weren't so good. In fact, they were so bad Presnell nearly took a year off to get away. And all the while he dealt with it in private, with some of his own players not even knowing why he'd occasionally miss practice or look like he hadn't slept in days.
He called it winning the lottery, but in opposite fashion. And he's finally OK talking about it.
Growing up on the Nez Perce Indian Reservation in Lapwai, Idaho, there was one thing to do: Play basketball.
"Basketball is just a cultural thing there," Presnell said. "You grew up on it. Someone's playing there right now, I guarantee it. Basketball is just part of being on the reservation, so I've always enjoyed the game since a young age because of it."
Presnell lived there because his mom, Shirley, was a school teacher on the reservation. His dad, Hugh, worked in construction and was often out of town. Presnell was an only child, and family quickly became the most important thing to him.
After playing on the junior varsity basketball team at Northwest Nazarene and graduating in 1983, his love for the sport took him into coaching. His first job was as an assistant coach for the boys team at Lapwai High School — and they won state. The next year he was an assistant at Kendrick High School — a state winner, too.
He took over as head coach at Kendrick the following year and won both the conference and district titles before finishing third at state.
Presnell elected to pursue a master's degree at the University of Idaho and planned to help out the men's team as a student manager. Three of the coaches on staff with the Vandals at the time? Tim Floyd, Larry Eustachy and Kermit Davis — three eventual longtime, successful Division I coaches.
But after just a few weeks into school, he heard of a graduate assistant opening with the men's team at Seattle Pacific and made the decision to quit school in Moscow and head to Seattle.
It was a decision that changed his life.
"I just felt like that's where I needed to be," Presnell said. "I've often wondered when I took that fork to go to SPU what would have happened had I gone the other way, because those guys all made it."
His first break came when a mutual friend set him up with Susan Nolte, a recently graduated gymnast at Seattle Pacific.
"We met on a blind date," Presnell's now-wife Susan said. "I came home and told my mom I had met Mr. Right. Gordy likes to tell that story. I'd like to think I played a little harder to get than that."
The two got engaged later that year on Christmas in 1987 and were married the following summer — barely a year after they had met.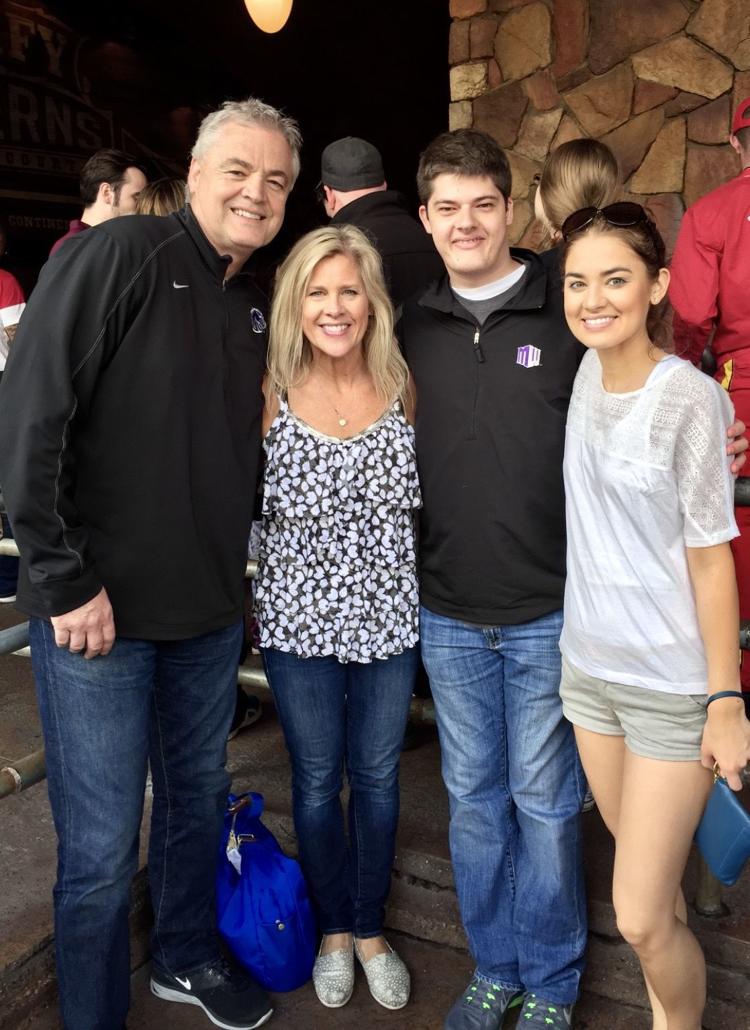 His second big break came about the same time, after his one year as a graduate assistant with the men's team. The women's coach at Seattle Pacific left two weeks before the season started and because the school had limited options, Presnell landed the job for the 1987-88 season.
The position wasn't full time and came with a salary of just $12,000, so he needed another job to get by. He found one at an ice cream company, where he loaded trucks overnight.
"They put you in a freezer suit and we'd start at 9:30 p.m. and we'd just pray for rain, because when it was cold and rainy none of the stores would order ice cream and we wouldn't have to work very hard," Presnell said. "You'd work until your eyelids froze shut. It was so cold that your eye lashes would freeze shut. It was 30 below in the freezer."
Presnell held practice late in the afternoons before heading to the ice cream shop so he could get some rest earlier in the day.
"I'd try to sleep in the mornings," Presnell said. "I remember falling asleep at a stop light and people honking their horns."
He would stop his work at the ice cream shop once games started, but spent two years doing it during the offseason to help he and his new bride pay the bills.
"He would come home in the wee hours of the morning and he was freezing," Susan said with a laugh. "He'd want to spoon in bed but he was so cold."
Seattle Pacific finally made coaching the women's team a full-time position after his second season, so he was able to stop the second job. His first full-time salary was $28,000.
Presnell took over a women's team at Seattle Pacific that hadn't finished with a winning record in nine seasons and led it to a 16-11 record his first season. He didn't stop there, posting 18 straight winning seasons at SPU and finishing with an average of 22 wins per season.
He won seven conference championships and made 13 trips to the postseason in 18 years while turning the Falcons into a Division II national power. Included was three appearances in the NCAA Division II Elite Eight, and one in the title game.
Along the way came interest from other schools.
"I interviewed a number of different places," Presnell said. "I interviewed in the parking lot of Target in Seattle with Pepperdine. Out of the blue they called me. I interviewed twice at Oregon State, once at the Final Four and then they took a couple of us back to Corvallis."
Included was an interview at Boise State in 2002 when he felt he was going to get the job. It instead went to Jen Warden, an assistant at Colorado.
"That was a blow," Presnell admitted.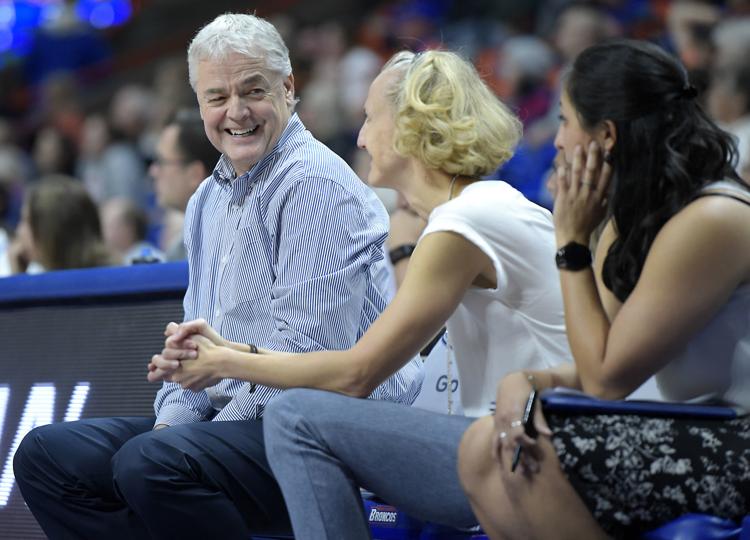 The next three years Presnell led Seattle Pacific to records of 29-1, 30-1 and 30-3 and took them to the NCAA Division II national championship game in 2005. He was twice named Division II National Coach of the Year.
Boise State came calling again and this time had no choice but to hire him as head coach in 2005, basically admitting it should have hired him the first time.
"I told them that," Presnell said with a laugh.
Similar to the situation he inherited at Seattle Pacific, the Broncos had just one winning season in the 10 years prior to his arrival. But after going 15-15 in his first year during the 2005-06 season, Presnell led the Broncos to a 24-9 record and a trip to the NCAA Tournament in 2007 in just his second season.
He was off and rolling again.
Only three times in Presnell's 32 seasons as a head coach has his teams finished with a losing record. They came in three straight years, 2010-11, 2011-12 and 2012-13.
He had a pretty good reason for the struggles, but he's never talked about it publicly before. Until now.
"It was the roughest period of my life," Presnell said.
Both of Presnell's parents developed Parkinson's disease and moved in with him and his wife and two kids in 2002 in Seattle. His dad died in 2004, and his mother moved with them to Boise when he got the Boise State job a year later.
Since Presnell was an only child, he and his wife were their caretakers, and things were manageable until about 2009. That's when his mom's tremors started to get bad and she developed Dementia, which forced her to require near around-the-clock attention from either Presnell or his wife.
"It was brutal. Brutal," Presnell said. "I'm indebted to my wife."
The night Presnell will never forget came on New Year's Eve, when everyone was sleeping — or so he thought. He awoke to a neighbor knocking on his door.
"I think your mom is in our house," Presnell recalled the neighbor saying. "She was in her pajamas and barefoot and there was snow, and I just didn't believe it. I couldn't believe it. So I went to her room and she wasn't there."
She was indeed at the neighbors house and "totally confused" according to Presnell. So the next morning he took her to the hospital, and had no choice but to ultimately place her in an assisted living facility.
"She'd had some issues, an infection, and I finally got her into an assisted living place," Presnell said. "She didn't want to go, but I had waited too long."
But the problems didn't stop there. 
"Depending on the medication and stuff, she'd either be great or lock the door and call the fire department," Presnell said. "She pulled some crazy ones. There were just constant issues. When you get Dementia it's a different ball of wax."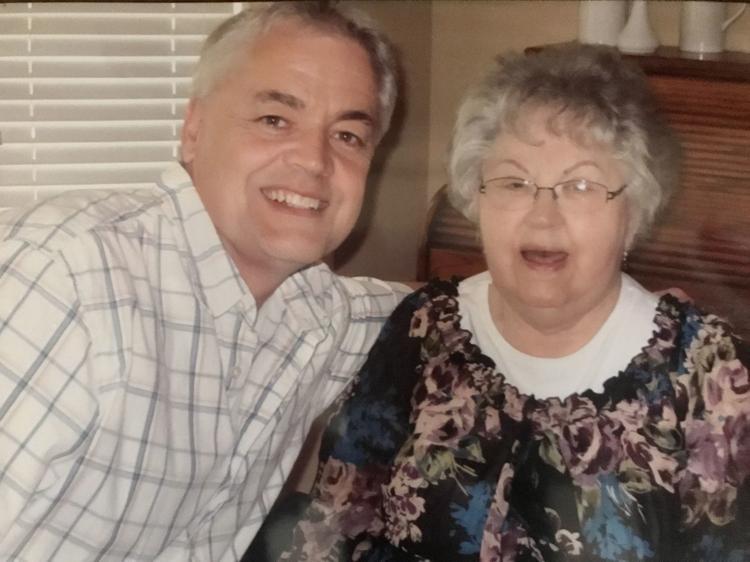 Presnell would make daily visits to see his mom, often staying there for several hours. And that meant less time to focus on basketball.
"His mom was the number one priority and I respect that about him, that his family comes first," longtime assistant coach Heather Sower said. "It was an extremely difficult time for him, and we felt helpless on the staff.
"There were a lot of times he wasn't at practice because he was up in the middle of the night having to deal with things with his mom. He was gone quite a bit and I'm sure that was hard for the players, as well, who maybe didn't understand everything that was going on because he is so private."
The team struggled as a result. The Broncos went 12-19 during the 2010-11 season and had a 3-13 record in the WAC. They transitioned into the Mountain West the following year and went 15-16 overall and 5-9 in league play. They hit maybe rock bottom during the 2012-13 season when they went 11-19 including a 4-12 mark in Mountain West play.
"He doesn't have regrets for spending that much time with his mom," Susan Presnell said. "We would pretty much visit her every day at the assisted living place down the street. Those years, especially, it was just heartbreaking, but also sacred in a way for him to have that time with her."
Balancing his professional and personal lives was becoming so hard that then-athletic director Gene Bleymaier asked if he wanted to take some time away from the team. He ultimately declined, but credited Bleymaier and his wife for their support and help getting through it.
"It was a brutal three-year period. We were losing and I was having all the issues with her," Presnell said. "I'd sleep on the floor. … I was burning the candle at both ends. Gene had asked and we talked about doing a sabbatical for a year in there and I decided not to, but looking back I probably should have."
Shirley eventually passed away in July 2013, after Boise State's third straight losing season.
"The basketball team is very important to him, but family comes first and there was never a question in his mind that he was going to take care of his parents," said Graves, who currently has the Ducks ranked No. 1 in the country. "It pained him to see them in pain and he was real open about that with me.
"It just goes to show you what kind of person he is. He easily could have put basketball ahead and said I have to do this, but he didn't. It was about his family to him. He still visits the cemetery up there all the time. That's left quite an impression on him."
Able to focus solely on basketball after his mother passed away, Presnell got the Broncos going back in the right direction almost immediately. They went 18-14 (including 12-6 in the Mountain West) during the 2013-14 season and advanced to the second around of the WBI.
The next year? The Broncos went 22-11 and won the Mountain West Tournament as the No. 4 seed to reach the NCAA Tournament for the first time since 2007. They were given a No. 15 seed and had to play at No. 2 seed Tennessee, but hung with the Lady Volunteers until the final minutes of the game.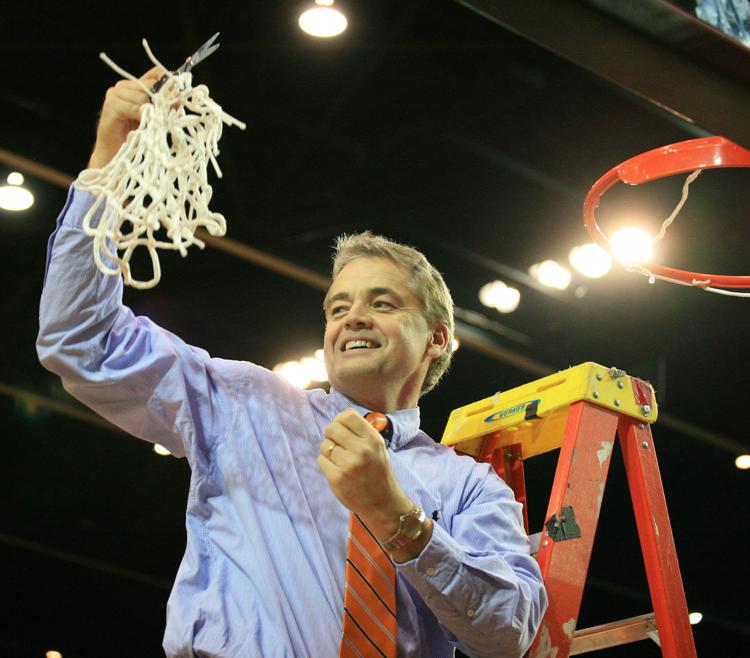 The Broncos haven't slowed since. They've made the NCAA Tournament in four of the past five years and have established a new program record for wins on two different occasions. The current benchmark is 28 after they went 28-5 record last season.
They've won the regular season Mountain West title in each of the past two years, and Mountain West Tournament title in each of the past three years. Presnell was named Mountain West Coach of the Year last season.
Presnell holds a career record of 671-302 and ranks No. 22 among active coaches for all-time wins. Now in his 33rd season, he's 42nd in wins all-time among coaches at four-year colleges, and is Boise State's all-time winningest head coach.
"There's not a better coach in the country in my mind," said Utah coach Lynne Roberts, who played for Presnell at Seattle Pacific and then coached with him there. "If he wanted to, I'm sure he could be coaching at any school. If he had pursued it and gotten after it, personally, selfishly, maybe he's at Oklahoma or some big Power 5 school. But he's made Boise State his legacy and I think that's fantastic.
"He's one of the best to ever do it and he's so low-profile and doesn't like the attention and most coaches aren't like that. They are out beating their own drum and saying look how good we are, and he's the opposite of that. And that's why I am glad he's finally getting some of the attention and respect he so richly deserves."
The Broncos nearly broke through with the program's first NCAA Tournament win last year, letting a four-point lead slip away in the final 20 seconds of regulation at No. 4 seed Oregon State before ultimately falling in overtime.
This could finally be the year. He's got most of the roster back, plus a big addition in Oregon transfer Mallory McGwire. The Broncos received 15 votes in the preseason Associated Press Top 25 poll in late October, their most votes since they were ranked way back in 1994.
They were also the runaway favorite to win the Mountain West again, and they had both the preseason Player of the Year in Braydey Hodgins and Newcomer of the Year in McGwire.
The Broncos are 4-3 ahead of Sunday's road game at TCU, but should be favored in nearly every game the rest of the season.
"I know he was just devastated by how the Oregon State game went last year because he's always talking about respect for his program, and they deserve it," Graves said. "He's earned it and he's put together a heck of a roster this year and I know he's secretly very, very excited about this group.
"I have a feeling they can do something beyond just the Mountain West. I think they have a shot at getting to the second weekend of the NCAA Tournament."
Presnell is famous for his random facts and history lessons on road trips.
At Wyoming, he'll tell his players about Kenny Sailors, who played at Wyoming and is famous for creating the jump shot. At San Diego State, he'll tell them about a speech John F. Kennedy gave where Viejas Arena now stands.
At Utah State, he gives the story of Wayne Estes, who scored 48 points in his final college game and then died in a tragic accident later that night when he stopped at the scene of a car wreck but made contact with a downed power line and was fatally electrocuted.
"He's got an exorbitant amount of useless information in his brain," Roberts said joking. "He'll tell you the wide receiver for the 1982 Chicago Bears and where his dad played high school ball. You'll be like 'why do you know that' and he doesn't know why, but he does. I'm not going to give him credit and say he's smart, but he's full of information."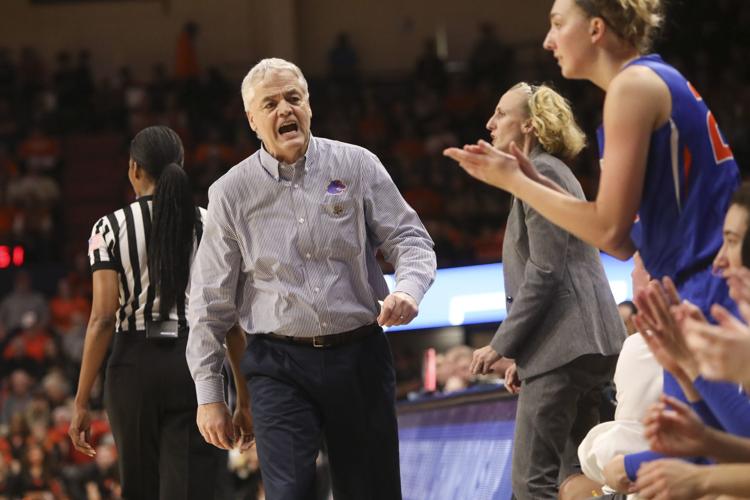 He's a huge sports fan outside of basketball. He'll attend a College of Idaho football game on a Saturday afternoon and rarely misses a Boise State football game. He enjoys following the Seattle-area teams, and twice has thrown out the first pitch at Seattle Mariners games.
Presnell became a big fan of college football coach Mark Richt, and was a Georgia football fan while he was there. And he's following the Los Angeles Rams this year because of a tie to the roster with some mutual friends.
"I just loved sports growing up and I knew everything about it," Presnell said. "I tried to know everything I could about meaningless things. I'm sure I irritate the heck out of (men's assistant coach) Tim Duryea and those guys. He was a Kansas fan growing up so I'll get him on Kansas stuff."
He's got his superstitions like anyone else. His wife will bring him coffee on game day in an orange mug they purchased at the Women's Basketball Hall of Fame in Knoxville, Tennessee, when the Broncos were there to face Tennessee in the NCAA Tournament. Previously Susan would bring him coffee in a Mickey Mouse mug from Disneyland, one of the family's favorite places to visit.
A fact Presnell may not be as proud of? He's a big fan of Hallmark Christmas movies.
"There's no drama and the good guys always win in the end," Presnell explained.
Presnell described himself as a 'pretty boring' person. Those that know him might rather use the word 'fascinating'.
He recalled meeting football coach Bryan Harsin on his first day on the job at Boise State in 2005 when Harsin was the tight ends coach. Harsin invited him to a P90X workout. Presnell declined, but has developed a friendship with Harsin over the years.
Harsin has had Presnell speak to the football team, and said it's not hard to tell why he's had so much success over the years.
"When he talks you listen to him," Harsin said. "He's a leader. He's a guy that has command and that's the first thing I notice when I'm around him. This guy demands that you pay attention to him, and he's not demanding it — but that's his presence.
"He's one of the best in the country and that's a sign of consistency and being a really good coach, but it comes back to leadership."
Good luck finding anyone with anything bad to say about Presnell. The Idaho Press interviewed nearly a dozen of his friends, family members, colleagues, former players and current players — and the sentiment was the same.
"I love him to death and he's family to me and I think everybody that ever played for him feels the same way I do," Roberts said. "I played for him 20 years ago, but I still want him to be proud of me. I still care what he thinks of me. That speaks to who is.
"He's still my No. 1 mentor and phone a friend if I need help or am having a hard day. I'll tell him to tell me something funny, and he will."
Graves said the two have been friends for nearly 30 years after meeting while Presnell was at Seattle Pacific and Graves was at Big Bend Community College in Moses Lake, Washington. They still talk at least three times a week.
"I consider Gordy one of my very best friends and I feel like I can actually talk to him about anything," Graves said. "I've learned a lot from him. He's a great dad, a great husband. … I love the guy, seriously. He's made me a better coach over the years and he's one of the first people I call when I have an issue and he's usually spot on.
"When he wins, I feel really happy. They are the other team I watch when I'm not watching my own team, so I feel like I know his team really well and I'm always happy and proud when they win."
Presnell's former players say he is the same person from the moment they met him in the recruiting process through their time at Boise State and beyond.
"I was blown away with how genuine he was," said former guard Brooke Pahukoa, who played at Boise State from 2013-2017 and reached 1,000 career points. "There's a trust there, and a level of respect for his players. I could go in his office and disagree with something and he wanted the best experience for us so he'd listen and have a real conversation and make changes."
Presnell's son Ryder lives in town and works at Albertsons, while his daughter Jacquelyn is in Law school at Pepperdine University and currently doing a semester abroad in London.
He has no plans to retire anytime soon. He's 59 years old but plans to coach for at least another six or seven years.
He's endured a lot to reach this point. Why stop now?
"My life has not been easy, and I've had some challenges," Presnell said. "But I've really been blessed with who I get to be with and success, that's for sure. I just love my wife and kids and love the opportunity I've been given. I've been blessed."