BOISE — Roberto Bergersen's recruiting pitch requires two faces.
The first is 15 years old, made of ink and has never left Boise.
The second is 46, full of passion and has been on a short hiatus away from the Treasure Valley.
On Thursday, they were inches apart. Bergersen's sketched-out photo on the same plaque in the same room as it was when the eighth-highest scorer in Boise State history was inducted into the school's hall of fame back in 2007.
The man himself was in a baggy blue polo, bobbing and bouncing like a man who buys Red Bulls by the case.
"He doesn't drink caffeine. That's just who he is," said Eastern Washington coach David Riley, whom Bergersen worked under last season. "I'd be scared to see him after a few Red Bulls."
He had reason to be hyper on Monday.
After a year at EWU, Bergersen is back at his alma mater. BSU coach Leon Rice named Bergersen to his staff, where he'll replace departing assistant R-Jay Barsh, who's headed to Florida State.
"There's some butterflies about it," Bergersen said. "It feels that good."
Rice agreed: "Every program wants to talk about family. (At ours), this is what it's about. … This program is built around player development and I think he's one of the best in the country at that."
Helping Bergersen: Like Johnny Cash, he's been everywhere, man.
He wrapped up his time in Boise with the 1999 Big West Player of the Year Award, was drafted by the Portland Trail Blazers, forged an all-time career with the Idaho Stampede of the D-League and then spent time on hardwoods in France, Italy, Belgium, Spain, Turkey, South Korea, Dodge City, Kansas and some island in the middle of the Balearic Sea called Parma.
Bergersen did not play an NBA game. He's fine to admit that — and he's fine with the result: Getting paid to see the world.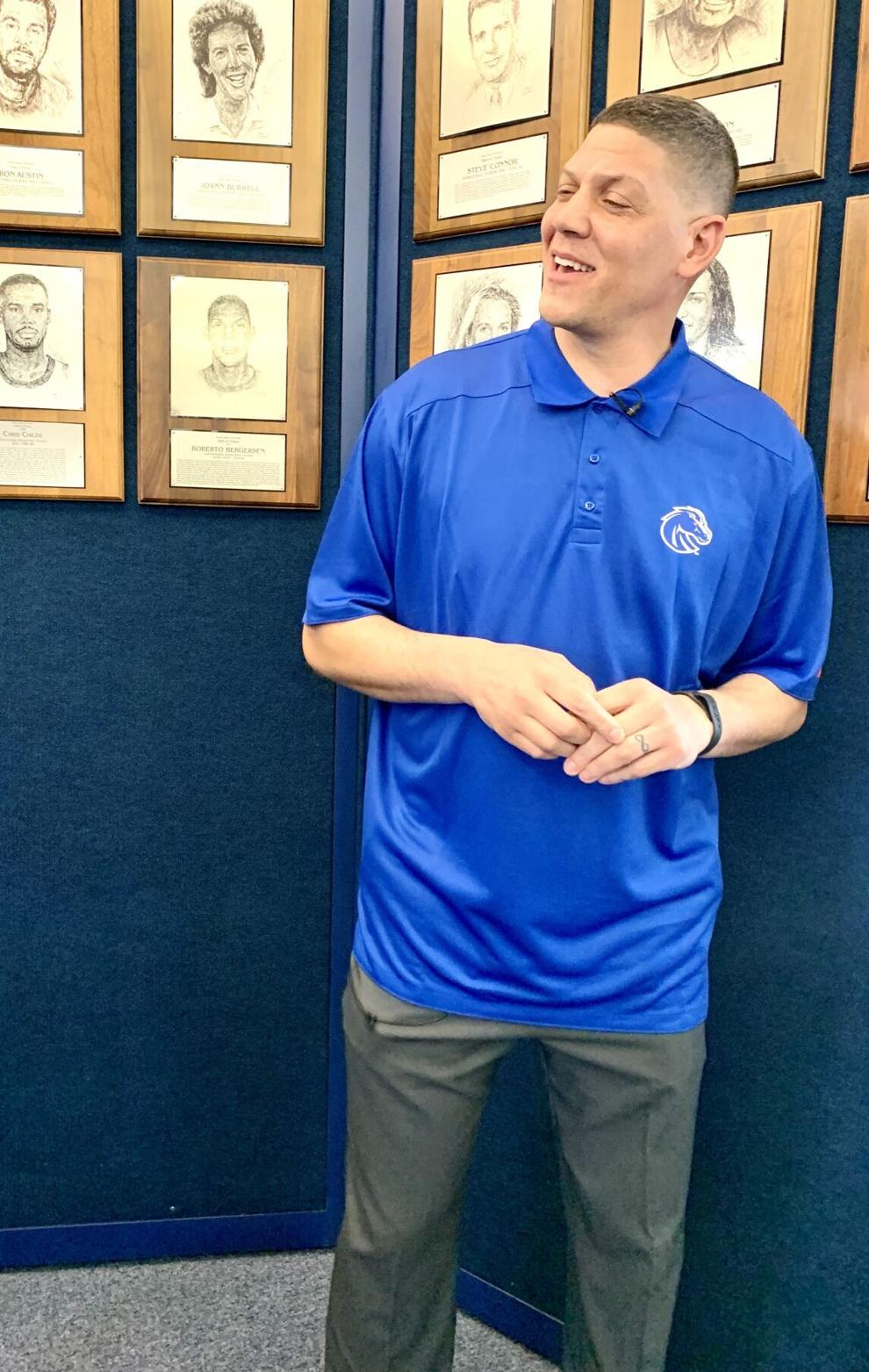 "I learned so much about myself," Bergersen said of his time overseas.
To see where basketball has taken the 6-foot-6 father of three is to see someone who can't live without the game.
He wrapped up his playing career and traded in basketball … for even more basketball. Bergersen co-founded the Boise-based club team, Hoop Dreams — which has churned out 26 D1 players — coached at a prep school in Missouri before spending last season at EWU.
"I'm just a hooper, you guys," he said. "I hope that these guys will get used to me, maybe, not being in the office so much and being in that gym. Because it just pulls me in."
The way basketball pulls in Bergersen is seemingly the way he pulls in everyone else, which it's wise to assume Bergersen, the recruiter, will be just as good as Bergersen, the coach.
"His connections are far-reaching," Rice said. 
Remember all those countries Bergersen's played in. It seems he picked up contacts at every stop. At Eastern Washington, the Eagles' coaches had a running joke when it came to recruiting. How do we get in contact with so-and-so recruit, one would wonder. Well, someone else would respond, "Berto probably knows him."
"Every kid you bring up, (he'd be like), 'Well I know this guy who knows him,' or "I know this guy who might know him and I can get his number,'" Riley said. "We'd recruit someone in Australia and he's like, 'Oh, I know a guy out there.' It's just everywhere. It blows your mind."
That last piece might be the most vital to Boise State — and it involves that head of his hanging in the Broncos' hall of fame.
Bergersen's coaching credentials are still a work in progress — and this job at his alma mater might propel him to even greater heights — it's hard to look past his time wearing the blue and orange and his eclectic pro career.
"With his background and his plying experience, it just goes a long way," Riley said. "He had a lot of out-of-the box ideas and a lot of concepts that I had never even thought of."
Bergersen has not always been dead-set on coaching. He originally started Hoop Dreams as a way to give back "to the community that shaped me." Then he fell in love with the burgeoning area, settling down and buying a house in the Treasure Valley. His kids began to grow, opportunities arose and his coaching career began to manifest.
And it's all taken him back to Boise.
Asked what his recruiting pitch would be to a prospect considering the Broncos, Bergersen didn't need much time to think.
"There's a reason why I never left," he said.