With spring sports canceled and no current Boise State athletes to write about, the Idaho Press is checking in with former Boise State athletes. This is the first entry of a new series called 'Where are they now'.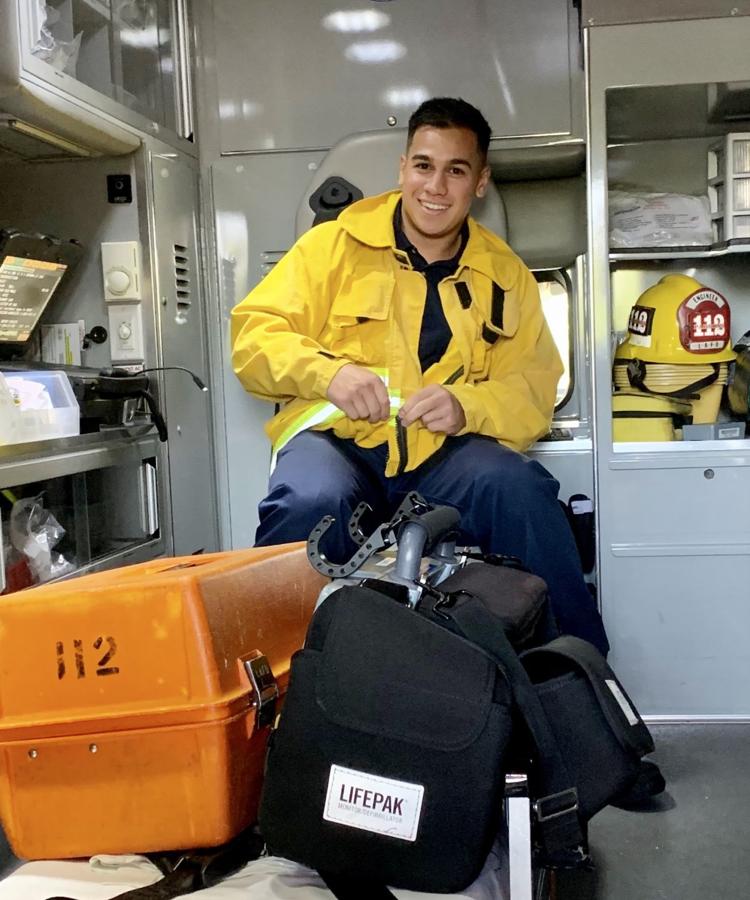 Ryan Wolpin was a running back on the Boise State football team from 2014-17. Initially a walk-on that made an impact on special teams after transferring from Northern Colorado, the Trabuco, California, native earned a scholarship his final two years and became a valuable part of the running back rotation. As a senior he rushed 122 times for 448 yards and six touchdowns. He scored the game-winning touchdown in the 2017 Mountain West Championship game against Fresno State, and he scored two touchdowns while making his first career start in a win over Oregon in the Las Vegas Bowl.
Idaho Press: It's been about two years since you left Boise State. What are you up to these days?
Ryan Wolpin: After Boise State I got into athletic training and was doing strength and conditioning for athletes because I loved working out and being around sports, but after a while I realized it wasn't where my heart was completely. The past six to eight months I've fully committed to trying to become a firefighter. I got my EMT certificate, and that's the first thing you have to do in the whole process. Depending on what the fire department needs as far as prerequisites, you can apply with just an EMT and a high school diploma.
It's a pretty competitive field and you want to try and get as much stuff on your resume as possible, so right now I am actually taking fire technology classes at Santa Ana City College. When I get enough credits to get my associates degree in fire science, then I'll be eligible to go into Santa Ana's Fire Academy. That's what I am working for right now. During this process I can still apply for other departments, so I've applied to Orange County, LA City just opened up and I am going to apply. If Boise opens up, and I know they just recently took a big group of guys so I don't know when it will open up, but I'd apply for them as well."
IP: What made you want to become a firefighter?
RW: Actually (former Boise State wide receiver) Sean Modster, I'm pretty close with his family and I played high school football with Sean and we've been close for a while, and his dad is a firefighter and allowed me to go to his department and let me do some ride-alongs and I just fell in love with it. It's definitely a team type of career. It kind of reminds me of being on a team, being in the locker room, being on the field. You have big a group of guys, men and women, and you're able to work with each other and you're doing what is best for everybody. It just made sense for me with the environment I've always thrived in. It just went hand in hand with everything I love doing, and it just made sense after going on a few ride-alongs. I loved it. So I started taking the necessary steps to do it after that.
IP: So what's the timeline on when you can become a firefighter?
RW: I'm applying right now and if a big department like Boise, LA City, Orange County, if they pick me up, they would put me through their own academy and they pay you as you go through the academy. Basically you have a job as soon as they pick you up. But going to Santa Ana, that comes out of my pocket. You're not working, you are just doing the academy full time. The best case scenario would be to get picked up by a big department that can put me through their own academy.
IP: What thoughts and memories do you have when you think back to your career at Boise State?
RW: It was a journey, man. Looking back at where I started from, coming in as a walk-on and getting a shot to walk-on there and just the process of almost starting with nothing and going out on top, winning a Mountain West Championship and beating Oregon in the bowl game. You start from not even being able to play because I had to sit out my freshman year there after transferring from Northern Colorado, and then you get to start against an Oregon team that everybody looks at and watches growing up, that's definitely what sticks out to me.
IP: What did it mean to earn that scholarship before your junior season?
RW: It meant a lot to me. It was a good feeling to finally get that recognition and the financial recognition. I was obviously happy with everything I was doing on the field and with my teammates, but to be able to get that marked off my list was a good feeling of being a scholarship athlete at my dream college. It was definitely a big moment for me.
IP: Do you have a favorite moment or play from your career at Boise State?
RW: Definitely that game-winning touchdown against Fresno State in the Mountain West Championship my senior year. Obviously it was terrible how they needed me to go in because Alex (Mattison) went down, but it was just a representation of my whole career there, always being ready whenever I was called upon and being a trustworthy guy they could count on when they needed me. To be able to get that game-winning touchdown and see everybody going crazy in the stands and have it be such a big moment for everybody and for me and my teammates, that's one that will always stand out.
IP: How much does Boise State mean to you and what's it like following the program now that you are a few years removed from your playing career?
RW: I root for those guys every game and I try to watch as many games as possible. I keep in contact with some of the guys I played with — Sean Modster, Brock Barr, Andres Preciado, AJ Richardson, Jabril Frazier, my old roommates, and I keep in contact with the coaches. I actually just talked with Coach Harsin about my firefighting path and he's a big support of that. He said he'd help anyway he can in terms of being a reference for me or whatever he can do. He said to reach out whenever I want. In terms of Boise State, I'd just like to tell Bronco Nation thank you for everything. The support really meant a lot to me. Seeing how many people followed me from the beginning of my career until the end, it definitely meant a lot to me to know I had the support of people I didn't even know. I consider myself a Bronco through and through and I'll always bleed blue.