Boise State will be without 12 players due to COVID-19 protocols when it faces Hawaii tonight at 9 p.m. on CBS Sports Network.
That includes seven players with positive test results and five more out due to contact tracing.
Those numbers are slightly lower than last week, when the Broncos were without 14 players and had nine with positive tests. 
Boise State dressed six interior defensive linemen after having five last week. Teams must have at least four interior defensive linemen in order to play. 
Starting running back George Holani and starting right tackle Nick Crabtree didn't make the trip and won't play. Holani is dealing with a knee injury and could be back next week against San Jose State. 
Backup quarterback Jack Sears also didn't make the trip. 
Here's the full list of inactives for Boise State: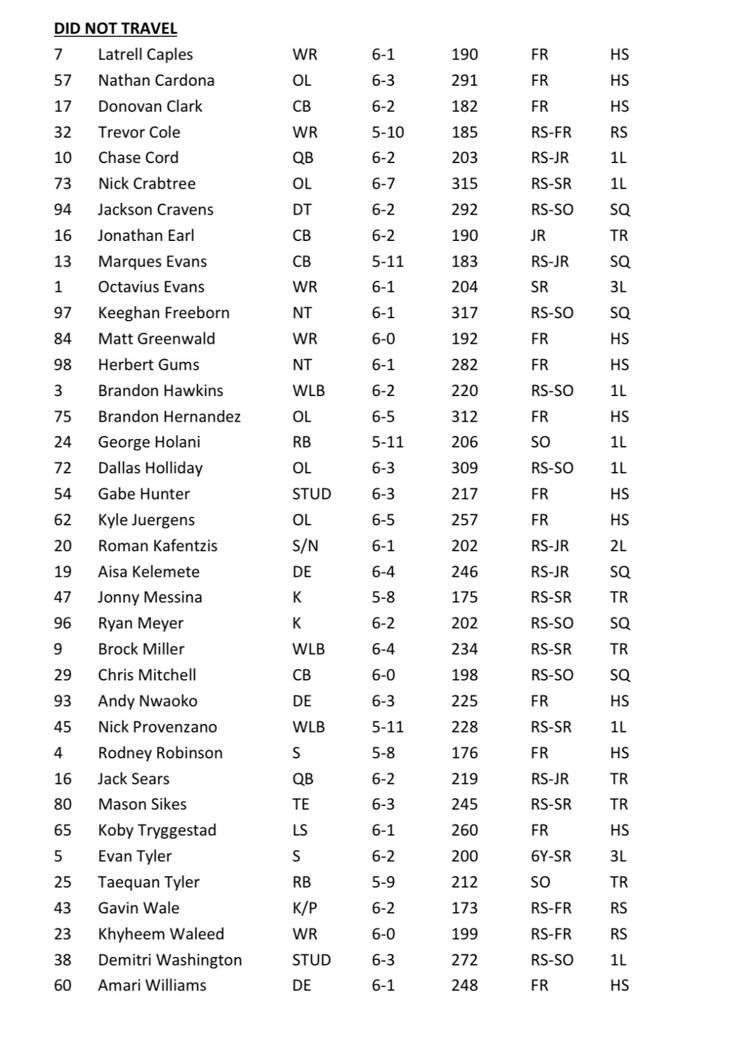 PREGAME UPDATE
Boise State heads across the Pacific Ocean to face Hawaii on Saturday night at 9 p.m. on CBS Sports Network. It's a 6 p.m. local start in Honolulu.
The Broncos beat the Rainbow Warriors twice last season in Boise, including a 31-10 victory in the Mountain West title game. 
Hawaii (2-2) is coming off a 34-10 loss at San Diego State. Boise State scored three special teams touchdowns and beat Colorado State 52-21 last week.
Boise State was without 14 players due to COVID-19 protocol against the Rams. The Broncos will announce about 45 minutes prior to kick off how many players will be out for this game. 
We'll have plenty of news, notes, scoring updates and more throughout the evening here at BlueTurfSports.com, so make sure to check back often.
For now, here's everything you need to get set for kickoff...
THREE KEYS FOR BOISE STATE
POUND THE ROCK: Boise State has struggled to run the ball without George Holani the past two games. The Broncos have averaged just 75.0 yards per game in November, which ranks No. 104 out of 128 FBS teams. Andrew Van Buren has 29 carries for just 73 yards during that span. Wth Holani's status unknown, the Broncos must find a way to run the ball.
NEXT MAN UP: The Broncos were hit hard along the defensive line by injuries and COVID-19 protocols against Colorado State. At least four contributors were out, and the Broncos barely had enough active players along the interior to play the game. The Broncos probably will be in a similar situation this week, so others will again have to step up.
BUSINESS TRIP: There will be no trip to the beach for the Broncos while they are in Hawaii. Boise State traveled a day later than usual to Hawaii due to COVID-19 protocols in Hawaii. Typically they would have gone Thursday and had more time to adjust. But after a six-hour flight the Broncos will have a quick turnaround before the game.
BOISE STATE PLAYERS TO WATCH
Hank Bachmeier
Bachmeier returned against Colorado State after missing two games due to a positive COVID-19 test. He played OK (202 yards and two TDs), but missed on 12 of his 28 throws. The Broncos need Bachmeier to stay on the field and improve as a player.
CT Thomas
The senior had six catches for 102 yards against Colorado State, and all six catches came on third down. Thomas and Bachmeier seem to have a strong chemistry between them, so look for the duo to continue to hook up more moving forward.
Avery Williams
Williams is making a strong case for back-to-back Mountain West Special Teams Player of the Year Awards. He blocked two punts last week and returned one for a touchdown. He also has an 88-yard punt return score this year. He's been amazing.
HAWAII PLAYERS TO WATCH
12 • Chevan Cordeiro • QB
The Hawaii native took over as the fulltime starter this year after playing some as a freshman in 2019. He's thrown for 958 yards and five touchdowns but has also thrown four interceptions. He can really hurt you on the ground, where he has 174 yards and three touchdowns.
7 • Calvin Turner • RB
Turner is a transfer from FCS Jacksonville University and has made quite the impact in his first season with the Rainbow Warriors. He has been dangerous as both a runner and a pass catcher, combining for 31 touches for 365 yards and five touchdowns through four games.
53 • Darius Muasau • LB
The true sophomore made an immediate impact last year with the Hawaii defense and is doing it again in 2020. He leads the Rainbow Warriors with 47 tackles and 5.0 tackles-for-loss. The linebacker makes plays all over the field.
COACHES BREAKDOWN
Boise State: Bryan Harsin (66-18, 7th season)
Harsin has led the Broncos to at least 9 wins and a bowl game in each of his six seasons. Boise State has three Mountain West titles and four division titles in that span.
Hawaii: Todd Graham (2-2, 1st season)
Graham takes over at Hawaii after previously serving as the head coach at Arizona State, Pittsburgh and Tulsa. In 12 years, his teams have reached bowl eligibility 10 times.
STATS AND FACTS
• Boise State leads the all-time series 14-3 and has won the last eight meetings.
• The Broncos have won the last three games in Hawaii by an average of 38.7 points per game.
• Boise State beat Hawaii twice last season, including a 31-10 win in the Mountain West title game.
PREDICTION
Boise State has won three straight games at Hawaii by an average of nearly 40 points per game. The Broncos are clearly the better team and having Hank Bachmeier back at quarterback has proven to be a big difference maker. But Boise State is dealing with a number of other issues including a COVID-19 outbreak that had 14 players out of the last game. The Broncos also didn't fly until Friday, and have a quick turnaround from the six-hour flight to playing the next day. Boise State should win, but it might be closer than some think it will be.
Boise State 34, Hawaii 17