BOISE — There's maybe not a bigger question among Borah High School or those that followed his historic high school career when it comes to the Boise State football team: Where the heck is Austin Bolt?
Bolt, who put up crazy numbers at Borah while winning the Gatorade state player of the year award, was expected by many to come in and make an immediate impact as a true freshman in 2020. Not only did he barely play last year, he's yet to see any significant snaps at tight end in 2021 either.
He's getting a chance to play on special teams and nearly had a blocked punt at Utah State, but so far hasn't come close to the playing time or role that many figured he would have.
Bolt has apparently fallen so far down the tight end depth chart that he's temporarily been moved to the defensive side of the ball to help out with depth issues at the defensive end and EDGE rusher spots.
"He's a guy we're ready to use however we need to use him," tight ends coach Kent Riddle said Tuesday. "Last week that was one way, and this week he's working again (on defense). We'll see what the package looks like for him tomorrow."
Asked specifically what Bolt is not doing or why he hasn't been able to see the field at tight end, Riddle said, "I would say the physical maturity, that's the easy answer."
Riddle mentioned NFL tight ends such as George Kittle, T.J. Hockenson and Noah Fant, who didn't make immediate impacts early in their college careers but went on to be high NFL Draft picks. He stressed that Bolt's future still remains bright despite the switch to defense and the lack of playing time.
"I think that's a position that just requires physical development," Riddle said. "You don't have a whole bunch of guys come ready to play as a true freshman."
Asked if he wasn't ready to give up on Bolt yet as a tight end, Riddle said, "I'm not giving up on him as any type of player. I think that guy could be a two-way player in college, who knows. He has a very unique skill set and that's part of it. But it's also the position he's playing requires a certain level of physical maturity."
The 6-foot-3, 215-pound Bolt was seen warming up with the EDGE rushers prior to last week's game against Nevada and coaches confirmed he's currently practicing with the defense. How long that lasts is anyone's guess at this point.
The Broncos didn't have defensive end Shane Irwin last week due to injury, while defensive end Aisa Kelemete recently announced he was medically retiring. EDGE Demitri Washington is also coming off an ACL injury last season.
Bolt has shown some quickness coming off the edge on special teams, which could lead to some success as a pass rusher.
"We're going to see how it goes," defensive coordinator Spencer Danielson said. "I'll tell you right now, he's a phenomenal athlete and is very coachable. Coach Avalos actually showed us some clips of him on the scout team playing some d-end doing some pretty impressive things. I think it's something we're excited about him being able to learn it right now and grow in it and learn the techniques and fundamentals we teach at that position.
"He definitely has a future there, so I'll tell you this much, I'm going to try and keep him on the defensive side of the ball as long as we can."
The problem is Bolt's heart remains on offense. As a senior at Borah he played quarterback and had 2,771 yards of offense and 36 touchdowns. Included was 1,391 rushing yards and 26 rushing touchdowns. He also returned kicks and punts and had two return touchdowns.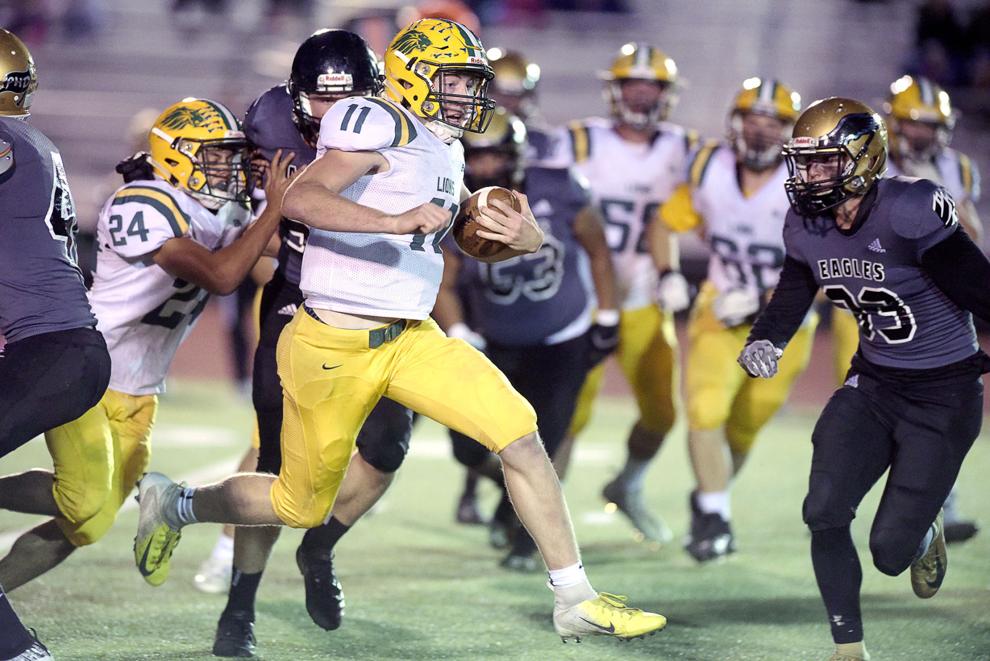 Bolt was not available for questions from the media this week. 
But his father, Larry Bolt, told the Idaho Press that Austin is fine with playing defense as long as the Broncos continue to give him a shot at tight end.
"He's competitive and he wants to help the team however and wherever he can," Larry Bolt said. "If it's defense, great, but his sights are still set on hopefully contributing the most at tight end because of his speed and his hands and his athleticism."
Bolt is one of the fastest players on Boise State's team and seemingly oozing with potential — but for whatever reason has yet to even be listed on the depth chart as one of the top four tight ends.
"The reality is he's in the process of developing," Riddle said. "He's in the process of developing as a football player, he's in the process of developing as a person and he's in the process of developing physically. Is he a guy that can still find a way with that to impact games? Yeah. At some point will it be with the ball in his hands? Yes it will probably. And maybe it's sacking the quarterback or whatever.
"He's got a really, really bright future and it's just a matter of being patient and letting that development take place."
Asked if Bolt was frustrated by the lack of playing time, Riddle said, "Yeah, I assume so. He's a competitor. He wants to be in on every play and he believes you could probably put him in at quarterback and he'd find a way to make the play. But that's not where it's at at this point. That could change tomorrow, the next day or whenever, but it's just got to be a work in progress."
Bolt did play both ways in high school and as a senior had 62 tackles and four interceptions as a safety.
While the football coaches figure out how or when to use him, sources told the Idaho Press that Bolt expressed an interest earlier this fall in joining the Boise State men's basketball team. It's unclear where that possibility currently stands, but at one point he was hoping to play basketball in addition to playing football.
Bolt averaged 19.4 points, 12.5 rebounds, 2.2 steals and 2.1 assists per game as a senior to lead Borah to the 5A state title in 2020. Bolt, who averaged a double-double in each of his final three seasons, was the first Idaho athlete to ever win the Gatorade Player of the Year award in both football and basketball in the same year.
Sources told the Idaho Press that Bolt even participated in a pickup game with the basketball team and "held his own" earlier this fall.
But for now the focus appears to be on football, and how Bolt can find his way onto the field.
"The big thing is Austin is a tremendous competitor and he's finding ways to impact our team and our games every game," Riddle said. "Whether it's in the Utah State game when he comes off the edge and the punter miraculously pulled it down somehow after it seemed like he almost dropped it or he would have blocked the punt, the fake punt he's in on the tackle and he's the first guy down on kickoff every time we kick just about and making plays.
"He is impacting the game, maybe not the way everybody envisioned it right now, but here's a guy that shows up and does what he's asked and is trying to get better.
"A lot of it has to do with what our needs are. That's a thing we have to figure out. Obviously our depth plays into that, and where is the guy going to have a chance to make the biggest impact? Right now that's on defense."