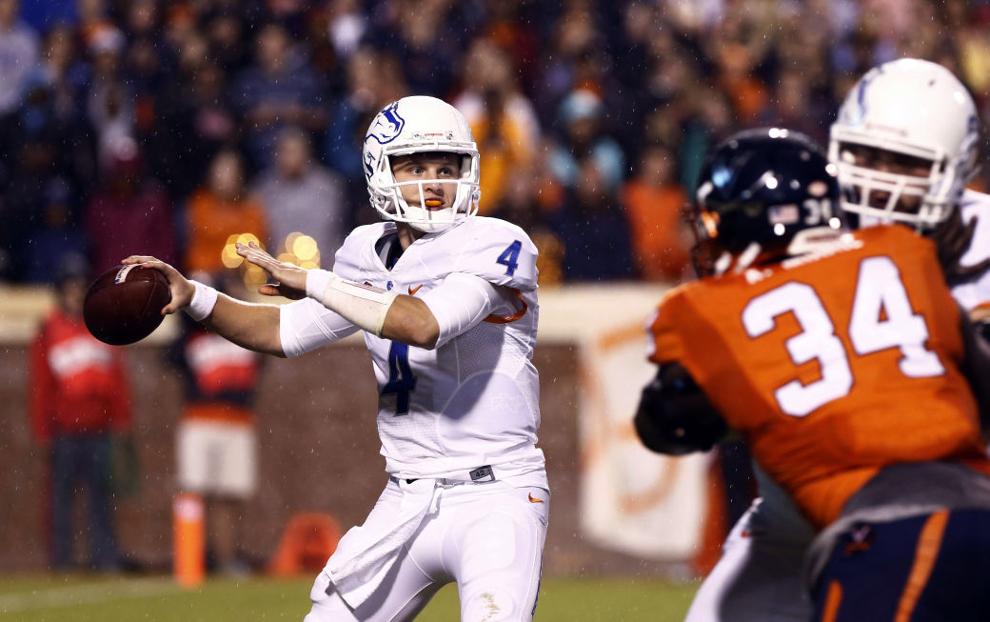 CHARLOTTESVILLE, Va. — Former Washington Redskins quarterback and Super Bowl MVP Mark Rypien stood on the sidelines and watched as his nephew Brett Rypien took the field for warmups Friday night at Scott Stadium.
He then watched from the stands as Brett, a true freshman making his first career start at quarterback, completed 24 of 35 passes for 321 yards and three touchdowns to lead Boise State to a big 56-14 road win at Virginia.
"It's a dream for him, even for us and the rest of our family," Rypien said. "It's like a dream to see your nephew out there and doing the things we watched him do in high school."
Mark Rypien lives back in Spokane, Washington, but was back in the Virginia area to do some work for his charity, the Mark Rypien foundation. He and his daughter Amber made the trip to Charlottesville earlier Friday.
Rypien burned his redshirt in last week's 52-0 win over Idaho State after starter Ryan Finley suffered a broken ankle in the first quarter. He made the start Friday night and looked remarkably comfortable and poised for a quarterback that's only been on campus since January.
"It's somewhat surreal," Mark Rypien said. "We're walking through the parking lot and all these Redskins fans see me with my Boise State hat and yell, 'Hey Mark, we love you, but what's going on here?' They understand there are loyalties when it comes to sports and families. It's pretty exciting.
"I'm so happy for him and his parents. We're all just really excited. "
Rypien, a two-time Super Bowl champion, said he couldn't take any credit for his nephew's success.
"He's a very gifted kid," Rypien said. "He's learned the game, he's really kind of jumped in with both feet and wants to learn as much as he can.  Unfortunately for me, I didn't do a lot for him in his prep career as far as helping him, but we got him off to a good start as far as his mechanics so he didn't get any bad habits.
"Because of travel and things I couldn't be there, but I watched a lot of his games, and his dad did an excellent job with him in high school."
Rypien was able to visit with Brett at the team hotel earlier Friday and met Boise State coach Bryan Harsin for the first time on the field before the game.
He said the family was hoping Finley would play well enough and stay healthy this year so Brett could redshirt and spend a year learning the system. But now that his timetable has been sped up, Mark is confident his nephew is ready for the challenge.
"He came here for a reason," Rypien said.
Friday wasn't a bad start.
THOMPSON, DEAYON ADD TO INTERCEPTIONS TOTAL: Darian Thompson's interception lead on teammate Donte Deayon lasted about two hours.
Thompson picked off an errant pass from Virginia quarterback Matt Johns midway through the first quarter and returned it 19 yards to the Virginia 29-yard line.
It was the 16th interception of Thompson's career, briefly moving him ahead of Deayon and into sole possession of fourth place on Boise State's career interceptions list.
But Deayon pulled even again with Thompson late in the third quarter when he caught a tipped pass — thanks to a hit from Thompson — for his 16th career interception.
"We're having a lot of fun with it," Deayon said of the competition. "I told him on the sideline, we have to go break the school record. That's our goal right now."
The school record might be a bit much. They still need eight to tie the record of 24.
RAUSA HITS CAREER LONG FIELD GOAL: Tyler Rausa hit a 51-yard field goal for Boise State in the first quarter. It was the longest field goal for the Broncos since Kyle Brotzman hit a 52-yarder against Utah State on Nov. 20, 2009.
Rausa later attempted a 54-yarder in the first quarter and clanked it off the right post. The kick easily had enough distance had it been on target.
He also made three other field goals — from 30, 39 and 45 yards — to finish 4 for 5 on the night.
"I thought Tyler Rausa was very good tonight," head coach Bryan Harsin said. "He's shown that his range has improved and gotten better.
"To me, and for Rausa, I know he knows he can do it. I know that. And we got a chance to see it tonight. If we are in a situation where we're on the plus side and we don't have the momentum to go score a touchdown and we can go kick it from 40 out or 50 out or whatever it is, he knows he can do it. That just builds confidence in us putting points on the board."
SUMNER-GARDNER HURT: Sophomore safety Dylan Sumner-Gardner will likely miss at least a few weeks after suffering an injury to his right foot or leg in the second quarter.
He was seen on the sidelines with crutches and a big boot on his right foot in the second half.
"Similar to (Ryan) Finley, but I don't know the time on it yet," Harsin said. "I know he was in the boot."
Kam Miles replaced Sumner-Gardner and had a forced fumble and a nice pass break-up on a fourth down throw into the end zone.
BACON QUITS: Reserve offensive lineman Troy Bacon quit the team earlier this week, the Broncos announced Friday. 
"He just didn't want to play," Harsin said. "That's really it. We wish him the best, he wishes us the best. Football was not for him at this point."
BRONCO BITS…: Shane Williams-Rhodes had six catches to move into fourth place on Boise State's career receptions list. Williams-Rhodes now has 194 career receptions. … Jeremy McNichols had nine rushes for 69 yards and a touchdown. He also had five catches for 47 yards and a touchdown. His 10 touchdowns on the season lead the NCAA. … Tyler Gray led the Broncos onto the field with the Hammer. … The 42-point win was Boise State's biggest over a team from a Power 5 conference in program history. It was the third largest for a Mountain West team over a Power 5 team, and the biggest in a road game.
Jeremy McNichols, Ben Weaver and Donte Deayon