BOISE — There's one essential thing Bob Behler needs to broadcast a college basketball game — the ability to see what's going on.
Aside from a cheerleader or coach getting in his way for a few seconds, witnessing the action had never been a problem in his previous 34 years as a college football and basketball broadcaster.
That changed earlier this season when Behler and color commentator Abe Jackson were calling Boise State's road game at San Jose State on the Bronco Radio Network (KBOI 670 AM locally in Boise) from a suite inside the Stueckle Sky Center in Boise.
"It looks to me like everyone has frozen here from San Jose State's video feed, and hopefully we'll get it back here in just a second," Behler told listeners. "We've played a minute so far in the first half and neither team has scored."
Behler and Jackson aren't traveling to road games this season due to the COVID-19 pandemic. Instead they have created a remote broadcast studio inside a suite in the Stueckle Sky Center atop Albertsons Stadium in which they call the game for radio while watching the action on a TV screen.
But only an online video stream was available when Boise State played San Jose State at a rec center in Phoenix and shortly after the game started the video feed froze and the screen went dark.
"We couldn't see anything and we thought the feed was gone," Jackson said. "We didn't know it was just somebody had bumped the tripod and it fell over."
Behler and Jackson were live on the air when the video stopped, so they had no choice but to keep talking. The stat monitors in front of them continued to update with the play by play, so they broadcasted what was happening based on the stats.
"It was basically like the old ticker tape like in baseball back in the 1930s where we had to call the game with only what was showing up on the game tracker," Behler said. "We made it kind of like a talk show. We didn't describe dribbles or passes but we'd watch the monitor and wait for something to come up and say Alston shot missed, Armus rebound or something like that. We'd just basically tell people what we saw on the screen.
"I wouldn't want to have to do it again, but we kept it going for 10 minutes or so until they fixed the video."
Typically Behler and Jackson travel to all road games, where they are able to attend practices and pregame shootarounds and get a better feel for the team heading into a game. They also are able to connect better with the players and coaches due to the extra time together on the road.
"Not being able to go to practice, not being able to go to shootarounds, not being able to travel — I feel as unconnected with this team as I ever have in 35 years of broadcasting," Behler said. "You just don't feel as a part of it when you're trying to paint the picture and describe the action and tell the story like the previous 34 years."
The two are in their 13th season calling Boise State men's basketball games together. And they've experienced plenty with the team while traveling on the road — stuff that often makes for a good story during the broadcast.
"On road trips something will go haywire, like a guy forgets his ID and can't get on the plane or you have to take a 14-hour bus ride because you get snowed in going from Fresno to Reno," said Jackson, one of the top 3-point shooters in Boise State history. "And you are involved in things like that and it makes for a much better broadcast with those little behind the scenes tidbits that might be interesting for people.
"I think the biggest difficulty has been that everything is so segregated even at the home games where you can't go closer to the bench and I totally get it and we're doing the postgame interviews over the phone and I get it but the connection with the team that's been there the past 12 years just doesn't seem to be there as much for me since I'm not around them as much on the road or even at home games."
Behler and Jackson have been able to call home games from ExtraMile Arena but on the opposite side of the court as usual and away from Boise State's bench. They're also in the second row, further away from the court.
On the road, the two set up shop inside a mostly dark and quiet Stueckle Sky Center. Jackson watches the action on a large TV on the wall while glancing down at a stat monitor in front of him. Behler has a smaller video monitor on the table in front of him, with his stats on a lap top close by. Both have pages of notes and stats spread out in front of them to use during the broadcast.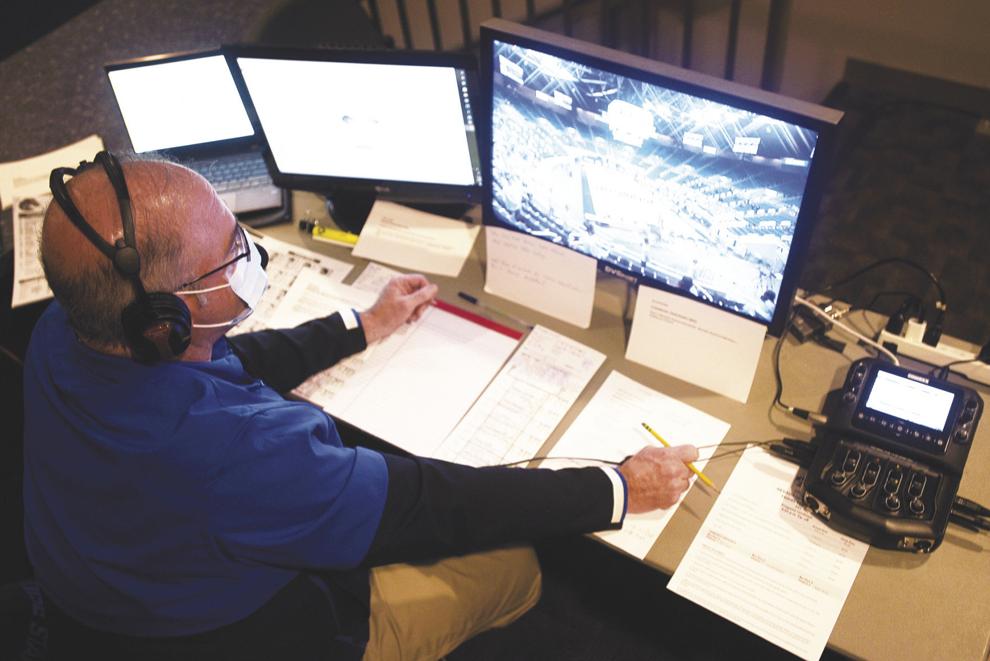 "It can get stressful because the feed from CBS or FOX goes out for 30 seconds at times where it's just a black screen right before the game or during a timeout," Jackson said. "It's always come back but it gets a little stressful when the screen goes black and just hoping it comes back.
"So much of calling it remotely is the technology and what we are given. Are we going to get the video feed, will there be one camera or multiple cameras, will we get an audio feed and will it be natural sound or the announcers, which we can't use. I would say most of the time it's not too different from a normal broadcast, except for the times when stuff pops up."
Some road feeds will include natural sound from inside the arena, which is perfect and what is preferred. Other times the audio feed includes the TV broadcasters, which means it can't be used. In that case they use fake crowd noise.
"That's one of the things that's been difficult because we haven't gotten the natural sound a lot of times," Behler said. "We'll get the announcers and we have to kill that feed so we don't get any sound. And the fake crowd noise we have has whistles in them, and some times you'll think there was a foul called when really there wasn't.
"The difficulty of doing the game all is dependent on what package they send you and most of the time you don't even know it until right when the game tips off."
It's been a year filled with the 'So what, now what?' theme that Boise State's players have used. Not being on the road to see the action in person has caused several issues in addition to the video going out at San Jose State — but they've had no choice but to power on.
At a road game at BYU on Dec. 9, the video feed provided for them had no graphics — meaning no score or clock. When BYU tied the game with 36 seconds left, Behler and Jackson didn't know exactly how much time was left and didn't know what the shot clock would be for Boise State's next possession.
Boise State called timeout with 20 seconds left and the game tied at 70-all, but the two couldn't see the shot clock to know how much time the Broncos had left to shoot.
"The score we can handle because I keep a running score myself and we have the stat tracker but that doesn't have the shot clock on it," Behler said. "We knew they had to shoot. We knew they couldn't run it all the way down, but we didn't know what exactly was on the clock.
"We're trying to look up at the clock above the backboard and we could see one of the numbers and it was a 3, so we were assuming it was 13 seconds on the shot clock, but we couldn't know for sure. It was kind of like playing The Price is Right. We saw one number and we're trying to guess the other number. We guessed 13 for the shot clock."
Behler ended up being right, and Boise State's Emmanuel Akot hit a huge a 3-pointer with 13 seconds left in the game and about six seconds left on the shot clock to clinch the win for the Broncos.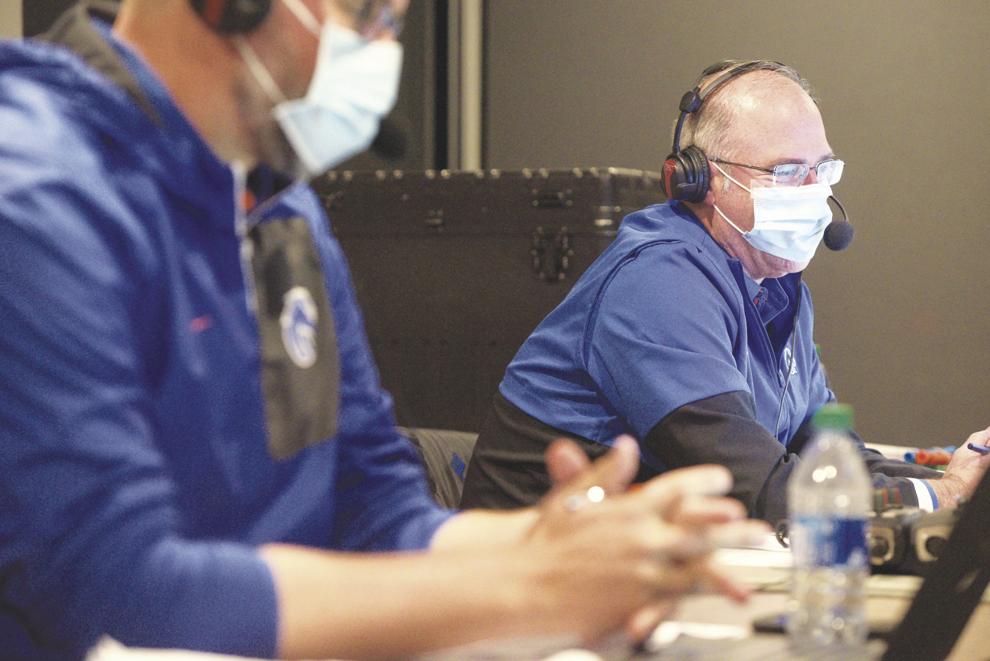 On another road trip to Wyoming, the Cowboys made a series of changes to their starting lineup due to an injury and another player getting benched, but Behler and Jackson had no way of knowing ahead of time.
"We couldn't see the warmups because our feed was the announcers for CBS putting their makeup on," Behler said with a laugh. "They had shots of them putting on makeup but not the warmups. And all of a sudden 10 minutes before the game we see the starting lineup for Wyoming with two guys that have started every game not starting and we had no idea if they were even there or suited up or what because we were only able to watch the TV announcers get ready.
"When you are doing it remotely you are at the mercy of whatever they send you, both video wise and audio wise."
Boise State coach Leon Rice got called for a technical foul a few weeks later at Colorado State while arguing with an official, but it happened during a timeout and those not in the arena had no idea what was happening.
"They come back from the commercial and we see somebody shooting a free throw and we had no idea why," Jackson said. "We knew the last play before the break we didn't see a foul or anything, so we just had to use our best judgement and say there must have been a technical foul on somebody, but we didn't know who."
The challenge facing the two is not lost on Rice, who typically works closely with both throughout the season.
"I can't imagine, I've been watching a million games and I was thinking about how hard that would be to call a game and lose the emotion and things that you pick up at the game," Rice said. "That has to be so hard for them to call the games when you aren't in attendance.
"They normally travel a lot with us and they really get to know these kids and this team and the personalities and the staff and that has to be hard for them to not be engrained in it like they usually are. We miss not having them around."
Not being in the arena for road games also makes it tough for Behler and Jackson to see which subs are about to come into the game whether a player that left injured was on the bench or back in the locker room.
Something small pops up at some point almost every game — so Behler and Jackson have no choice but to be honest with the listeners and explain what's going on or why they don't know something.
"We haven't hidden anything that we're not there," Behler said. "We haven't faked it. We've told people we're in the Stueckle. I think we've handled it pretty well because we planned for it.
"It's one of those things where if something goes wrong and the video stops or something and you're live on the air, you just do the best job you can. That's part of being a professional — doing the best job that you can. I think we've made a very good effort. One of the things that has helped is Abe and I have done games together for 13 years and we know each other well. That's made it a bit easier when some curveball does get thrown at us."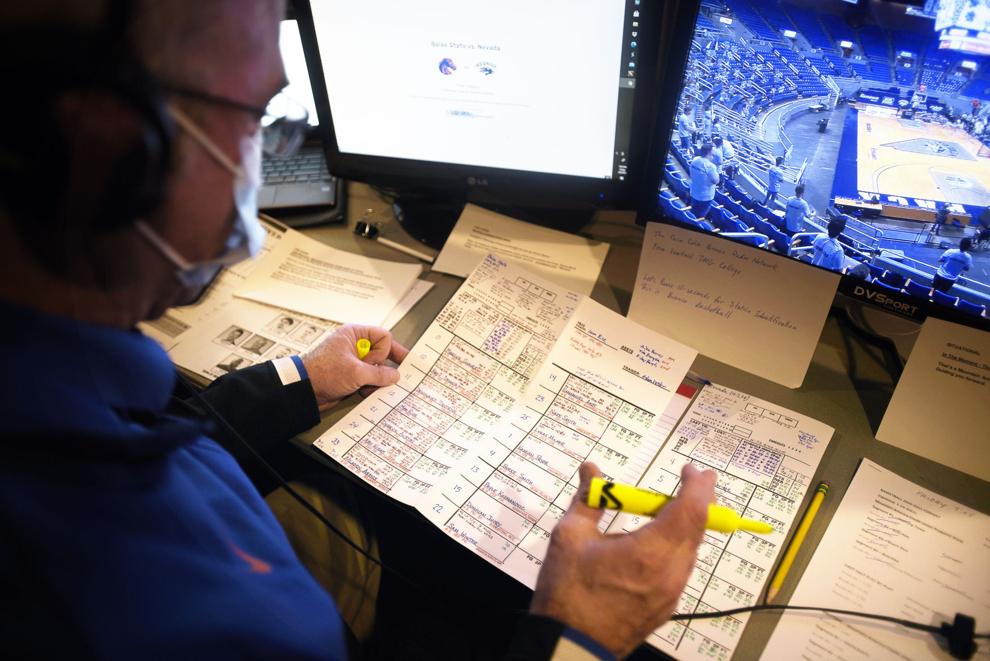 It would be tough to deal with the remote broadcasts and being away from the team any year, but missing out on maybe the best season in Boise State history has made things even tougher for them.
Boise State heads into Thursday's road game at San Diego State sitting in first place in the Mountain West standings and in good shape to earn the program's first NCAA Tournament appearance since 2015.
"This team would be a team you'd want to be with on the road and enjoy the run," Behler said. "You aren't as much a part of it, not even close to being as much a part of it as you would in a normal season. You don't get to know the coaches and players as much, not traveling, all that stuff to me is a lot of why I got into the business.
"I'm not complaining at all that we aren't traveling because this year I totally get it and people certainly have worse things to overcome — but I am looking forward to the day when stadiums are full and we're traveling again and things are back to normal as we knew it."
But things could be worse. The season could have gotten canceled, or they could have eliminated radio broadcasts all together. So while it's been tough at times, both Behler and Jackson are just thankful to be on the air.
"I'm just glad there are games and I'm glad we get to call them because there were so many different directions this could have gone this year and the way it's set up has overall worked out pretty well," Jackson said. "People can still tune in to the games when they are on the road.
"There's been some challenges but overall I think for what this year has thrown at us and thrown at everybody, I think it's gone pretty smooth. The people at Learfield have been a tremendous help as well getting everything set up and making sure everything works."
Boise State and San Diego State will tip off Thursday night just after 7 in one of the biggest regular season games for the Broncos in recent memory.
Behler and Jackson will be calling the action on the radio from back in Boise, but things will sound mostly like they are courtside at Viejas Arena. 
That is, unless the video feed goes down.