LARAMIE, Wyo. — As the Boise State men's basketball team prepared to play its sixth game in 14 days — including the second in three days at 7,220 feet of elevation at Wyoming — there wasn't a grueling practice or workout Tuesday.
For the Broncos it was all about recovery.
Players participated in a pool workout, had a film session and a short, light practice inside Arena-Auditorium ahead of Wednesday's 7 p.m. matchup with Wyoming on CBS Sports Network.
"Today was really a mental day," assistant coach Mike Burns said. "The physical part of today is getting our bodies right, the rehab and the stuff they did before practice and practice is more of a mental exercise than a physical exercise on a day like this because we know what we're dealing with."
Boise State (11-1, 7-0 MW) allowed an Idaho Press reporter to watch practice Tuesday and see first hand the preparations for Wednesday's game.
Very little, if any, of the roughly one-hour practice did the Broncos go at full speed. They made a few slight adjustments to a few plays, they worked to defend plays that Wyoming gave them trouble with Monday night and they got some shots up.
But it was mostly about staying fresh and having enough left in the tank for the final game of a grueling two-week stretch. Typically a team will play four games in a two-week span. This will be the sixth game in 14 days for the Broncos and the fourth game in the past eight days.
Throw in the challenge of playing at high elevation for the second time in three nights and the scenario for Wednesday's game is less than ideal for coach Leon Rice and his group.
"In a perfect world you'd be not playing another one against them in a situation like this," Rice admitted. "But I love the way our guys are approaching it. We're aware of it but we've got the right mindset.
"We're locked in mentally. That was our big thing today. We had a great film session, a good understanding of the game plan and what we're doing and an understanding that we're not going to allow ourselves to be tired. We won't accept it. We can be tired on Thursday and Friday because we don't play until next Wednesday so they know what's next, but we're going to keep swimming until then."
Boise State topped the Cowboys 83-60 on Monday night but the Broncos led by just five points with 8:19 to play before ending the game on a 20-2 run. Coaches watched the film Monday night as a staff and again Tuesday with the players to try and correct the mistakes that allowed Wyoming to hang around.
As Wyoming surely will do also, the Broncos made a few small adjustments to a few plays. Instead of setting a pick, a player may now cut to the basket. Instead of running a play to the right, they may now run it to the left. The hope is to surprise the Cowboys with a variation of a play they haven't seen before.
"You evaluate the film and you see where they exploited some of your weaknesses and you try to manipulate those things and capitalize on some of the things you did well," Burns said. "And then you tinker with a few areas where maybe they took 'A' away and tomorrow we'll try to get 'B'.
"That's kind of the chess match, and it is more of a chess match on the back-to-back games because its immediate. A lot of times when you don't play somebody for four weeks guys don't make adjustments and you see the same thing. You've seen more of that with the back to backs than you would normally see."
There have been 14 two-game series so far in the Mountain West. There have been 11 sweeps, but the margin of the second game has been nearly 7 points closer on average than the first. Three series have been split, and in all three the team that lost the first game won the second game by at least 13 points.
The Broncos beat San Jose State by 52 points in the first game but hung on for a 1-point win in the second game. They also beat Air Force by 19 the first game and just 11 in the second game, but did increase the margin from 24 to 37 in two games against New Mexico.
"Every series we're kind of learning a little more about it," Rice said. "There's some where you want to adjust more and some where you want to maybe not adjust, but that's what we're working through. I don't think we have it perfected yet. Really this is all about us and our mindset with the six games in 14 days, it's about how we approach it and our guys showed a great approach today."
Players were allowed to sleep in Tuesday morning following the school-record 11th straight win on Monday night. After a 10:30 a.m. breakfast, players took part in a pool workout in small groups from 11 to 12. They had lunch, a team meeting and film session in the afternoon.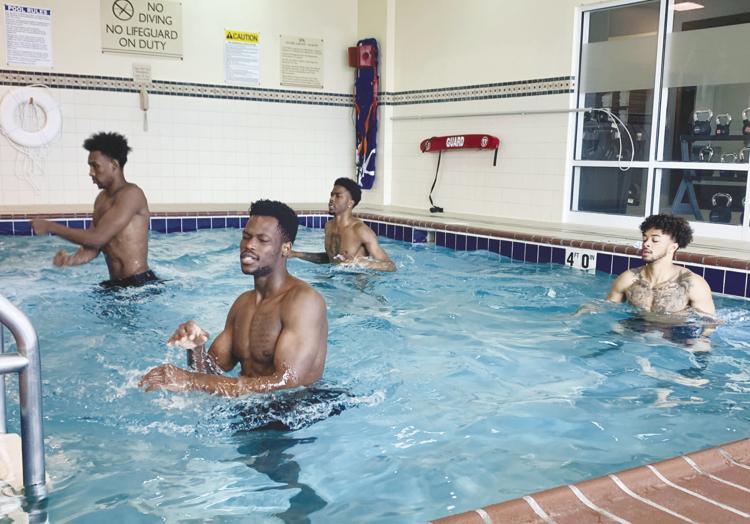 The traveling party took COVID-19 tests prior to boarding the bus for practice late Tuesday afternoon, and they received word midway through practice that everyone had tested negative both for them and Wyoming.
After the brief practice the Broncos had dinner and spent some time relaxing at the hotel before bed. It was a light day, but an important one for a team looking to finish a tough stretch with another win.
"It's a lot about recovery, especially for the main eight or nine that play," RayJ Dennis said. "It's really about staying focused because we have big goals and big dreams for this team so we have to keep winning to do so. That means making sure we recover right and get our work done and lock in.
"At the end of the day this is what we love to do. We didn't like sitting in quarantine and sitting at home so we're not going to complain when we get to play. We're just excited to get back on the floor. We made sure our bodies were right today. The altitude is a thing but you just have to make sure your body is recovered and you're ready to play. We're mentally tough and everyone seems ready to go."