GARDEN CITY — The blue and orange is gone from the locker room and there are no longer any references to Boise State baseball inside Memorial Stadium.
The pain, disappointment and shock still lingers though of a program stunningly ended ten months ago just 14 games into its return.
After a 40-year hiatus, the Broncos returned in 2020 to play a ranked Texas team in Austin and had more than 3,000 fans at the home opener a few days later. The Broncos went 9-5 and had won nine of their last 11 games. It appeared Boise State was off and running with a bright future as the only NCAA Division I baseball program in the state.
Then came a shutdown due to COVID-19 in March. And four months later on July 2 the program was done for good due to budget issues within the athletic department.
"It's still emotional," former manager Gary Van Tol says.
But the frustration has since turned to an unexpected happy reunion for a dozen members of the Boise State program. After all initially went their separate ways, a group has returned to Memorial Stadium as part of the Boise Hawks.
The Hawks, who lost two of three games on the road to start the season, will be at Memorial Stadium tonight for the home opener against the Grand Junction Rockies at 7:15 p.m.
Van Tol was hired to manage the Hawks — a professional baseball team playing in the independent Pioneer League — and he's brought several familiar faces back with him.
Pitching coach Michiel van Kampen and hitting coach Travis Buck both were on his staff at Boise State. Bench coach Jerry Hollow, trainer Shane Nelson and assistant field coordinator Tony Roque also held similar roles under Van Tol with the Broncos.
And six players — four who played for the Broncos last year and two more slated to join the program for the 2021 season — are part of the 25-man roster in pitchers Jay Baggs, Mitch Lines, John Boushelle and Matt Gabbert and position players Myles Harris and Cory Meyer.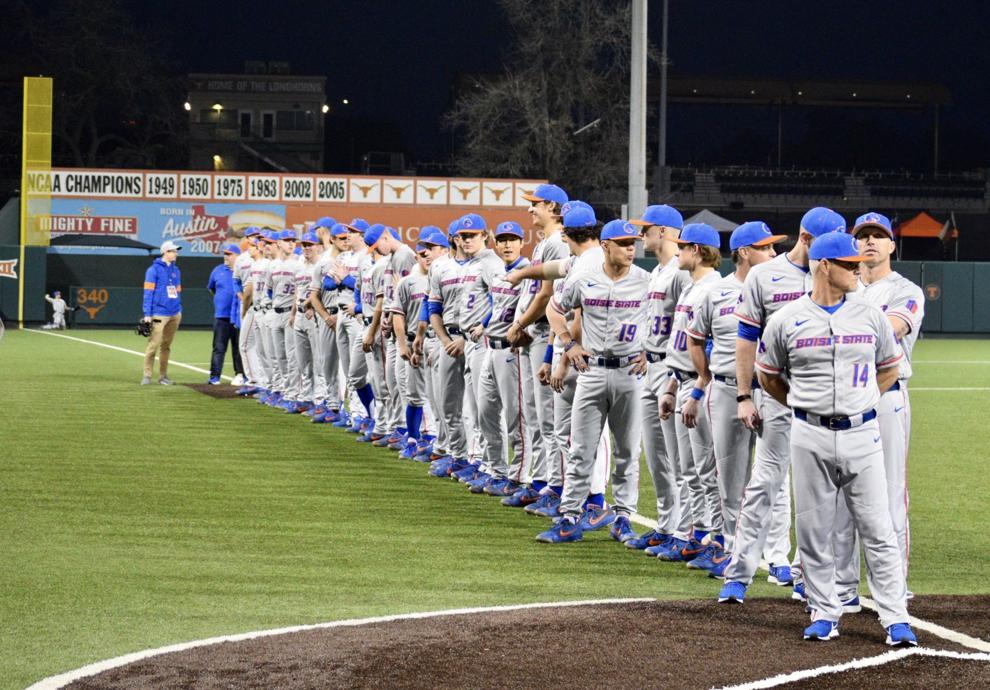 In all, nearly 40 percent of the Boise Hawks players and on-field staff this season have a connection to Boise State's now-eliminated baseball program.
"It's been a crazy year for everybody and who would have thought when the program got dropped that we'd be able to keep any of the band members together," Van Tol said. "It's pretty cool to see what we've been able to bring back together with the Boise State connection. It's been emotional for everybody and probably even for the fans that come out."
Most of Boise State's roster immediately transferred to other schools. Van Tol remained under contract for a year at Boise State after the program was cut and helped train a group of players that wanted to stay and go to school while figuring out their next move.
When the Hawks lost their affiliation with the Colorado Rockies last fall, they joined the independent Pioneer League — which meant full control over the coaching staff and roster. Van Tol, who previously coached the Hawks while they were a Chicago Cubs affiliate, was the obvious choice to return as manager.
"Once I took the job and was in control of hiring my staff and the roster, it was boom — Michiel and Buck right away," Van Tol said.
Hollow, Nelson and Roque soon joined the staff as well. Then came putting together the roster.
Many of Van Tol's former players at Boise State are still playing collegiately elsewhere. But the timing was right for six of them to join him back in Boise.
Two other local products — pitchers Zach Penrod of Columbia High School and Matt Dallas of Capital High School — also returned home to join the Hawks.
Each of the six with Boise State ties have unique stories, which makes the whole thing even cooler.
Baggs transferred to Arizona State for the 2021 season but didn't get much playing time. He called Van Tol to try and help him find another Division I school he could transfer to, but his former manager had another idea — how about coming back to Boise and playing for the Hawks?
"Definitely a full circle moment," Baggs said of walking back into the locker room at Memorial Stadium. "I wasn't even thinking about this journey, but Gary presented the opportunity to me and to play at this level with all my former friends and teammates. I'm just excited for the opportunity."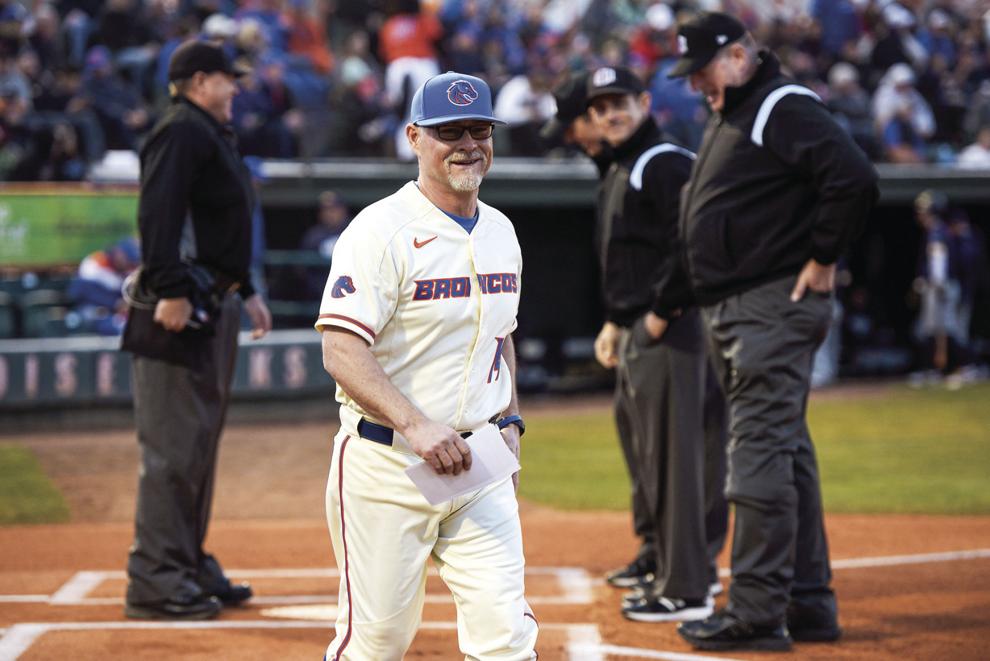 Lines, Harris and Meyer stayed to train in Boise. Gabbert, who had signed with the Broncos out of high school in Spokane, decided to come to school at Boise State anyway and trained with the group.
Gabbert then elected to give up his college eligibility to join the Hawks, deciding to make $400 a week to play professionally while continuing to go to school at Boise State. The school honored all scholarships for those within the program (baseball players only get a percentage of a scholarship unlike the full scholarship given to football and basketball players).
He allowed one hit and no runs in three innings of relief in his first appearance with the Hawks over the weekend.
"He's an interesting story because he's given up his college eligibility, but he's still able to go to Boise State and he'll get his degree ... he gets to stay in the community and be a professional baseball player," Van Tol said. "He thinks that's the best route to get to the big leagues because it's a 96-game schedule and I have 13 full-time pitchers.
"He's the youngest pitcher in the league at 19 years old. That's pretty cool."
And then there's Boushelle, a graduate transfer from McNeese State who drove 24 hours from his home in Arkansas last summer to start his Boise State career — only to find out the next morning after he arrived that the program was being cut.
He ended up spending his final college season back near his home at the University of Arkansas-Little Rock, but is back in Boise a year later to be coached by Van Tol.
"It means everything to me," Boushelle said. "When I got up here last year for that week or so I knew I wanted to come back to Boise somehow, but I didn't know when that would be. For Gary to give me this opportunity, it means the world to me.
"Obviously it was really hard to have the program cut that late in the summer. But at the same time it was a blessing in disguise because it allowed me to build the connection with Gary and when it was all said and done, it got me back out here. Yeah it stunk, but it all worked out in the end."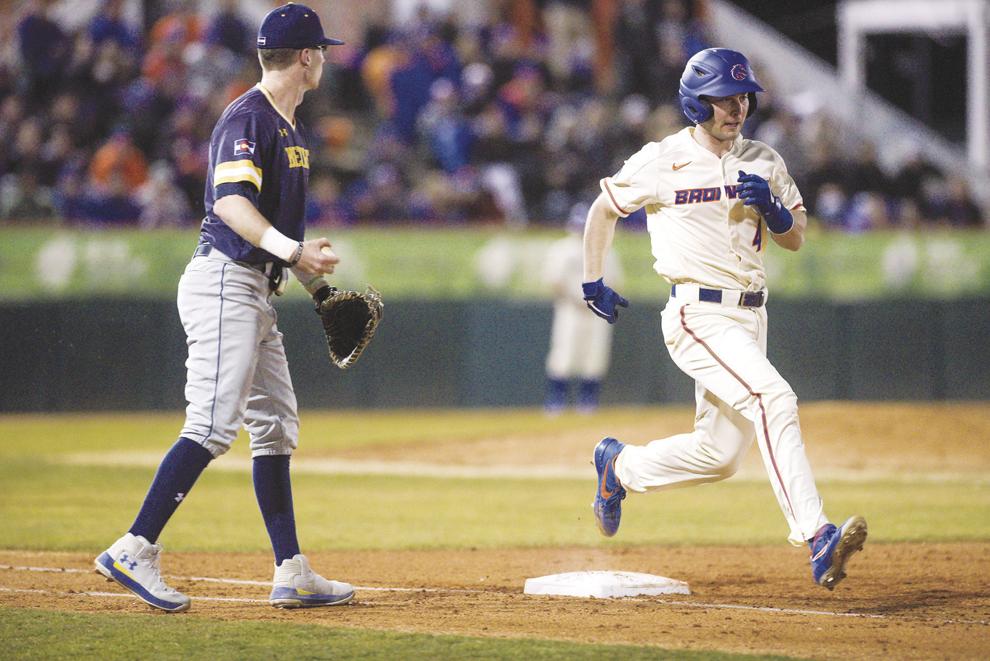 Meyer injured his shoulder sliding back into first base in Boise State's second-to-last game. He ended up having surgery on both shoulders and spent much of the past year rehabbing them. He previously dealt with back issues at Washington State prior to joining the Broncos for what he thought would be his final season.
The original plan for Meyer was to join the Hawks as a non-playing member of the team to help catch bullpens and work out with the team while he got healthy. But when he finally got the all-clear from the medical staff, Van Tol surprised Meyer in front of the team a few days before the season started with a contract offer to join the team as one of the 25 players on the roster.
"I still pinch myself to see if this is real," Meyer said. "It feels amazing. I really can't put it into words. I'm just humbled by the opportunity."
And reuniting with former teammates and coaches has made it even better.
"It's been amazing," Meyer said. "I walked into Gary's office the other day and Jay Baggs is there talking to him and I hadn't seen that guy in over a year. It just feels unreal to me to see the familiar faces and especially in that environment because the clubhouse has changed. There's no more blue and orange.
"We had 32 guys (at Boise State) that were all bought into this idea of winning a championship and being influential members of this community in Boise and we were excited to be part of it and to create the startup program. The team remains tight and that's the hardest piece to swallow. It was more than just a team. It was a family."
Players dispersed across the country to find other opportunities to play college baseball. They remain in touch through group text message chains. The program played just 14 games in its return — but the memories and relationships will last a lifetime.
"It's always going to be a special group," Baggs said. "We're always going to be connected and friends. I try to stay in touch with most of the guys. There's always going to be that special connection just with what happened here and what happened to all of us. We were so close."
And now a dozen of them are back together again in Boise — in the same stadium and the same locker room where they found out in a team meeting that the season was being canceled due to the COVID-19 pandemic. A few months later it was an email that said the program was over.
It was such an abrupt ending that the Broncos didn't even get to take an official team photo.
"It's something we shared together as a startup program, but it was more than just a team, it was a family," Meyer said. "And that's what made it amazing. I'm sure at some point here in the future we'll all get back together and maybe have a team reunion and maybe get that first team picture done."
Many of them got together for a photo recently as members of the Boise Hawks. It wasn't closure for those there — that will probably never fully come — but it still felt pretty cool.