Bob Madden equates it to a game of craps. Boise State pushed its chips to the Come Line and stepped back. It clenched their knuckles tight and watched in peril. If those dice showed 7, they were toast. They knew it.
Desperation creates funky ideas. People take measures not because they are logical, but because they are so dearly needed. And, so, Madden can admit it 40 years later.
"My recommendation," said Madden, the former executive director of the Bronco Athletic Association (BAA), "it's not something you want to do."
You can second guess it now. Madden admits that. But he also confesses something else.
"We had a hole in the ground. The construction was going on," Madden said. "Before (money) was raised."
Which led to a two-year goose chase trying to track down cash to fund a building that wasn't built yet: The Pavilion, which opened 40 years ago last week. Madden was a salesman with one product: Lifetime tickets.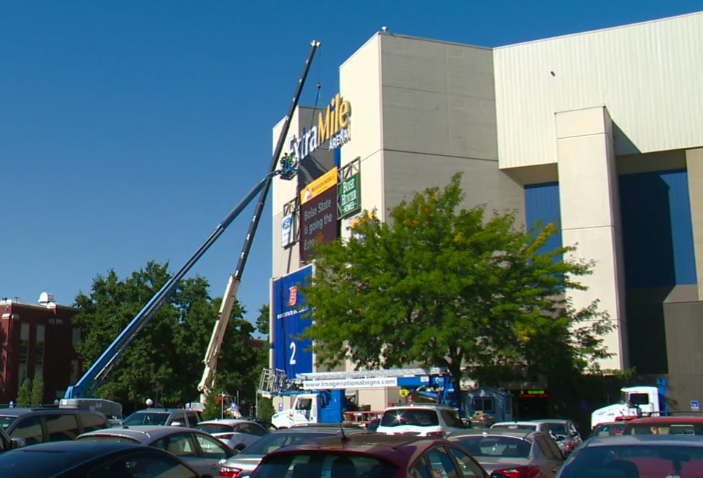 They are what they sound like. Boise State offered fans the chance to purchase tickets for every event held at The Pavilion from its opening until the purchaser passed away (No passing down to next of kin).
It was a program Boise State is still paying for … and one it doesn't regret in the slightest.
All because The Pavilion, now called ExtraMile Arena, got built. It gave Boise State one of the best indoor gyms in the region, a facility that more than holds up four decades later. It helped elevate the Broncos' basketball programs. It helped lure otherwise-ungettable entertainment acts to the Treasure Valley. As former athletic director Gene Bleymeier said, The Pavilion "put us on the map."
All the while, it caused division in the city, spawned upheaval among students and got an athletic director fired.
OK, let's backtrack. The year was 1978. Jimmy Carter was President. A little more than a decade after becoming a university, Boise State had an enrollment over 10,000. Boise was a city on the rise, its population growing to more than 100,000. It was also a place that hardly drew a major concert. The university and city had no real place to stage one.
The Pavilion was supposed to change all that.
In September 1978, newly hired BSU President John Keiser stood in front of the Idaho Press Club and said he supported plans for a $14 million multipurpose pavilion — despite the fact the State Board of Education declined to use state tax dollars to fund the project.
"It's a multipurpose facility, not a sports palace," Keiser told the group. "It's needed whether or not basketball is ever played in it. … The timing is not perfect. It's like having a baby. There is never a convenient time to do it. But the need is not going to go away."
The only problem: How was Boise State going to get the money to pay for it?
This is where people look back and can't believe so much upheaval came from so little. What Boise State did is so trivial these days because it has become commonplace. BSU was deviating from the norm, screaming poor and trying to milk every cent out of supporters.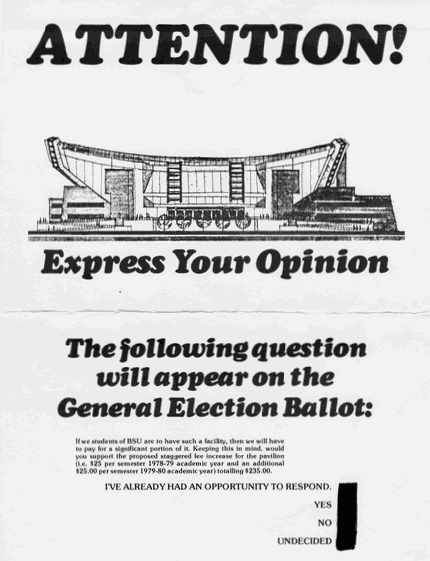 The plan was to raise at least $10 million from a $40 student increase that, adjusted for inflation, would be almost $160 today.
As you can imagine, students flipped out. Regardless, not long after, the BSU student senators voted to endorse the price hike.
Before The Pavilion opened, too, Boise State saw a phenomenal opportunity to add a revenue-generating stream: Priority seating. Basically, the donors who contribute the most money to the school get first pick at where their seats are.
Former Boise State Athletic Director Michael Mullally — with the help of Bleymaier, then just an associate AD — implemented priority seating for The Pavilion, telling fans it was one way to finance the building.
It wasn't popular, Bleymaier admitted, but Boise State touched all its bases before announcing the program. It explained the change to longtime boosters, worked hand-in-hand with the BAA and kept the President's office in the loop.
Against advice from his counterparts, Mullally called a press conference in February 1982 to deliver the bad news. Which he did. But then he added a caveat during the presser. That priority seating thing that no one is a fan of, oh yeah, it's going to be implemented in Bronco Stadium, too.
"Bombshell," Bleymaier said. "You would've thought it was World War III."
"They're going to have to pry me out of my seat with a crowbar," one longtime season-ticket holder told the AP.
Mullally resigned a week later, three months before The Pavilion opened its doors.
Amidst the exhaustive measures, Boise State took to fund its grandiose multipurpose arena came perhaps one of the most fan-friendly offers of all time.
A few years before Madden joined the BAA, the group had agreed to pledge $4 million to the project, a figure that grew to $5 million by the time The Pavilion broke ground with a new approved price tag of $17.5 million. To help the BAA collect all that money, the university designated 652 seats to be sold as lifetime tickets.
The deals for lifetime tickets were such:
— Two Pavilion seats and two President Club seats at football games for $25,000.
— Two Pavilion seats and two University Club seats at football games for $34,000.
There was one big problem.
"When they first did it, a lot of people were going, 'Well this will never work,'" said Paul J Schneider, Boise State's radio play-by-play broadcaster from 1973 to 2008. "It was too expensive."
Madden was hired in June 1980, after the BAA had already collected $2 million from lifetime tickets, and decided to extend the options to make it marketable to a wider swath of people. From there on out, Madden and the BAA began to offer two Pavilion seats for $16,000.
It was a hit. But they still ran into a little snafu. You see, people did not purchase lifetime tickets in cash. They were set up on payment plans. Some covered five years. Others for ten. One lifetime ticket holder, Dale Babbitt, said he gave $4,000 a year for four years. Almost every project with an astronomical price tag is paid off in increments to a bank. The Pavilion was no different.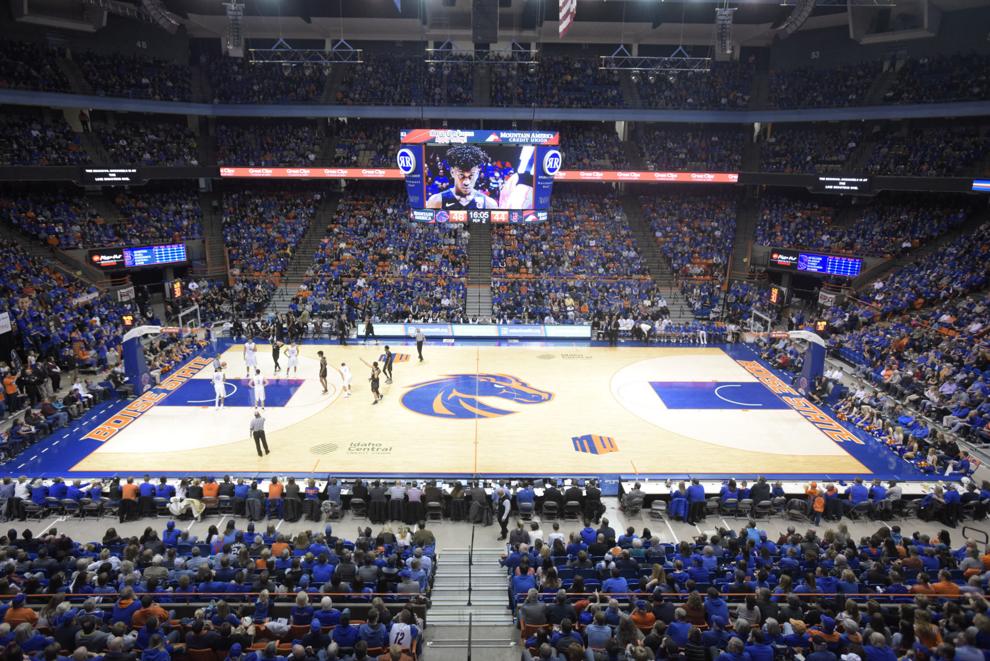 In layman's terms, The Pavilion was financed through a bank. Boise State paid interest on its loan. And, thus, the lower the interest rate, the lower the cost.
And there was literally not a worse time in history to fund an expensive project. In the US, the highest the prime interest rate ever got was 21.5% in December 1980, just 10 months after The Pavilion's groundbreaking. (For reference, it's currently 3.25%.)
Luckily Tom Frye, head of Idaho First National Bank, cut the university a deal and got it locked in at just over 10% — still high, but manageable.
"If that had not happened, we would've gone bankrupt on the whole project," Madden said. "The whole thing would have fell apart."
By the end of 1982, he had sold all 652 seats and the BAA raised $7.1 million to fund The Pavilion. Today, 389 seats inside ExtraMile Arena and 132 within Albertsons Stadium belong to lifetime members.
Forty years later, there seems to be a consensus: The deal was almost too good.
"It's been a great investment," said Babbitt, who purchased lifetime tickets with his wife in 1981. "There's been nothing negative about it."
Babbitt, a Boise State College alum, has been going to Bronco basketball games free for the past 40 years. He's seen John Denver and Neil Diamond for no charge and let his kids attend all the events he has no interest in.
The program has undergone revision after revision. Members used to have to notify Pavilion Director Dexter King five days before an event if they were going to use their tickets. Today, lifetime ticket holders get notices about concerts and acts and must claim their tickets in advance. But for Boise State basketball, season tickets are simply mailed to each lifetime member before the season starts.
"In the past they would get all season ticket holder communication outside of renewal information," Boise State Associate AD for Ticket Sales and Operations Jake Mankin said in an email. "The plan is to change this and have more conversations with them as we are working on solutions to fill the unutilized seats at our games."
According to Mankin, just 31% of lifetime tickets were used last season. Based on Boise State's single-game ticket pricing last season — $20 for non-conference games and $30 for Mountain West games — it's estimated that unused lifetime tickets could have generated more than $100,000.
As Boise State basketball claimed its first outright Mountain West regular-season title in history last year, it was really easy for some fans to look at the empty seats in sections 6 and 7 and yell obscenities about the lifetime ticket program.
"You can say, 'Oh, that was a terrible decision,'" Bleymaier said. "You can say that on the one hand. But on the other hand, you say, 'Yeah, but that building wouldn't have gotten built without the lifetime seat program.'"