The conversation around the grander scale of recruiting in Idaho runs like an election cycle. No one cares for three years. Then the main event shows up and everyone is a political scientist doing their best Larry King impression.
In other words, every few years a recruit from Idaho is good enough to garner national attention and, all of a sudden, up pops a conversation about in-state recruiting and why Boise State, Idaho and Idaho State never seem to have a shot nabbing the Gem State's brightest exports.
Skyline wide receiver Kenyon Sadiq has revitalized that conversation. That, in and of itself, is a good thing. Sadiq has people talking about Idaho high school football — for good reason. The 6-foot-2, 205-pound soon-to-be senior has Division-I athleticism and the immaculate ability to contort his body mid-air to make a catch. He's like a golden retriever high-pointing a frisbee.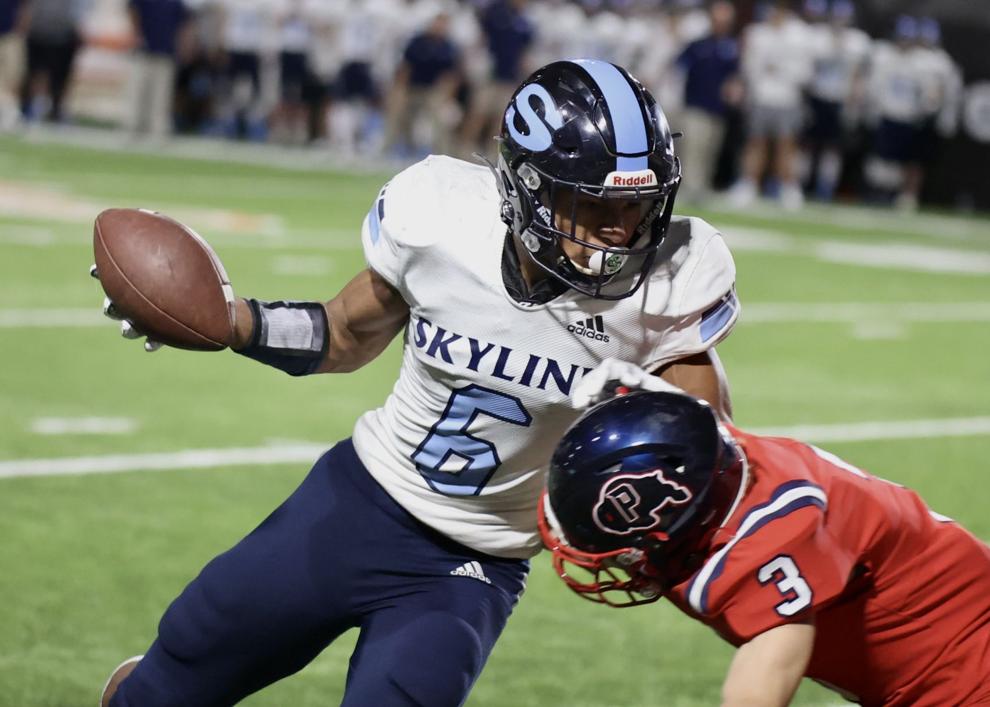 Sadiq — a four-star prospect — has already earned offers from all three state schools along with five Pac-12 programs, five Big 12 schools, Michigan, Vanderbilt and others.
He's risen to the type of notoriety that if he chose to play college football in Idaho, people might ask him what the heck he's thinking. And if he goes elsewhere, that would only continue a long-standing trend.
In the last decade, 247 Sports has ranked just five kids — not including Sadiq — as four-star recruits. None played college football in Idaho.
Just this year, Gooding tight end Colton Loveland chose Michigan. Before that, Highland's Tommy Togiai signed with Ohio State, Coeur d'Alene quarterback Colson Yankoff went to Washington (and now is at UCLA) and, back in 2012, Eagle's Tanner Mangum picked BYU.
You may be thinking: Well, duh. No kid is going to look at Michigan or Ohio State's facilities and choose to be a Boise State Bronco.
Makes sense. But let's extend our little experiment.
In the last 15 years, the Idaho Gatorade High School Player of the Year — an award given to the state's best player, regardless of classification — has only signed with an in-state school five times: Eagle QB Ben Ford (BSU), Borah TE Austin Bolt (BSU), Mountain View WR Trey Bell (Idaho State), Coeur d'Alene QB Chad Chalich (Idaho) and Lake City LB Byron Hout (BSU).
There are some positives, though. Every year, 247 Sports ranks the top prospects in each state. Among Idaho's top-five recruits in each of the last 10 years, here's the breakdown of where those 50 kids signed:
Recruiting nationally is at an interesting point right now with the introduction of NIL. Recruiting locally is at an interesting point for a whole different reason.
Idaho State hired a new coach, Charlie Ragle, back in December. Idaho hired a new coach, Jason Eck, soon after. And the state's longest-tenured head coach, Boise State's Andy Avalos, has been at the helm for a whopping one year.
The pertinent question: How are they recruiting the state of Idaho?
The Idaho Press wanted to find out, so we called up eight prominent high school football coaches in the state for their confidential opinions on the current recruiting landscape.
Coach 1: From the Treasure Valley.
Coach 2: From the Treasure Valley.
Coach 3: From the Treasure Valley.
Coach 4: From the Treasure Valley.
Coach 5: From East Idaho.
Coach 6: From East Idaho.
Coach 7: From East Idaho.
Coach 8: From North Idaho.
Some responses have been edited for length and clarity.
QUESTION 1: How would you describe how Boise State has recruited your school?
Coach 1: From my standpoint, they're doing a really good job trying to get Idaho kids. They've been in our school a lot, especially this year.
Coach 2: I think they've done an awesome job. They give a little bit more credibility to the kids in our program than (former head coach Bryan) Harsin did. They understand that playing for Boise State, for most of the kids around here, is a pretty big deal.
Coach 3: I think both coach Avalos, (receivers coach) Matt Miller, that group from Boise State, have done a great job recruiting (our school). They are looking for a higher-level of athlete than probably most schools locally. The guys we have that are able to play at Boise State, they love them up.
Coach 4: When you have a kid, they're all over you. When you don't have a kid, being a state school, they'll still come visit at least once a year, reach out.
Coach 6: I know Andy very well — I'm a pretty good friend with him. He's going to recruit us when we've got a dude. Like the (Kenyon) Sadiq kid from Skyline, he's a dude. Guys like that, they're a Boise State fit. Do we have a Boise State fit right now? Absolutely not.
Coach 8: Below average. I knew the old recruiter in (former special teams coordinator) Stacy Collins last year. He called when he got it and he was great, but he left and I never heard from him. We had a bunch of guys and I haven't heard a lot from them other than the little GA correspondents.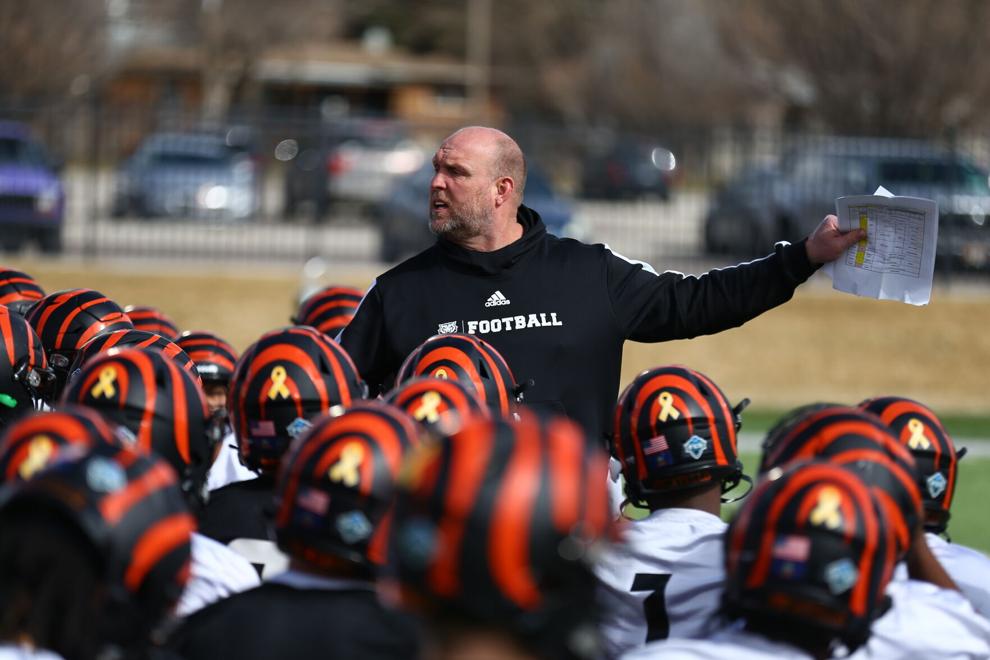 QUESTION 2: Since Charlie Ragle took over, how has Idaho State recruited your program?
Coach 2: They've done a better job than the previous staff. They're trying to get organized a little bit. He was a little later to get his staff together than Eck. But it's been good. They're making an effort and recruiting our kids hard.
Coach 3: They had a great year. They grabbed (one of our players) as a PWO (preferred walk on) from us. They showed a lot of love. They visited. But the only head coach I haven't met is Ragle.
Coach 4: I've always had a great relationship with Idaho State. Now with the new staff, you have to start over. They came in energetic, but just like a typical staff. Nothing unique or special.
Coach 5: Luckily he kept some guys on staff who recruited us. (Assistant) JB Hall recruited this area. As soon as Ragle took over, he contacted me and they offered (one of my players). We went to their clinic a few weeks ago and got to watch spring ball. It seems like they have a lot of energy.
Coach 6: He showed up and brought his entire staff, which was — compared to the last occupants of Idaho State — phenomenal. But as far as the recruiting, he's got a guy from Missouri, a guy from Arkansas, a guy from California, a guy from Kansas. They're using a lot of those ties to bring in the guys they want.
Coach 8: I saw them at a clinic, saw Ragle and a few of his guys. They've kept in touch and invited us to a clinic and camp. I actually just heard from one of their assistants this morning. Good to hear we're on their radar.
QUESTION 3: How has Jason Eck and his staff at Idaho recruited your program since they took over?
Coach 1: When you get a new person in right away, it's like 'Hey, we're going to recruit in-state guys.' That's kind of everybody's goal to make the public fired up about what's going on. They have definitely been here.
Coach 2: They've done a really good job. They came in and were organized from the get-go. It just seemed cleaner than dealing with Idaho State. ... I've met Eck. I never met Petrino. You could get me started on a pretty hard run about it.
Coach 4: They sent two guys in, came to our school. One thing I'd say about U of I: For (our school), U of I has done a terrible job — and I've been here (over 15 years) — recruiting our school. I never once talked to Petrino. They sent in a receivers coach for a few years and I swear I talked him out of coaching. After he left, I didn't talk with anybody for three to four years.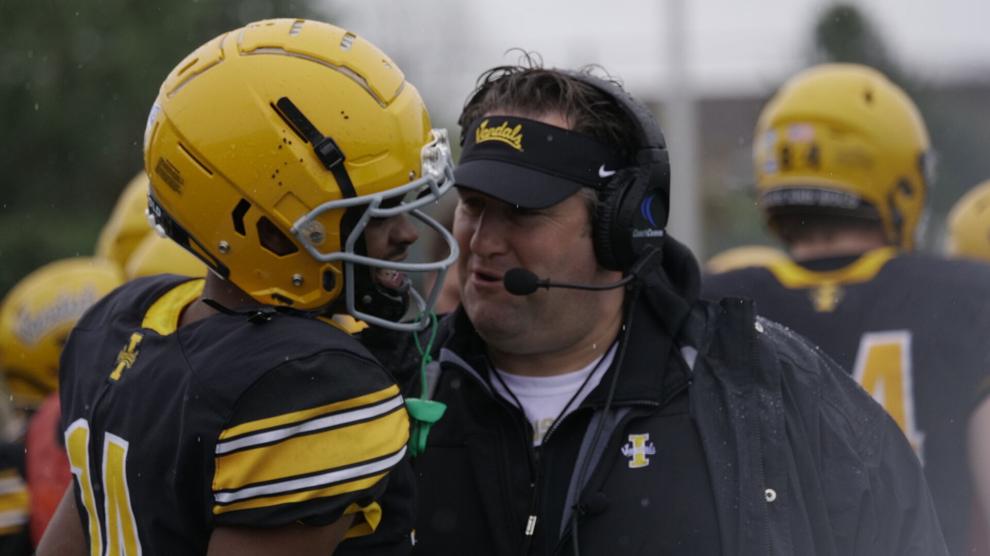 Coach 5: They sent assistants as soon as they took over there. It had to be in December. I saw them pretty quickly, which is actually better than what I had experienced with the previous Idaho staff. I had not seen them very much at all prior.
Coach 6: Idaho was one of the first ones through, which was really cool. I think Jason Eck has done a heck of a job up there. He's done a heck of a job in Idaho. He's come around and hit a ton of the high schools. Of all the three schools, Idaho has done the best in Idaho. No doubt.
Coach 8: They've been good. They got in the school right away and evaluated our guys and kept me posted. It's a 180. The last staff was a joke. Horrible. (I got) postcards labeled to the coach three coaches before me. Insane.
QUESTION 4: Do the in-state schools prioritize in-state recruits enough?
Coach 1: I think that they definitely should. Let's put it that way. In our area in the Treasure Valley, in particular at the Big Sky level, there's some guys who can definitely help them. Our population is growing. We're building new schools. There's definitely players (here).
Coach 3: No, I wouldn't say that. I think they do a good job. I don't think Boise State prioritizes in-state recruits because of the caliber of athlete they're looking for. I think that Idaho and Idaho State prioritize the state a little more.
Coach 4: The reality is Idaho only has so many DI athletes. And when you get a good one or two, like Colston Loveland, he may go somewhere else anyway.
Coach 5: I believe they have. When they engage in the recruiting process, if they can find an Idaho kid who can fit their needs, I really think they look there first. Whatever you do, you're going to have to look at California, Arizona and the surrounding states.
Coach 6: No, no they don't. It depends on the head coach and their beliefs. They're going to recruit heavily the areas where they get the best athletes or where they think they can compete with some of the other Power-5 schools.
Coach 7: If the kid can play, definitely they're going to try for him. But I'll throw this out there: It's awfully hard to tell Oregon or Michigan no and go to a place like Boise State.
Coach 8: I think it's hard. ... I've said it all along, to recruit Idaho you might have to say no to some better players out there. But the buy-in from those local kids is so valuable. It's super critical to have staffs that understand that buy-in is important to the school and the crowd and the whole department.
QUESTION 5: Do out-of-state colleges respect Idaho high school football?
Coach 1: I think it's improving. That overall mindset and 'Hey, let's pay attention to Idaho' is improving. I do. ... For example, Central Washington is hosting a satellite camp in Boise and they're inviting some other Frontier Conference schools, some Big Sky schools to come down here and get a better footprint. They've never done that before.
Coach 3: Not enough. … I think Idaho kids are at a disadvantage from the get-go. People will automatically go, "Their competition level is lower so it's hard to tell on film who's that next-level guy."
Coach 4: Yes, for the quantity we have. The reality is: There's 1.8 million people in Idaho. If you just go from Ogden to Salt Lake City to Provo, there's 2.5 million and there's just more and better football in Salt Lake City.
Coach 5: One of the issues I see with where we are in East Idaho is we have a high Mormon/LDS population. Many of these kids are gonna go on a mission, which I believe shuts down much of the recruiting from out-of-state schools. They haven't planned it in their recruiting process like BYU and Utah and the local Idaho schools or Weber State.
Coach 7: I mean Michigan took the kid from Gooding (Colston Loveland). I think schools are realizing there are some guys in the state.
Coach 8: It's not a real easy place to recruit if you're recruiting on a budget. For example, if you're Oregon, you'll fly in, see a kid and fly out. If you're Utah State, you might get up to Boise and get around and see eight schools a day for a few days. But how are you gonna drop into Idaho Falls for a day? A lot of times it's not feasible.
QUESTION 6: What would you say drives a recruit to commit to a certain school?
Coach 1: Some guys really have a good idea of what they want to do after college, and have a good idea of what they want to study. That really factors in heavily. Some guys are more concerned about maybe playing right away or playing earlier.
Coach 2: At the end of the day, it's about the fit and a kid's comfort. I really think when they meet (the coaches) and go through the campus, it's just do they feel comfortable?
Coach 4: At the DI level, if you're that good like Kenyon Sadiq, it's going to come down to relationships and, for him, whether he wants to play offense or defense. At the FCS level, I think facilities have a little to do with it. ... When you get to the NAIA level, you're probably looking at academic fit then athletic fit.
Coach 5: While we would all like to say we're attached to certain coaches — and these kids are — it's a lot less likely on the college level you'll be with a coach for more than two years.
Coach 6: The more I watch social media, (it's like), 'These are my Top 27 picks.' When I was recruited and I signed, I was thinking about my education, I was thinking about what I was going to do after football. With these guys, it's different. Whatever they see fit to sign, you never know.
Coach 8: I think it has to do a lot right now with just the program and the feel of visits. I have a lot of kids step on campuses and it's just about how the staffs invite them in and make them feel.
QUESTION 7: How have super seniors and the transfer portal complicated recruiting?
Coach 2: The transfer portal has just been brutal for people leaving high school and going to college. The numbers now are being taken away and it's like a giant junior college pool out there.
Coach 3: Weber State, for instance, was kind of big on (one of my players) and they were very honest. They basically said "Hey, we're really looking at the transfer portal." That's what they've got to do because if they don't win, they're gone.
Coach 4: It is taking opportunities away and pushing things down. There are some high school seniors who may have gone DI but now they're not and they're going to end up at FCS and that trickles down and trickles down.
Coach 5: I'm a little worried about high school football in terms of how it would impact us. But I think with the opportunity for the transfer portal, the schools in this area that do recruit our kids and have kids on mission, at least if they do have an immediate need they can fill that quickly.
Coach 6: In 2020, we had (a kid) who was a big defensive end who had like 14 sacks. He was a behemoth. He was a beast. Should've probably had nine offers. He had one offer from Idaho State and a couple walk-on opportunities. Because they gave everyone an extra year, the seniors weren't leaving.
Coach 8: It's really, really interesting. Before all this, maybe a kid who wasn't a Division I kid snuck into a class. It's harder for a kid to sneak into a class now. Which is a positive and a negative.
QUESTION 8: Regardless of level, is there an out-of-state program that does a good job of recruiting your program?
Coach 1: I think the Montana schools have done a really good job. Montana and Montana State. Weber (State), that's another one. They've done a good job. And Eastern Washington has picked up a couple, too.
Coach 2: Weber State has done a really good job. When (current Boise State tight ends coach) Nate Potter was at Montana State, I thought they did a really good job.
Coach 3: The Frontier Conference recruits the heck out of us across the board. Carroll College, Eastern Oregon, those are the two recruiting us the hardest. If you're talking Division I, I'd have to say several Big Sky schools including Montana, Montana State and Weber State.
Coach 4: I'd probably go Weber State No. 1 at the FCS level. At the NAIA level, Carroll College, Rocky Mountain, Eastern Oregon, they all do a really good job.
Coach 5: Weber (State) has done a great job. Of all the schools nearby, Weber has done a good job of following up and making sure they know of kids. They just ask, 'Can this kid play here or not?'
Coach 6: Weber State is always dynamite. Jay Hill and his staff do a great job in this area.
Coach 8: Montana. They're just here all the time. ... Montana State has stepped up with the new staff. Really the only other one I'd expect is Eastern (Washington), but I don't see much of Eastern.
QUESTION 9: What's something you would like to see change with the recruiting process?
Coach 1: I know there's been a lot about the Early Signing Period. The jury is still out for me. It just accelerated everything. I feel like a lot of times a guy's senior year is overlooked because (schools) feel like they have all their guys in place well, well before that. To me, that should be one of the biggest periods of evaluations.
Coach 2: (Something) I'm noticing is they offer hundreds of kids. It's like they just keep throwing chum, throwing bait out there.
Coach 3: Sometimes I think it becomes less about what a kid can flat out do on the field and they just want to see 40 times, 100 times, how tall you are.
Coach 4: There's no standard other than if you're a can't-miss DI kid. Other than that, it's the opposite of black and white. ... Like, "Hey we're waiting on a kid from Boise versus a kid from Salt Lake versus a kid from Montana." Sometimes (at the NAIA level), it's the first kid to say yes, they take them. At the DI level, they might be recruiting you hard but they've got a guy right above you and if he says yes, they're going cold on you.
Coach 5: I'm really fearful as a high school football coach of being kind of shut out of the process where these college coaches are just going through the 7-on-7 coaches. I don't think they're going to get straight answers from those coaches on what the kid is really like. Those coaches are trying to build their own — that's a private business.
Coach 7: I find it strange that there's been a couple of schools who have offered (one of our kids) and haven't even called me one time. Here it is: If he was a turd bird, I would tell them he's a turd bird. It's not going to do me or them any favors to candy coat this kid up.
Coach 8: I would make spring a contact period. Right now, these coaches can't talk with kids. It's an evaluation period. I think it should be a contact period where you can do home visits, where you can actually meet with the kids and meet with the parents. A lot of these kids are making decisions before Thanksgiving now where, literally, the process says you can't have face-to-face off-campus contact until the Sunday after Thanksgiving. That's insane.